LTH,
Had lunch today at Manny's with Mike G and his incredibly nice mom, who's in for a visit. Guess in some cases the apple does fall far from the tree.
As we were leaving Ken Raskin, the owner, asked how everything was, I said great, but...... His inquiry was polite, almost cursory until the word
but
came out of my mouth, he immediately focused in and inquired, in a polite, this is a family business and I'm concerned with every little detail way, as to the problem.
Seeing his concern, I immediately reasured the food was terrific, but was wondering where
Manny's LTHForum GNR award
was. For one second he looked puzzled, then I mentioned Steve Z's name, and Ken perked up, said he had gotten the GNR framed, it was sitting on his desk and let's put it up right this very second.
Ken got the award, Mike G limbered up his camera, but as the GNR was moving toward the wall it slipped from Ken's hand, fell and the glass broke. It was actually kind of funny.
Ken said he'd get new glass for the frame tomorrow.
'Sad faced' Ken of Manny's with broken glass GNR.
Picture by Mike G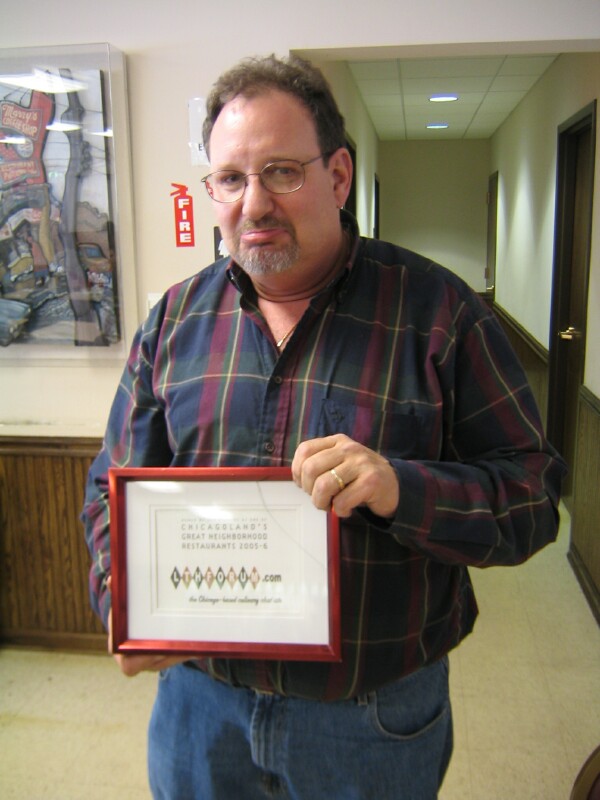 Enjoy,
Gary