LTH,
I've been to Psistaria a
few
times
over the years, decent old school Greek with been there done that, do I really have to do it yet again vibe, main reason to go house-made gyros. Fast forward to a recently redecorated Psistaria, same menu, same staff, but the cosmetic changes seem to have had the same effect as a face-lift and tummy-tuck on a middle-age divorcee, turning Psistaria into, if not exactly a cougar, no longer a kerchief in the sleeve dowager.
Lively energetic multigenerational crowd, George the waiter friendly, quick with accurate suggestions, tender char grilled octopus, lamb riblets, light crisp meltingly tender fried zuccinii paired with garlicky skordalia, good olive oil on the table, halved lemons aplenty.
Amongst lovers of all things crispy, chewy, fatty, gnarly meaty there was a collective sigh of disappointment when Sanrotini took lamb scharas off the menu, Psistaria's Lamb Riblets (
are you listening Evil Ronnie
) are the same dish. Basic, elemental, sprinkle with salt and gnaw
Psistaria Lamb Riblets
Cell phone picture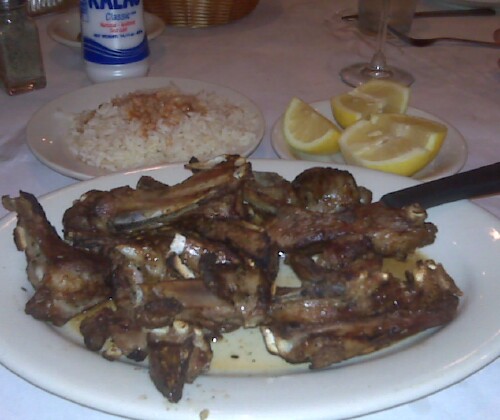 Enjoyable meal, kicker was when I suggested Psistaria my wife offered we had received a discount coupon in the mail that morning, deal sealed.
Enjoy,
Gary
Psistaria Greek Restaurant
4711 West Touhy Avenue
Chicago, IL 60646
847-676-9400