I guess we were really lazy this weekend, not in the mood to cook, nor get in the car for that matter. So continuing in reports from
my weekend
in
the neighborhood
, my thoughts on a meal at Mariscos Veneno:
I've always liked El Veneno just fine, definitely more than
El Barco
, but I'd never exactly had a transcendent experience at the place (side note: I recently had a good meal at El Barco too, but more on that another time). I'd just never ordered right there and I knew this– seeing the sight of other tables piled high with shared platters of mountains of seafood. My parents love this place (and Barco) so I usually go with them, but the idea of family style ordering at a Mexican joint has been lost on them, so they always order the plate dinners consisting of a piece of fish with seasoned fries, rice, and salad. That leaves me to order one giant honking plate of camarones huicholes and the like by my lonesome.
We tried to hit up Mott St. on Saturday night, but I wasn't having an hour + wait, so we grabbed some Modelos and headed down Ashland. We would do it right this time. Fortunately I noticed the micheladas in the room, so we asked and were greeted with chalices of spicy brew that we tipped our beers into. The best I've had in Chicago and free to boot, as much as I loved the food, this was enough to make me a happy camper. It seemed as though the whole neighborhood was partying in there that night, a more inclusive vibe I challenge you to find at a restaurant on a Saturday night!
We ordered two recommended dishes, Langostinos estilo Nayarit and Pulpo Especial and a request from my friend's lady for something less spicy, which would be the Botana Al Gusto Estilo Al Ajo (though I thought the waitress called it Capuzon as she served it to us).
I didn't snap a pic of the Botana, expecting to find it ho-hum. Arriving was a heap of medium sized peeled shrimp studded with the occasional chunk of octopus. It was surprisingly pretty great– very garlicky, very buttery, well cooked seafood without a hint of fishiness. I prefer the shells (and head and everything else you got) on my shellfish, but there was an indulgent satisfaction in being able to shovel forkfuls of unobstructed frutas de mar directly down the gullet.
The pulpo was also fantastic. Tender tendrils that had a nice sear (if not char) in an assertive sauce of butter, chile, and a strong tang from an acidic element (probably lime, but possibly tamarind).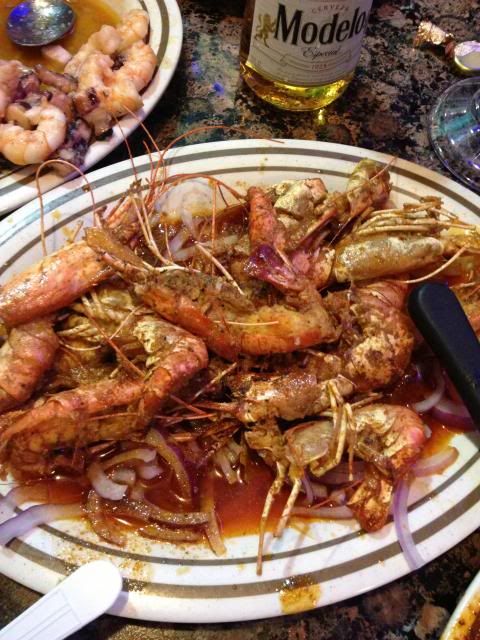 I'd had the langostines before and they were good, enabling me to get my elbows on the table to dig out and slurp down all the gooey, chewy, and crunchy bits from the halved bodies of these crustaceans. The sauce, yup, buttery once again, hot saucy, and very salty with perhaps a note of Maggi.
We left stuffed and satisfied, it was a great way to celebrate the weekend. We'll be back sooner next time.