My friend and I saw that UrbanBelly would be opening today and we dropped everything to head over and get our dumpling on.
*NOTE* Please forgive the pictures, we forgot to bring a camera with us!
We were expecting some opening day jitters/bumps, but the operation was already running smoothly. The interior is very tiny, but bright, with four communal tables that each seat about 10 people. You order and pay at the counter, receive a number to place on your table and the food is brought out to you. Yvonne came out to chat with us and assured us that all dumplings are made in house - hooray!
Bill (former chef de cuisine at Charlie Trotter's) and Yvonne Kim (front of house, Charlie Trotter's/Daniel Boulud) have really hit a home run with UrbanBelly - each dish we had was more delicious than the last. My friend commented that UB was very much like Momofuku and Momofuku Ssam bar in NYC, minus the raw fish and the attitude.
The menu is divided into 4 sections - dumplings, rices, noodles and sides. We focused on dumplings and noodles today, but will definitely be back to try everything on the menu. We started with the Chicken and Shiitake, Asian Squash, and Duck & Pho Spices Dumplings (see pics in order below):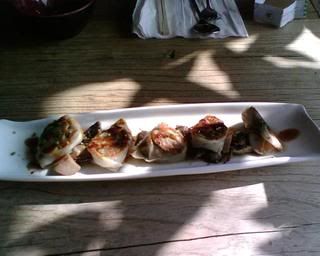 Chicken and Shiitake
Asian Squash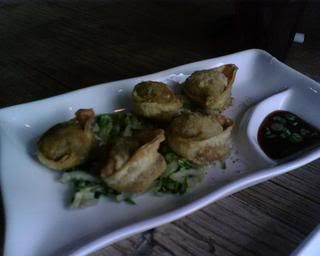 Duck
Each one was a home run, but the duck was truly exceptional, deep fried and bursting with rich flavor, right down to the incredible warm Napa Cabbage they came nested in. The Chicken dumplings were pan fried, lightly dressed with a dashi broth and garnished with beautiful sauteed shiitakes.The squash dumplings have both a pickled papaya and a bacon garnish, which really adds a nice texture to a very creamy dish. There are two fantastic house made sauces on each table, a balsamic soy and a garlic chile but, really, they are just gilding the lily; these dumplings are perfect as they are.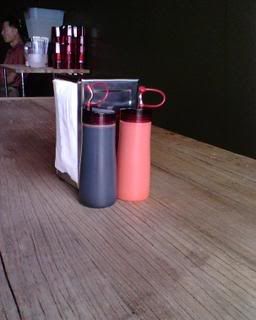 Wanting to sample as much as possible and being a bit on the greedy side, we also ordered the seasonal kimchee (lightly dressed with togarashi and bonito), the Rice Cake with Chicken, Mango and Korean Chile Sauce, and the UrbanBelly Ramen, a feast composed of pork
belly
, Shiitake, and Pho broth.
Kimchee
Rice Cake with Chicken
UrbanBelly Ramen
Bill himself came out to explain that the Rice Cake noodle dish was his Korean play on a favorite chicken dish from his childhood. The chicken could not have been more perfect - light, crisp and juicy. The rice cakes were just chewy enough, the mango a nice counterpoint to the chile and the fish cake was a delicious surprise. Although each dish was impeccable, the Ramen was really a standout for me. The pork
belly
was utterly perfect, just enough chew to be toothsome with a delicious crisp skin. The greens (mustard?) in the Ramen were a perfect light counterpoint to the richness of the pork, the noodles had just the right amount of chew, and the pho broth was the very, very best I've ever had in Chicago. Savory and not overly sweet, it was the perfect bath for the perfect pork
belly
. The seasonal kimchee was amazing as well, managing to be light and just pungent enough to remind you that you are eating kimchee at the same time. I'm looking forward to seeing the seasonal rotation.
Needless to say, we cleaned our plates, including the ginger candies they brought out at the end of the meal. An unqualified hit and a great addition to the neighborhood, this place is going to be a contender. Prices top out at $13 for the Shrimp Udon and the Scallop Soba, and start at $6 for the Asian Squash dumplings, so it is very reasonably priced as well. I can honestly say that I look forward to eating everything on the menu.
Other notes - BYOB, free wi-fi, brunch coming soon, ample parking, carry out available. Due to the size of the dining room, I'd advise calling before going in with a large group to make sure they can accommodate you.
UrbanBelly
3053 N. California
Chicago, IL 60618
773.583.0500
http://www.urbanbellychicago.com
Last edited by
Ursiform
on August 19th, 2008, 7:04 pm, edited 1 time in total.
"Baseball is like church. Many attend. Few understand." Leo Durocher