Mother-Daughter Bonding: happy_stomach Family Style
About twice monthly, always on a Sunday morning, Mom and I make a shopping trip together to Argyle. My mother is a fiery, irreverent woman ruled by her appetite, which her small stature and occasional politeness belie. On this rainy October morning, it was the lack of
balut
at Viet Hoa that set her off. There are very few things that can assuage her in such an irritable state, but, over the years, I've learning to respond cooly and quickly.
Me:
"Wanna eat at Sun Wah?"
Mama happy_stomach:
"Well...ok. Maybe I'll have some soup."
It's important to note that my mother is under more dietary restrictions than anyone I know. "Soup" in my family has become a code word for complete disregard of doctors' orders. In other words, if my mom tells you she's eaten soup, she's bullshitting you. You've got to press her with, "And what else???"
So, we get into Sun Wah and sit at our preferred table by the window. We order the usual (explanation below) and wait for our food. Mom gets up from the table. I don't ask any questions. Five minutes later, she returns with a Sun Wah take-out bag, presumably food for dinner tonight.
Me:
"What'd you get?"
Mama happy_stomach:
"Chicken feet. Chicken liver. All chicken...except for the pig intestine."
She sits, picks up her tea cup, and, at once, there is the smug face, confirmation that the missing
balut
have been forgotten: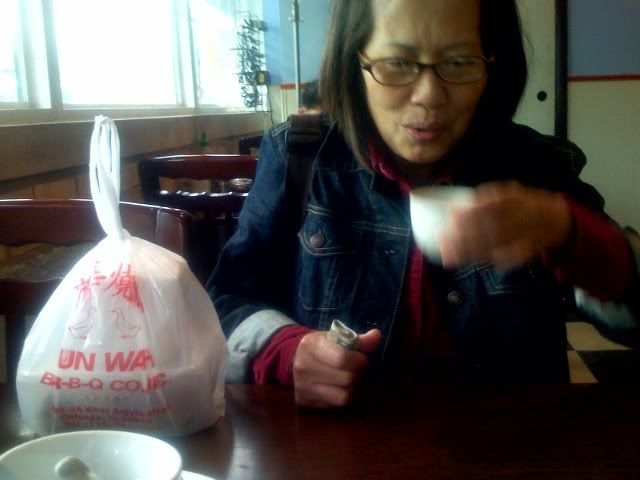 Yes, our usual order is deep fried pork intestine for Mom (with a small watercress and fish ball soup on the side) and roast duck over rice for me. Once the intestine arrives, it's serous business: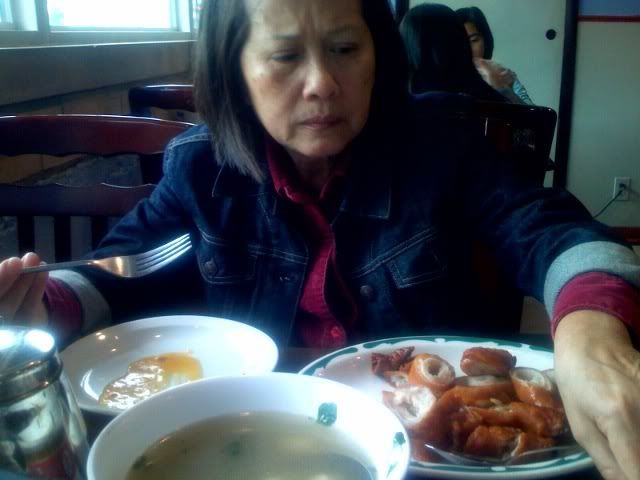 We rarely change up this routine, but I snuck in an order of recently discussed octopus whiskers for photo documentation purposes. Turns out, this dish is pretty benign. Small, lightly battered tentacles tossed with thickly cut green and red peppers and white and green onions.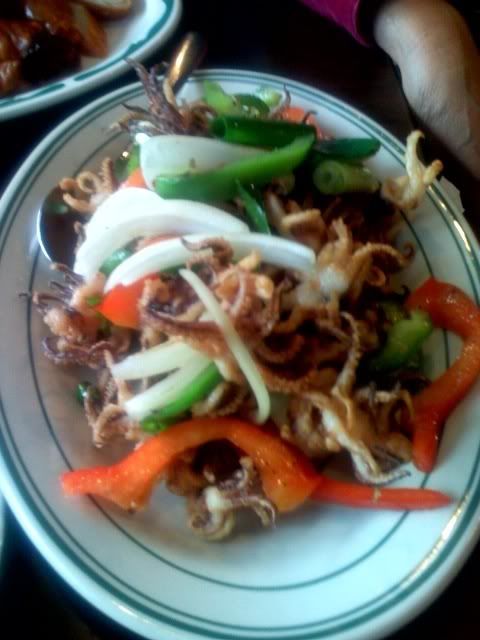 The tentacles were too salty for my liking, but in this regard, the vegetables served as helpful palate cleansers. Back at the car,
Mama happy_stomach:
"What was that we ate? Baby octopus tentacles?"
Me:
"Octopus WHISKERS."
Mama happy_stomach:
"What they'd do with the body?"
The last question made me laugh because I figured it was a side effect of all of those crime dramas Mom watches, but it's a good question now that I think about it. The picture from my phone is blurry, but is it possible that those are very small whole octopi? The tentacles of each piece did come to gether at a single point, usually at a mass of batter I suppose could have obscured a body.
This photo
from a blog, however, suggests that the kind Mom and I ate today were decapitated. The masses at the termini of our tentacles were neither that large nor oblong. I guess it's not clear to me from where exactly on the octopus those "whiskers" are taken. My association with baby octopus is the curried variety served at Phoenix. Are there octopi smaller than that? BTW, my Google search for "mini octopus" turned up this very disturbing
mac & cheese recipe from Kraft
. The disgusting things that some people will eat!