Christopher,
I am also firmly in the Lao Sze Chuan camp and have been any number of times over the years. The problem with going to a restaurant often is one tends to get in a rut, order from the same roster of 10-12 proven favorites. The solution, aside from bring printouts from LTHForum, go with friends who are regulars and order dishes from their line-up.
Of course the catch is you have to go with someone who's culinary opinion your respect so I was fortunate
EC/Michael
, Petite Pois and m'th'su were my dining companions at LSC. Two dishes motivated this post, well, actually one, but the other was quite good as well.
Three Chili Chicken is seemingly crafted for my taste, even though Tony, who told us the story, said it was developed for a UIC professor who had, unbelievably, eaten his way through LSC's 600+ item menu. Seems one day the professor was there with friends and wanted something new/different. Tony, knowing that the Professor liked chicken dark meat, spicy flavors and crisp texture, whipped up Three Chili Chicken.
The Professor's friends liked the dish and would come in and order "that dish we had with the Prof" This was fine if Tony was there, but in short order Three Chili Chicken was on the menu. Chili chicken is a symphony of flavor/texture, crisp bone-in chicken thigh, juicy, succulent, heated with fresh jalapeno, pan toasted dried red chili pods and red pepper.
Three Chili Chicken at LSC (My mediocre picture does not do the dish justice)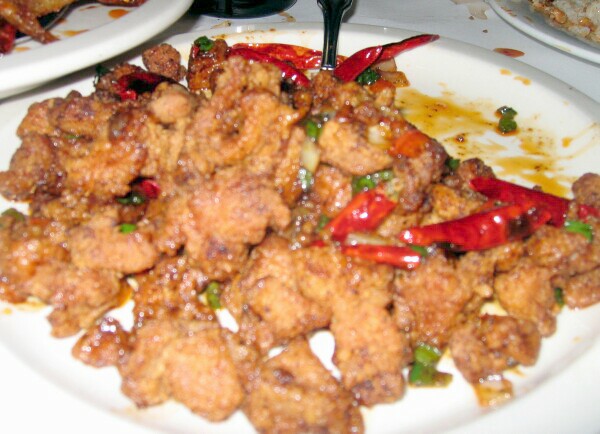 The other dish EC/Michael introduced me to was Chili Smelt. I, like many Wisconsinites, am a Smelt-Head, (ha, and you thought we all were cheese-heads) and have enjoyed the delicious little fish a variety of ways. From Greek style with Scordalia to Salt and Pepper Smelt at 'Little Three Happiness to drunken smelt eating contests on the shores of Lake Michigan, and I'm here to tell you LSC's Chili Smelt ranks with the best.
Chili Smelt at LSC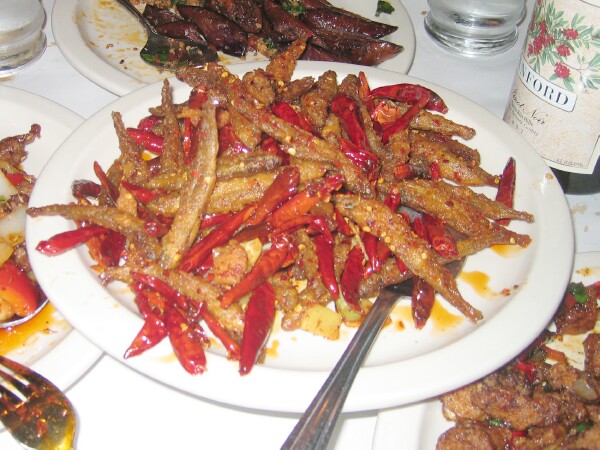 We started our meal with terrific Beef and maw Szechuan style and delicious Bon bon chicken, these, along with LSC's Rabbit Szechuan style rank in my top 20 appetizers. The rest of the meal, uncharacteristicly, was slightly off the mark. Garlic eggplant, while not bad, was just sort of boring, Lamb w/cumin suffered from over marination, yielding a slightly mealy texture. Pan fried noodle w/beef and vegetables would have been tasty but for an overabundance of slick/thick cornstarch sauce.
Don't get me wrong, LSC is a wonderful restaurant, I actually get cravings for Beef and Maw Szechuan style and 'Gribenis', as Seth Z calls it, Chili Chicken. Just that this night LSC was ever so slightly off the mark on a couple of things, which were more than made up for by the Three Chili Chicken and Chili Smelt.
m'th'su brought a French Farm House Ale, which was a lovely match with dinner. I slightly preferred the Farm House Ale over our Pinot Noir.
I hope your wonderful day, combined with an outing at Lao Sze Chuan, becomes a tradition.
Enjoy,
Gary
Lao Sze Chuan
2172 S. Archer
Chicago, IL 60646
312-326-5040.
Chinatown Mall
http://www.laoszechuan.com/