LTHForum,
The irrepressible Ronnie_Suburban and yours truly hit Big Ed's BBQ for dinner, and a most enjoyable experience it was.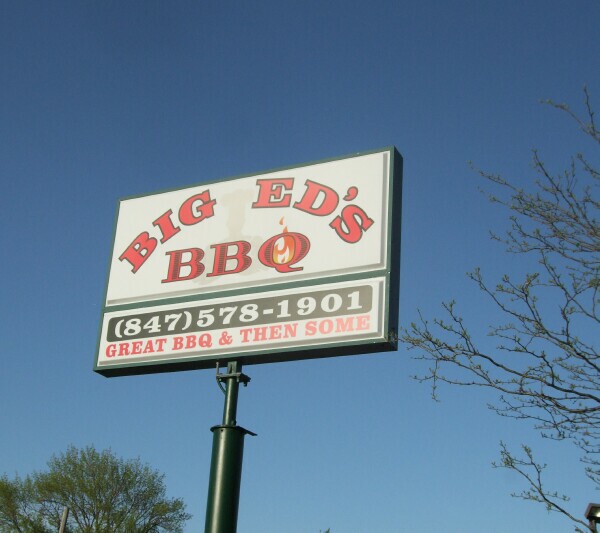 Big Ed and family are some of the warmest, most genuine, hard working attention to detail people I have had the pleasure of meeting in quite a while. They also seem to have a cleanliness fetish, as one of the two daughters present was constantly in cleaning mode.
Dia, Big Ed, Kim, Jasmine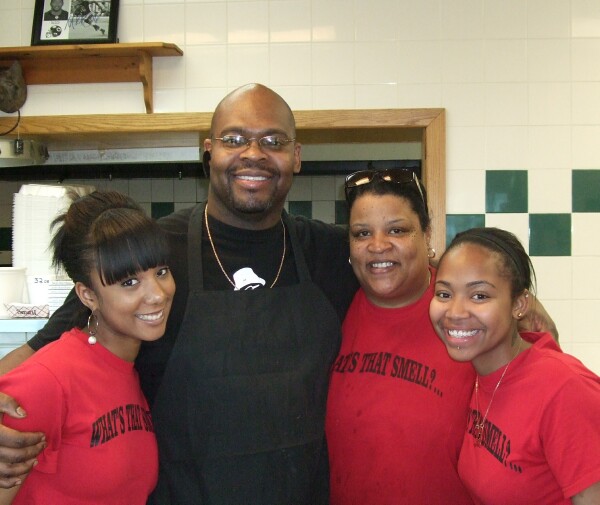 As mentioned upthread, Big Ed uses an Aquarium style smoker.
Big Ed's Aquarium Smoker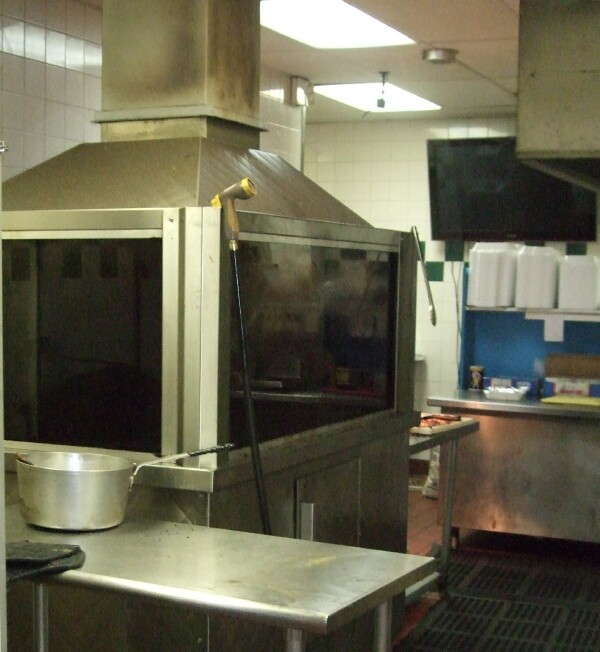 Big Ed uses a mix of Royal Oak and Hickory splits, with the occasional applewood split.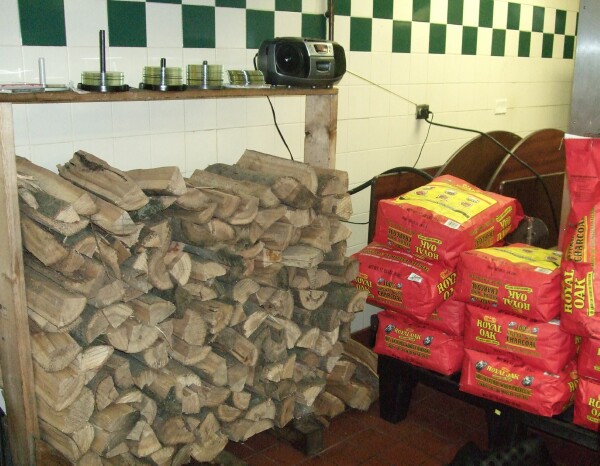 Ed soaks the hickory splits before adding to the fire, not something I've encountered before.
Hickory splits soaking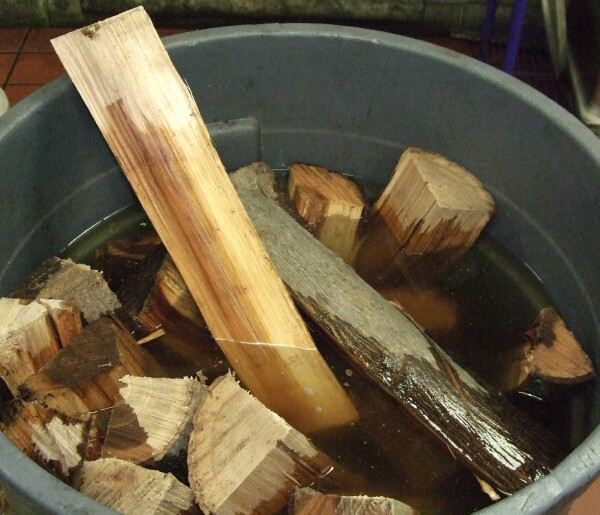 We sampled four sides, Greens, tender if a little salty. Beans, lightly sweet, I caught a treacley molasses flavor. Slaw, ~shug~. Mac and Cheese, terrific, some of the best BBQ joint mac and cheese I have had, right up there with
Smoque's
. I particularly liked the stronger cheese flavor, cheddar being dominant, and mild garlic notes. If the mac and cheese was baked with a crispy crust I might move in down the street.
Greens, Slaw, Mac and Cheese, Beans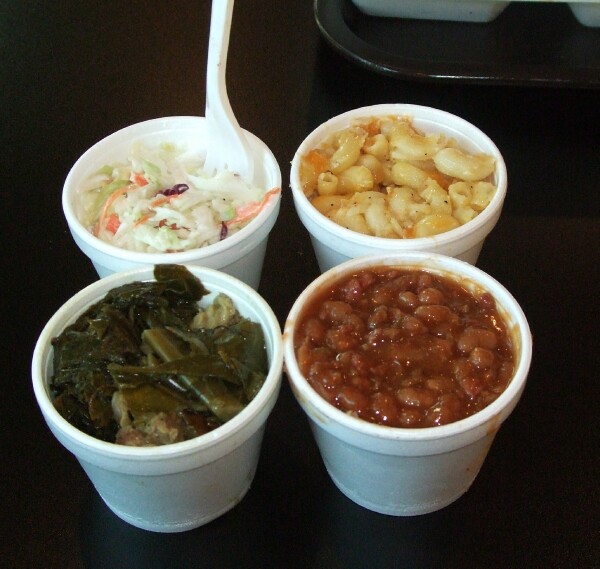 Combo of Links, Brisket, Pulled Pork and Tips.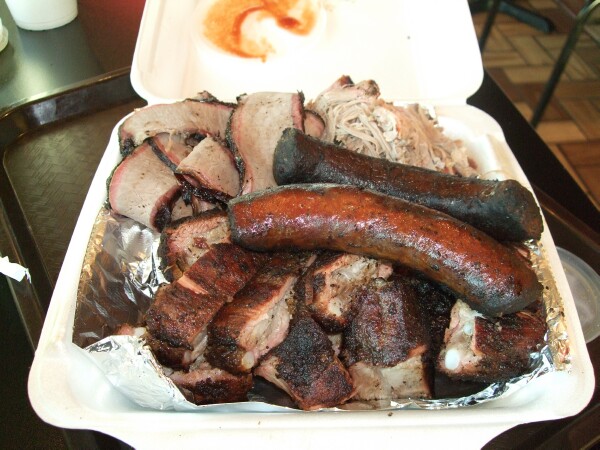 Pork was nicely pulled, though somewhat neutral in flavor no bark to speak of and the pork seemed thoroughly defated. Brisket along the same lines, nice appearance, but not much punch of flavor, the fact we were served a very lean part of the flat may have been the reason. Links were very fine grained and dry, good overall flavor, but dry. Big Ed said the links, which are made in-house, are a work in progress and is not yet satisfied with the results. I'd agree with Big Ed.
Tips, along with spare ribs, were the best of the BBQ meats we tried that evening. Nice outside char, flavorful rub, good smoke penetration. From my perspective the tips and spares were overly tender, not falling into the meat jello category, but very little if any resistance to the tooth.
Spare Ribs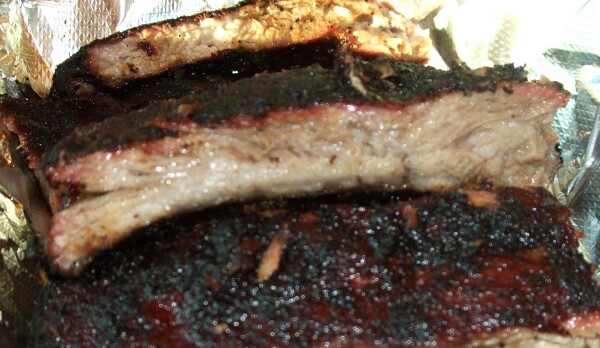 At this point Big Ed started bringing out items for us to try over and above our original order, we politely declined, but Ed's generosity and enthusiasm were gale force winds to our blades of grass. Plus we did not wish to seem rude. I should note Ron and I were generous in tipping, more than covering the difference in cost.
Loved the fried catfish, light note of catfish funk, just enough to let you know that isn't tilapia on the plate, with a subtly sweet undertone, crisp breading and moist fish, nicely done. Mouth burning hot wings, lightly crisp, meaty, moist, a very enjoyable chicken wing. House made tarter sauce and chipotle mayo rounded out the plate.
Catfish and Chicken Wings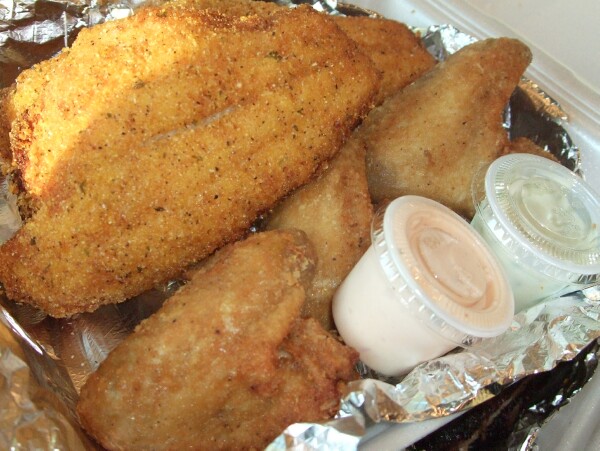 Juicy griddled burger on a sesame seed bun with crisp tasty fries. Not a destination burger but if I lived or worked in the area I could easily see it on my lunch rotation.
Big Ed's Burger and Fries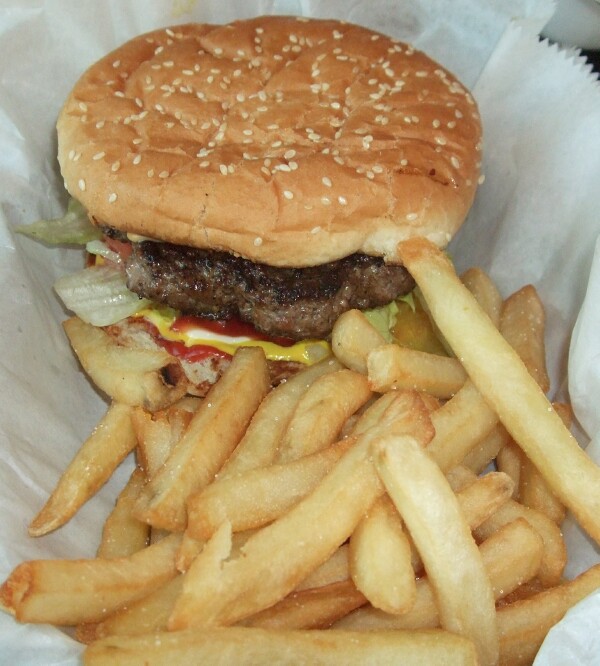 Italian Sub, good quality meats on Turano bread rounded off with oil and vinegar dressing and healthy shake of oregano. We both liked the sub, which I am guessing Lucas had for lunch the next day.
Italian Sub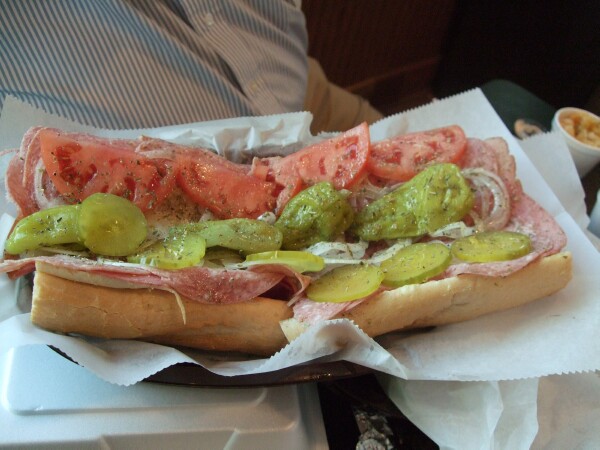 Pound Cake, made in-house by Kim, Big Ed's bride, is, in a word, terrific. Moist with a crackly outer layer, Big Ed said it's like the pound cake can't decided if it's a cake or cookie.
Pound Cake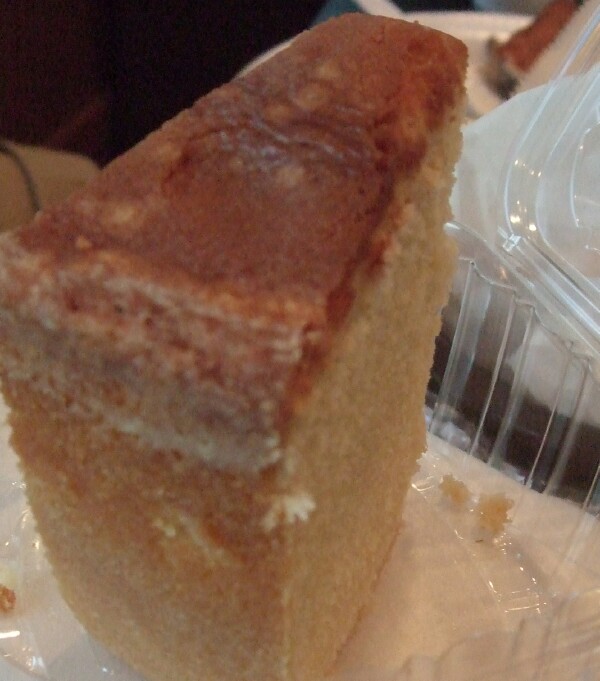 Bumpy Chocolate Cake is another winner, rich, moist, but not falling prey to overly sweet, so good I took a piece home to my wife. I did not get a very good picture of Bumpy Chocolate Cake, please see Ronnie's upthread.
All in all I really liked Big Ed's, love the vibrant gracious energy and wish them well on their journey along the path to great BBQ.
Enjoy,
Gary