happy_stomach wrote:At Cho Jung, the pajeon was somehow both dense with green onion and seafood while retaining an almost pillowy quality which made it a lovely starter.
Joining in the chorus line of enthusiasm for Cho Jung. Happy_Stomach accurately describes the pajeon, really a wonderful version, dense, slightly chewy, with a light crisp quality. Panchan is top quality as well, of which I'd venture much is house made.
Pajeon
Included in our panchan mix was a new to me item, soy marinated hard boiled egg. I thought it would be salty, not the case, subtle with a light soyu flavor. Egg was replenished, along with the rest of the panchan. Cho Jung not only has quality panchan, they are generous with servings.
Hard Boiled Egg Panchan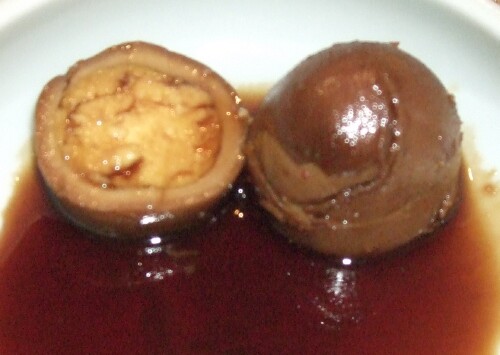 Dried Anchovy ~Attention Cathy2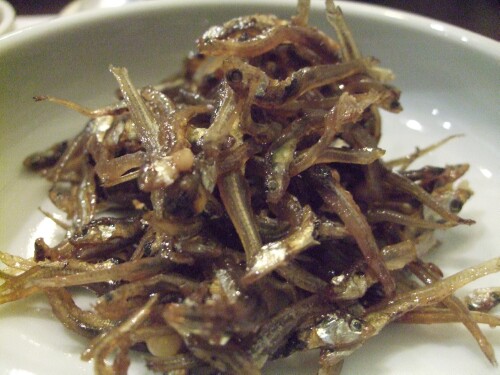 Sundubu was good, but seems less funky/spicy than I've had at Cho Jung. Our waiter said it was due to heat level variation in the peppers used, reasonable, but I am fairly convinced they toned it down for non Asians. Still an amazing bowl of goodness, delicate fluffy tofu, whole shrimp, bits of various types of seafood, all served steaming, make that volcanically, hot.
Spicy pork was all about the greenery, Korean shiso, Napa cabbage, red leaf, and a couple I was unfamiliar with.
Accompanying greens in which to wrap Spicy Pork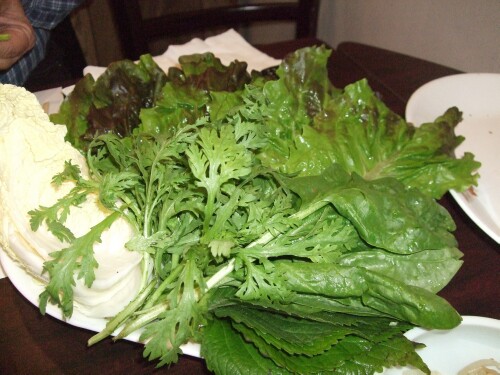 Funny story, Cho Jung includes metal chopsticks and a spoon in their standard place setting, when we sat down our waitress replaced the metal chopsticks with wooden chop sticks and a fork. When I asked why wooden chopsticks for metal, the fork was obvious, she said metal chopsticks are more difficult to use. I kept my metal chopsticks.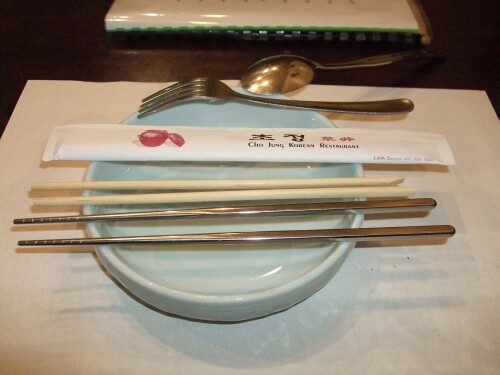 As we were leaving I could not help but snap a few pictures of our neighbors meal, nice looking rib eye steak on a tableside grill.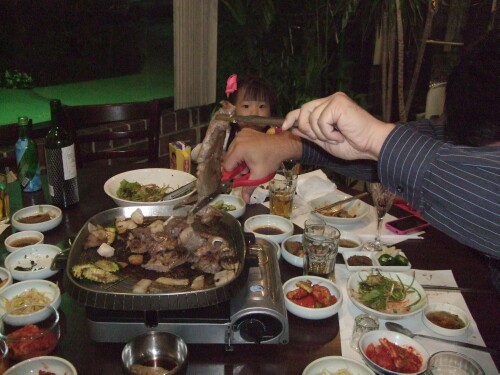 In addition to top quality and reasonable pricing portions are generous. Three of split two dinners along with (seafood pancake) and fried dumplings which proved, along with panchan, rice and included soy bean paste soup, to be more than we were able to finish.
I recommend a visit to Cho Jung sooner rather than later.
Enjoy,
Gary