I live three blocks from Pensiero (nee Va Pensiero), and it's been in my rather irregular rotation for the 12 years+ I've been in my current place.
Va Pensiero has always been a chef-driven restaurant, most famously under Peggy Ryan, and less successfully under Jeff Muldrow. I respect the management for keeping Muldrow's back of the house staff in tact, but it's dramatic how the quality of the food has improved since it reopened as Pensiero. The only difference is that Jazzfood (aka chef Alan Lake) is now running the back of the house.
Alan was a big factor in the success of our meal at Pensiero Wednesday night. He came out several times during our meal, and was the ultimate host. At one point, I mentioned to our guests that he had made the mutha of all caprese salads a few years ago at the LTH picnic: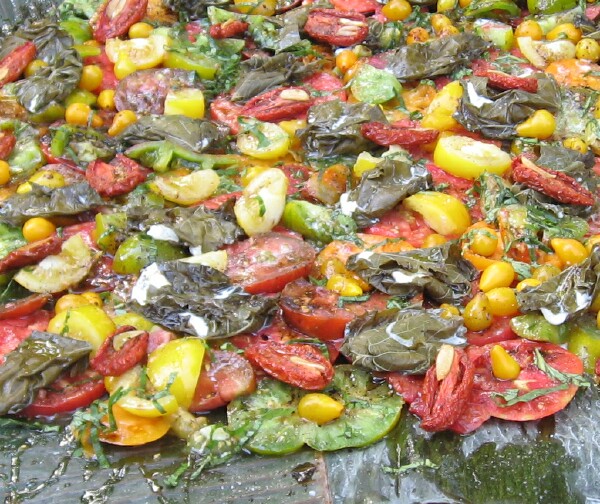 (GWiv photo)
One of our guests commented on how much she loved caprese salads … Alan's response was "Hey, I've got the ingredients in back to make you one." Five minutes later, we were sharing a terrific, perfectly plated salad, with smiles all around. Not something that I'd expect to happen very often at a fine dining restaurant. Alan also came out with a special dish based on scouring farmers' markets earlier in the day - squash blossoms stuffed with burrata cheese in two tomato sauces – one using red heirloom tomatoes, the other using yellow. The duck and the pork belly (my favorite) described upthread were both excellent, and the tagliatelle presentation was unlike anything I've ever seen anywhere - it's a real show to see the pasta being mixed in the parm wheel, then it was over the top when Jazzfood started shaving the truffle.
With Alan at the helm, Pensiero is back to being the destination restaurant it once was. I'll be back (and not only because it's only three blocks away). Now if he could just get his jazz group performing again …