Been on a
trying- something- new kick
and since I had errands to run in points north, Barwaqo it was for lunch today. At noon on a Monday we were greeted by a bright and cheery storefront hopping with cabbies that clearly knew how to approach the food on their plates quite well.
Habibi wrote:There is no menu, but I was quickly greeted by the congenial proprietress who was as patient and helpful as could be. I asked what was on offer, and initially, guessing that I came in because I saw the word kabob on the sign outside, she mentioned something about "chicken kabob rice." I asked if anything else was available and with a smile she said simply "goat." Goat it was.

Not sure what I was expecting, but when a series of dishes arrived in quick succession I was surprised. A giant plate of beautiful rice; another with braised goat shoulder chops with onions and peppers as well as a small salad; a side (if you can call it that, it was big) of potato and tomato stew;
Our experience mirrored this, our incredibly gracious waitress offered "chicken kabob" and we inquired further. The language barrier did not completely block us from ordering what the locals were eating, though I still couldn't help but worry that we were going to receive the "gringo plate". We ordered goat and also decided to try an order of the chicken too. First to arrive was a plate for each of us piled with iceberg with ranch a la "dinner at mom and dads circa 1987" and samosa-like fried dumplings. Maybe the salad had already put me in a mood, but the dumpling reminded me of the Gino's Pizza Rolls of my youth with a greasy, bubbly pastryish dough filled with innocuous mystery meat. Okay, it wasn't that bad, but I think it had spent some time under the heat lamp. The meat inside was ground very fine and was lightly seasoned.
Then the good stuff descended upon us, plate by plate.
First the meats:
Goat: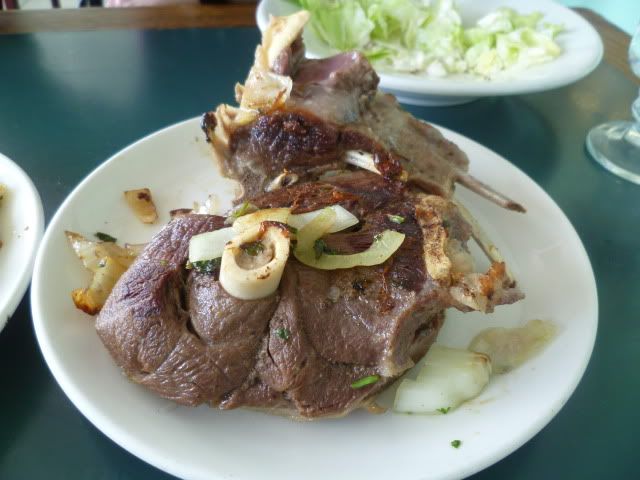 We ordered two plates of this. It was a sort of composite cut with shoulder meat and ribs attached. My buddy declared it the "goatiest" goat he had ever had. I attribute this to the light spicing in contrast to say, Zaragoza's birria or a goat curry. It truly was goat in its purest form, seasoned with little more than browned onions. The goatiest of the goatiest moment of the meal for me was a slurp of the marrow in that leg bone. The meat itself had been slowed cooked and the moments of caramelization on its surface and its tender, but-in-a-toothsome- way rather than fork-tender texture led me to believe that it was roasted or perhaps braised, then roasted. Pot roast, this was not. Eaten with the hot sauce (more on that soon) and handfuls of rice (more on this too) made for an exquisite bite.
The chicken kabob was a sleeper:
It very much reminded me of frontier chicken, with an aggressive spicing, pleasant oiliness, light char, grilled with onion. Especially when mixed with the rice, this dish was really awesome. The plate was cleaned. Perceived gringo status or not, this will be a requisite order.
Habibi wrote:I'm beginning to think that Somali's prepare my favorite rice in Chicago, and Barwaqo's is the platonic ideal of the style - fluffy Basmati rice gently spiced with cinnamon, cardamom and other fragrant things, lightly oiled. It comes off as a stripped-down Biryani or Pulao, with all of the flavor, but more fluffy and less laden with heavy matter.
I couldn't agree more, this is really the star of the show, the vehicle for every other dish with a stand up spicing all of its own, which when paired with the goat, lent most of the spice profile. Perfectly fluffy, just the right amount of oil, perfect. And I think I can get the hang of eating rice with hands.
Habibi wrote:The hot sauce was good as ever - it is an intriguing mix of sweet, deep sour and earth, I think made from a base of tamarind or carob pulp.
This is not the hot sauce we received, nor did it look like the brick red, oily sauce pictured upthread. We were brought a bright orange red sauce of pulverized fresh red chillies with maybe a little onion and vinegar, which we liked very much. The waitress warned for us to be careful with it and of course we weren't- it wasn't too crazy, definitely not habanero or Scotch bonnet even though it had that look.
The potato/carrot/tomato sauce stew was just okay for me, very lightly seasoned and not served entirely warm.
We were not served the watermelon juice, though we saw folks drinking it as we arrived. It did not reappear.
The bananas came out a little late, we were already too stuffed to mix it into more helpings of rice. Okay with me as bananas are not for me.
She also had offered us spaghetti, which we found interesting- just about every other customer was slurping down noodles out of hand.
And at the end of our meal our most delightful server brought us slices of pound cake that she explained as "just baked" and while I had already reached full capacity, I could not turn down. It was light, moist, and redolent of cardamon. A sweet end to a sweet meal.
The bill was ridiculous- $10 each and we left with at least an order and a half of rice left and an entire hunk of goat that we hardly touched.
All in all an amazing experience, a new-to-me cuisine that had a great interplay of mild/ spicy, simple/complex, all made in a lovingly from- scratch fashion served by a wonderful hostess.