"
Big Daddy's is the best BBQ for 20-miles in any direction
"
ReneG
Big Daddy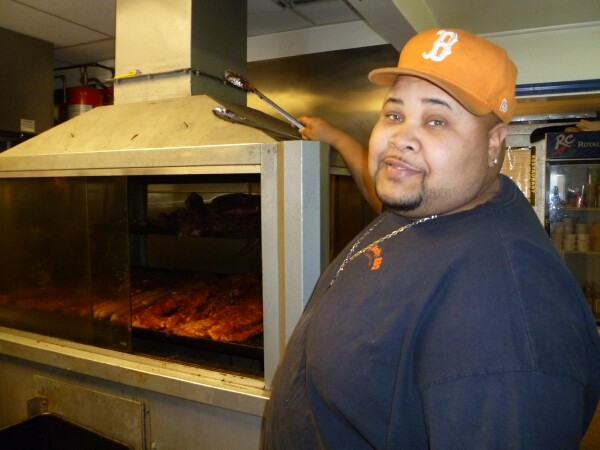 Chock full Aquarium smoker plus two oil drum cookers chugging away in the back and multiple groups of waiting take-out customers keep Big Daddy and staff busy.
Big Daddy's BBQ Aquarium Smoker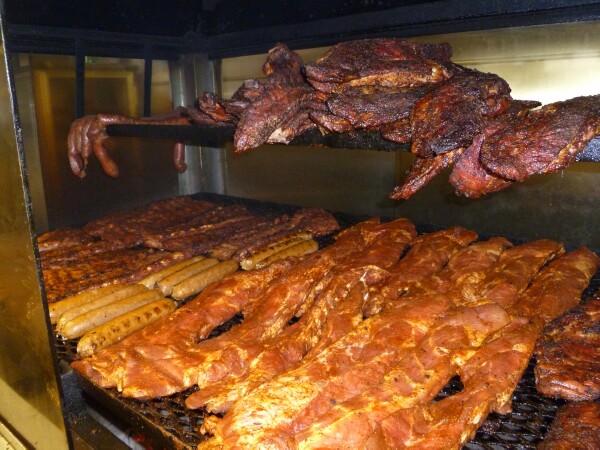 Oil Drum Smokers, with three more in reserve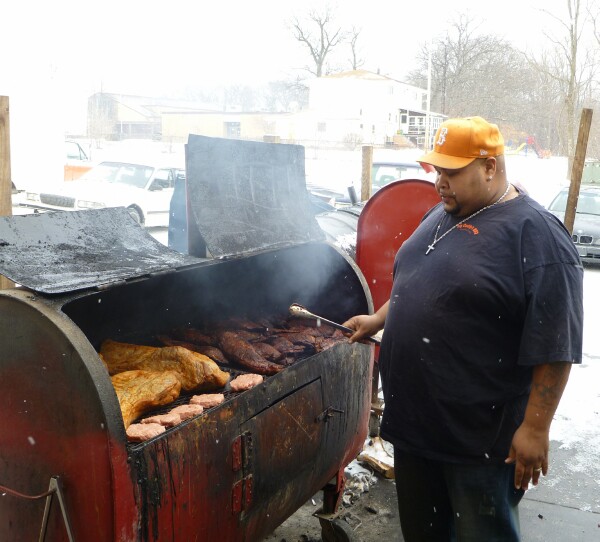 Standard Chicago South side/West side plating, layer of fries, meat, squishy white bread, we asked for sauce on the side.
Pulled pork sandwich, tip/link combo, half-slab spare ribs, brisket sandwich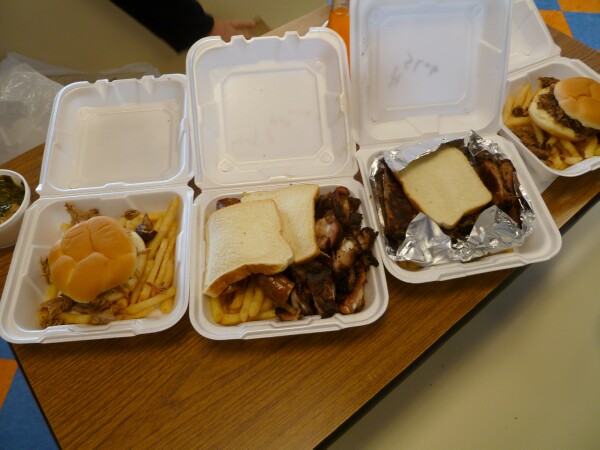 When asked Big Daddy's said he uses a combination of mesquite lump charcoal, hickory and apple wood. I'm guessing a lot more mesquite lump charcoal then wood, though the smoke flavor of the meat, while light, was clean with no hint of smolder/creosote.
Spare ribs meaty with nice chew, slightly caramelized exterior from direct style cooking and moist. Flavor/texture suffered a bit from being held, but overall well within the BBQ framework.
Spare Ribs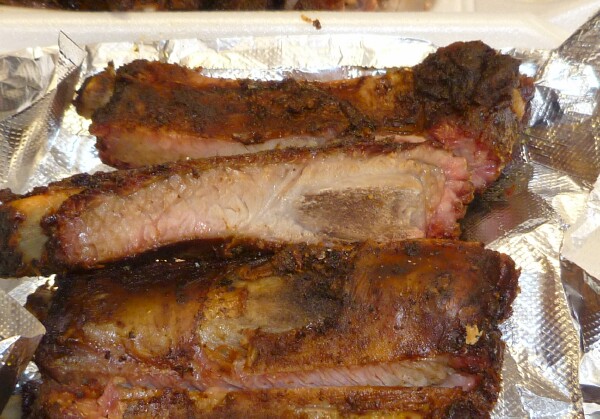 Tips had nice char, meaty with juicy pockets of fat, great gnawability, though, like the spare ribs, suffered a bit from being held. Tip flavor was dominated by a salty artificial brightness, my guess is Accent, which wore out the palate quickly. Spare ribs had a similar, but less pronounced rub. I am guessing the majority of customers get their meat sauced which would serve to mask the, to my taste, overuse of salty msg based flavor enhancers.
Tips, foreground/Link, background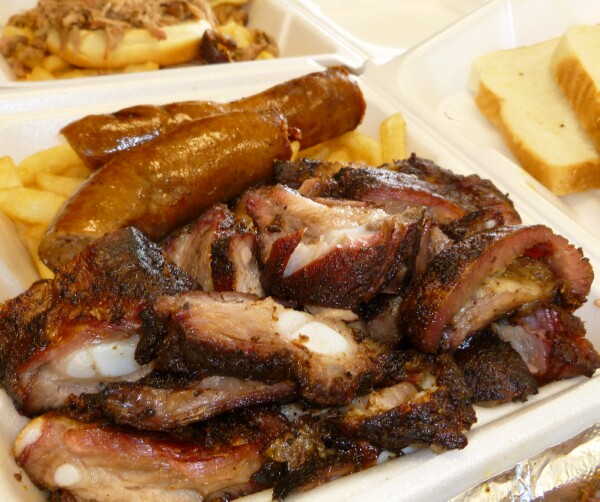 Fine grain neutral flavored links led me to ask if we had mistakenly received turkey instead of pork. Though the answer was pork, I am still not convinced the mild links were not turkey. Not a bad link overall, I just like more punch in my Hot Links. As an aside, turkey burgers looked good and Big Daddy said he does something called Turkey Burnt Ends, which sounded interesting.
(L) Links, (R) Tips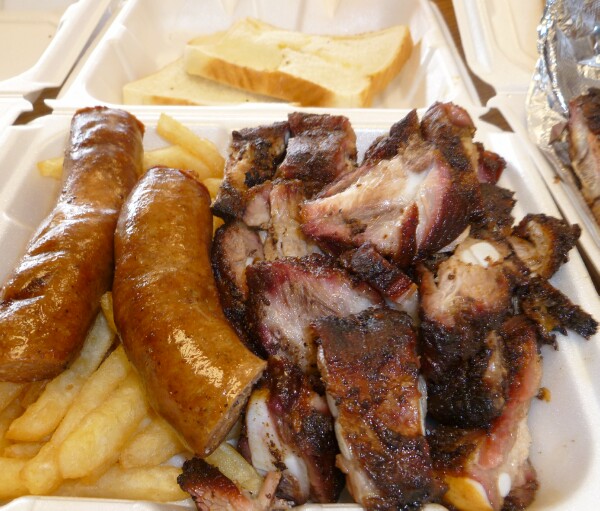 Light smoke and bits of tasty crisp in the chopped brisket sandwich, though the overall effect was somewhat neutral flavored. Pulled pork moist, though neutral flavored as well.
Liked the greens quite a bit, tender, but not broken down, with chunks of flavorful pork. Tarted up Open Pit as house sauce, I liked the sauce, but I am a fan of original Open Pit in most forms.
Greens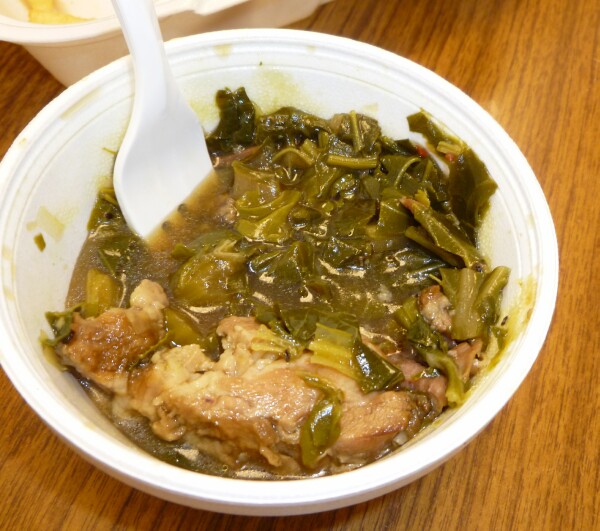 Best BBQ for 20-miles in any direction, sure, not destination BBQ, but worth a stop if in the area, especially if one has a high tolerance for Accent/salt/msg.
Interestingly, I was looking at the pictures of our outing to Big Daddy's and clicked on an absolutely delectable looking
image
of spare ribs, appearing so incredibly scrumptious I started to reevaluate my impressions. Took me a second, but I realized the spare ribs I was looking at were from
Uncle John's
, where we went after Big Daddy's. Mack was really on Saturday, tips, links and spare ribs, especially the spare ribs, top of his game.
Enjoy,
Gary