Full disclosure, I got invited to a pre opening dinner for Paris Club through my blog(grubseeker), so the entire meal & drinks were comped. I had a free Saturday, and decided it would be worth the trip into the city. For me LEYE restaurants are hit and miss, I love Joe's, think Shaw's is ok, but am not a fan of their other spots. I also had never been to Braserie Jo.
Paris Club kind of reminded me of Sunda, hip, loud, bustling, the young attractive folks of the city on this Saturday. Space was modern, bar area and dining room different, dining area had that subway tile which made it a loud room, that and the dj spinning records it was loud. Quickly seated, then forgotten about for a couple minutes, after that service was great. Me and my buddy Derek started with a fabulous, strong, Buffalo Trace Manhattan, really a great drink.
After that we went for 6 dishes:
- duck cracklins with spicy vinaigrette
- foie gras & short rib presse
- frisee
- sea scallops
- short rib bourguignonne
- roquefort crusted filet
Duck cracklins were ok, kind of heavy and greasy vs light and airy.
Foie gras & short rib presse served with some toasted french bread was one of the surprises of the night, a really nice and flavorfull spread of these flavorfull proteins.
Frisee salad topped with an egg, this dish was a sum of its parts, the frisee, the bacon lardons, and the citrusy dressing. You had to get a bite with all componants for it to work. Thye should be using a quail egg imho.
Sea scallops, lime buerre blanc, basic scallop dish with a creamy broth. Scallops were perfectly cooked, but overall an average dish.
The short rib bourguignonne.... fabulous, over the top dish flavorwise, comfort food at its best, fork tender short rib, rich dark sauce, tender potatoes, and carrots, and a smear of horseradish sauce. Took me back to pot roasts of my childhood.
Roqufort crusted filet, great cut of beef, perfectly cooked. The roquefort was pungent, and powerfull. Overall a solid steak.
Overall the food was good, good flavors, etc. But having ordered similar items at restaurants elsewhere during the past month Paris Clubs versions seemed pedestrian.
We liked Paris Club, but i told my buddy i dont see myself going back, Im not their demographic imho. Im not a single, young, hip, city dweller with $$$ to burn. I appreciated the invitation and chance to eat here.
duck cracklins: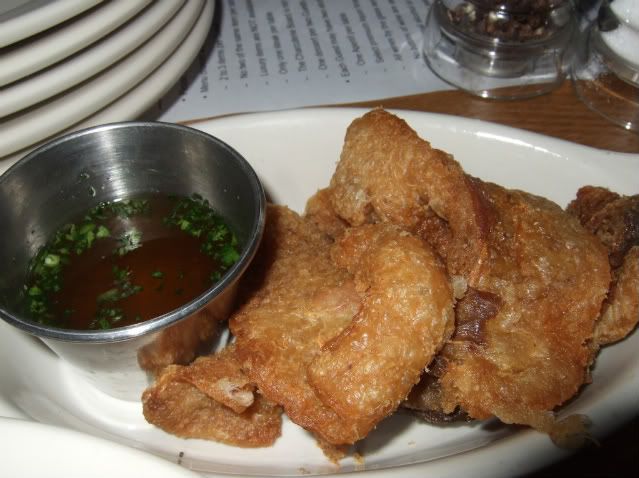 scallops:
Frisee: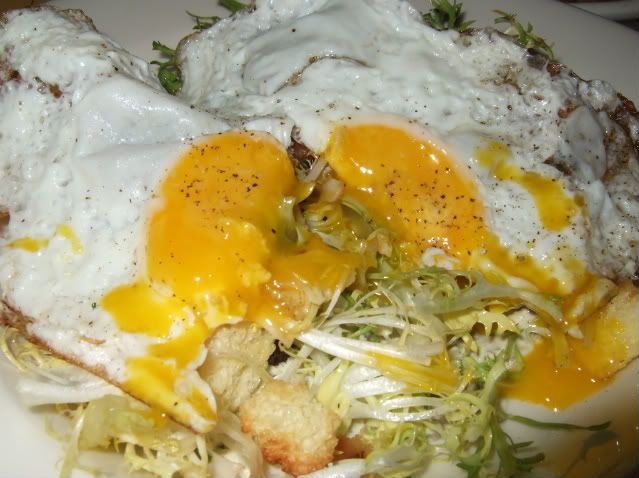 Short rib dish: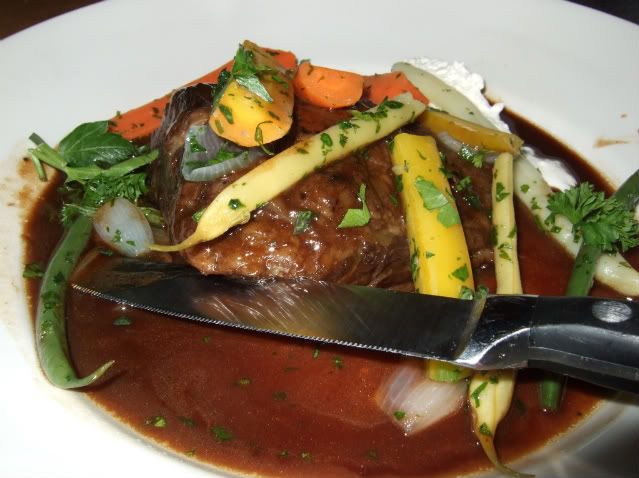 roqufort filet: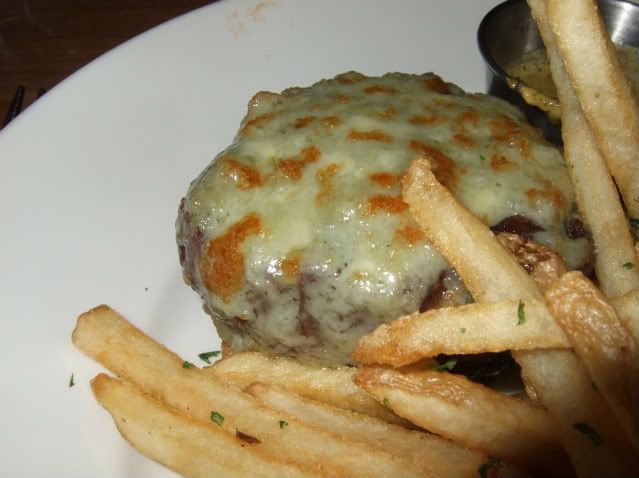 Paris Club
59 W. Hubbard
Chicago, IL.
http://www.parisclubchicago.com
Last edited by
jimswside
on March 16th, 2011, 10:17 am, edited 1 time in total.