LTH,
So there I was happily sitting at my desk counting the ants in my ant farm, I think three may have gone South, and the phone rings........brrrrrrinnnnng, brrrrrriiinnnng. Who should it be but M'th'su to tell me about his morning run, which if you know me is quite humorous.
Just when I think Mike has lost, at least, a couple of his marbles he gets to the meat of the conversation, or should I say the shawerma, a new restaurant has opened in the Shawerma King space and did I want to meet him for lunch. The restaurant in question, Semiramis had, in fact, opened that very morning.
No day one jitters at Semiramis, the owner, Joseph, had owned ZouZou past home of the ReneG approved French fries sprinkled with sumac, served with garlic mousse, and currently owns Leo's Lunchroom. Speaking of fries, Joseph said he plans on serving fries in the very near future, in the same fashion as ZouZou.
Joseph completely remodeled the space resulting in two open, airy, and spotlessly clean rooms. One which houses the kitchen, including delicious looking, and tasting, shawerma.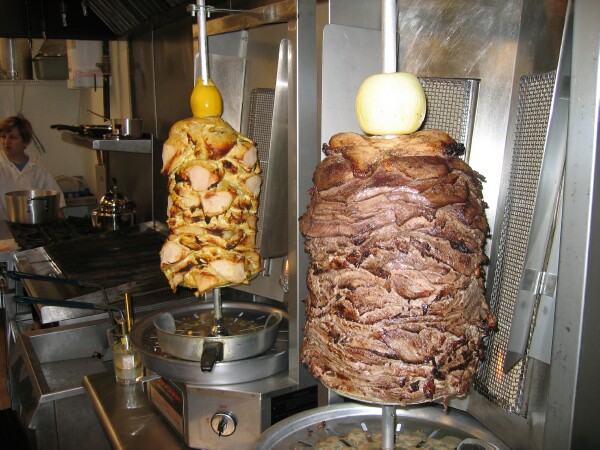 We split a very tasty Lamb and Beef Chawarma Special w/roasted eggplant, red cabbage, tomato, pickle, tahini and harrissa.
The marinated rotisserie chicken, served with thin lavosh and garlic sauce, the same garlic mousse as at ZouZou, was excellent and, at $3.75 for half, $5.50 for whole, a heck of a deal.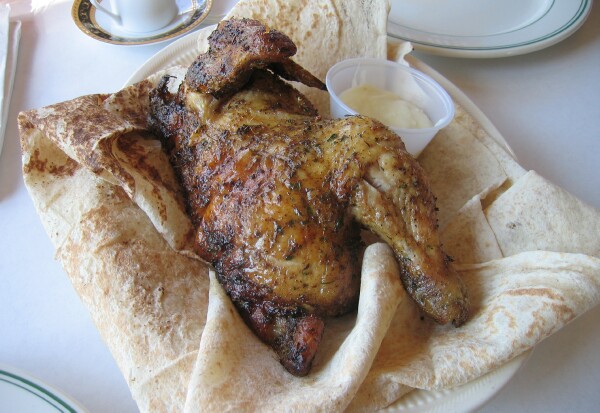 Mike and I also tried a couple of daily specials.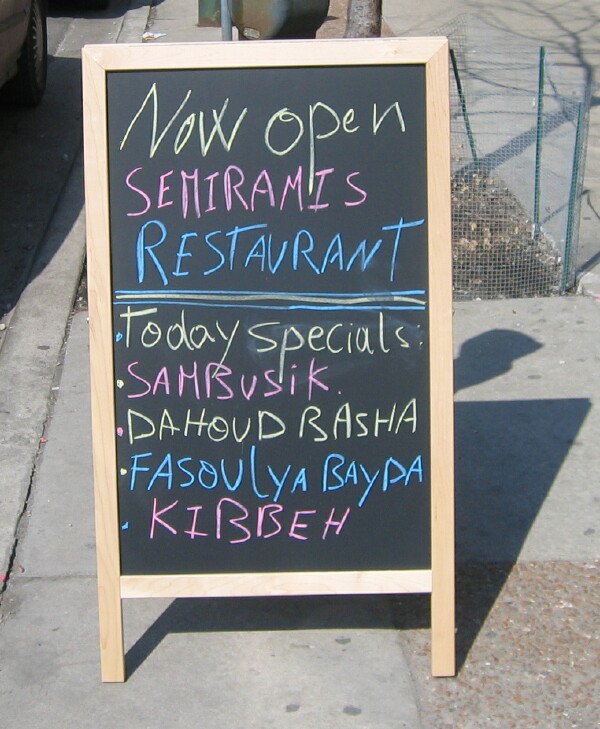 Fasouyla Bayda, white beans with tender lamb was very flavorful.
(Picture taken by Mike S)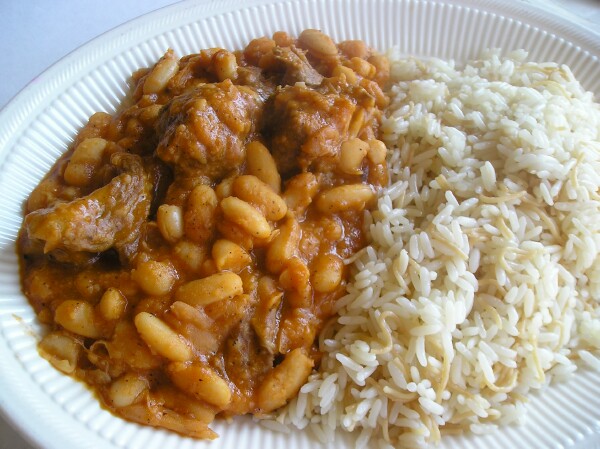 Sambusik, ground meat encased in a flaky crust served with yogurt, is something I'll order whenever available.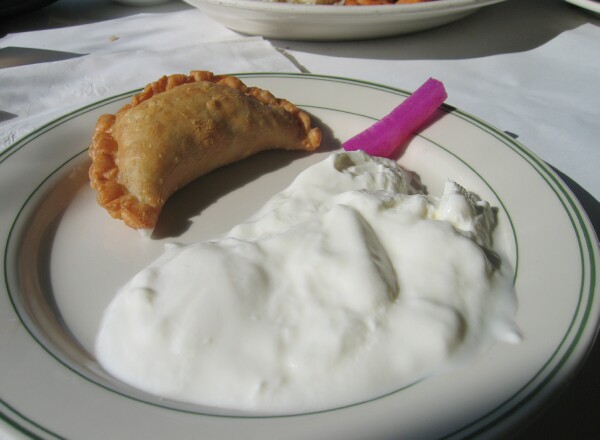 Of the dishes we tried the Dahoud Basha was my least favorite. I liked the tomato sauce, thought the flavor of the meatball good, but the meatball itself seemed dry, especially in the center.
(Picture taken by Mike S)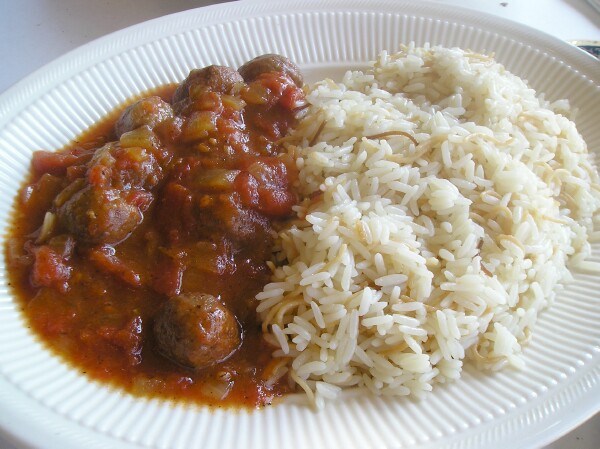 Joseph completely remodeled, the dining room is now quite comfortable.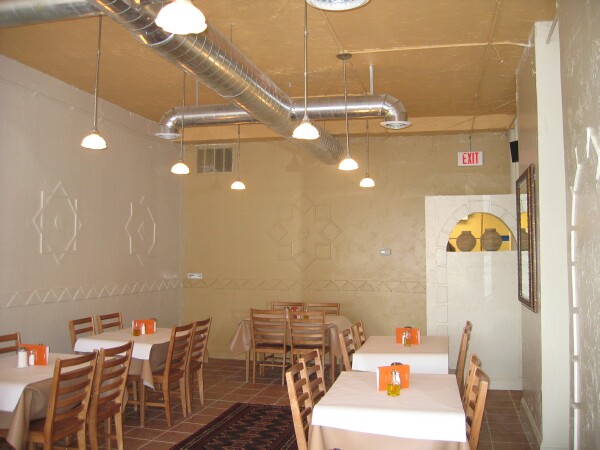 The two tables in the window would be a very nice place to while away the afternoon drinking Arabic coffee w/cardamom, munching olives and pickled turnip.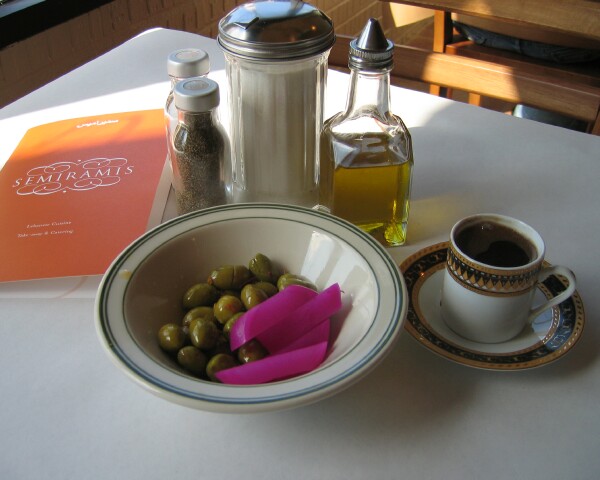 Service was pleasant and, given it was their first day in business, surprisingly efficient. Semiramis is one of the rare casual Middle Eastern spots that do not seem to mind BYOB, at least judging by the warm reception a group of 6 men received when they walked in with wine and beer.
I'm looking forward to many return visits to Semiramis, and am very happy Mike spotted the opening on his jog. Almost enough to make me take up running,
Almost
.
Enjoy,
Gary
Semiramis
4639-41 N Kedzie
Chicago, IL 60625
773-279-8900
11am - 10pm
Monday - Saturday
Last edited by
G Wiv
on February 25th, 2008, 11:51 am, edited 1 time in total.