LTH,
Sipping a Sunday coffee at Ipsento couple of rough looking guys tiredly plop down at the communal table. Turned out to be two interesting fellows, one Mexican the other Ecuadorian, who had been vending at Maxwell Street. Conversation quickly turned to food, as do many of my conversations, the Mexican gent, extremely knowledgeable ranging from Evanston Chicken Shack to Blackbird, became positively animated when I mentioned
Tierra Caliente
countering with "taqueria in the grocery at 25th and Whipple"
He immediately seemed sorry, said his uncle would kill him for talking about La Chaparrita, but quickly brightened at the thought of sharing a hidden in plain sight gem with a fellow traveler on the road to deliciousness.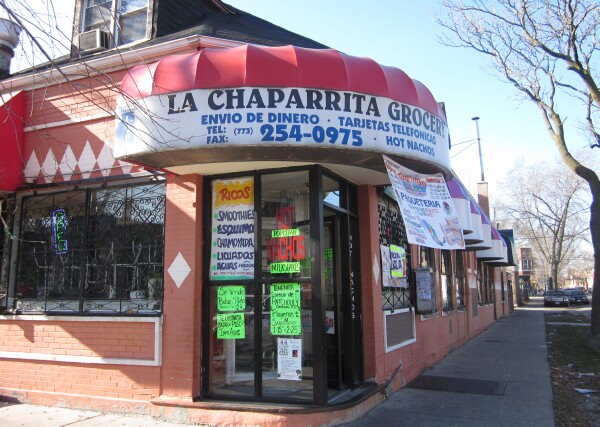 Atempted to visit La Chaparrita that very day, compact grocery open, taqueria shuttered. Questions about the taqueria simply confirmed my lack of Spanish, so I shelved 25th and Whipple for a rainy day, much like a book you know is going to be a great read. Fast forward a few months, I meet Pigmon for lunch, he tends to be self deprecating about his palate, but notes nuance the way the Hubble Telescope spots stars.
I've become slightly myopic lately, tending to view al pastor crisp cut from a spinning cone as the ne plus ultra of tacos and was initially disappointed to see an empty trompo, turned out to be a good thing widening our focus. La Chaparrita offers tacos in the style of Mexico City, which are referred to, according to an
'08 Chowhound post by RST
, as tacos de fritangas. Key is using a charola, where the meats are cooked around the periphery of a raised center disk. Its impossible to tell from my picture if this is the exact type of vessel used at La Chaparrita.
La Chaparrita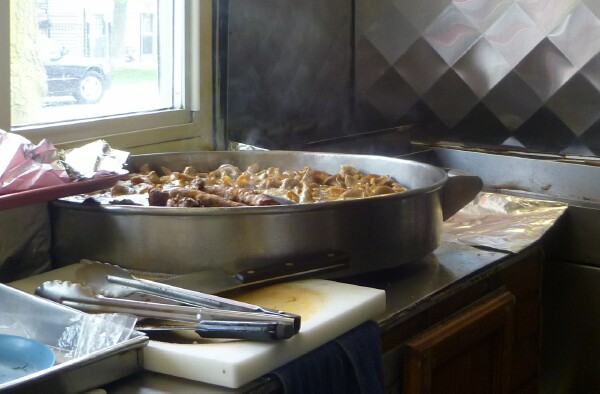 Angelina, who I assume is the owner, hails from Mexico City shoring the D.F. connection.
Angelina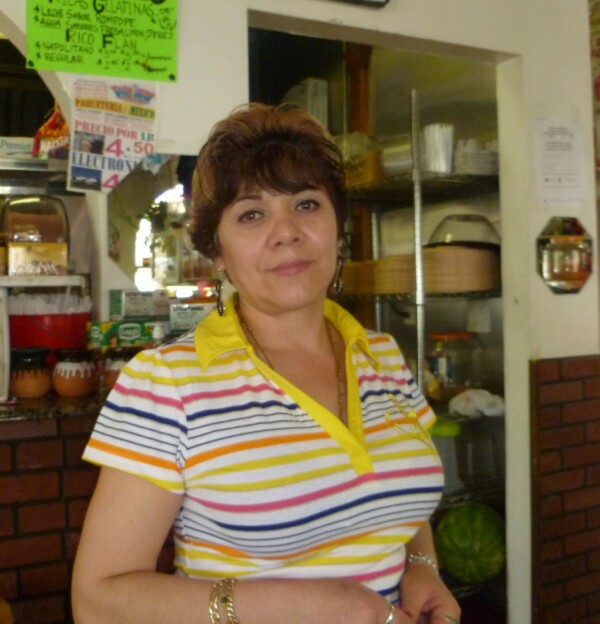 We started with three classic of the D.F. style, Suadero, Tripa and Longaniza (chorizo). La Chaparrita has a light hand with spicing, not the typical overwhelming Goya Sazon flavor, meat unmasked as it were.
- Suadero lightly crisp lean beef, bit of chew, full flavor.
- Longaniza (house-made chorizo), rounded flavor/spicing, not overwhelmed/dominated by vinegar.
- Tripa impossibly tender scant offal flavor, its a shame they don't do menudo as L.C. has a deft had with tripe.
Tripa, Suadero, Longaniza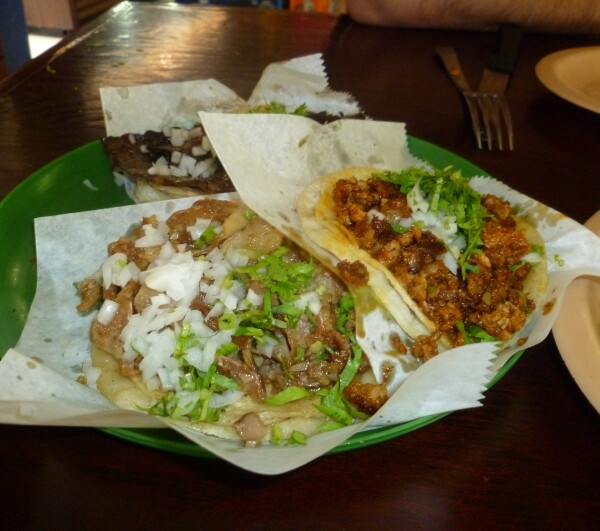 Suadero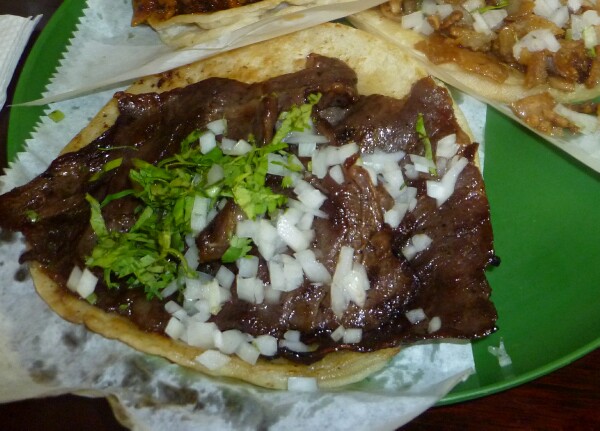 Tripa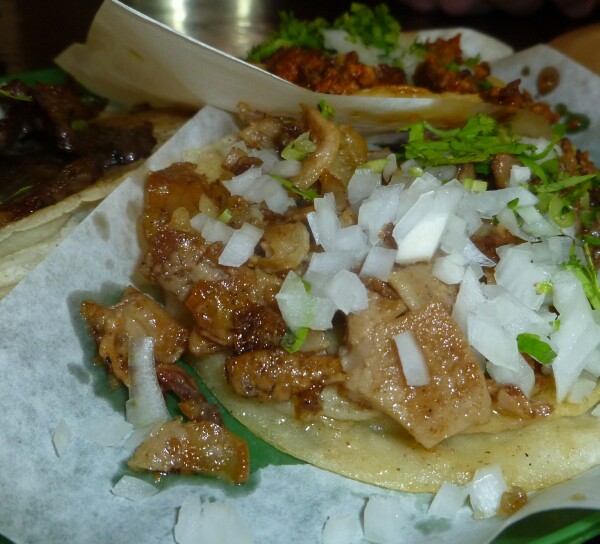 Huaraches con carne, lighter style than found at Ricos at the Maxwell Street market, ever so slightly oily, in a good way, couldn't decide red or green so we went both.
Huaraches con carne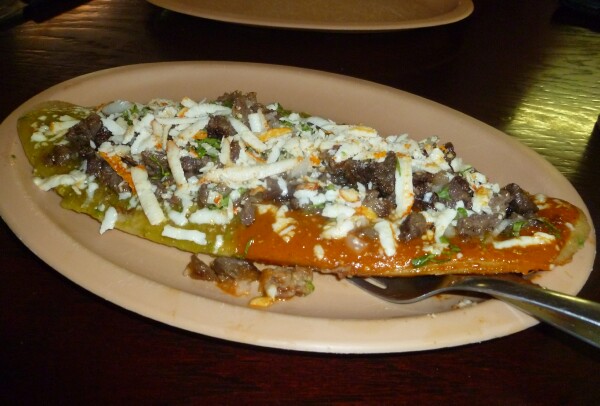 Four sauces on hand which the personable and patient Angelina explained. Potential errors due to my lack of Spanish.
From Left)

- Tomatillo, Arbol, peanuts, for tacos.
- Guacamole (avocado), tomatillo, jalapeno, for tacos.
- Tomatillo, jalapeno, cilantro, for huaraches
- Tomatillo, chili morita, for huaraches.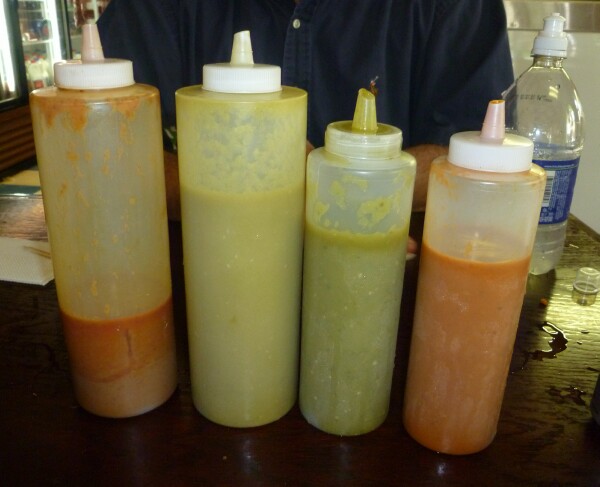 When we asked about the empty trompo Angelina said something about "inspectors" not sure what she meant, but I don't expect to see spinning al pastor at La Chaparrita anytime in the future. After asking if we liked pineapple she brought us a couple of al pastor tacos. Mild flavor, L.C. had a subtle hand throughout everything we tried, slightly overwhelmed by pineapple. Next time I will ask for al pastor without pineapple.
Al Pastor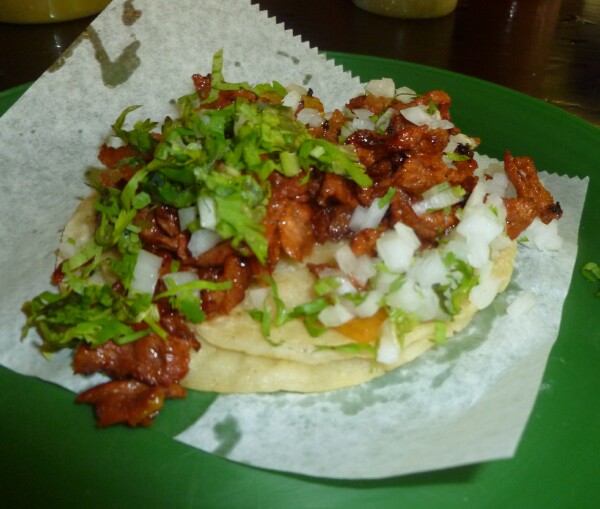 Compact grocery seems well stocked with snacks and convenience items, I can attest to the fact the popcorn is fresh.
La Chaparrita Grocery area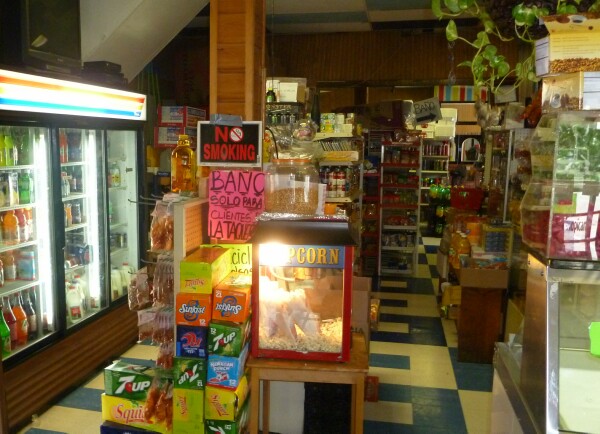 Comfortable seating area tables, stools and booth.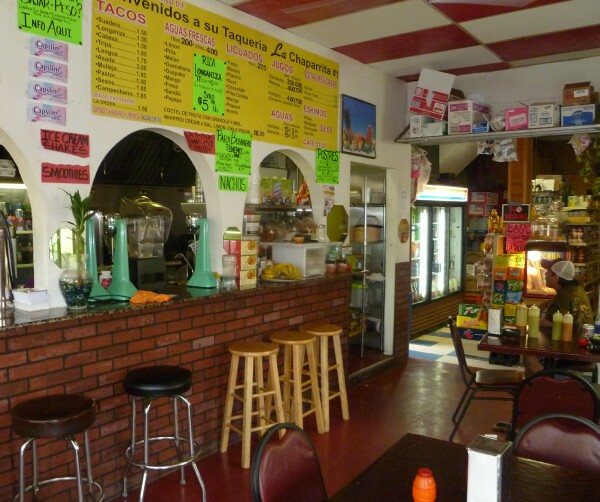 Basic La Chaparrita menu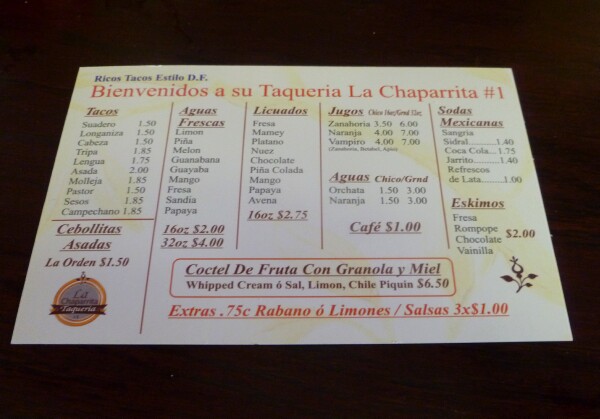 Shrine tucked away by the door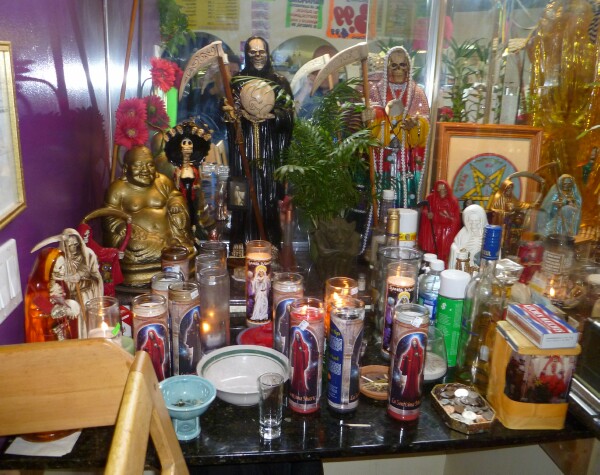 La Chaparrita has jumped to the top of my taqueria list, and @ThePigmon must have liked it as he blessed it with not one, but two tweets. I will be back in short order for lightly seasoned Mexico City style tacos, only question is which do I have first, tripa or suadero?
Thanks again to the unknown fellow at Ipsento for the 25th and Whipple lead, I won't tell your uncle if you don't. <smile>
Enjoy,
Gary
La Chaparrita Grocery
2500 S Whipple
Chicago, IL 60623
773-254-0975
Tierra Caliente
1400 N Ashland
Chicago, IL
773-772-9804
Ipsento
2035 N Western Ave
Chicago, IL 60647
773-904-8177