ronnie_suburban wrote:

thetrob wrote:d4v3, I see that you are from Rogers Park. I grew up there. Capt'n Nemos still make a pretty good sub, and their soups have always been good as well.

...

Seebee, as a major opponent of frankenmeats, I'm guessing you'd hate the place, as they seem to be the coin of the realm there.

=R=
I've been to Nemo's...once.
I've been doing a very good job of calmly holding my tongue in this thread, EVEN when the name Mr.Sub was brought up.
I used to love both Potbelly and Jimmy John's to get a decent roast beef sandwich with actual mayo instead of reactangular shaped jello loaf with white viscousy sugar. They've both switched to frankenmeats now. Last time I had a Potbelly Turkey sandwich, the meat quality may have been worse than Subway. For me, Jimmy John's is no longer an option, last rb I got from there, the meat was inedibly salty. Given a choice between the two, I'd still pick Potbelly for the chicken salad, but the main draw for me at Potbelly would be the oatmeal chocolate chip cookie, not the sandwiches. Mr Sub tho - ugh. From the ersatz meat flavored loaves, to the white "cheez," to the Bonnie Scheer brand, sugar laden, excuse for mayo, I get the heebie jeebies just thinking of that stuff. Biting into a sandwich with those meat loaves is just chill inducing. I do have a Mr Sub near the house which I do go to once or twice a year for two things:
1. Chicken wing dinner with fries. It's like 8 fried wings served on a mound of fries for around 6 bux.
2. Fried fish sandwich (which is not on the menu at this one anymore, but the past two times I've asked if they had it, the counter person says "no," but then another guy yells out "Yes, we can still make one!") It's just the same sandwich options with a couple of frozen, breaded fish planks. I can then take that thing home and put real mayo on it. (I don't even want to discuss what their sugary mayo substitute would taste like on a pice of fried fish.) I have never understood why people think sugary goo on fish is delicious. Most tartar sauce is an absolute atrocity.
I'd really, really, truly like to see these places made, by law, to call their frankenmeats as they are: Something like "turkey flavored loaf," or "roast beef style loaf." I would LOVE to see that happen. Have those meatloaf style concoctions been around forever? I just never remember seeing or eating them as a kid. Maybe I just didn't notice.
So you see, Ron, I've been holding my tongue, camly and politely.
Friends don't let friends believe this is turkey: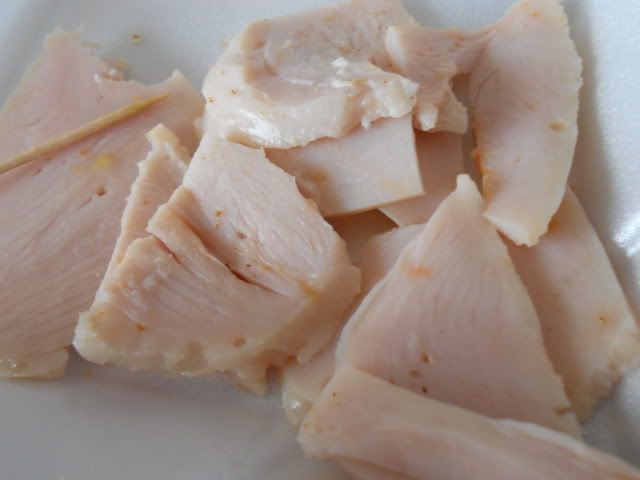 We cannot be friends if you do not know the difference between Mayo and Miracle Whip.