Yes, there are a few restaurants that I've been to more than Honey 1. However, there is no single seat that I've sat in more than the south facing chair at the northwest table of their dining room. It truly is the perfect seat. It's far enough from the TV to not let SportsCenter distract (hence detract) from the Q, yet still within eyeshot for the occasional highlight worthy of a head turn; Really Derrick Rose...really? It also allows for a close watch on the happenings and clientele in the dining room, as kinship enhances the experience. Not only does that seat offer a great view of Western Ave., but puts one in the perfect position to help smoke-seeking first-timers confused by which door to enter, as the dining side is bigger, brighter, and altogether more inviting. I'd need a few sauce-caked hands to count the number of times I've gestured "down one more" to a Honey
V
. After dozens of visits, I have only deviated twice from this spot to accommodate the large party I was dining with.
I'm damn near sure that today marked my (7th) last trip to Honey 1. As the thunder echoed, and the rain poured down, the smell of smoke was foreboding. Was this really going to be the last time I sat in this chair? I didn't ask, as I didn't want to sour my potential last meal here. Today's view of Western was of Adams and Co. packing up drinks, random office supplies, but no large quantities of boxed smoke into double-parked VW's (a pair of black and white Jettas parked side by side like the salt and pepper shakers that adorn each green and white checkered table cloth). As the rain continued to pour, it felt more like a divorcee's move than a catering gig. Through it all, no corners were cut. Today's smoke was no joke, and my combo was
on
.
I have lived four blocks from Honey 1 for close to eight years, so
today's
last visit really hit me hard. Will they continue to make great BBQ in Bronzeville? Yup. Will I make the drive when the impulse hits and time allows? Damn straight. But my seat...
my
seat. I'm pretty sure that part of the story is over. I can only hope that it takes a couple more weeks to make the move, and that the northwest table set is the last thing to go. (sticky) Fingers crossed.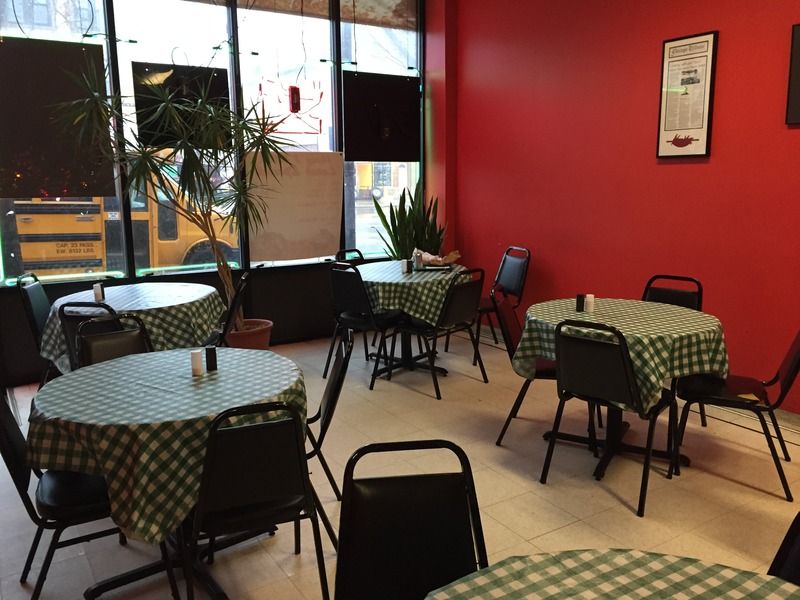 "We eat slowly and with gusto." - Paul Bäumer in AQOTWF