LTH,
MsWiv and I had the pleasure of meeting JimInLoganSquare and Mrs. JiLS at Lula Saturday evening to present Lula's LTHForum Great Neighborhood Restaurant Award. I had never been to Lula and, having read the LTH threads, was much looking forward to dinner. After a short wait in the bar, they make a mean cocktail, we were seated at a comfortable table in the bustling with energy dinning room. Jim and Susan had, as befits GNR nominators, been to Lula many times we took our cues from them.
Our meal started nicely with an amuse of pureed ramp on bits of pie dough.
Lula Amuse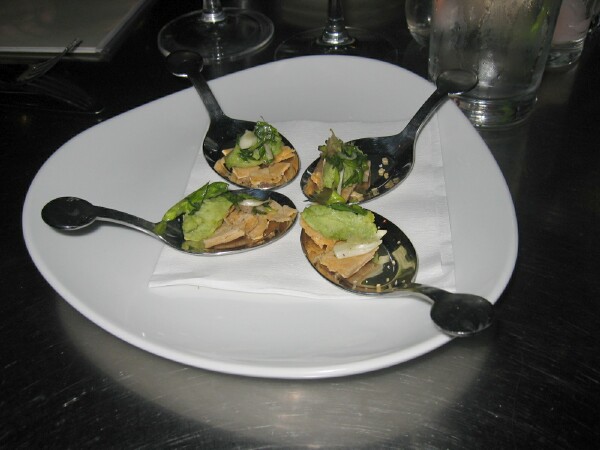 Lula Maki was good, not a wow, but solid. On the other hand grilled baby artichokes with artichoke mousse and prosciutto was an out-of-the-park home run. Jim pointed out the bit of LTH coincidence as Joy had just posted about
baby artichokes
.
Parma prosciutto, grilled artichokes, with artichoke mousse.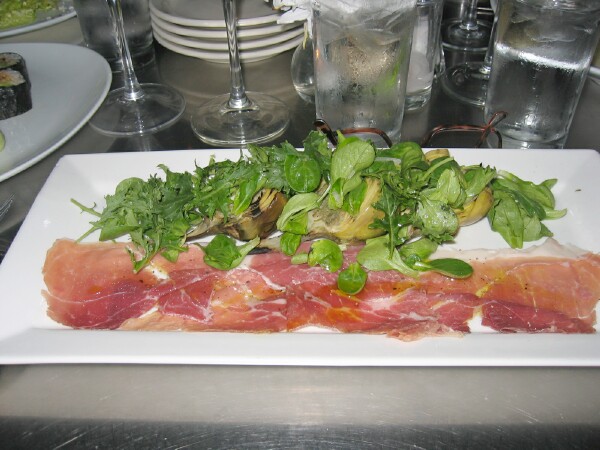 Another hit was Cauliflower soup with puff pastry wrapped brie.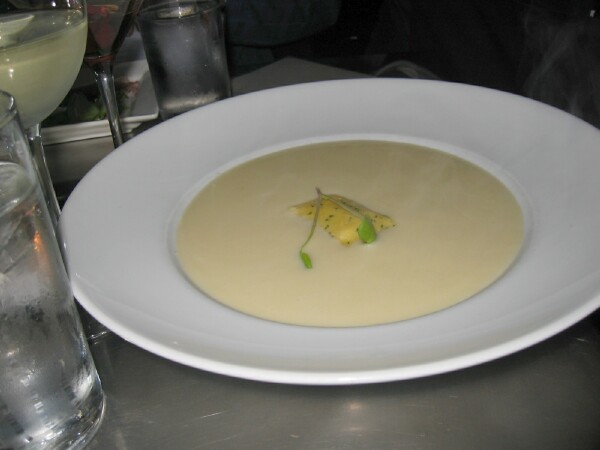 Ellen's halibut with fiddlehead ferns was good enough to have me checking Lula's
on-line menu
to see when it returns to daily specials.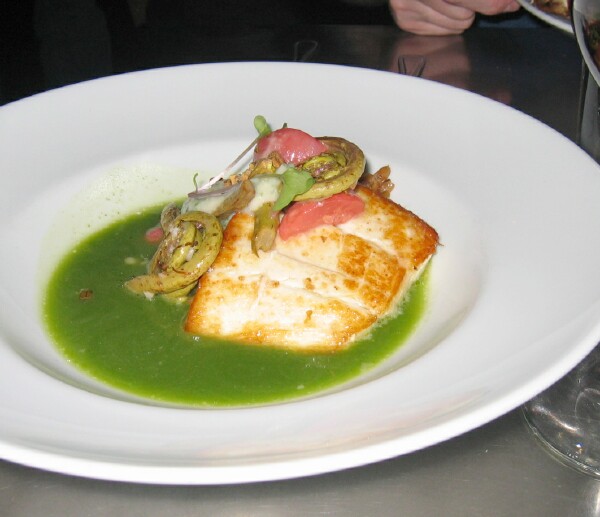 Jim had veal chop resting on a bed of grits, really (really) good grits. Jim, who is a grit aficionado, said they were among the best he had ever eaten. I agree, they were terrific, as was the veal chop.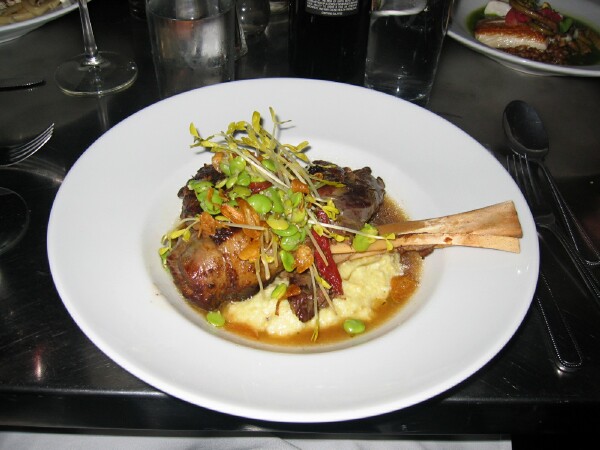 Susan's Pasta YiaYia was damn good, I thought that feta worked in the dish, but, then again, I'm not a Greek grandmother.
I had the much vaunted roast chicken, which was cooked perfectly, though if I had to pick a nit there was a shade too much rosemary for my taste.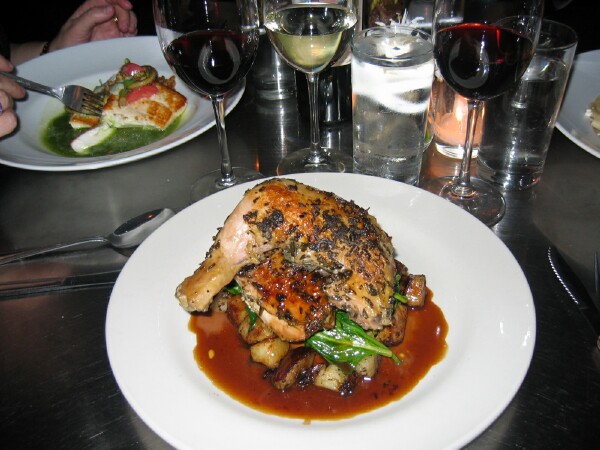 Carrot cake was, well, truthfully I'm not a carrot cake fan, but the consensus was Lula's was very tasty.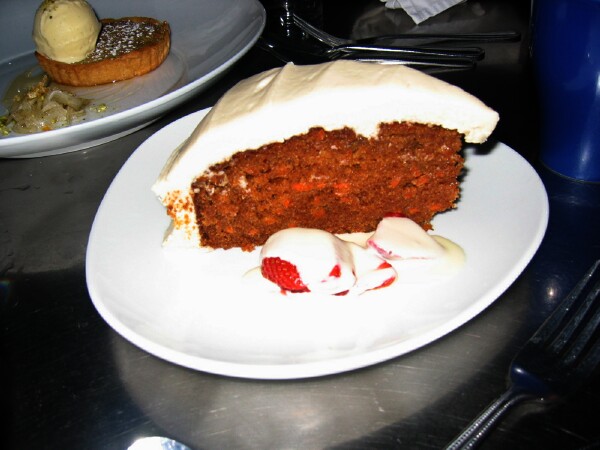 I am a chocolate fan and the chocolate crepes were delicious.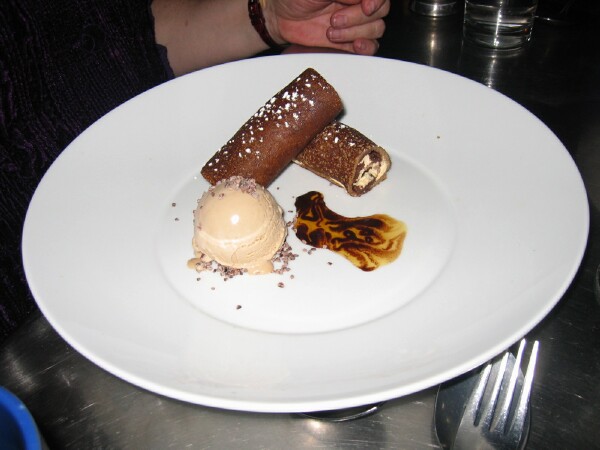 There has been some discussion of service in the past, I can only speak to our experience Saturday night, but there were no lags, no fumbles, no problems whatsoever. The only issue I had with the waitstaff was I wish all restaurants were as efficient, polite and well informed.
Jim presented
Lula's GNR
to co-owner Jason Hammel.
JimInLoganSquare presenting LTHForum GNR to Jason Hammel, co owner of Lula with his wife Amalea Tshilds.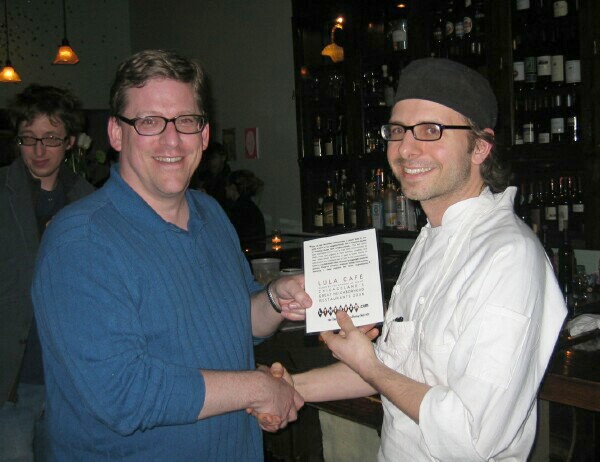 It seems Jason was aware, and enthused, Lula was receiving the GNR as long time LTHer Natile is a waitress at Lula. (
very nice to meet you Natile
)
All in all a terrific meal, thank you to JimInLoganSquare for introducing us to Lula, I'll be back often.
Enjoy,
Gary