I'm coming around to Homestyle Taste, I just have to settle into an ordering pattern that suits my tastes. That said, I really enjoyed a lunch here today. I followed the advice of my friends that I mentioned above + ordered my two favorite dishes from our big dinner here in January.
Colorful Wide Noodles were a study in textures: slippery, chewy, and crunchy all at once. Every table in the house seemed to order this dish. I loved its refreshing effect to offset the richer dishes we ordered and dug that horseradish-y hum.
The Lamb Skewers were addictive morsels with an ideal meat-to-fat ratio. A very similar flavor profile to the lamb with cumin with, you betcha, lots of cumin and chili. They were served piping hot and had a cleaner grilled taste than the lamb with cumin. These will be an essential order in the future.
Here's a pic for posterity: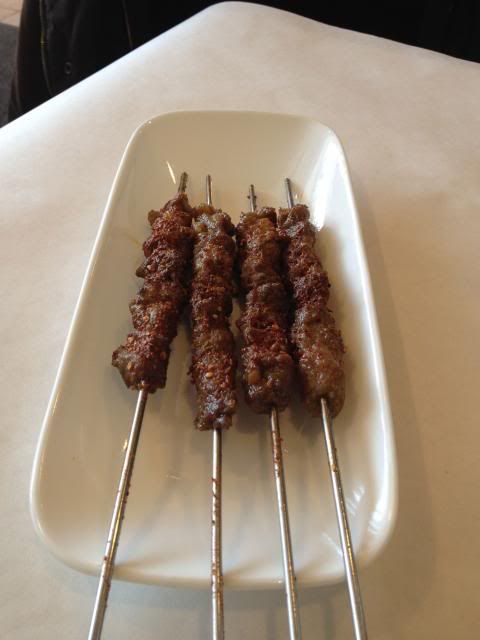 Iron Pot with Stewed Pork and Sour Cabbage hit the spot, rich but also kind of refreshing at the same time. This reminds me of a mellower and meatier version of my favorite Sole Fish Soup with Sour Pickle soup at LSC.
The Smoked Pork Roll, on second try, is my favorite version of this dish.
I've only been twice now, but will certainly crave the above dishes and can't wait to return for the stewed mushroom & chicken dish Jazzfood mentions above, stir fried potato dishes, and Cold Korean Noodles. Also, could what their menu lists as "Noodle with Fried Soybean Paste" be Zha Jiang Mian?
Worth noting, my dining companion today is a sufferer of GERD and has a restricted diet of no alliums, tomatoes, citrus, chiles, peppercorn, etc. With the exception of the skewers and our order of scallion-free Smoked Pork Roll, he found this to be a great cuisine for his affliction, full of flavors and textures and most importantly, seasonings that he relies on to keep things interesting- ginger, vinegar, mustard, horseradish and pickled stuff. He only had to work around a few scallion garnishes and braved the relatively lightly chile-oiled noodles.