If there's one obscure stretch I keep an eye on, it's Elston Avenue. The ultimate road for insiders (you don't know it exists until you've lived here long enough to realize it's the key to getting around the north side in a timely fashion), it's a mostly unlovely street of industrial buildings, but dotted with the kinds of places that reward the patient study of our city's more obscure districts-- Stanley's Fruit Market, Taqueria El Potosi, Latin Sandwich Cafe, Two-Way Grill, Smak Tak. So when a taco joint on Elston suddenly sports the new name of "Cafe Fez, Moroccan Delicacies," I notice it. Something's different. The back of my hand is no longer quite as recognizable as it was. The spirit of the Age of Exploration stirs in my blood. I set my sail-- little suspecting that in this case, a journey along this stretch of the New World will take me, a Wrong-Way Columbus, directly into contact with the Old World of half a millennium ago.
* * *
Cafe Fez is a homey place, modestly remade from Mexican to Moroccan on a budget of about $11, with more ambition on its menu than you would expect from its humble surroundings. On one visit I went for simple: this has a name like zatouk or zalouk, although it seems to me to be not unlike the Turkish imam biyaldi, mashed eggplant with a tomato sauce (though possibly different for lacking caramelized onion), a hearty, robust dip for starting a lunch: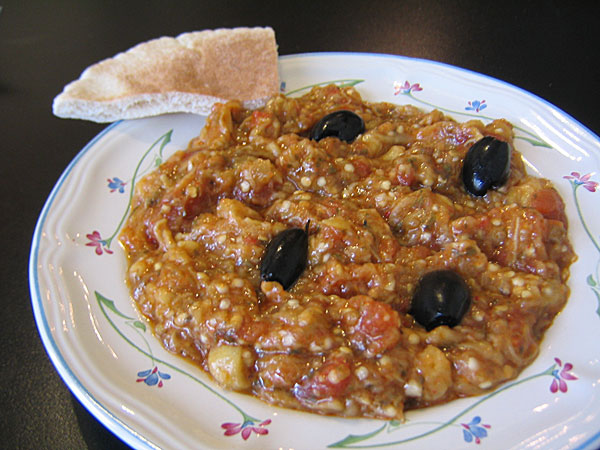 It was followed by a kifta sandwich, flavorful kifta somewhat let down by the use of a styrofoamish Mexican-bakery French roll, which needed something like the garlic sauce they offer at Semiramis to keep it from being too dry: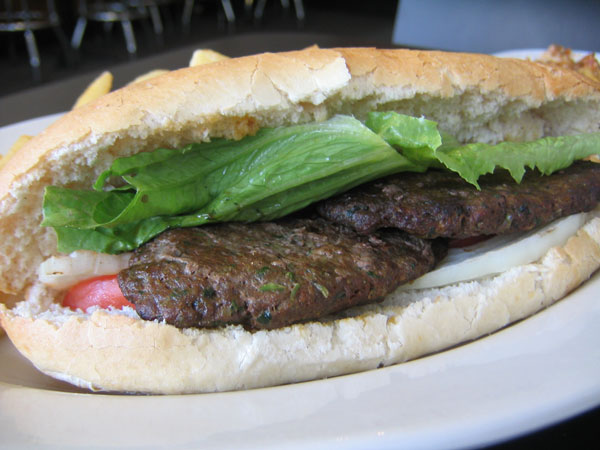 All this is simple and pleasant enough food, what you'd expect to find at a storefront sandwich shop. It is a considerable jump from there to what I had at my other visit to Cafe Fez.
During the Renaissance, Italian pasta was seasoned by spices of every description-- spices long used in the cuisines of ancient Persia and Arabia, Southeast Asia and China. The affluent Italian's taste for sweetness and spice was heightened by medieval trade links with the East and Arab occupations of southern Italy. So many old Italian court recipes seem influenced by the Middle East. Sweet spices like cinnamon, nutmeg, clove and ginger were accented by pepper, perfumed with rosewater, or their sweetness took on an arid/herbal overtones from generous doses of saffron. These blends, in turn, were mixed into dishes with nuts, fruits, meats and cheeses.

The ancestors of today's filled pastas were stuffed with these combinations and then sprinkled with grated cheese, sugar, and cinnamon...
Ever since reading that description of sweet/savory pastas and pies in Lynne Rosetto Kasper's
The Splendid Table
(the book, not the
radio show
she named after it), I've wanted to make one of these dishes, just to see how it would appear to modern palates. Little did I suspect that for no less than the second time, I would find something directly descended from those savory pasta dishes of long ago on a modern-day menu on Elston.
Chatting up the friendly proprietress, to find out what the more unusual specialties were, she mentioned pastillas-- a chicken one and a seafood one. Now, if you do a search for pastilla, you will mostly get South American references. That jogged my memory back to the
dinner
we had long ago at Latin Sandwich, where one of the items was a thing called pastel de choclo:
In a past life, Mike G wrote:...the hands-down winner for me, and luckily it's one of the things they always have in the fridge for carry-out, was the pastel de choclo, or the deconstructed empanada as I called it, not really fairly. Actually what it reminded me of was some of the sweet and savory Reniassance-era Italian dishes that Lynne Rosetto Kasper talks about in The Splendid Table-- a bunch of ground beef, a whole chicken leg (and as Dave noted, that was no small chicken) and fennel baked a good long time under a layer of sweetened cornmeal. Incredibly rich in flavor, primally satisfying, and since they reheated ours for us you'll have the same experience if you go there and pick one up.*
Now how does the same dish wind up in South America and Morocco, two places we don't normally think of together? The answer, surely, is Spain. The sweet and savory baked dishes Kasper talks about were probably known throughout at least Mediterranean Europe during the time when spices were one of the main objects of trade; and survive in the cultures Europe interacted with even if many of them would seem quite foreign on an Italian restaurant table today.**
So here is the Moroccan variation of the Italian dish which I have only had once before in its Chilean incarnation: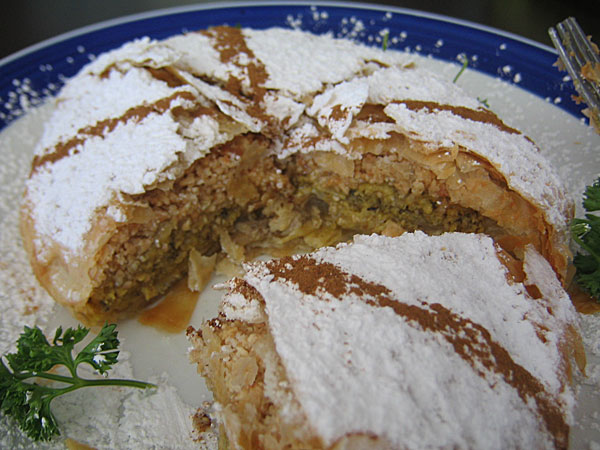 The structure is baked phyllo; the lowest filling is ground chicken roasted or sauteed in onion, the middle is egg fried up in the onion-flavored grease from the chicken, the highest filling is ground almonds, and on top is powdered sugar and cinnamon. How was it?
Discordant. Unsettling. My palate tried to make sense of the cues given off simultaneously by something that tasted like chicken pot pie below and baklava above, and couldn't. Sweet and savory fought each other all the way, and never came to a resolution. It was fascinating, but it never came together into a coherent dish to me; it was a Bach organ piece and a Cole Porter tune played in alternating bars. I am not often defeated by the things I try, but this did what Chinese dishes of eel intestines buried for a month could not, it beat me and I finished it by breaking it apart into a sweet half and a savory half. I guess you had to grow up eating it. Preferably 500 years ago.
But the woman who runs Cafe Fez couldn't be nicer, and there are some more things I want to try off the menu, starting with the seafood pastilla which I think doesn't have powdered sugar on it. At least I can hope. Toward the end, as I worked my way through it, she brought me gratis some tea with mint, exceedingly sweet but, you must admit, awfully photogenic: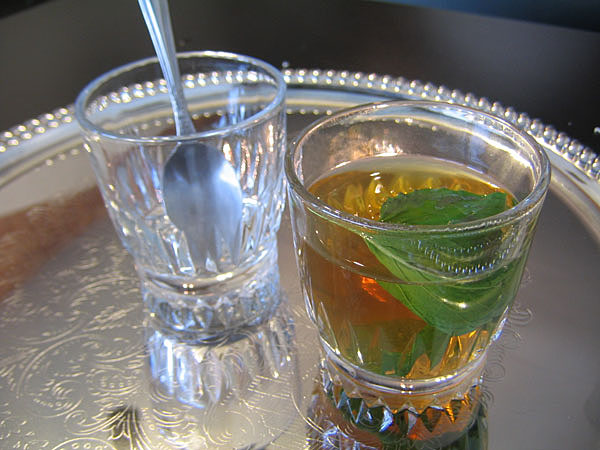 This is the hospitality of Cafe Fez.
* * *
Tassili n'Ajjer is a desert in Algeria,
this website
calls it the most beautiful desert of all, and who would argue with such enthusiasm?
I did not know that when I first saw the name "Tassili Cafe" in a window along Elston, but I surmised quickly that it probably indicated a middle eastern cafe of some sort, judging by the fact that the block it's on includes an actual mosque; and Google did the rest.
If Cafe Fez was like being invited into a North African home by the woman of the house, Tassili is a very male place, not just because all the customers whenever I've been there have been male, but because it has the raucous masculine energy of a coffee house or social club in that part of the world-- complete with cell phones and big screen TV (tuned, incongruously, to a cooking show on one visit).
I suspect Tassili's main business is very much tied to the schedule of the nearby mosque, and my initial welcome was not especially warm (though several degrees above certain Eastern European spots I've entered). It warmed up when I started asking about off-menu items (couscous on Friday is the big special), however, and on my second visit I was recognized and welcomed back.
Foul, the classic dish of mashed fava beans with onion and olive oil, was one of the best versions I've had, certainly the most oniony and garlicy: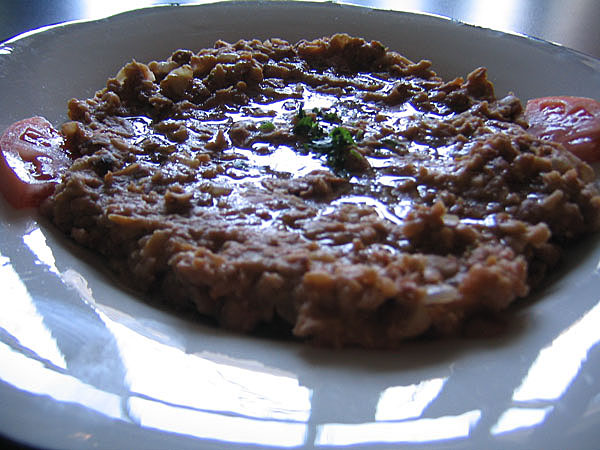 Merguez, the bright red sausages which I thought were always lamb but turned out to be beef in this case, were expertly grilled. Thinking of the uninteresting Mexican French bread at Fez, I ordered them minus the bread and French fries and with a salad. Having had them both ways now, they're much better eaten solo than in a sandwich, and the salad was pungently flavored: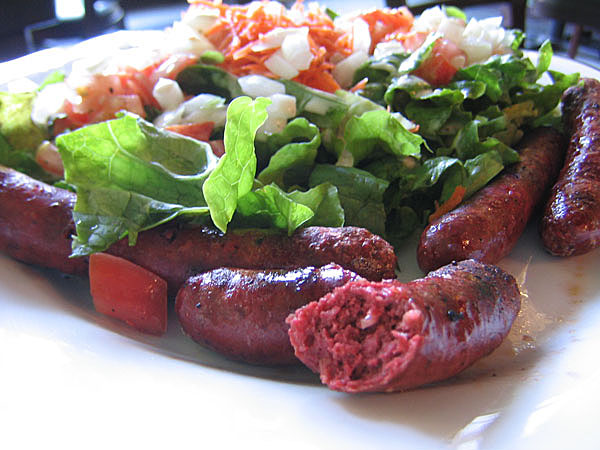 On a return visit with G Wiv and M'thu'su, we had a merguez sandwich and also a kifta sandwich. Actually, the bread was better here than at Fez, but I think we all would have preferred the sandwich with 2 or 3 times as much of the garlicky spread on it, or something else to make it a moister sandwich. Frankly, forget the bread and lettuce, just order the meat.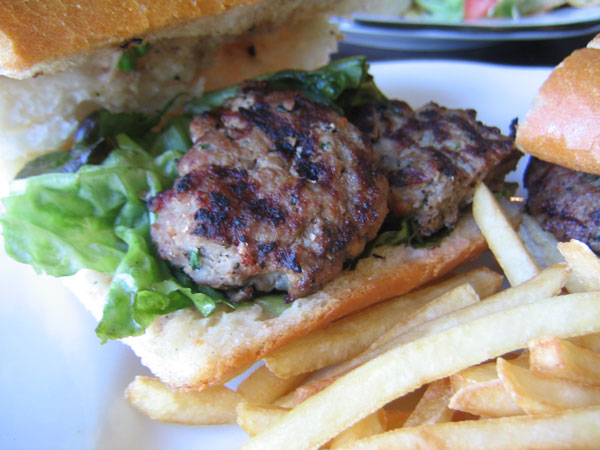 What was described as a chicken dish with peas on the specials menu turned out to be a chicken dish with green olives, in a tomato-cinnamony broth.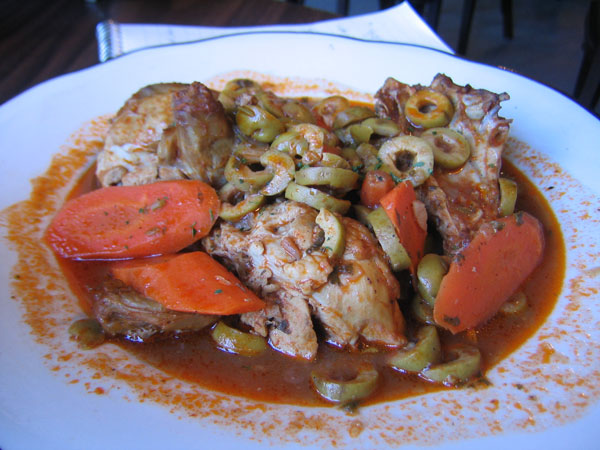 Tassili seems less ambitious at the moment than Fez, but possibly more accessible (at least, it must be said, if you are male). Neither is as accomplished as, say Semiramis, but they aren't the same kind of restaurant; they exist to provide a taste of the Old World to people who have settled far from home in the New. And in one case, the taste of the Old World they provide is older than most who visit will realize.
Cafe Fez
4659 N. Elston
773-286-8991
Tassili Cafe
4342 N. Elston
773-685-6773
* Please note that I have no idea whether this is still available there. Been a while.
** Kasper talks of most of these recipes in the past tense, so to speak, although one-- the sweet tagliarini tart of Ferrara-- she says is a common dessert. Anyway, it seems safe to say that they are not typical of northern Italian main course or meat course dining today. Actually, probably the most common dish today with a foot in this tradition is an English one, mincemeat pie.