Had a fantastic lunch two Saturdays ago at Boston Fish Market.
Started with 1# of cooked jumbo cocktail shrimp served on a bed of ice with a tangy cocktail sauce and a chunk of lemon. Plump, sweet and delicious.
I ordered a Walleye sandwich while FlavorFool ordered 1# of deep fried oysters - well, she was going for 1/2# but I nudged up her order
. Both were outstanding. The oysters had a light, crispy coating and a warm, creamy interior - very fresh and oceany. You can see a photo of the sandwich up post. I'm a sucker for a good fish sandwich, and this was a great one. When we were getting quite full, rather than leave 1/2 a sandwich uneaten, I pulled the double fillets out of the lightly grilled bun and ate them on their own. So glad I did, as the full flavor of the Walleye was more evident on it's own. Deep fried, light crunchy coating, and cooked perfectly - these people know how to cook fish - and not over cook.
We both enjoyed the heaping pile of skin-on fries that came on each of our plates. A little soft, rather than crunchy. Great flavor, and perhaps an acquired taste style wise.
Took home 1# of cod, and a night later sautéed it in olive oil/butter and made a pan sauce of shallot, capers, white wine, lemon and parsley. Cooked until just flaky, it was cod heaven.
Following night we sautéed lightly breaded crab cakes until the centers were warm and they were lightly browned. Some of the best I've had away from the East coast.
We had some cocktail shrimp and oysters left over, and Michelle was happy to bring us some 'take home' boxes. Dino, Louie's brother, was bringing out customers' orders on heaped plates and baskets and working the extensive retail fresh seafood counter (much more than just fish). Mike was taking orders and working the cash register. Mike normally runs the wholesale side but was pulled from his computer Saturday to help speed service to the crowd in the cafe. A very friendly and helpful crew!
Below are photos of the rumpled front and back menu from that Saturday, including address, phone and business days/hours (note they close all days at 5pm!).
I'm going to try to head back either today or Saturday for some clam chowder or fried clams and some grouper for the grill.
Thanks, SweetWilly, for bringing this place to our attention. After my first visit you might say I'm 'hooked'
.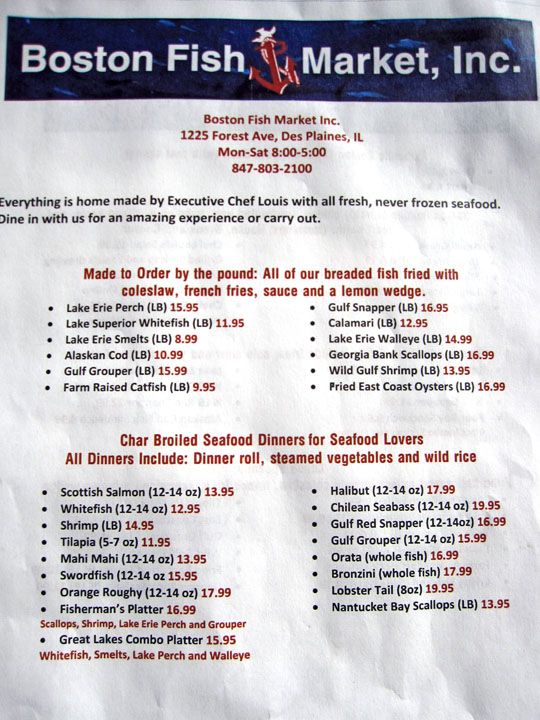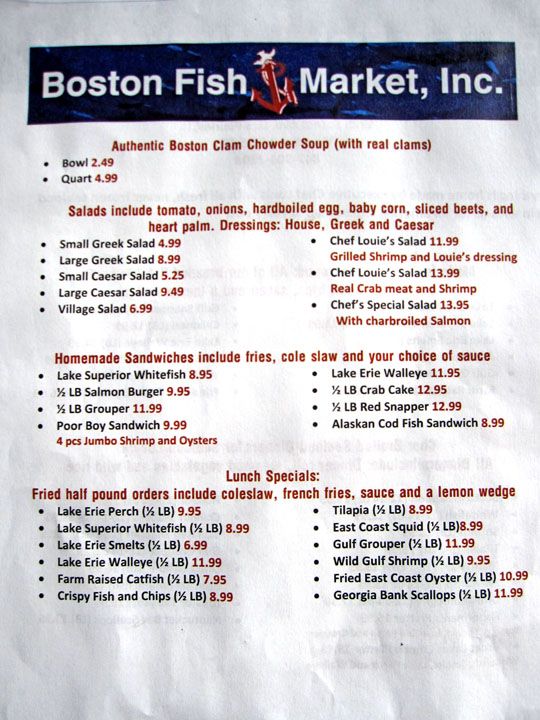 Posted with permission of Mike Vallone, Boston Fish Market
Last edited by
DRC1379
on March 16th, 2013, 2:41 pm, edited 1 time in total.