After moving to Portage Park, I found the reviews for many of the NW side places much more scant than when I was in Edgewater. I've been doing some exploring, and after running into a review on Serious Eats, I thought I would go check out Somethin' Sweet Donuts in Cragin.
I have done the artisinal: Glazed & Infused, Doughnut Vault, et al, so I've had those. I have not been down to Old Fashioned yet, so I don't have them as a point of comparison.
I dropped by this morning about 10:15. It looked like a few varieties were getting fewer, but his availability was good. I talked to the owner, Jimmy, and he offered me a taste of his pumpkin cake doughnut. Dense and pumpkin-y with a glaze, it was solid. I grabbed a half dozen: pumpkin cake, cherry cake, vanilla cake with sprinkles, red velvet cake (I do prefer cake doughnuts), strawberry yeast, and cinnamon sugar yeast.
The cake doughnuts were really nice. They were doughier than many, but that packed a moist bit in the middle that kept the flavor. The cherry cake was particularly cherry laden, with visible bits. The pumpkin had a nice spice. The two yeast doughnuts reminded me of what places like Dunkin' Donuts used to taste like, when they still made them in house. I haven't had a Tim Horton's in a few years, but I would bet it's similar.
Other interesting aside...on the Serious Eats piece, someone linked to the fact that the owner is Cambodian, and that Cambodian doughnut shops are taking over California. I'll definitely talk more to Jimmy the next time I'm in.
http://lky.ph/post/49369673139/richard- ... -doughnuts
Less than $6 later, I was on my way home with a bag. I should have taken more pictures, but we were enjoying them too much. They're cheap, available, and really solid, something this town (and the NW side) can use more of.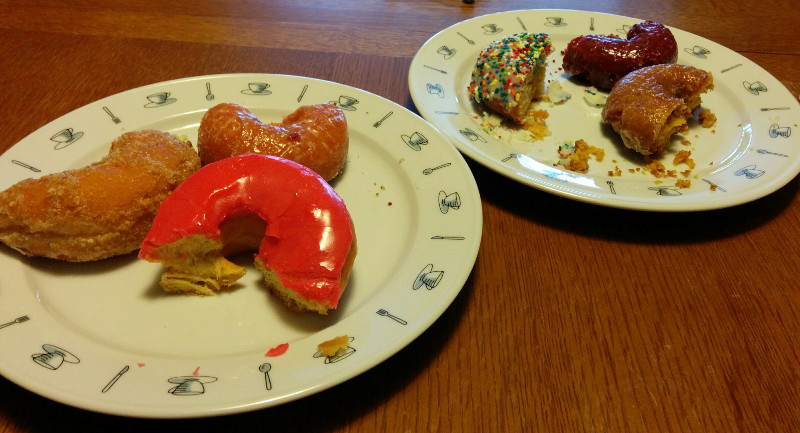 Somethin' Sweet Donuts
5112 W Fullerton Ave
(between Leclaire Ave & Laramie Ave)
Chicago, IL 60639
(773) 237-7588