Hearth is the new (six months old) restaurant in the Homestead, a boutique hotel at the edge of downtown Evanston. The location formerly housed several upscale restaurants, including Quince, Trio, and Cafe Provencal. Hearth is decidedly more casual as well as more affordable, with dinner entrees mostly around $20, while still offering a creative culinary experience. We went there today for their Sunday brunch and really enjoyed it. We hope to return in the near future, for dinner as well as for brunch.
There's not much in the way of exterior signage visible from the street, just a sheet of paper on the doorframe (although they also have a big pedestal displaying their menu next to the sidewalk), so make sure you have directions:
They were only about half full. However, for Sunday brunch, it's always a big plus when a place accepts reservations, which Hearth does, including on Opentable, so you can make a reservation and not have to worry about waiting to be seated.
Today's brunch menu, pictured below, was similar to the one on their website: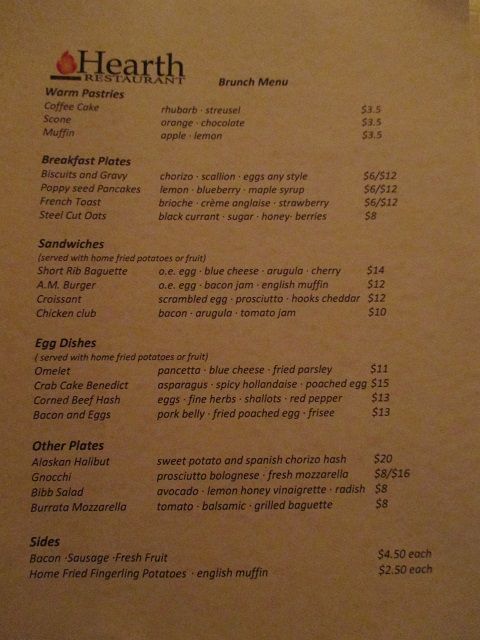 Here's what we had.
Coffee cake
, rhubarb, streusel (served warm):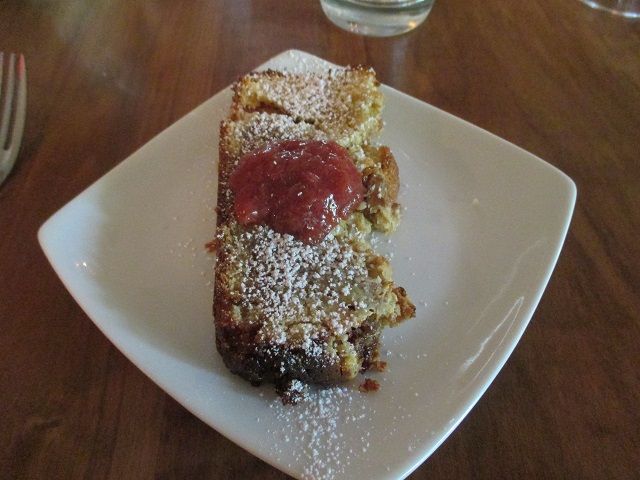 Short rib baguette
, over easy egg, bleu cheese, fingerling home fries:
Crab cake benedict
, asparagus, spicy hollandaise, poached egg, fingerling home fries (oddly, with no English muffin):
Everything we had was very good indeed, and service was friendly and helpful. Despite a vibrant dining scene for lunch and dinner, Evanston doesn't have all that many places doing a nice Sunday brunch. Hearth is a welcome newcomer in this category, offering a varied, interesting menu, with delicious food in pleasant surroundings.
Hearth
1625 Hinman Avenue
Evanston IL 60201
847.570.8400
Website:
hearthrestaurant.net
Facebook
Tuesday - Thursday 5-9:30
Friday, Saturday 5-10
Sunday 5-9:30
Sunday Brunch 9:30-1:30