We hit up Las Vegas Vietnamese food, and left thoroughly impressed. Immediately goes into the rotation. Only had the cell phone, the work cell phone at that, so I think I might leave some pics off. Looks like I got a few decent ones, at least.
Bright and airy space. Decent amount of room. Their previous incarnation was much smaller, and only four or five cheap tables. I'd guess triple the space in the new diggs.
Tables are each equipped with a caddy that holds plasticware and chopsticks. Bottle of sriaracha, too.
Spring Rolls:
2 big uns per order. Lots of greens, big, fat shrimp. The wrapper was perfect. Nice and chewy.
Grilled Pork Bahn Mi: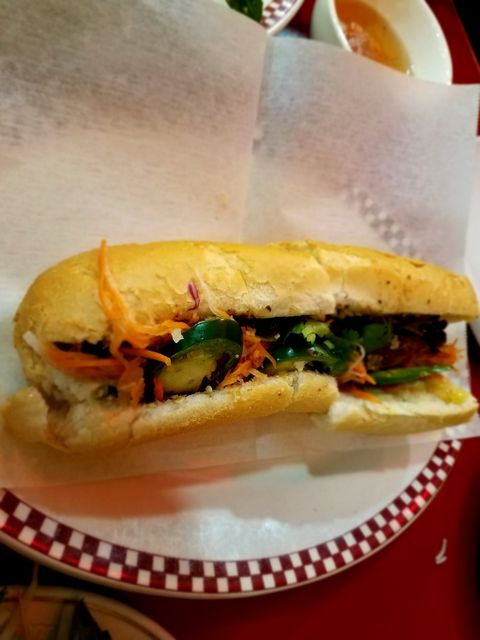 Choice of meat, or tofu. I didn't detect any pate, and I inhaled it before I could check. The jalapeno was kickin' so needless to say, I liked it. A LOT. I'm sure there are better examples, but this is in BERWYN. It's the only game in town, so it didn't even have to be this good to gain praise. Very decent showing, even tho I couldn't verify the pate.
Crispy Pancake. This. I want another one:
Super crispy outside, stuffed with bean sprouts, shrimp, and pork. Big plate of basil on the side, along with a fish sauce based sauce. This. This. I haven't had one of these in a while, but I'd swear there was a slick of butter - (even movie theater kind of fake-ish butter?) on the outside of this thing. I loved it. This plate, by the way was the size of my forearm.
Las Vegas Special Pho:
Tendons, tripes, brisket slices, and noodles. Jr. let us try it after he hoarded the bowl for a good 15 minutes and declared himself too full to move. There was plenty left over for the two of us. We didn't even finish it all. The broth was interesting as it should be. Not heavy with cinnamon, but some other spice I can't place. Not overpowering at all, but the "shock" of cinnamon in a bowl of soup wasn't really there on my western palate, if that makes any sense.
Grilled Chicken with rice plate:
The photo is ass, sorry, but this was nice. Standard Vietnamese sweet/salty/charry thing going on. Dark meat, too!
I wanted to try their egg rolls, but that would have been overkill. They had a few combo plates with egg rolls, but none of those combo places had the grilled chicken. I nudged the owner about this when he was taking our order, "Hey, none of these combo plates has CHICKEN with egg roll..." but he didn't get what I was hinting at. Since we got the grilled pork in the Banh Mi, I really wanted to try the grilled chicken...I won't bore you with how I was strategically trying to order a little bit of everything. Anyway, we really liked everything we tried, and as I said, this immediately goes into the rotation.
Wife 1.0's response when she saw the bill? "Tip very high, they need to know who we are!"
Panther, Santander, et al:
You will not be allowed to annex this one without a fight. You have Saigon Pho over there in Fopa anyway. I've been to that one three times, and none of those times did I leave as impressed as I did with my first visit to Las Vegas.
Website from the old location:
http://lasvegasrest.com/
New address:
6723 Cermak Rd, Berwyn, IL 60402
We cannot be friends if you do not know the difference between Mayo and Miracle Whip.