Oh dear.
I haven't logged into LTHF in a while.
I mourn SteveZ's passing. I did not know about his health.
I will look through my photographs (I am at the public library on my Windows® 8.1 laptop. My photos are on the home desktop Windows® 7 computer.) for the ones I took at LTH GNR awards dinners.
My condolences to all his relatives.
As it is my
slight
preference
to not take photographs of people
, my images are mostly of the
food
at LTH events. I state this because I turned up
one blurry image of SteveZ
from the LTH Holiday Party 2017.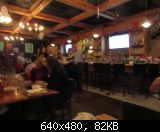 Last edited by
pudgym29
on July 29th, 2019, 11:36 pm, edited 1 time in total.