When a Michelin-starred chef opens a pizzeria, the world is going to take notice and expectations are going to be high. Noah Sandoval, the man behind two-Michelin-starred
Oriole
(LTH Thread
here
), opened Pizza Friendly Pizza two weeks ago. With Oriole closed due to the pandemic, Sandoval was clearly able to focus on this place and hit the ground running. Pizza Friendly Pizza is primarily intended as a slice shop, but limited whole pies are available for
pre-order on Tock
up to two weeks ahead of time. How limited? When we went to order 3 pizzas on Sunday for Thursday, nothing between 6:00 and 8:00 was available. I ordered two (the max per order) for the 8:00 pick-up and when a friend went to order one for the same time, that time slot was filled so she had to choose 6:00. Availability has only gotten worse since then as word has gotten out.
Let's start with the stellar, because I don't want it to get lost in the less glowing parts that follow. The crust, from the Sicilian/bakery pizza style family, is absolutely spectacular. I don't know a whole lot of words to describe bread. But this crust,
reportedly
the result of a 4-5 day fermentation and a 12-hour rise is crisp, chewy, sourdough-y and filling without being heavy. Anyone who tells you anything negative about this crust should be ignored. It's flawless. The pictures tell the story on this one so I'll add some more.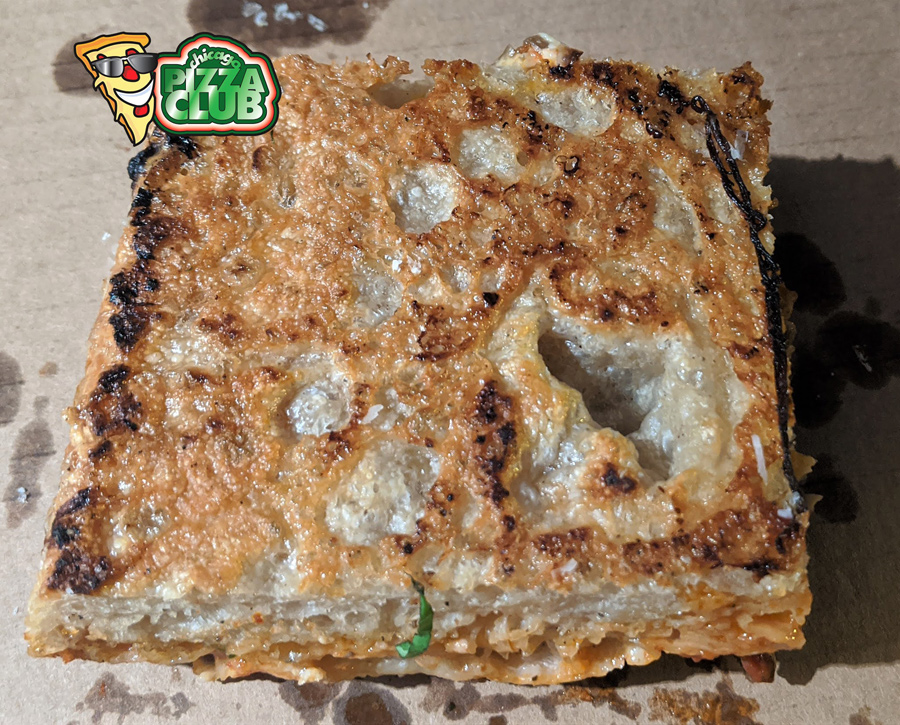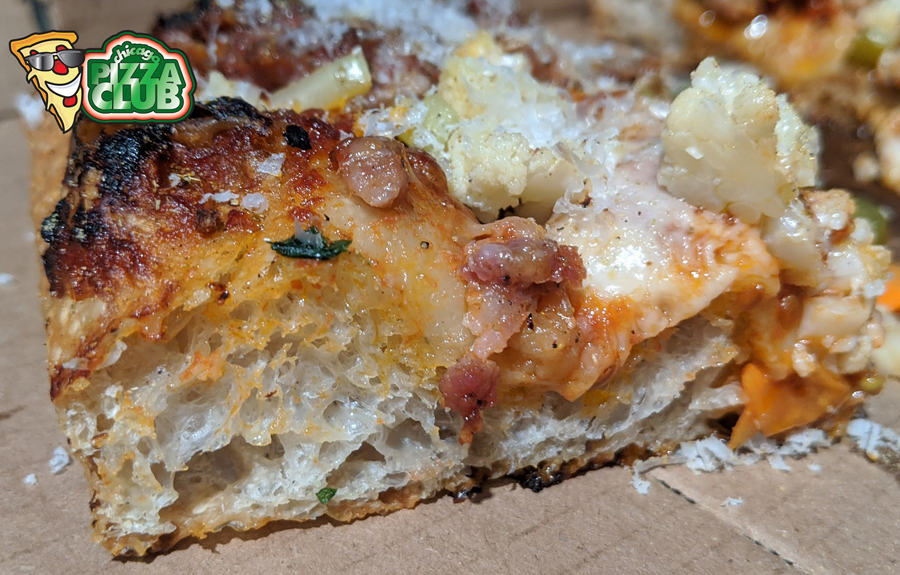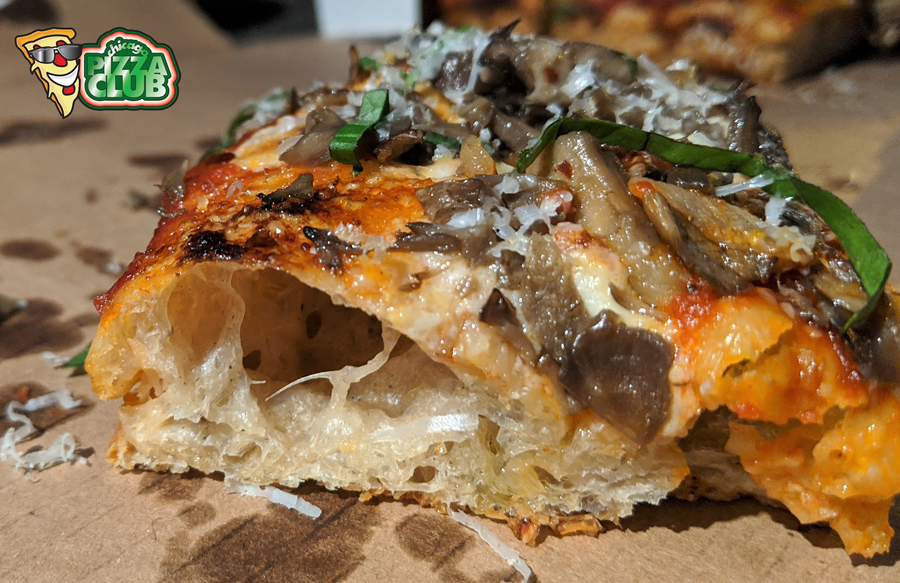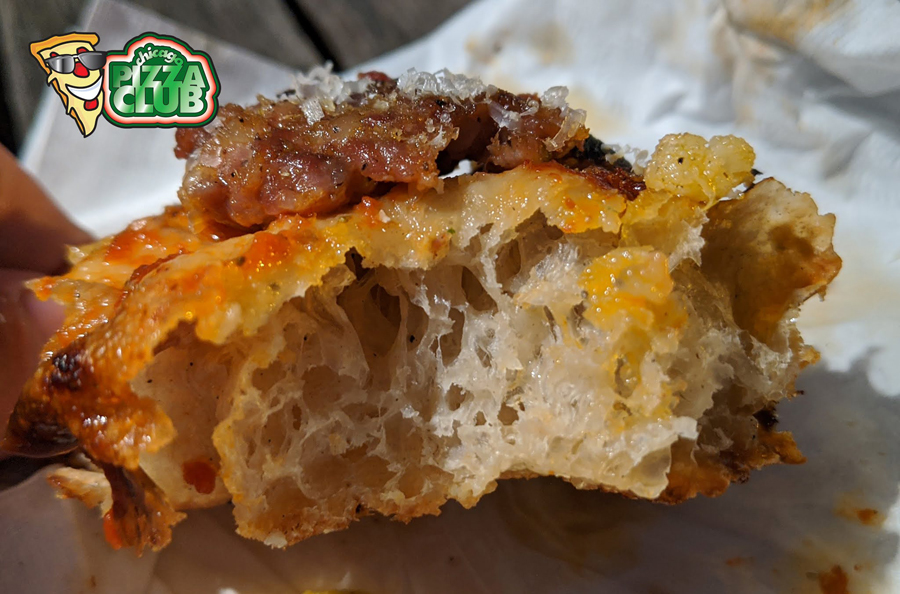 Are you drooling? You should be drooling. And side note: how great is it that a chef who made his name crafting gorgeous (and I'm sure spectacular)
bites like these
, eschewed Neapolitan in favor of the thick stuff when entering the pizza game? But unfortunately Sandoval doesn't follow all the way through. One nice thing about thick slabs of super-flavorful bread is that they have the capacity to serve as delivery vessels for some face-slapping levels of flavor. And to be sure, a few of the toppings definitely brought that. But too many of the toppings, while quite good, ranged from love taps all the way down to butterfly kisses. That variety is great in a fixed-price multi-course tasting menu, but on a thick pizza, you've got to bring the thunder. Read on about the individual pizzas and you'll see what I mean.
We tried three of the four pizza options on the menu. Up first was the Pepperoni & Basil. This one suffered from the apparent disadvantage of having been picked up at 6:00 for an 8:00 dinner. Stored with the top off to prevent steaming and then reheated in an oven, that it was still so good is a real testament to this place. The crust lost virtually nothing in the process. Honestly, I don't think a reheating was even necessary. The life force in this this dough is strong; I suspect it can survive a lot.
The pepperoni, from Ezzo, is fantastic. There's a reason this Columbus-based pepperoni specialist has
taken over New York
and it's not just because that town has such shitty sausage. These small, crisp, chewy, fatty, spicyish cups of cured meat look like they're designed for Instragram but taste like they were designed for my belly.
In addition to the pepperoni, mozzarella (presumably that's the cheese) and sauce, this one also came with a little basil and a hefty dose of Parmesan. I have no complaints at all about this pizza whatsoever. Could the crust have handled more pepperoni a la Prince Street's beloved Spicy Spring in New York? Absolutely, and I probably would have liked this even more. But I'm a glutton and this pizza is a rock star as is. That said, given Sandoval's skill, I know he can do a whole lot better in the toppings department, and that's where he fell short on the other pies.
I actually liked the mushroom and Calabrian chili pizza even more than the pepperoni. But the room for improvement on this one jumps out on the first bite. First, the excellent: The mushrooms were about as good as mushrooms get and this pie delivered a massive punch of mushroom flavor. There was some burrata on there as well and that certainly never made a pizza worse. But if you're going to advertise the chili in the name of the pizza, you've got to bring some heat especially when the crust and pile of mushrooms are begging for it. Calabrian chilis aren't especially spicy but they do have some kick and, other than a mildly warm aftertaste, this pie didn't deliver on spice at all. To be clear, I loved this pizza. The crust was phenomenal and the mushrooms were amazing. But with some noticeable heat and maybe some tangy cheese added, this might have had me in line the next night risking COVID to get a slice or two.
In a stunning turn of events, I think the sausage pizza was universally the least-liked pizza of the evening. We didn't actually discuss it, but I'm writing the review and I say definitely that this was the worst pizza of the night. This pizza is called Ruben's Special. I don't know who Ruben and I have nothing against him, but the dude clearly doesn't like strong flavors.Again, thanks to a phenomenal crust, there was no way this was going to be a bad pizza. But man were the toppings on this one weak sauce.
Speaking of sauce, I haven't mentioned how good the sauce is. The depth of flavor is tremendous; definitely some Michelin-starred cheffiness in play there. The pepperoni pizza had a decent amount of it. Honestly, I'm not positive the other two even had tomato sauce. The mushroom pizza had a little bit of red sauce on it, but due to a recent menu change (Calabrian chili is not Calabrian chili relish), I wonder if that was not actually pepper sauce. Flavor profiles of cooked down versions of both sauces isn't crazy different, so 1) it doesn't really matter; 2) the sauce that was on the mushroom pie was some umami-laden goodness; and 3) there wasn't enough of it.
Looking at the various pics I have of the sausage pizza, it's just as likely that some sauce splattered onto it accidentally as it is that it was intentionally added. But the idea of a sausage and giardiniera not having sauce on it is so wacky, I can't imagine that's the plan. Check that, given the delicateness of the sausage and giardiniera and fennel pollen (the butterfly kisses referenced above), an appreciable amount of the great sauce would have thoroughly dominated this pizza.
Lack of sauce was flavor strike #1. Flavor strike #2 is that there wasn't enough fennel in the fennel sausage and there was no heat whatsoever. It was perfectly good sausage, just not what is expected in this town, especially when you're going to highlight the fennelliness (definitely a word) on the menu. Also, bonus points for the nice chewy texture and well-crisped crust on the top of the sausage.
Flavor strike #3 was the biggest one of all. I get that there's mild giardiniera out there in the world. That being said, at least in Chicago, I think it's safe to say that the default is that it's a spicy condiment. If you're going to list giardiniera on the menu and not deliver even a modicum of heat, you need to set expectations accordingly. In fairness, these were excellent pickled veggies and I'm always a fan of cauliflower in giardiniera. The fennel pollen added an element of sweetness that was kind of weird without the spice to balance it, but not a big deal.
On a dainty Neapolitan crust, these toppings would have been fine, perhaps fantastic. But when you have a crust that offers this strong of a base to add flavors to, this I can't understand why the decision was made to go so mild on the sausage and giardiniera and light on the sauce.
I fear this write-up comes across as more negative than intended, but the critiques come from a place of pizza love. Thanks to the crust and the commitment to quality ingredients, there's no question this place has best-pizza-in-Chicago potential. Hell, if you took the sausage and giardiniera from a place like Roseangela's and put it on this crust, I think you'd be there. Let a chef like Sandoval take inspiration from an old-school Chicago joint and chef it up or even put 50% as much effort into toppings as he did into developing this incredible crust, and you're looking at international destination-worthy type pizza.
Two random notes:
1) Of the four pizzas on menu, three have been already changed significantly; only the pepperoni pizza remains the same. The mushroom and Calabrian chili is now listed as having soppressata, castelvetrano Olives and maitake mushrooms with Calabrian chili relish. On the Rubens Special, it seems that fennel pollen is out and provolone is in. And the rapini, chevre, lemon and garlic pie we passed on has seen the garlic and chevre replaced by argumato and smoked black pepper.
2) This stuff is not cheap. When we ordered, they were $26.50 apiece plus tax and tip. Prices have since gone up to $33 plus tax and tip. While they're not very big, one pizza is definitely enough for two people smaller than Pablo Sandoval. Good ingredients cost good money. Not complaining about the prices, but they're high enough that it won't be a super regular thing for me given the other pizza options out there. Well, at least until I get word they've turned up the dial on flavor potency, at which time they can have all of my money.
*A slightly longer version of this post originally appeared on the Chicago Pizza Club's website.
Pizza Friendly Pizza
1039 N. Western Ave.
Chicago
(773) 395-2483