LTH,
A confluence of two happy events, my wife's birthday and my parents making their biannual visit spoke to a special occasion dinner. Coincidentally, when asked their preference, both my wife and mother, independently, suggested the
Everest Room
. Not much question where we were going.
It's been a few years since I've been to Everest, and my memories are fond, but there have been mixed reviews ranging from just ok to quite good. If our meal is any indication quite good should be expanded to excellent.
Seamless in every way, from complimentary parking, to private elevator to the 40th floor, commensurate with spectacular city views, to the wonderfully genial host, who honored our reservation request for a window table. We were having a great time and hadn't been seated.
The Everest Room is a sophisticated restaurant with the depth and confidence that comes from years of experience residing in the top tier of a top tier restaurant city, which is reflected in the interaction from Chef Joho on through. Master Sommelier Alpana Singh is everything one could want in a Sommelier, low key, yet wonderfully interactive, with such depth and breadth of knowledge she feels no need to 'stun' with obvious, expensive choices that the average customer might recognize.
Our meal, starting with 4 palate awakening amuse, was fundamentally satisfying from a number of standpoints. Chef Joho's culinary passion remains firmly rooted in his native Alsace as evidenced by my starter of Sauteed Boneless Frog Legs, Alsace Gnocchi, Spring Garlic Herb Nage. Yet takes into account the global palate a world marketplace such as Chicago offers.
Sauteed Boneless Frog Legs, Alsace Gnocchi,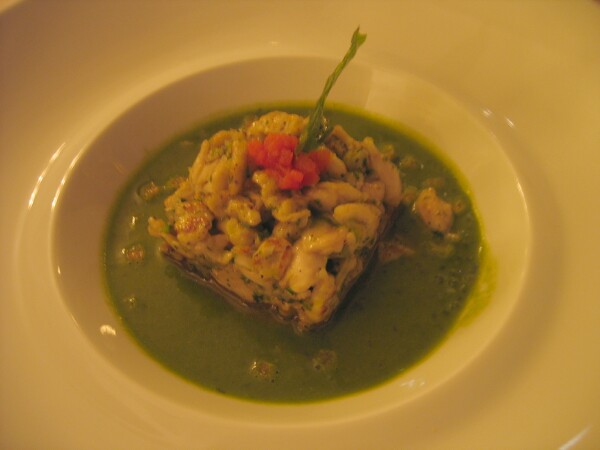 Other appetizers included Filet of Dover Sole Braised in Alsace Riesling, Mushroom and Tomato. The Dover Sole was delicate with a whisper of silky richness. Oysters spoke of the sea, complimented by a light horseradish/cucumber vinaigrette, and our Casco Bay Sea Scallops, Potato Mousseline, Jus de Poulet were perfectly cooked, crisp seared on the outside, beautifully translucent inside.
Casco Bay Sea Scallops, Potato Mousseline, Jus de Poulet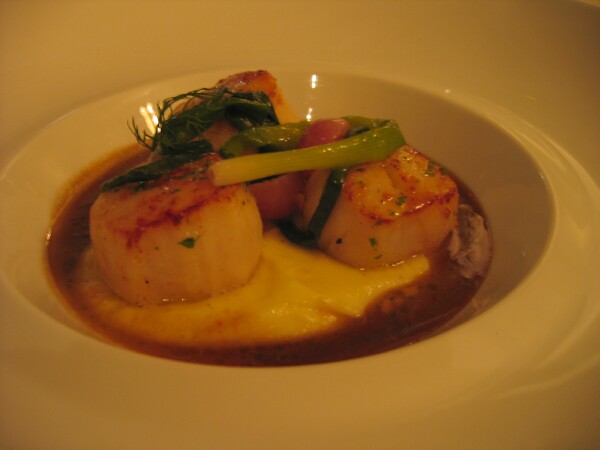 Our second course of Vintage Carnaroli Risotto, Yellow Garden Tomato Compote can only be described as flavor-intense, though not overpoweringly so. The combination of creamy mouth-feel, yet with a core of resistance only one with an experienced touch with risotto can coax, brought together by a razor thin wafer of sliced tomato was gracefully executed.
Vintage Carnaroli Risotto, Yellow Garden Tomato Compote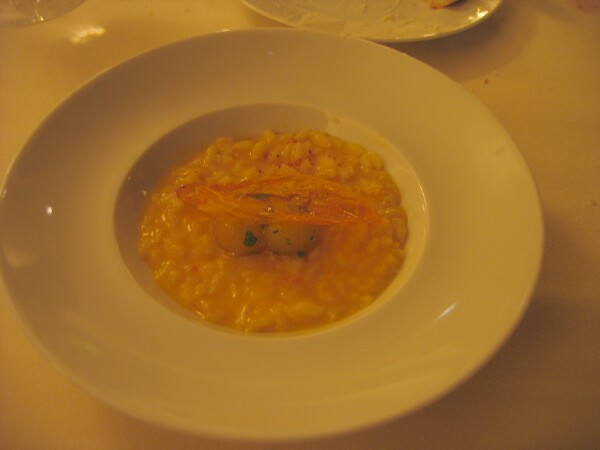 For the main event my father wisely chose Slow Cooked Wild Salmon, Chorizo, Calasparra Rice, Paella Essence. There was a hint of a mystery herb/spice/flavor that we simply could not identify, yet perfectly brought together the diverse components of the dish. Our waiter was puzzled as well, though, after a brief discussion in kitchen, mystery solved, Spanish smoked paprika.
Roasted Ballotine of Quail, Sweetbreads and Chanterelles combined three favorites, though Venison with Wild Huckleberries was difficult to resist. The richness of the sweetbreads were a perfect compliment to the more austere quail
Roasted Ballotine of Quail, Sweetbreads and Chanterelles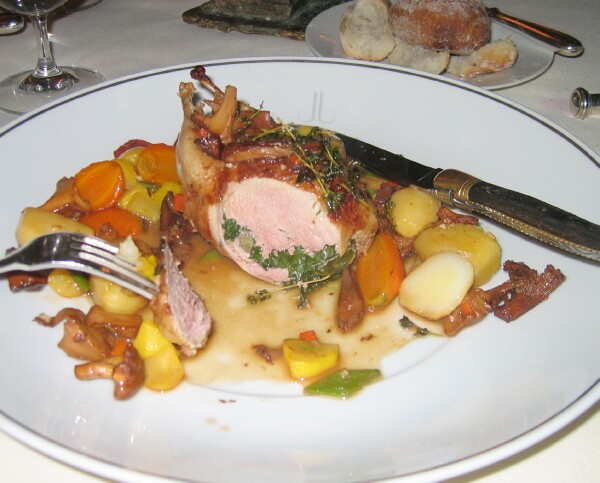 One of the many things I like about the Everest Room is, not only does the restaurant have a sense of presence, but it knows where it's presence if located, Chicago. While the majority of the menu speaks of Alsace the double bone-in rib-eye is all Chicago. My wife and mother thoroughly enjoyed this seemingly large steak, I say seemingly large as there was, in short order, nothing left but a pleasant memory.
Sauteed Double Bon-in Rib Eye, Braised Belgium Endives, Pont Neuf Potatoes, Bearnaise for 2 persons.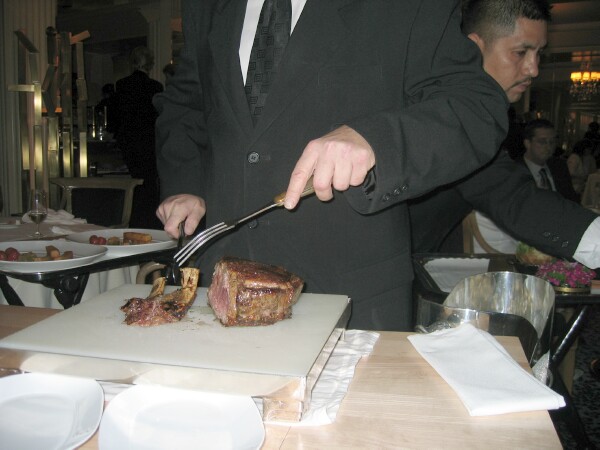 Desserts were quite wonderful, Souffle light and airy, Napoleon of Chocolate Caramel with Caramel Jus complimented by Chicoree Leroux Ice Cream and the Pistachio Triple Chocolate Crunchy Fondant with Manjari Sorbet was a delight in texture and flavor.
Pistachio Triple Chocolate Crunchy Fondant, Manjari Sorbet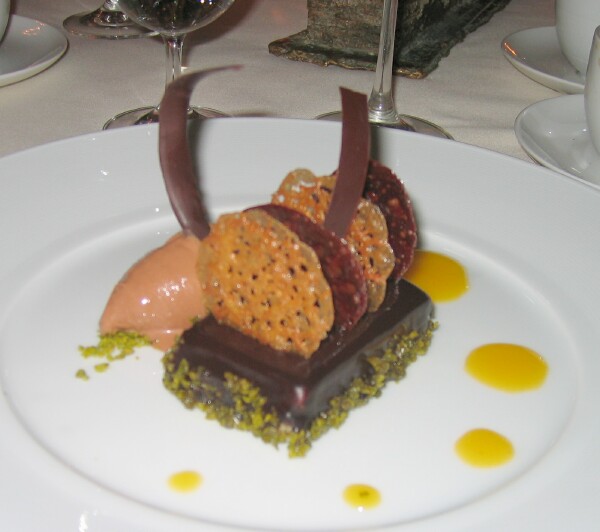 We lingered over cheese, blue cheese terrine was particularly good, and port, enjoying the view, not wanting our evening to end. Suffused with warm feelings for each other, enjoying Everest's spectacular view.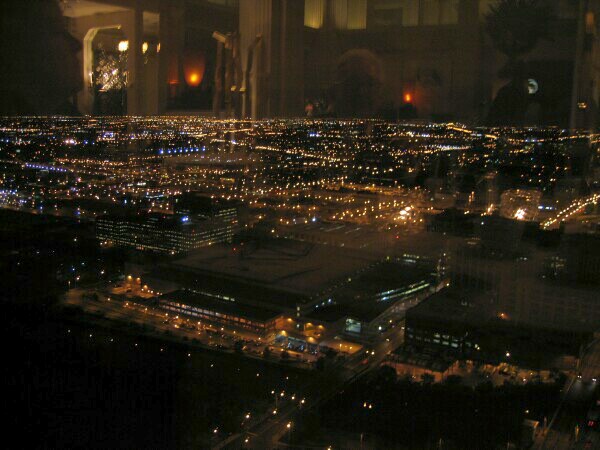 Enjoy,
Gary
Everest
440 S La Salle St
Chicago, IL 60605
312-663-8920