So, finally got to check out GN. Some of the prices are quite impressive, and my initial reaction to the food I got was that if you know what to get here, you will be well rewarded, but you gotta know what to get. Big menu, bunch of stuff. The current menu has a list of "Winter Specials" on the back. They range from 2.99 to 3.99. Examples: nihari, chicken nihari, Goat Paya, chakna, and some kind of kidney dish, can't remember. I grabbed a take out menu a few nights ago so I could call ahead and do a quick pickup. Since the prices are low, I ordered a bunch of stuff to get a lot of tastes.
The $25.00 spread
Clockwise from top left: Butter Chicken; aloo samosa sitting on naan; paratha; Gyros boti in paratha; boneless chicken biryani; aloo palak; beef nihari.
The Aloo samosa were fine. I have bought whatever brand they use in the freezer section of an Indian Market. I can't remember the brand name, but, these are not housemade. They are fine. Naan, paratha - again, fine - GREAT price.
Bonelss Chicken Biryani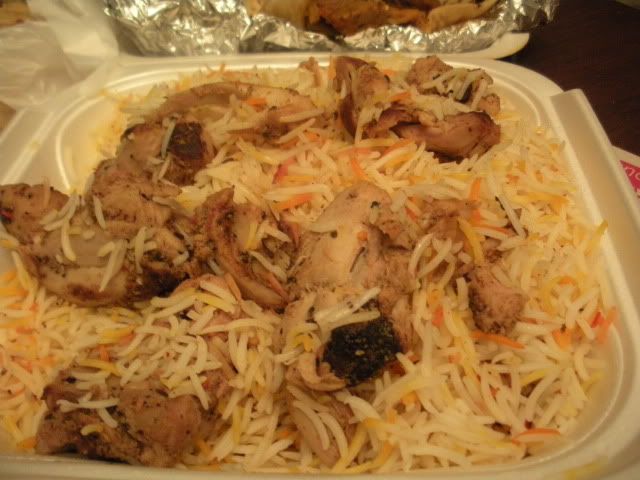 At 4.99, this was an "always get this here" dish, imo. This will be my standard for rice at G. Nawaz each time I go.
Gyros Boti in Paratha:
Sad to say, I was not impressed at all by this. In fact, I thought it was pretty flippin bad. If it had standard gyros meat in it, then @ 2.50, it would have been a steal. But, as it were, it was filled with square chunks of that fake, ultra processed, gyros product. I'm not sure if anyone is familiar with this stuff. I know of two places that use it: Cooker's in Deerfield, and Novi's Beef in Berwyn. It's, well, it's foamy. Almost has the texture of deep organ meat, like liver. It's like if Subway started to sell gyros, this would be the "meat" that they'd use. Or if there were such a thing as "deli gyros," like some people term those fake, foamy jiggly loves of pressed turkey broth and gelatin as "deli turkey." I'll just leave it at I was not a fan, and get on with my life. Nobody wants to hear my thoughts on fake meats anymore.
Aloo Palak
Too salty for me. I'd get it again. If the salt content is the same on my next try, I'll write it off. Definite potential, but just plain out too salty.
Butter Chicken;
as others have stated, this was kinda blah. boring. Definitely have had better. No complexity or richness at all. I'll try it once more, but if it's the same next time, I'll never get it here again.
Nihari
So, I've had nihari once before, and I kinda thought it was a "not for me" kinda thing. As a 2.99 winter special at GN, I figured what the heck, and gave it another shot. I'm pretty sure I now have a budding new obsession. Even if this GN version would probably be called "bush league" by nihari enthusiasts, I think I now understand how this stuff can be good. I now feel this urge to go try Sabri Nehari's version poste haste to see what all the fuss is about, but GN's version brought it on. This stuff was delectable. My mouth is watering just thinking about it right now, and I'm not even kidding. Juicy, tender, BEEFY chunks of whatever stewing meat they used, in that super spicy, and wildly fragrant sauce. This stuff definitely "tasted like more." The fragrance of the sauce hits you like a freight train, then the mouth watering starts in after a few chews of the beef elicits that tangy sensation, and then the fiery heat sets in, and it all gets rounded out once again by that heavy beef flavor you can only get with those stew cuts. THIS is what the fuss is all about. I'm officially aboard the nihari train. Next stop, Sabri.
All in all, after my first visit, I'm pretty sure if you know what to get at GN, you'll have a great meal at a standout price.
We cannot be friends if you do not know the difference between Mayo and Miracle Whip.