As promised, I returned to Spacca Napoli and this time I made a better choice with the Pizza Bianca con Bufala e Rucola. I was also very impressed that our pizzas came out mere minutes after we placed our order. It probably helped that we arrived shortly after 5 pm on a Tuesday and were only one of maybe three tables in the entire restaurant.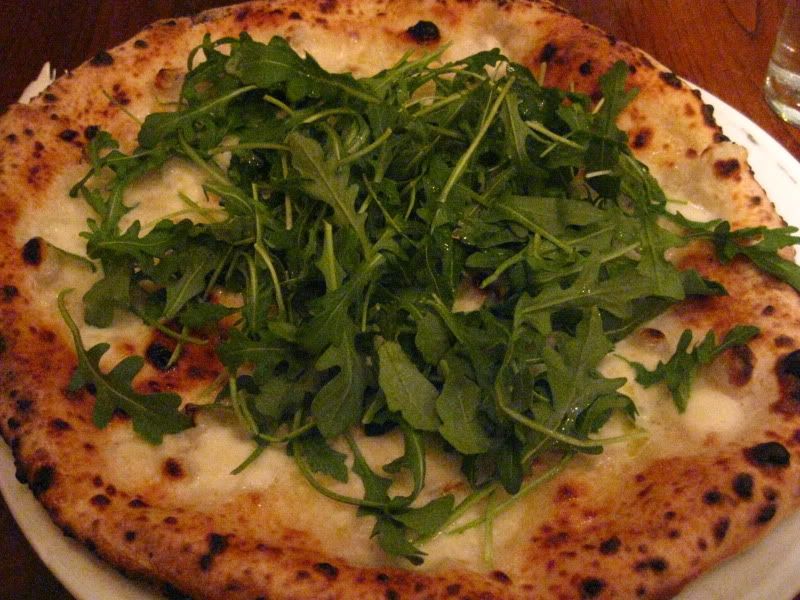 Amazing charred crust, just enough delicious bufala mozzarella, and so much beautiful fresh arugula! The olive oil was generously drizzled on and it all came together perfectly. There was nary a leaf of basil to be found...I guess Spacca just doesn't want to give me basil (and Gypsy Boy, for the record, in both the Funghi pizza and this Pizza Bianca con Bufala e Rucola, basil is one of the listed ingredients on the menu description) but the arugula was so good that I didn't even mind. I did notice that the crust in the middle wasn't as soggy, thin and fragile as my previous funghi pizza, but perhaps that is because this pizza didn't have the tomato sauce to cause the sogginess.
For dessert, I ordered the tiramisu, which, like the Spumoni, is from Lezza. I wasn't impressed at all and definitely wouldn't order it again. At $4.50 for a piece, I expected more than Trader Joe's quality. The ratio of mascarpone to ladyfingers was way off, and the skimpy layer of ladyfinger didn't have the faintest hint of espresso.
My revised verdict is to order a specialty pizza, staying away from the mushrooms, and skip dessert and hope for some cannoli on the way out.