I was in town a few weeks ago and like always (after 10+ weeks in SW Michigan) craved spice. Aroy was up in our Thai rotation.
I haven't seen any remark about this yet in this thread, but they have a new menu. The Thai specials are now incorporated into the gen. pop. menu and it seems a step towards broadening the palates of their customer base. The new menu is big, bright, and colorful– glossy complete with thumbnail images for each dish with icons for spice level and popularity ranking. It was a bit startling as a long time customer, but I can appreciate this angle to get people to branch out. At the back of the menu there is even set menu suggestions for "first timers", "Thai taste", and "Special in Chicago" (these descriptors are not verbatim, but you get the gist).
I noticed at least a few new menu items under "Chef's Special" and a dish of jackfruit, ground pork, and crispy pork with red curry and tomatoes, called
"Pad Kanoon"
caught my eye.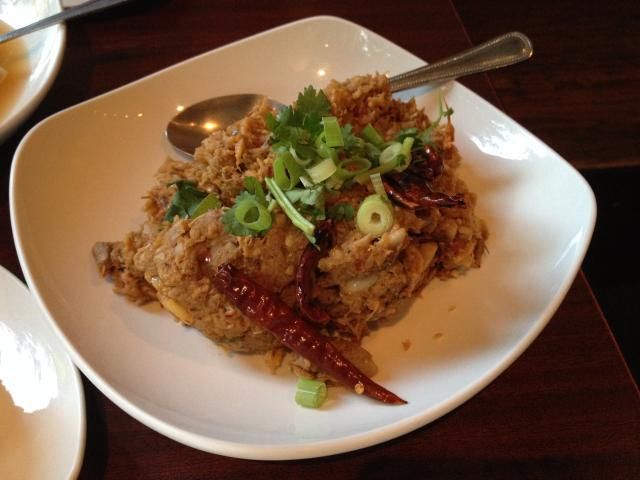 This dish was a stunner. It was pounded to a paste like consistency. In ways it seems related to nam prik, though drier, pleasantly toothsome, and served with rice. It was also absolutely popping with aromatics– lemongrass and serious chile burn. A new contender in the rotation.
Here's a super out of focus shot of the menu to give you an idea of the new format:
There may be some other new gems hiding in there, though I haven't cross referenced with the old Thai menu.
The whole meal was great, though in one instance the ranking system threw us off, with the highest rated som tum– which we assumed would have dried shrimp, though arrived unadorned with garnishes (no peanuts either weirdly). Still an awesome salad, but I had to take a second look at the menu to realize there are three options for som tum: naked as we'd ordered, with dried shrimp, and the pickled crab version our neighbor had which (at least on their plate) was served with what looked like pork cracklins in an unfiltered fish sauce.