Ah, a good excuse to dust off this old draft. KC is one of those places I get to about once a year, but always take for granted since I'm there so much and inevitably procrastinate posting about.
BBQ
Now, I've never been to Texas hill country and my time in the Carolinas back in the day was haunted by a vegetarian ex. So out of town, KC is the only place I've had considerable experiences eating BBQ. And like my boys' posts from earlier today, I've never been absolutely stunned by any of the que I've tried down there. Definitely some good to great morsels here and there, but the focus does seem to be on the sauce rather than woodsmoke-kissed meats. I know its part of their meatpacking heritage, but you've got to wonder if these joints can really successfully pull off the crazy range of offerings that seem to be available joint to joint: ribs, brisket, burnt ends, sliced shoulder, ham, poultry, lunch meat logs, you name it.
Its too bad Woodyard didn't pan out for you guys since I have some buddies who recreationally participate in KCBS smoke offs, who esteem Woodyard highest amongst the competition. The gods have not given me a crack at them yet for some reason or other (roadwork, irregular hours)
Da Beef wrote:I've heard nothing but praise for this place and I'll be the first to preach to someone you cant judge a BBQ spot based off one visit but what a letdown. It's not like we were taking this tour on a Tuesday afternoon, most of these spots were doing big business which I assume is the case on most Saturday's. That said LC's wasn't ready. I loved the looks of the place and the fact you could see the smoke in the air while dining inside but it was as if they'd never been busy before. Folks ahead of us were complaining about how they'd been waiting going on a half hour after making their order and we would wind up doing the same. Remembering I wasn't a fan of burnt ends when served wetter than a whales anus I promptly asked the lady taking our order to make sure the sauce was on the side. I walked back to Jim and set the odds of that happening at slim to none and sure enough I was on like Vegas. How was the meat? Chewy. I'm pretty sure they rushed it out because they had no other choice but most of it went into the garbage. Now the four or five pieces that were edible were outstanding and maybe those were a peak into what real burnt ends are all about but at this point I was done with them. All this said, I wont hesitate to go back here because I've heard enough good things.
LC's
Like Beef, I love the over-worked look of the pits in KC and love when the action is right there:
Burnt ends it was:
My experience was considerably better than Beef & Jim's. While they were definitely drowned in sauce, the meat, itself, was pretty damn good, smoky and quite tender. Unfortunately LC's sauce didn't do much for me, it tasted pretty industrial with HFCS and perhaps even some liquid sm*ke in there. Next time, I'll be firm about ordering sauce on the side.
I wish I'd ordered their thick hand-cut fries, but opted for novelty with "Spicy Fried Green Beans"
Obviously out of a frozen bag, the trashy effect had me reaching for a few more than reasonable judgement would have dictated, but again, I wished I had ordered the fries.
Arthur Bryant's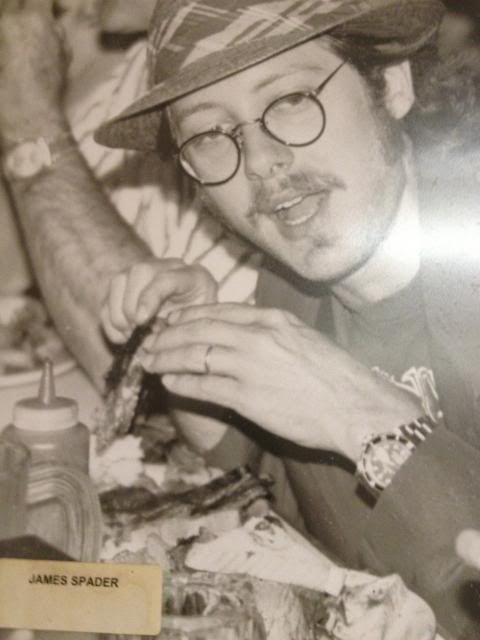 Spader's been eating here since the 80's, has to be good, right?
This place is an institution and my favorite aspect of the place is how everyone in town seems to love the place. Bryant's has a pretty overwhelming variety of meats to choose from. When you hit a line as long as we did on my last trip at about 8 pm on a Saturday, it gives you plenty of time to deliberate and covet platters emerging from behind the smoke stained glass. They even had rib tips on this particular trip and they looked pretty damned good. Fortunately they offer combo plates, so since of course I
had to
try to the burnt ends, I could also try another offering, which for me that night would be sliced BBQ pork, it seemed novel receiving my BBQ off a meat slicer.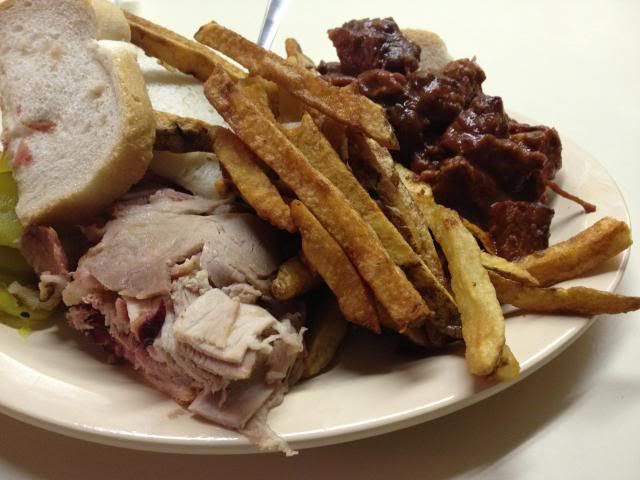 Starting with the burnt ends, these had been held in sauce resulting in a mushy, crock-pot-style pulled pork effect and not desirable at all. Unfortunately the sliced pork did not hold up so well either, quite dry, with a visible smoke ring only obvious around the edges from the large hunk of shoulder it was sliced from. The fries, as common in KC BBQ houses, were quite good, at least, and gave me an opportunity to try their range of pretty good sauces. I wouldn't rule out Bryant's, though. On this trip I probably I ordered wrong. I've definitely enjoyed ribs from them in the early afternoon. Such is the timing factor with BBQ.
Oklahoma Joe's
Its too bad you guys didn't get a shot at this wildly popular spot. I was skeptical myself and did not want to like this place, the clear tourist favorite. Sure, the inside-the-gas-station thing has a quaint folksiness about it, but this is more like your interstate truck stop-brand of gas station replete with souvenir aisles. The line snaked around quite deep and the looks of the clientele skewed almost entirely of the Caucasian persuasion. We split a half-rack of ribs and a platter of burnt ends: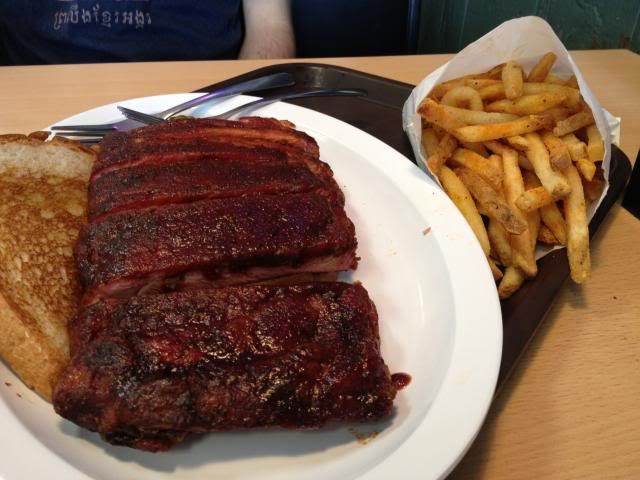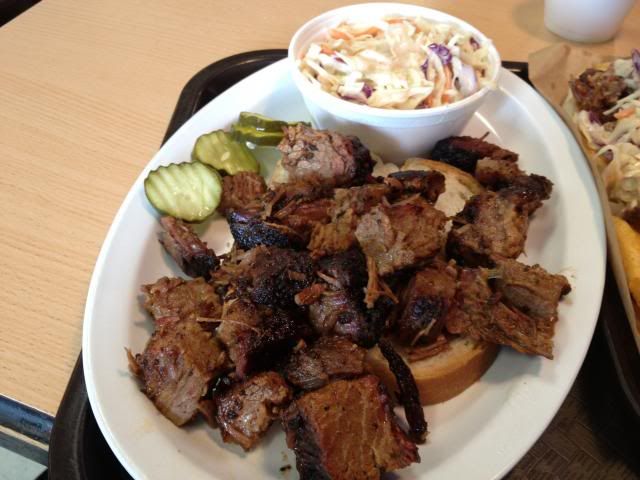 I liked the ribs okay. I'm not sure what kind of smoker they use, but these guys had a real even effect that, to me, lacked a little bit of soul. Don't get me wrong, they were succulent and had the perfect resistant tug off the bone. The smoke was light and the rub was pronounced, which is perhaps what I did not prefer about them. Still, quite good.
The burnt ends, on the other hand, were by far the best I've had– notice unsauced– tender bits balanced out with charred chewy bark. Neither of the items really needed too much sauce, though Joe's has a plethora of pretty nice options. Again, great fries, probably the best, I think the KC style is to finish with a sprinkle of Lawry's.
So, yup, OK Joe's has been my favorite commercially produced Kansas City BBQ, however much I wanted to resist the hype and judge its perceived authenticity (the latter, a habit I need to cut out). Note: these three entries are just the ones I spent time documenting, paying attention to what I was shoving in my face. I've had some pretty good stuff at Gates' too, though wasn't in the frame of mind to take notes.
Tacos
I've frequented this spot mostly out of convenience, since I find myself most often on the west side of town:
Ricos Tacos "Lupe"
I love the vibe of this place, the interior just as colorful as its street presence.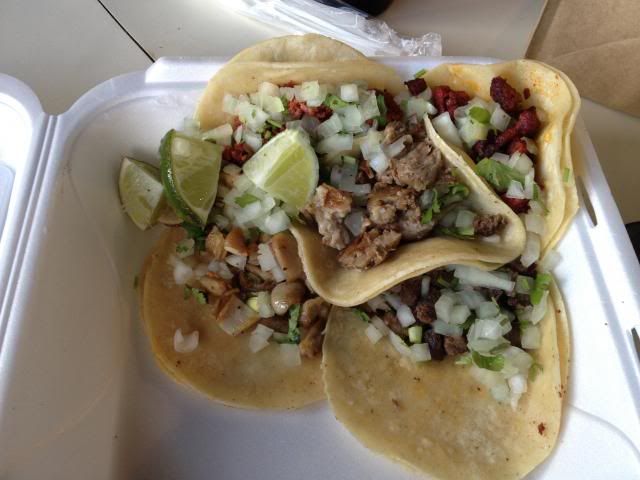 Frankly, I cannot recall what we're looking at here. Definitely some lengua and tripe on the lower left. I see the telltale adobo of pastor on the upper right. These tacos are fine, not bad at all considering some can be on special at $1. I'm sure that pastor did not get carved off a trompo. Unlike…
El Camino Real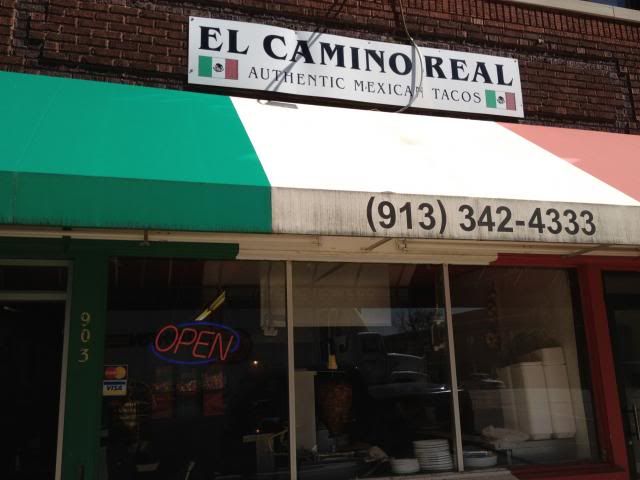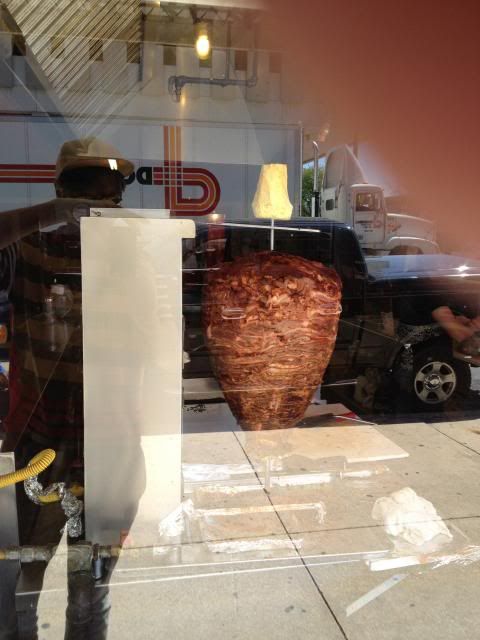 Put this on the must-try list for next time. These guys are masters of el trompo. This style is all quite similar to Los Barrilitos here in town– a big honking trompo, propane powered (you can see the yellow propane line in the bottom left of the above pic) cooked to a crisp doneness on the spit, sliced thin. Unlike Barrilitos, the tromp here is crowned with pineapple and the trompador (did I make that up?) has that skill I've seen at play in the streets of LA and el DF, where with the flick of a wrist he slivers a piece of pineapple which he then proceeds to catch with the taco.
Served commando, to be dressed at the table: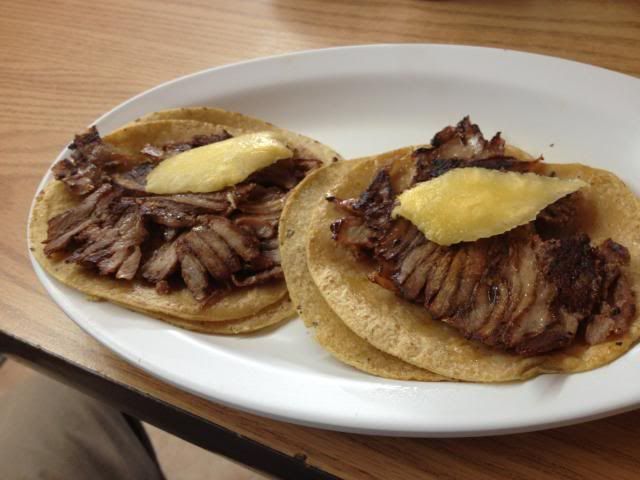 The first time I had these I was enamored, the thin, crispy style I remembered eating in the DF. The subsequent times, the pleasure was clouded in the academic haze of too much time spent thinking about what an authentic al pastor taco should look and taste like. I have a hunch many of my friends here on the board would love these, though.
Here's a plate of assorted tacos from another visit:
Al pastor to the left, lengua on top, pescado on the bottom right. Great lengua cut in thick batons. Note the interesting, and to me preferable, style of fish taco– broiled and flaked meat. Kinda plain, but I've just never been a fan of crispy batter on my taco.
Town Topic
I don't know what took me until my fourth trip down to get here. I love old school burgers!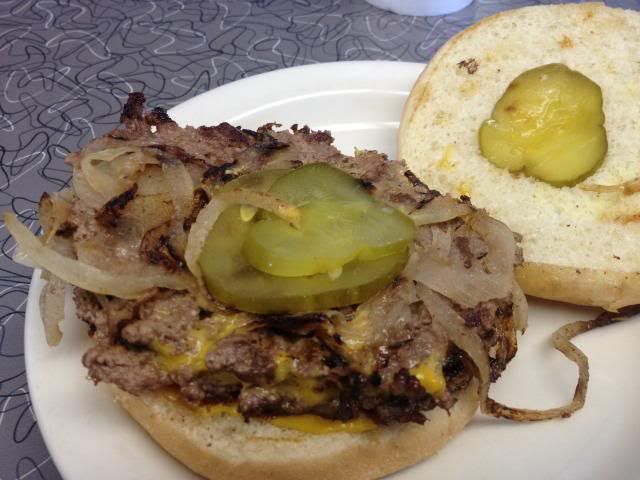 And this is one of the best, griddled crisp in a big ol' mess o' onions!
New SchoolThe Rieger Hotel Grill & Exchange
Full disclosure: I've become pretty chummy with staff here. My very good friends run a micro-granting organization called
Bread KC!
that contributes the income from pop up meal events that they host to local artists and other small scale cultural projects. The Bread crew works frequently with the Rieger and I've been a guest chef in their kitchen, fun stuff. What I love most about the Reiger is the vibe. The folks that run this place have great attitudes and clearly love what they do. Watching the line here on a busy weekend night and you'd be amazed at the congenial, downright civil atmosphere of the kitchen presided over by the affable Chef Howard Hanna. Situate these great vibes in a wonderfully restored hotel dating back to, I believe, the teens and you've got the kind of place where you're gonna want to kick back and stay awhile. Their cocktails are great as is the food. They do fantastic things with charcuterie and creative seafood dishes. Brunch and lunch are also highly recommended, but watch yourselves with the drinks early in the day! Here's a pic of an amazing soft-shell crab sandwich special from their lunch menu a few years ago: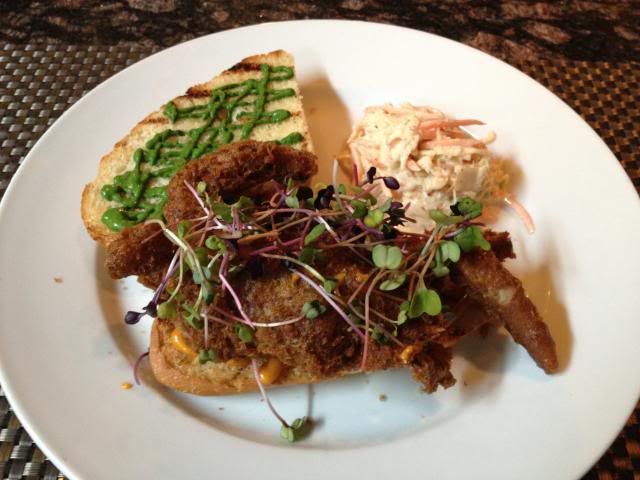 The Local Pig
The Local Pig is a cute as a button old butcheshop with super tidy cases teeming with old school offerings and creative concoctions alike: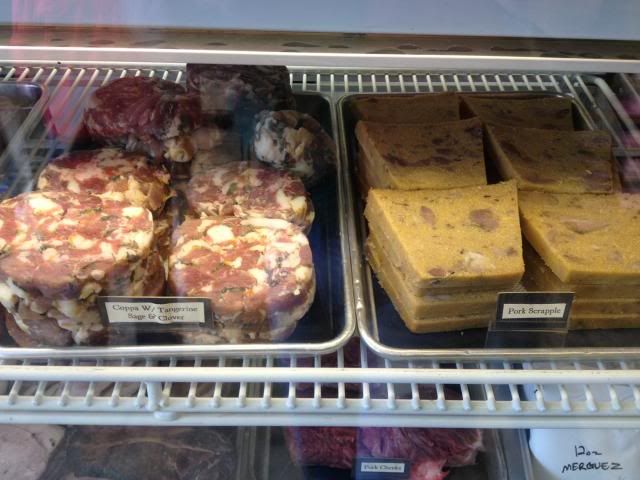 They also have a sandwich trailer out back called
Pigwich
. We tried a couple of sandwiches there on my one trip and the results were 50/50. I loved the pork meatball banh mi which was redolent of lemograss and quite juicy. In fact, I've done my best to replicate this sandwich at home. A porchetta sandwich was unfortunately, mostly a failure on that particular outing– all unrendered fat and under washed greens.
I should also shout out to
Farm to Market Bread
, who my buddy works for. They do fairly large scale, artisanal production that lands in many of the finer restaurants and retail establishments. I'm amazed by the quality they retain at the volume they're working at, I'd say its leagues better than any of our much smaller operations here in Chi. In fact, when I cater I often have them ship me up their product.
Kansas City has a really cool culinary scene, its very generous and welcoming and I'm always inspired by how willing even the busiest chefs are to collaborate with DIY art events.
LC's Bar-B-Q
5800 Blue Parkway, Kansas City, MO 64129
(816) 923-4484
Arthur Bryant's Barbecue
1727 Brooklyn Ave, Kansas City, MO 64127
(816) 231-1123
Oklahoma Joe's Bar-B-Que
3002 W 47th St, Kansas City, KS 66103
(913) 722-3366
Ricos Tacos "Lupe"
802 SW Blvd. Kansas City, MO 64108
(816) 472-0738
El Camino Real
903 N 7th Street Trafficway, Kansas City, KS 66101
(913) 342-4333
The Rieger Hotel Grill & Exchange
1924 Main St, Kansas City, MO 64108
(816) 471-2177
The Local Pig
2618 Guinotte Ave, Kansas City, MO 64120
(816) 200-1639
Farm to Market Bread Company
100 E 20th St, Kansas City, MO 64108
(816) 363-3198