LTH,
Once again thanks to Mike G for arranging the day, it's always a treat to spend time in the company of LTHers. Also thanks to Steve Z who was the wheel man for the first, of hopefully many, LTH Road Trips. Steve's pleasant informed company enhanced the day.
Our first stop Solly's, Home of the Butter Burger, burger has been discussed at length though I don't think anyone mentioned the perfect fries. Crisp on the outside, hot and delicious inside. I didn't get a good picture of Solly's fries, but here's one of ReneG from the viewpoint of a Butter Burger.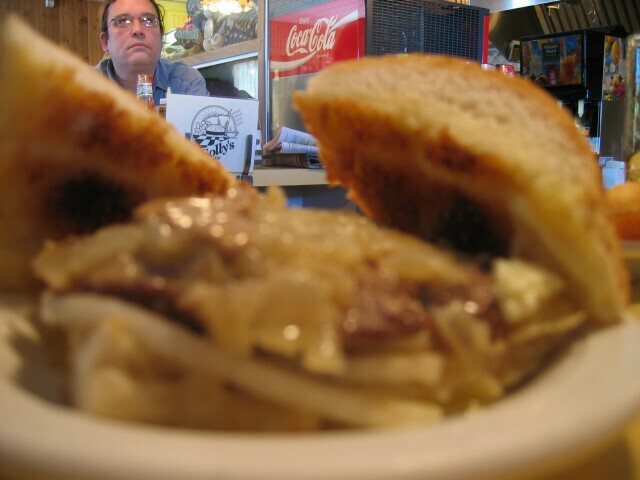 Kopp's flavor of the day was Mint Chip.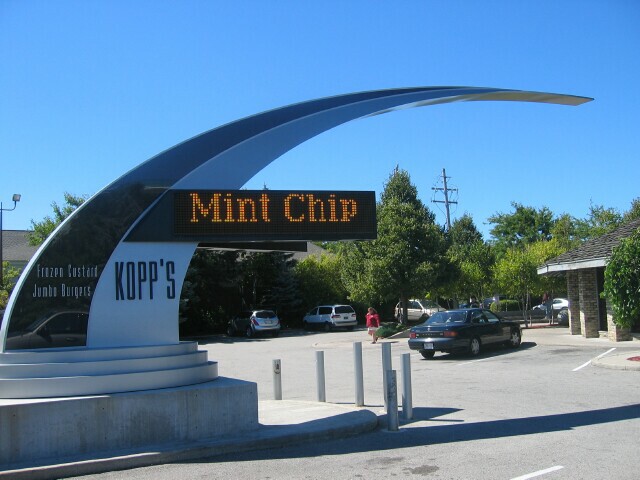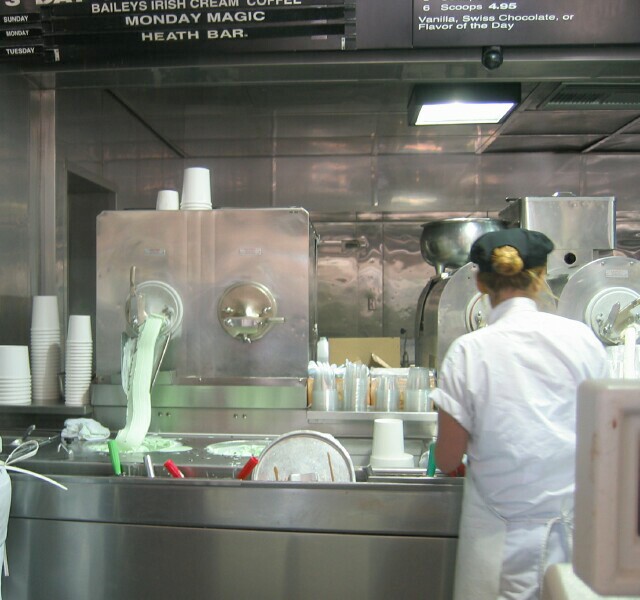 Mint Chip is not a favorite, but the chocolate was absolutely the best custard I have ever had. Yes, I say that about 80% of the time I have Kopp's custard, but Saturday the chocolate was simply dead-on.
From Kopp's we made an aborted attempt to go to Zaffiro's, it never occurred to me, or apparently anyone else, Zaffiro's wouldn't be open for lunch on a Saturday. From there we headed to Speed Queen for Outside Shoulder, Hot (South Carolina mustard based) sauce on the side please.
Speed Queen, like all BBQ places, even the good ones, is highly variable. Saturday the outside shoulder was good, but not great, while the chicken, in combination with the mustard based sauce, was wonderful.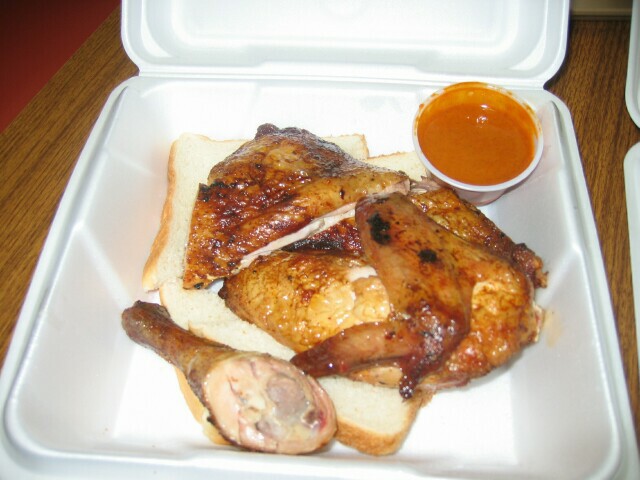 Ribs were good as well, but the winner of the day, to my mind, was Speed Queen's smoked chicken.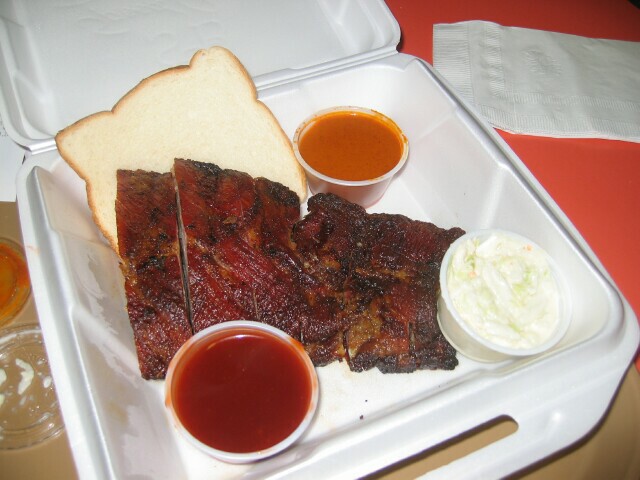 From Speed Queen we went to Jakes.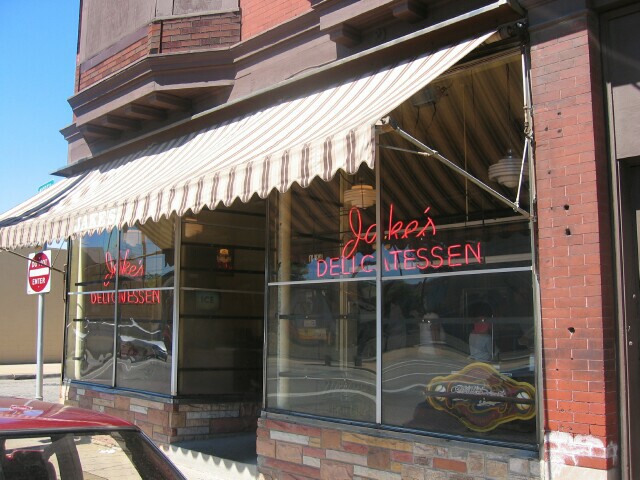 Where we split a Ruben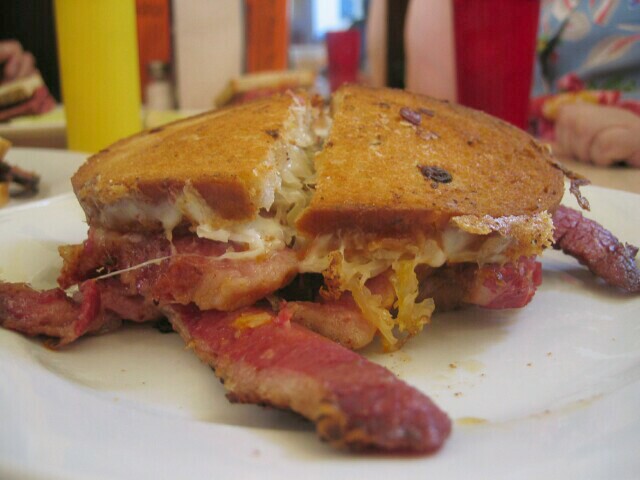 Corned beef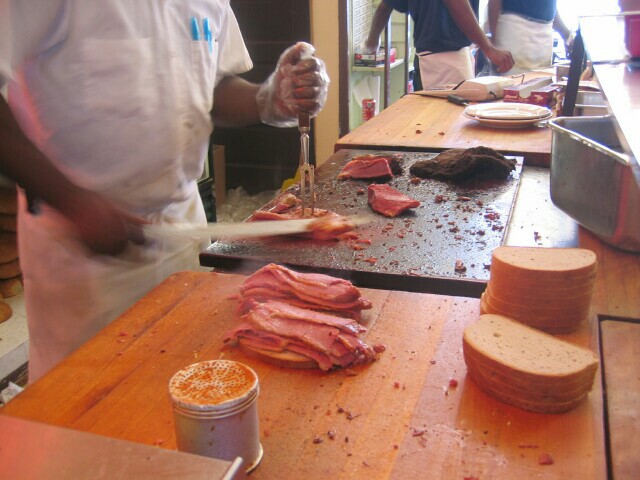 and a pastrami. The corned beef, as always the case at Jake's, was the clear winner. It's funny how Deli's never seem to be able to get both pastrami and corned beef just-right. Jake's pastrami is good, their corned beef great.
Jakes corned beef perfection may have something to do with the way it's held/heated in a interesting, and I am sure 50-year-old, at least, steamer/cutting board set-up. The cutting board slides to reveal the steamer, then back in place for slicing.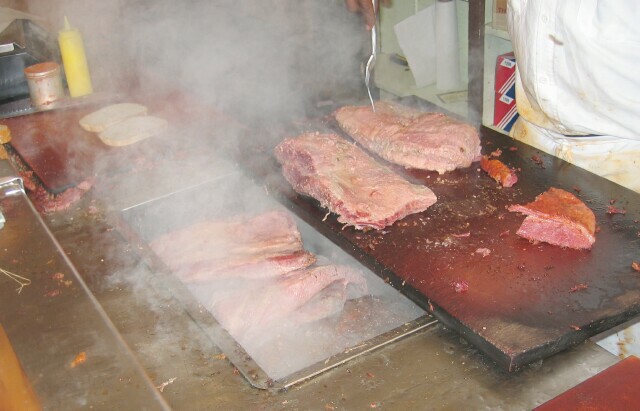 After Jakes we had a bit of time to kill, we still planned on Zaffiro's which did not open until 5, so we decided to walk around the Farwell/North Ave area. First stop was Mini Donuts, which is located in a mini building.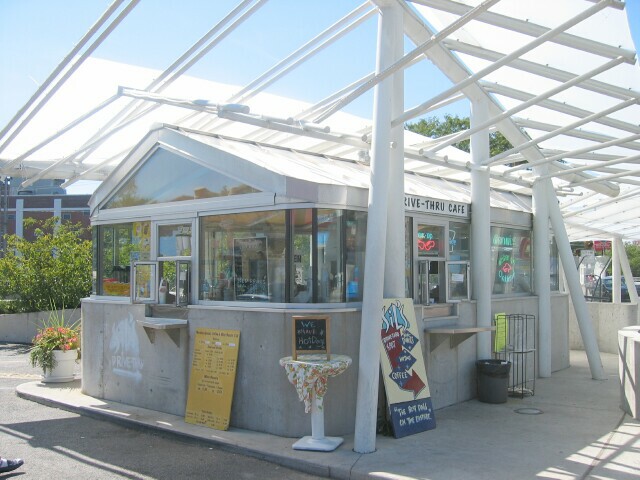 where they have a cool-as-hell mini donut machine.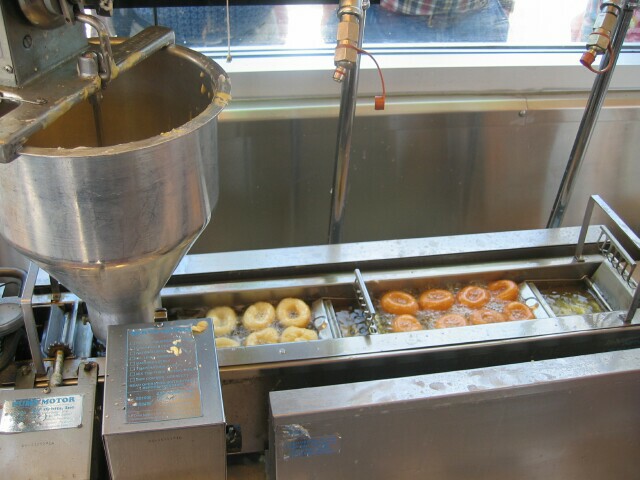 Then on to Beans and Barley (1901 E North) which has a distinct Birkenstock/tofu/hemp-shirt feel. The coffee, double espresso if you will, was good and the staff pleasant in the extreme.
In complete contrast to Beans and Barley's 60's feel our next stop, Von Trier, was a archetypical Milwaukee German style tavern, complete with murals,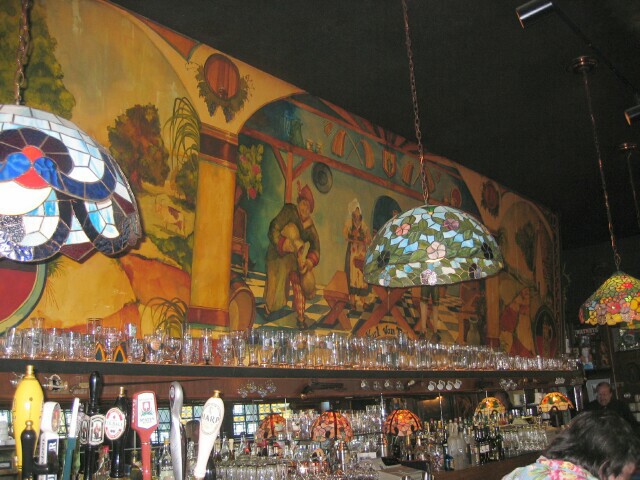 mugs, a deer antler chandler in the back party room and an interesting, informed bartender/owner, Mark Eckert.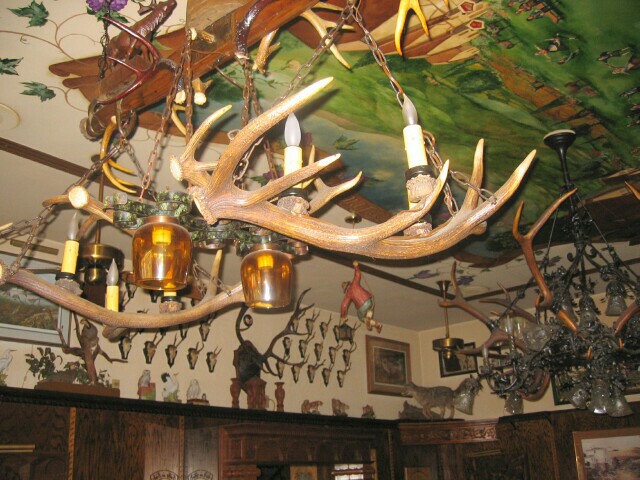 Von Trier also had a very cool espresso machine. Mark said it was operational, but used only as decoration. I quite enjoyed our all too brief stop at Von Trier (2235 N Farwell).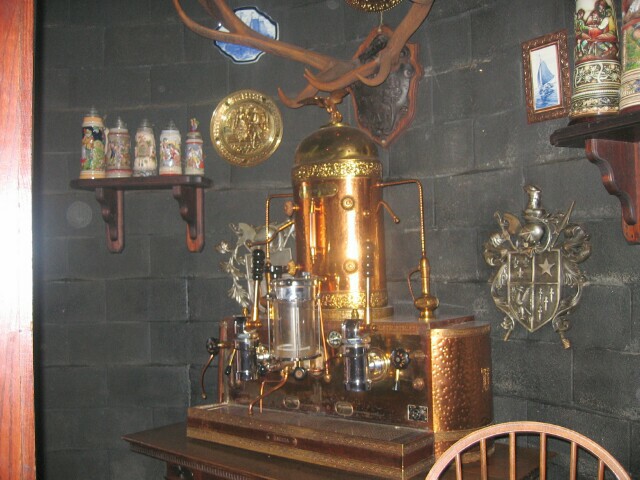 Our next stop
Usingers
is a Milwaukee original, since 1880. The factory retail outlet is located in their production facility and sausage purchesed there seems to have an added zing.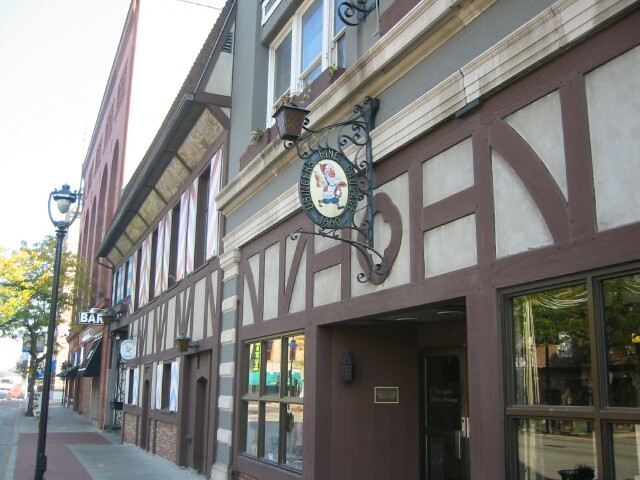 Last stop of the day was Zaffiro's for thin crust pizza perfection. Matzo crisp crust, flavorful sausage, great bar, when it's not so crowded, and great pizza. Oh, did I already mention great pizza?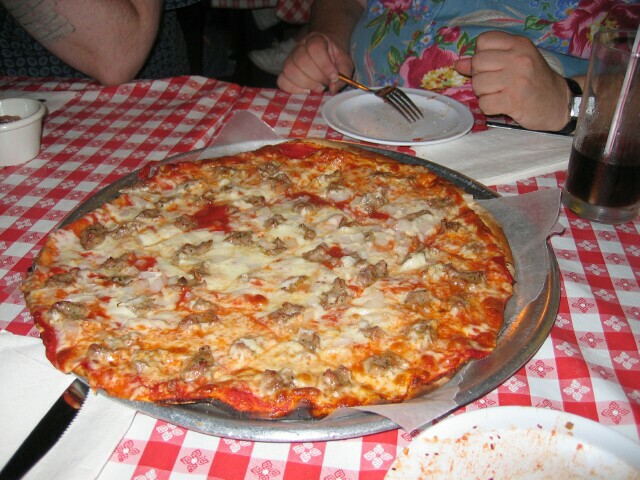 That's about all, fun day, good company, I'm looking forward to the next LTH Road Trip.
So, as our friendly, efficient and patient waitress at Jake's said, bye bye, see you soon.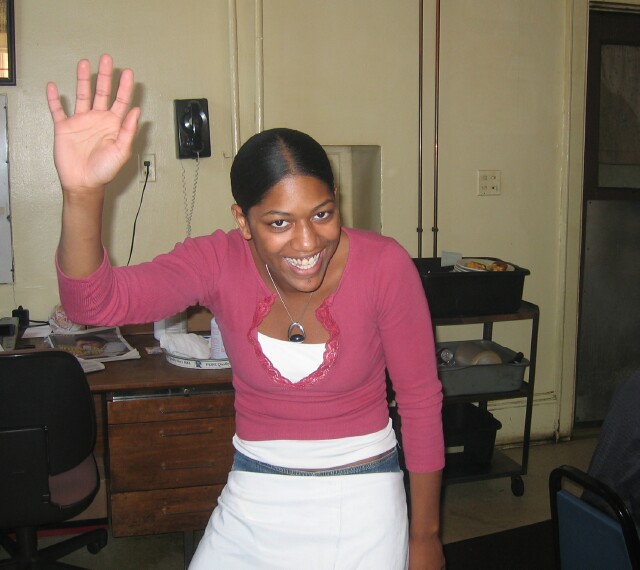 Enjoy,
Gary