Just returned from a journey to the Bay Area and as expected had quite the culinary adventure.
The first meal of note was a dinner at
Zatar
in Berkeley, an all- organic Mediterranean restaurant. The meal began with an amuse of the restaurants namesake- Za-atar spice mixture mixed with olive oil, in which fresh whole wheat flatbread is dipped. It tasted of dried herbs, sesame, and sumac. Very delicious.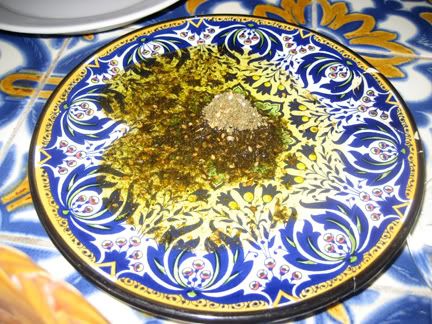 I ordered the organic lamb chops, which were perfectly medium rare and succulent, served over an earthy bed of bulgur and strewn with assorted grilled organic veggies. The simplicity of the meal really let the freshness of the ingredients sing, though dabs of house-made harissa punctuated the meal with a high heat kick.
My eating schedule for day 2 would be a busy one, so Indian pizza for breakfast it was:
Zante
on the south end of Mission, SF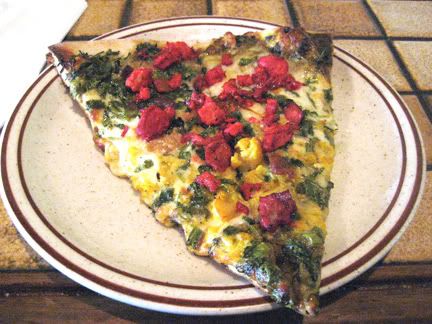 The pizza was much more delicately balanced than I had imagined- rather than naan slopped with curry sauce, the nicely tandoored flatbread was dusted in garam masala and studded with garlic, ginger, and cilantro- all applied with a heavy hand, though well proportioned. Cheese was cheap pizza motz and the chicken tikka chunks were unexceptional, but the overall flavor was a great cross cultural mashup. Also a bonus to dining at this establishment in the early hours was bottomless cups of Chai tea shared along with good conversation with the waitstaff.
Lunch was enjoyed at the LTH recommended
R & G Lounge
in China town.
Salt and Pepper shrimp was great, though I must say that I've had comparable renditions at LTH and Ken Kee.
Before: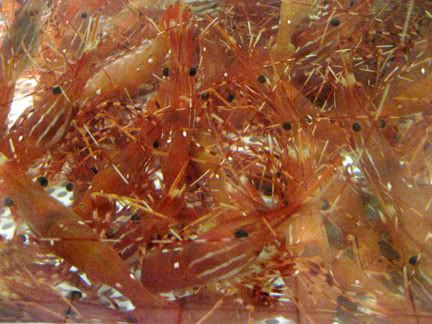 and after:
Clams baked in special sauce: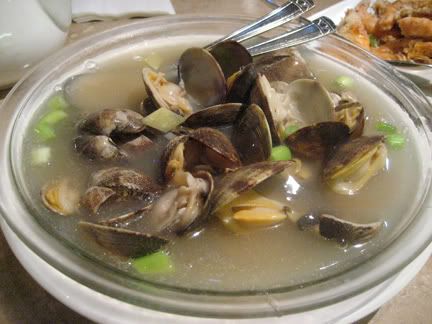 The clams were super fresh and much more special than the corn starched clear gravy.
Lettuce cups with seafood rounded things out:
Could have used more spice, but pine nuts added a nice crunch. I must say, though this was my only foray into SF Chinese food, I think that we are doing pretty well here.
Dinner that night was by far the highlight of the trip. My sister's favorite restaurant,
Burma Super Star
, in the slightly inaccessible neighborhood of Inner Richmond, offers a shockingly flavorful and fresh intoduction to a cuisine with which I had little experience. The wait here was half a dozen tables deep, evidence of the fanatical following this glorious food deserves. The flavors provided a crossroads of Indian, Chinese, and South east Asian influences, some dishes leaning very firmly in any of these directions. Our starters, however, were revelations in sensation that words cannot describe. Nor pictures- and I must add a disclaimer that the frenzy of which my dining party attacked these plates, the chance to snap poised and steady pictures was tricky. So I apologize, these aren't the best.
First up, Samusa soup:
Samusas are apparently cousins of samosas, though melting away in soup format, certain chunks were kind of indistinguishable, texture-wise. The broth was a deep rich cury, thickened with lentil. Bits of crunchy cabbage offered textural variation. The forementioned samusas bits were in part deeply curried potatoes and the other elements had an almost falafel like quality, tasting fried and texturally course ground. This soup was unlike anything I have ever eaten and was amazing.
Next, Tea Leaf salad, as it arrived at the table:
The ingredients, clockwise from top: fresh diced tomato, peanuts, fried garlic, deepfried and curried lentils, sunflower seeds, sesame seeds, dried shrimp, sliced jalapeno and the minced tea leaves center, all on a bed of lettuce chiffonade.
and then tossed, dressed with freshly squeezed lemon, and portioned by our server: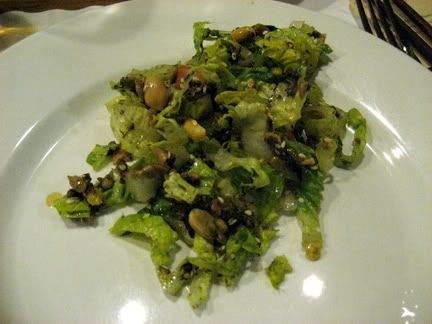 The salad had that perfect, nearly mystical balance of flavors and textures, crunchy, soft, sour, savory. The tea leaves added a fermented funkiness and my guess is that they were brined and possibly imported canned. Again, I do not think that I can appropriately describe the deliciousness of this salad. I am going to look for the tea leaves and attempt to reproduce this at home.
Unfortunately, my dining companions had less than adventurous tastes and boycotted many of my suggestions. I really enjoy eating family style, but it becomes a drag when those with certain preferences are shut out of the ordering process. I slipped through with an order of lamb curry, though my choice of "spicy" was vetoed by a member of the table.
The lamb curry:
The meat was certainly succulent and fork- tender, though I cannot help but feel that something was lost in translation with the call of the mild. This was not the Gang Hung lay ala Sticky Rice that I was hoping for. Oh and BTW, my first choice was pork curry, but 2 of 5 were not fond of things porcine (they didnt eat the lamb either).
Citrus chicken was surprising: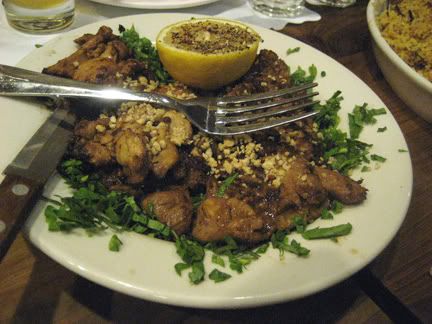 It was grilled and then simmered in a sauce of wine and lemon juice, served as whole thighs and topped with ground peanuts. It was very rich and had an chicken vesuvio quality about it. A nice and surprising dish.
The other dishes, not pictured included a Sesame chicken, which while crisp and fresh had a pedestrian Chinese food aspect as did the Super Star shrimp, which had a definite Szechaun cilli blast and were nicely caramelized, but were also somehow underwhelming after the first few dishes. The rices were really nice- a coconut rice and a cardamon infused pilau.
My last meal was super fine, a fried chicken sandwich from
Bakesale Betty's
in the Rockridge neighborhood of Oakland: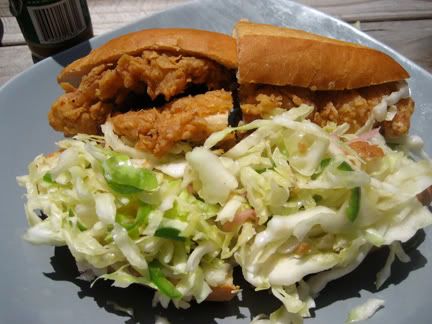 The line around the block indicated that this local favorite would be quite the treat. Apparently, Betty, decked out in a blue wig, is a Chez Panisse veteran. The bakery had a Chicago punk rock bakery vibe, ala Bleeding Heart. I only tried the fried chicken sandwich, which was awesome. The chicken was fine, thickly breaded and super peppery boneless breast. The slaw on the sandwich was amazing, dressed in viniarette and nicely incorporated with finely sliced green pepper. The roll was chewy and really fresh. A dab of hot sauce and a slathering of mayo made this a class act sandwich.
Zatar
1981 Shattuck Ave.
Berkeley, CA 94704
(510) 841-1981
Zante Pizza
3489 Mission St
San Francisco, CA 94110
(415) 821-3949
R&G Lounge
631 Kearny Street
San Francisco, CA 94108
(415)982-7877
Burma Super Star
309 Clement St
San Francisco, CA
94118-2315
Phone: (415) 387-2147
Bakesale Betty's
5098 Telegraph Avenue
(between 49th St & 51st St)
Oakland, CA 94609
(510) 985-1213