I had not been back to New Orleans since the spring of 2005. Though we did not visit the hardest hit/ economically repressed neighborhoods, much of the town seemed thriving and even more bustling with tourist dollars than I remember. It was a little weird see­ing a giant shiny condo devel­op­ment in the Bywa­ter, though much of that neigh­bor­hood had the same funky, slightly fes­ter­ing, but col­or­fully vibrant vibe as it did when I used to stay there last decade.
It was a quick trip– a three day jaunt, though I'd say we did it up right. We had the advantage of a recommendation list from a
reputable source
.
Within an hour of land­ing we found our way to
Lil Dizzy's
in the Tremé. Poor us, we had to take an al fresco seat on the side­walk on a 75 degree, sunny day in Decem­ber, since the place was packed-to-the-rafters, host­ing a graduation party. Inside, the buffet was the heat of the action and our so-sweet server confirmed that that was their star attraction for lunch, particularly for rounds of gumbo and fried chicken. Opting for fresh-from-the-fryer chicken, we ordered a la carte.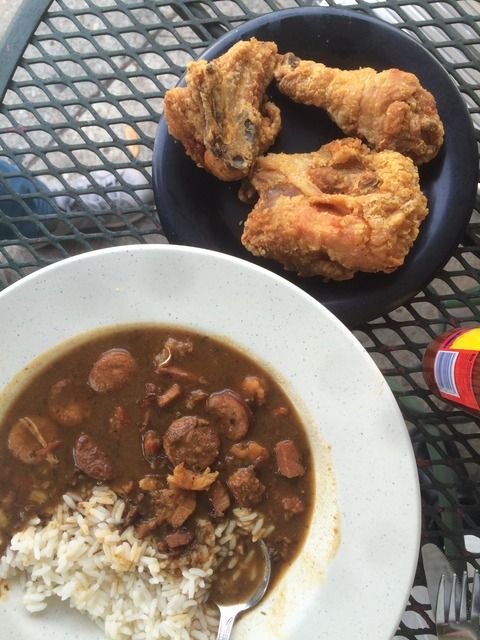 We gid­dily dis­patched of the crispy fried chicken and bowls of deep cre­ole gumbo, rich with filé and a seafood-based stock, chock full of all sorts of meaty bits like shrimp, tasso ham, andouille, and was that a sec­ond type of sausage?
Lunch was digested over an eye-opening trip to the
Back­street Cul­tural Museum
. This homespun institution is a gem, I'd say a must-visit. There are three dusty, though carefully curated exhibits displaying mardi gras costuming, jazz funeral ephemera, and most dazzlingly, a psychedelic temple to the Mardi Gras Indians. Lil Dizzy's and the Backstreet proved to be the perfect intro to New Orleans culture within in a two block radius in the most quintessential of New Orleans neighborhoods.
Mardi Gras Indian costumes: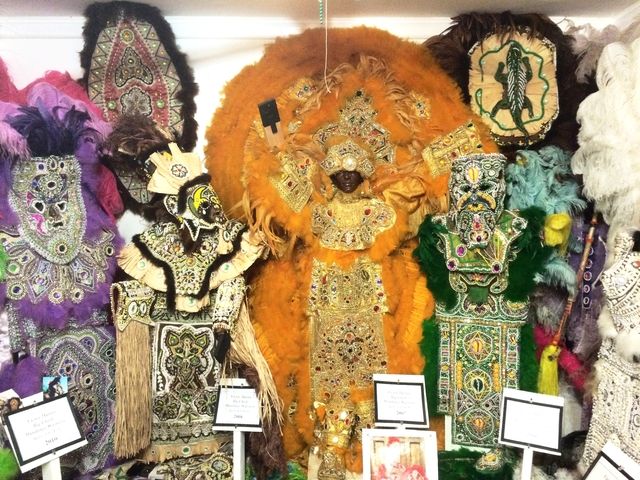 For dinner we decided to hit up two Donald Link spots, appetizers and cocktails at
Pêche
and dinner at
Cochon
. We preferred Pêche in terms of the overall experience, the service was more polished and the room, though sprawling, felt cozy with its wood beams festively decorated in Christmas lights. I enjoyed a textbook sazerac. We split the fried bread, which didn't do much for me as a donut hater, they were essentially savory donut holes. A recommended dish of catfish with pickled greens and chili broth delivered with heat and acidity; with its Vietnamese leanings, it would be the most untraditional bite of the trip.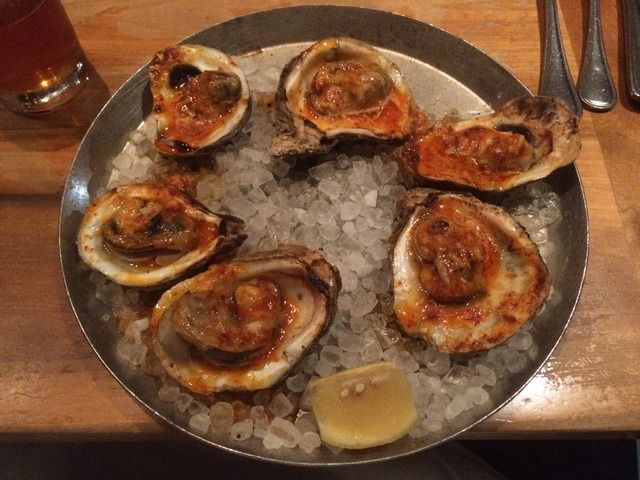 The food at
Cochon
was pretty right on, crispily breaded balls of comforting boudin, juicy sweet oysters broiled with cheese and garlic, and an extra flaky meat pie with a peppery boudin-esque filling.
I guess we ordered only appetizers that night.
We did not really dig the feel of the place, however. Service was very distracted and the vibe had a high volume/ turnover haste to it. Pêche was much more laid back and elegant.
A sand­wich 1–2 lunch the next day found us across town on Mag­a­zine street, first stop
Guy's
for po boys. In previous trips, I'd always stuck to fried seafood po boys, so the roast beef was somewhat new to me. The rumors proved to be true, this sandwich was a kiss­ing cousin to the Ital­ian beef, though the meat rendered a bit more falling-apart and the gravy less aggressively seasoned. The sturdy, chewy bread was really similar to Gonella, though the dressing made this as unman­nered of a messy of a sand­wich as I've met.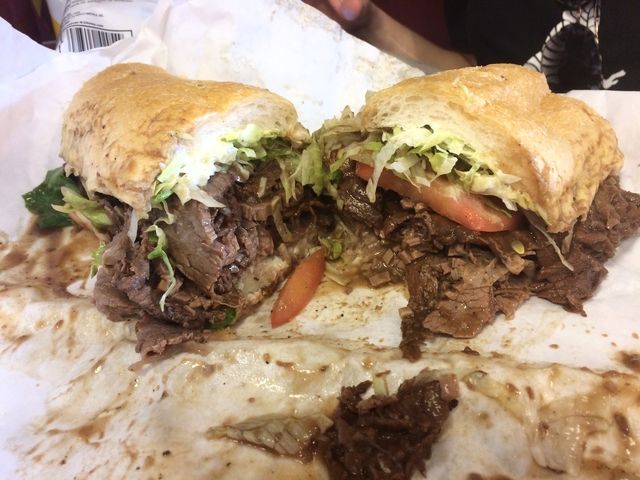 I was pretty smitten with gut buster sand­wich #2 at the beau­ti­fully tiled 98 year old legend,
Casamento's
. The ban­ter was as thick as the line was long (45 minute wait), but it was worth it. The two handed beast of the oys­ter loaf was seem­ingly built on half a loaf of bread. Maybe my one complaint, too much low rent white bread– I ate mine open faced, ditching the top slice. The filling was entirely gorgeous though, stuffed with brit­tly corn-breaded oys­ters that were sweet as can be.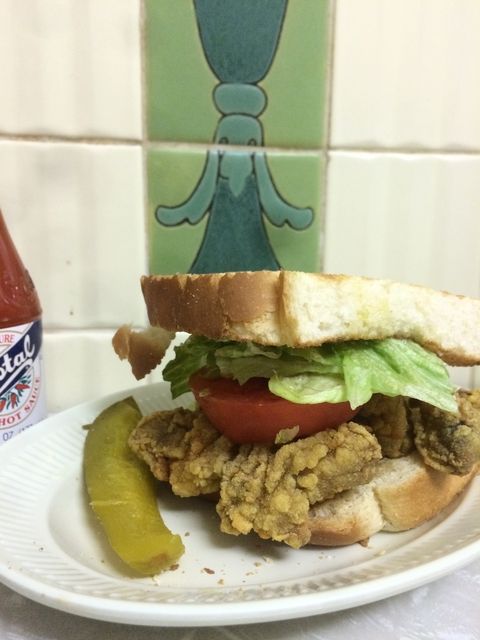 My other favorite meal (next to Dizzy's) was back in the Tremé at the insti­tu­tion that is
Dooky Chase
. I knew about the famous guests, their impor­tance to the neigh­bor­hood, the Chase family's phil­an­thropy, and their com­mit­ment to local art. I was not pre­pared for how damn good the food was. Chicken cre­ole with jam­bal­aya was even more com­plex than the gumbo down the street at Dizzy's– its like the best creole sauces just sit on the stove for weeks on end, with new bits and sea­son­ings thrown in the pot each morn­ing. As good as that was I couldn't keep my hands off of my wife's per­fectly fried chicken that was surely brined, so juicy with a hit of gar­lic. We had a cou­ple of snags in our ser­vice, which the floor man­ager, mak­ing rounds of the din­ing room, was quick to real­ize. To make it up to us, she invited us back into the kitchen to meet head chef and matri­arch, Leah Chase, who well into her 90's, was still don­ning an apron and overseeing the operation of the kitchen.
On our final day we had a decent brunch at
Lüke
, near our hotel. Seated at the chef's table, we were spoiled rotten by the service. Highlights were an Asian- leaning plate of sweet and spicy Brussels sprouts and creamy-as-all-get-out grits. A heavy hand with seasoning– either a discernible sweetness or over-saltiness made a few other dishes less enjoyable. Lunch was also less-than-noteworthy at
Liuzza's by the Tracks
where I ordered their signature BBQ shrimp po boy.
The shelled shrimp were fresh and sweet and certainly abundant. I also dug how they cored the roll and stuffed it. And have any of you Nayarit style mariscos fans ever noticed the kinship between NO style BBQ shrimp and dishes like camarones cucarachas? Shrimp + butter + hot sauce. The sauce here was too salty and the relatively bare-bones dish exhausted the palate pretty quickly. Perhaps the juices from shell on, head on shrimp, like the lovely version at Analogue, cut the aggressive sauce of this dish.
Gotta say though, it was great to be back! 3 days is a pretty good length stay, I could see craving other types of food at the 4 or 5 day mark. Great to see how on top of the game so many of the stalwarts and neighborhood spots were operating. The new school spots seemed to turn out refined chow with big, bold flavors food and a eye on the traditions. As one of the truest expressions of a homespun American cuisine as we've got, I'll always have a deep love for New Orleans eating!
Lil Dizzy's Café
1500 Esplanade Ave, New Orleans, LA 70116
(504) 569-8997
Backstreet Cultural Museum
1116 Henriette Delille St, New Orleans, LA 70116
(504) 522-4806
Pêche
800 Magazine St, New Orleans, LA 70130
(504) 522-1744
Cochon
930 Tchoupitoulas St, New Orleans, LA 70130
(504) 588-2123
Guy's Po Boys
5259 Magazine St, New Orleans, LA 70115
(504) 891-5025
Casamento's
5259 Magazine St, New Orleans, LA 70115
(504) 891-5025
Dooky Chase
2301 Orleans Ave, New Orleans, LA 70119
(504) 821-0600
Lüke
333 St Charles Ave, New Orleans, LA 70130
(504) 378-2840
Liuzza's By The Track
1518 N Lopez St, New Orleans, LA 70119
(504) 218-7888