I recently returned from another summer-long sojourn to the Saugatuck area and here are my notes on the ever- challenging quest to find good stuff to eat in the area:
Jefe wrote:My favorite new spot to eat is Pizza Mambo, which was opened this summer by one of the owners of Everyday People. They have a limited menu of pizza, sandwiches, and salads and I also must add that their location in a strip mall sandwiched between a tanning spa and movie rental is not Saugatuck's most picturesque. All said, though, they turn out a delicious product with high quality ingredients and a clearly considerate touch. The pizza is surprisingly maybe best compared to tavern style, with a thin crisp crust. It has an slight chew in the crust though and the cornmeal dusting set it apart from this style as well as the offering of more gourmet toppings.
Mambo is going stronger than ever, their crispy thin crust is better any average thin crust on the north side of Chicago. I would eat here all the time if it was in the city. Sausage, jalapeño, mushroom is my go to. Worth noting, they moved down the Blue Star to Douglas directly across from Demond's Supervalu. There is no seating inside, but they offer a patio. My favorite trick is to take one to go to eat at Oval Beach.
The Taco Loco at Ray's Tamale King at the Holland Farmer's Market also remains a fave, though they have their off days (overcooked rice or the meat not cooked out back on the grill). The price has risen to a steep $5.50 in recent years, but its almost a burrito's worth of food on a taco sized tortilla, so its pretty much worth the price. For a cheaper breakfast I hit DeBoer Bakkerij's new food truck for a piping hot, super flaky pig in a blanket for $1.50.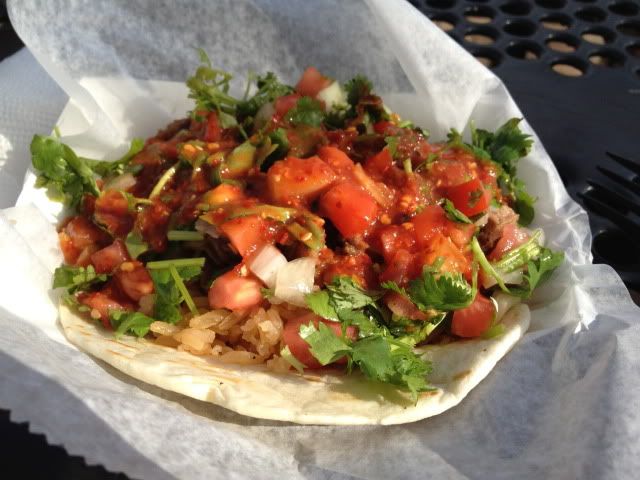 Ray's Taco Loco
Jefe wrote:I have had some pretty lousy experiences at Everyday People lately... rubbery, fishy mussels, dry pork chops, not so good... The only menu item that is 100% on for me is the tapas platter, which as a glorified cheese plate really speaks very little of the kitchen's skills.
Ditto, had some abhorrent mussels this summer. I stick to the cheese plates- they now have a local one that features excellent Grassfields Dutch style cheeses out of Coopersville (that are inexplicably all drizzled in honey).
To plug Grassfields further- they have a stand at the Holland Farmer's Market (and have for years). I have seen them occasionally at Green City Market. From their website:
We make and age the cheese right on the farm. We use only our own (grassfed) cows' certified organic fresh (raw) milk which is free of GMOs, hormones, steroids, and antibiotics, to make flavor-intense live cheeses.
Some of the finest cheese from Michigan- my perennial fave is their leyden- a sharp gouda base flecked with cumin seeds. I have also grown particularly fond of their "Polkton Corners" a funky, creamy semi-soft cheese with a center that goes gooey at room temp.
A little party on my porch featuring Grassfield's Polkton Corners (left) and leyden (right).
Jefe wrote:My favorite is the restaurant section of a family owned stripmall, called Huyhn Plaza which also houses a surprisingly well stocked Asian grocer that makes definitely passable banh mi. In between the grocery and restaurant is an obnoxious and smoky pool hall called Shooter's. I love the bun at the restaurant and think it compares to similar bowls on Argyle. The pho is okay- no Tank Noodle, but hits the spot in a pinch.
Oddly, every time I have dined here in the past two summers, the sit down restaurant has been closed, yet they offer the Thai/Vietnamese menu at Shooters along with an exhaustingly long menu of bar food concoctions. Last year I shockingly ate a bowl of textbook pho surrounded by pool players and Keno machines. This year, on my one visit, I did not fare so well. The harried bartender explained that he was doing all of the cooking that night (he was definitely not Asian, for what its worth). Fried squid was fried rock hard but had a garlicky kick to the batter. The pho was skimpy on the meat and noodles and had a crazy MSG whallop. Maybe the restaurant is open for lunch with a different staff?
Heading north, I attempted a Grand Rapids food crawl based on a buddy's recs. Choo Choo Grill was a must for diner style burgers and he warned me they were only open until 5. The grizzled proprietor was locking up as we arrived at 4:15, they close at 4. Too bad, looked like a cool place.
We were on a mission to hit up an Indian grocery for ingredients that we couldn't find down in our parts and headed down Division St. Starving, we hit up a converted old drive in, now a taqueria called San Jose.
The menu was pretty classic taqueria fare. I ordered a taco de barbacoa and a taco de chicharron en salsa verde.
Always hard to capture the true character of a taco in a snapshot with all that cilantro in the way, but these tacos were pretty damn good, especially the unctuous and tangy chicharron. Barbacoa was supple and good, though my buddy's birria was surprisingly fantastic, tender and highly seasoned with adobo.
We hit India House grocery, which also does catering and spare sit down restaurant business. It reminded me very much of Royal Malabar Catering in Glenview, though Sikh owned. We were there for spices and other groceries, so we didn't sample any of their cooking. Their selection of dry goods was great- we picked up black lentils, nigella seeds, and black cardamon. There were little to no fresh groceries though and we left without the curry leaves on our shopping list.
A quick stop at Founder's for a beer was okay. There were very few beers on draught that you can't buy at a well stocked liquor store. I sampled an underwhelming kolsch (avoiding high gravity stuff as I was driving). What is it about large scale brew pubs that feels so corporate (and so jam band aesthetic oriented)- so much merch and faux old timey pub decor. The place was packed with an after work crowd and was not really our scene.
We hit the legendary (with the Eastown college kid/ late night drunk set) Yesterdog on our way out of town. It had that lived in vibe of an old school down and dirty haunt which we dug.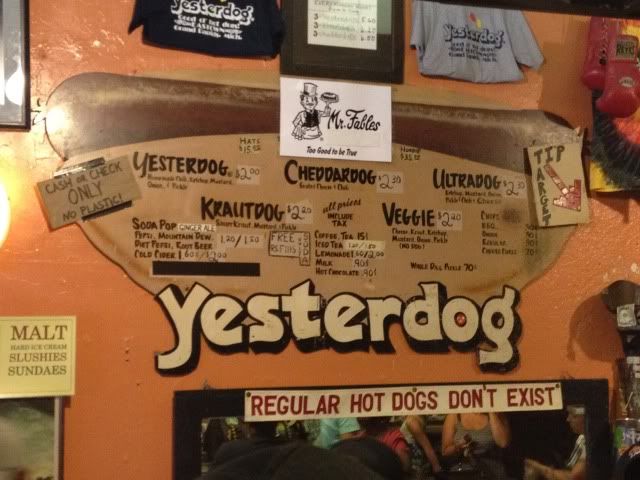 The food though- ouch!
Lifeless, skinless, sub- Oscar Meyer quality dogs. Saved by the greasy goo of their chill on the Yesterdog but reduced further to mush by the garbage kraut? on the krautdog. Not good. The only interesting moment of these dogs was an abundance of shredded pickle, which unfortunately could not save this trash.
To save my palette I stopped in Pita House across the street for a chicken shwarma, which was reheated in a saucepan, producing a grease laden sandwich that was too dripping and slick to hold itself in a to- go foil wrapper. It had a few things going for it- pickled turnips and a pretty good hot sauce. However, I could not eat it fresh in the car because of the mess factor and it did not fare so well on the ride home, turning to a congealed sloppy mess. Pita House does have a pretty cool grocery section though, stocked with a wide variety of Middle Eastern pickles, condiments, and sweets and an intriguing selection of non-alcoholic malt- based beverages.
Back to breweries, I spent an awesomely laid back afternoon at Bell's in Kalamazoo. I can't recommend a visit there highly enough. Unlike Founder's their tap room has genuine character, with a curated, eclectic sense of decor (though still kinda jam bandy).
They had all sorts of interesting beers on tap.
I tried the smoked Viennese lager which was crisp and refreshing with just enough smokiness. It paired incredibly with their house-smoked Amber Ale marinated beef jerky. I liked it so much I had two- and at $3.50 a pour, not to be beat. I also had a rich, complex India Rye Ale, which like Two Hearted, was a perfectly balanced hoppy big beer. The true joy of Bell's though is their beer garden, spacious and very well designed- there is actually garden here to go with your beer, lined with lovely flowering trees with songbirds, butterflies, and dragonflies circling overhead. A just lovely way to spend a summer's afternoon.
My favorite food discovery happened back in Holland at a take out soul food counter called Daddio's which one of my co-workers repeatedly recommended on my partially deaf ears.
A tiny little building, though spotless and adorable, the owners (a husband and wife?) were so very engaging and thrilled to talk soul food with us. The stewed turkey legs would not be ready until dinner, but the greens had been on since early that morning, which she let us sample before we ordered. She had fried chicken legs ready, but the thighs were still in the fryer. They would be ready in 15 minutes, so she recommended that perhaps we run some other errands. And we wanted those thighs.
We ate al trunko:
The greens were perfect- tender with shreds of smoked turkey leg. The mac and cheese too- why is it that when I make it at home I always have to get all fancy with a béchamel which ends up melding with the noodles in a starchy paste when down home versions like this are made by chefs not adverse to Velveeta. This stuff was the goods.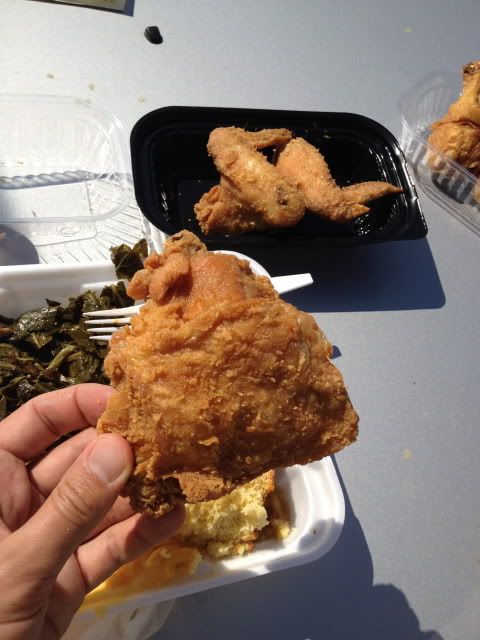 Thigh close up. The chicken was piping hot out of the fryer and very good because of that, though was not incredibly spiced- more of a simple crisp batter style. No matter though, Daddio's is turning out textbook soul food classics made thoughtfully and from scratch. A gem in an otherwise ho-hum region for good eating.
Pizza Mambo
3465 Blue Star Highway
Saugatuck, MI 49408
(269) 857-4400
Holland Farmers' Market
8th Street (between Pine & Maple Aves.)
Holland, MI 49423
http://www.cityofholland.com/Brix?pageID=421
Everyday People Cafe
11 Center St
Douglas, MI 49406
(269) 857-4240
Huyhn/Shooter's
143 Douglas Ave
Holland, MI 49424
(616) 394-9200
Choo Choo Grill
1209 Plainfield Avenue Northeast
Grand Rapids, MI 49505
(616) 774-8652
La Taqueria San Jose
1338 S Division
Grand Rapids, MI 49507
(616) 284-2297
India Town Catering
3760 Division Ave S
Wyoming, MI 49548
(616) 243-1219
Founder's Brewing
235 Grandville Ave SW
Grand Rapids, MI 49503
(616) 776-1195
Yesterdog
1505 Wealthy Street Southeast
Grand Rapids, MI 49506
(616) 262-3090
Pita House
1450 Wealthy St SE
Grand Rapids, MI 49506
(616) 454-1171
Bell's Eccentric Cafe
355 East Kalamazoo Avenue
Kalamazoo, MI
(269) 382-2332
Daddio's Carry Outs
567 College Avenue
Holland, MI 49423
(616) 594-5376