I was pleasantly surprised to eat very well in the Marquette region on a recent weekend jaunt. Admittedly, I had a really good tour guide (which wasn't LTH this time around).
This was my third trip up 'dere and my second following the 43 via Green Bay route. Mickey-Lu Bar-B-Q had come highly recommended by a friend many years back and the last time I took this route, our timing was unfortunately off (I seem to remember racing against the sun to arrive at and set up a campsite or something like that). We had planned well this time with an earlier departure to arrive at Mickey-Lu for a late lunch.
The old school, barebones lunch counter vibe is worth the stop alone as is a prime view of the char grill.
Following
conventional wisdom
I ordered two cheeseburgers. I love that they skip the fries and, in fact, any sides. It made the ordering easy. And dig the no frills packaging/ serving ware: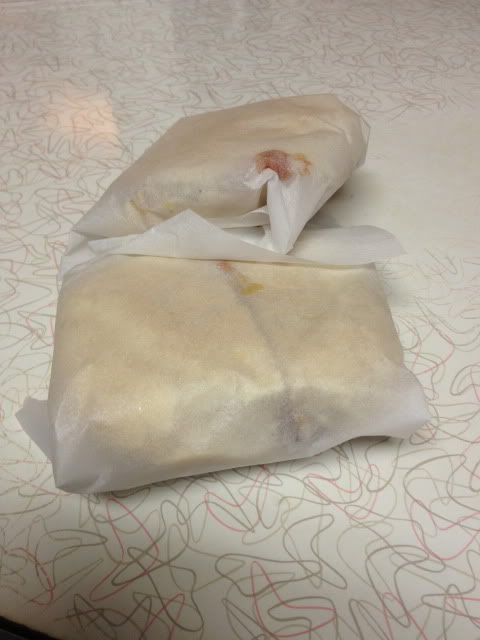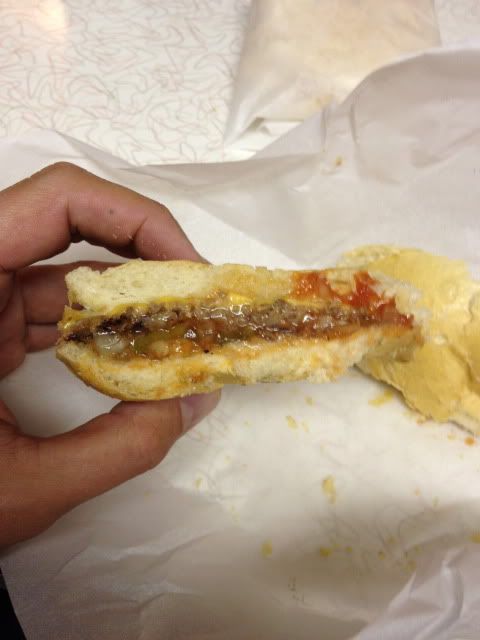 These cheeseburgers were definitely unique. The chargrilled flavor was more pronounced than the meat itself. The patties were tiny- a 1/6th or even 1/8th of a pound, so its little wonder why the flavor of the meat does not withstand the condiments and the somewhat unproportionately large sized roll. I did quite like the toothsome roll though, which also retained a bit of smokiness from being toasted on the grill. Minimalist toppings were to my liking, though the pat of butter on my burgers did not quite melt amongst the other cold other toppings. Perhaps that goes with the style. All in all, I liked these burgers well enough, if not quite living up to my anticipation. I might try a double next time for a beefier experience.
For breakfast we headed to Coachlight, a cute small town diner with cheery service. The menu was cheap and conventional but there was one thing that stood out- the cudighi breakfast. Like I said, I had not read this thread too recently, so I had no background with this regional specialty. The waitress explained that it was a local specialty, "an Italian sausage with a little spice". It seemed like a must order.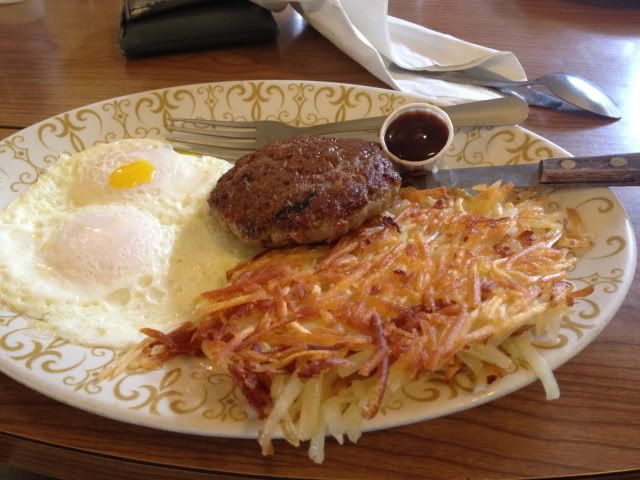 A pretty standard breakfast plate of well griddled industrial hashbrowns, perfect over easy eggs (one yolk pierced at the table to clear up confusion over which of two plates had eggs cooked over-easy vs. over-medium (they were both over-easy)), and pretty nice thick cut house baked rye bread. The cudighi came in a fat hand-formed patty with a little dipper of BBQ sauce (the waitress called it cudighi sauce). The patty was pretty dang good- garlicky, well seasoned, verging- on- too- salty, with an upfront fresh porkiness. Not a bad $6.99 diner breakfast.
Having not done my research, I figured cudighi was a specific offering to the Coachlight until we found ourselves in Negaunee at a divey saloon and I noticed a sign up sheet for deliveries from a local cudighi producer.
Our tour guide had been at work that morning while we ate breakfast. She met up with us that afternoon at said saloon and as soon as she arrived, I had to know the scoop about cudighi- a locally produced Italian sausage with roots in old country cotechino recipes, spiced with sweet spices common specifically to the towns Negaunee and Ishpeming. She suggested that we check out other preparations of the sausage and recommended Congress Pizza in Ishpeming for dinner.
I just found the following
post
from Kenny from Rogers Park from 2005 with words that capture the essence of Congress better than my own:
Kenny from Rogers Park wrote:Congress Pizza, Ishpeming--Located in the heart of a business district that is architecturally frozen in 1966, the year Ishpeming's last mine shut down, Congress Pizza offers a good pie and a great atmosphere. The pizza crust is crackery thin and the bland but palatable sauce is spread atop a layer of cheese to maintain the crust's crispness. Though this is an odd pizza, we enjoyed it enough to make two trips during our stay. Part of our enjoyment, though, arose from the feeling of the place. Its paneled walls adorned with countless photos highlighting Ishpeming's athletic, labor and social history and its bright red vinyl-upholstered booths filled with local townspeople happily dining atop formica tables, Congress Pizza draws outsiders into another era, another world, and another way of looking at the world. A more distinct distillation of small town America would be difficult to find, and the place itself seems constructed to make a definite imprint upon visitors. I will gladly return to Congress Pizza--which, incidentally, has a very friendly, gregarious owner and staff--as much for the ambience as for the food. By the way, I did try Congress' rendition of Cudighi here and thought the flavor somewhat odd, like the sausage had been seasoned with nutmeg and cinnamon. Strange.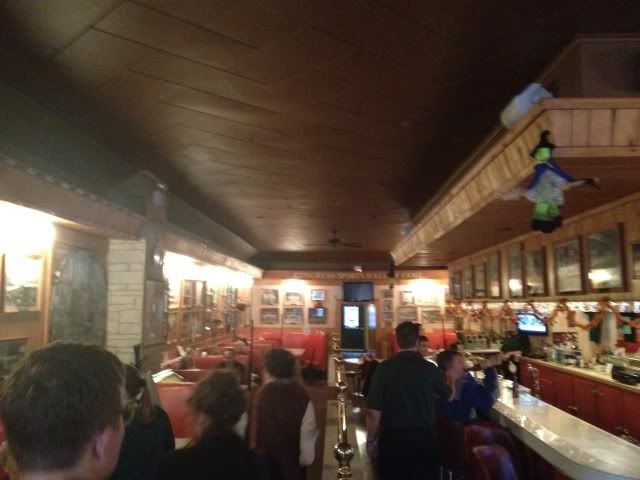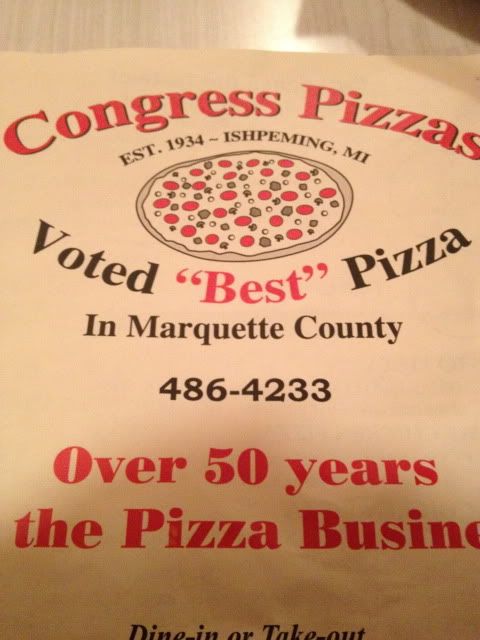 I love the total lack of pretense of menus in this part of the country- burger place does burgers, pizza place does pizza, no salad, no apps. Well maybe one app.- pizza fries, which we unanimously agreed we should order.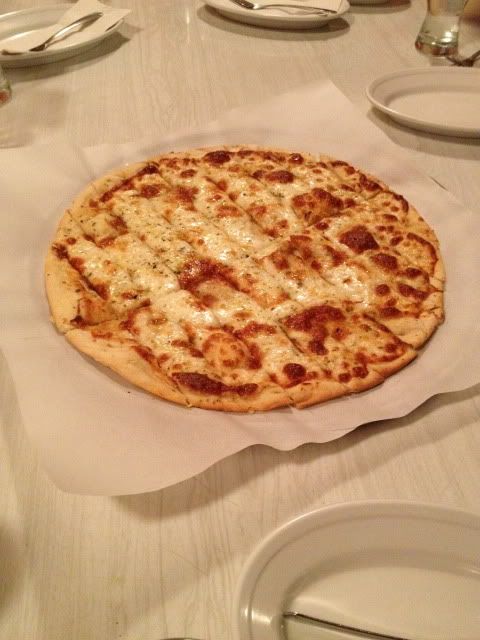 Pizza fries, as it turns out, are really a sauce-less cheese pizza cut into strips with sauce served to dip on the side. It was pretty enjoyable, particularly since we we warned of a 35 minute wait for our pizza (the place was packed at 5:30 on a Friday) and we were more than a few Keweenaw Brewery beers in. The crust was quite distinctive- a bit greasy and pastry like and in place of sauce on the "fries" there was a garlicky oil base.
We ordered three pies: cudighi, anchovy/ jalapeño, and onion, green pepper, mushroom. I would have ordered all three with cudighi, but I was in mixed vegetarian company.
The cudighi pie:
The pastry-ish crust was not the only similarity between these pies and Chicago pan pizza. As KfRP reports above, the sauce is applied on top of the cheese and is likewise fairly chunky. We (unlike the above post) found it refreshingly simple and very bright tasting. Don't get me wrong though- this is decidedly thin crust pizza. In fact, on a trip to the men's room I had a peek into the very spartan kitchen and spied an archaic pizza crust rolling machine. And the cudighi- this version was more assertively spiced than our breakfast version and I thought it was pretty great. My only regret is not sampling the stuff in its platonic form- as a patty on a sub. For sampling two applications of cudighi in eight hours, I guess I did pretty well. And the other two pies- the toppings were not so good, canned jalapeños (which have their charm) and mushrooms. Even the green pepper and onion tasted out of a bag. Stick with the cudighi.
Needing a break from mass quantities of sausage I grabbed a light lunch at Lagniappe nearby the hotel. I ordered a bowl of gumbo (which did have sausage) and shrimp remoulade. I liked the vibe of the place- New Orleans kitchy, a basement rec. room feel probably not remodeled since the 70s or 80s, old Cajun tunes playing, plenty of bar seating, and what was that, did my server have a Louisiana accent? I had no idea what to expect from the food. After re-reading the lukewarm posts on this thread about the place, I'm pretty glad I did not brush up on my research, because I probably would have skipped this stop. The food was remarkably excellent. The gumbo, in particular, won me over- which I tend to judge as a benchmark of how a kitchen manages this cuisine. It had a deep, rich, developed flavor from a properly toasted dark roux. A sprinkling of filé was pronounced in its bitter herbaceousness. It was a bit scant on chunks, or rather large chunks of meat- the chicken and andouille were cooked down and melded into the whole of the dish. Fantastic, in fact the best bowl I've had outside New Orleans or my own kitchen. The remoulade was also pretty good. Nice sized shrimp that were just cooked through and actually still a bit warm (a good sign they were cooked to order) the remoulade itself skewed a bit too acidic for my tastes with a mustardy punch. Served atop a good quality chiffonade of lettuces, its freshness was what the doctor ordered.
In fact, I enjoyed myself so much I brought the gang back for dinner. The room was packed, we waited about 20 minutes. It seemed as though the whole town was dining there on a Saturday night.
We started with fried pickles: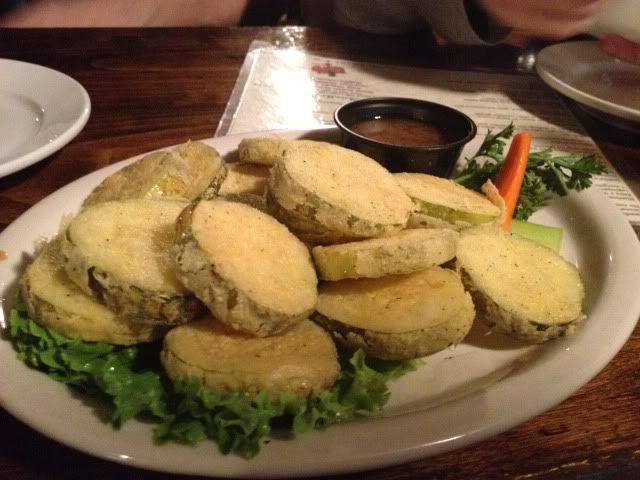 As good as could be, I appreciated the slightly thicker cut. Breading was nice and light while maintaining a good crunch.
I ordered Catfish Pontchartrain for my main with a side of red beans and rice (not pictured).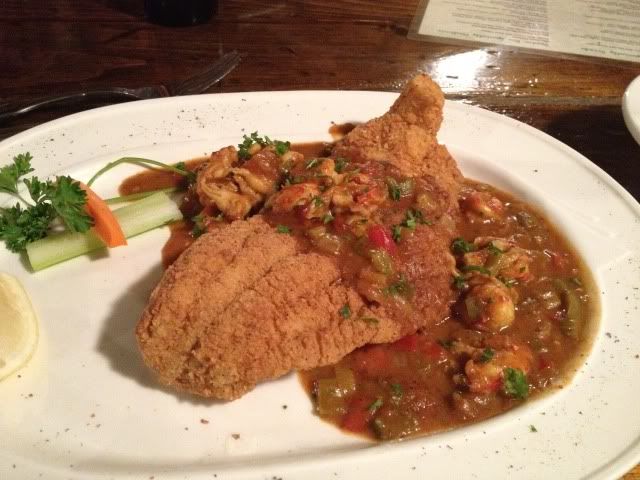 Damn, this was a mighty good plate of food. An expertly fried catfish filet piled with crawfish etoufee- which contained very tender and incredibly fresh tasting crawdad tails ( not freezer burnt or musky tasting, two frequent maladies of out of season crawfish in the north). The sauce was perhaps richer than the gumbo and had the same depth from a perfect roux.
One of my favorite bites of the year thus far. Red beans and rice were also very good. I should note that I used almost no hot sauce eating this meal.
As I was admiring this papier mache monstrosity I was approached by the woman who seated us: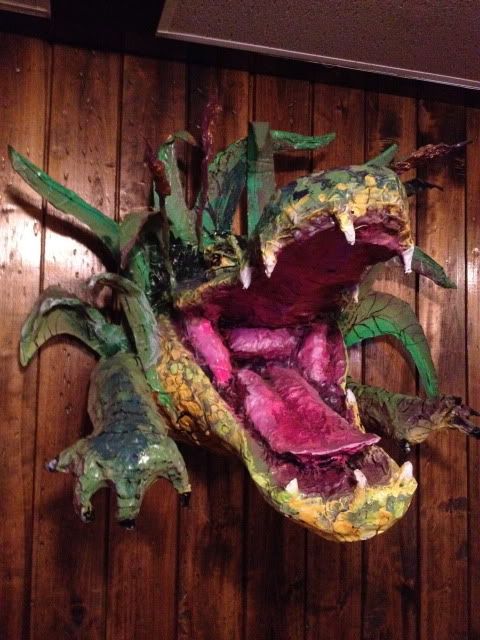 It turned out that she and her husband were the owners and she gave me the scoop on why the cooking was at such a high level (and a likely explanation to why my experience here was so much more notable than the reports from several years ago upthread). Her daughter, Nichole, a recent grad from Cordon Bleu here in town and fresh back from a recent stage at Commander's Palace, had recently taken over the kitchen. Mom was so proud that she ran back and grabbed chef to introduce to us. These folks were sweet as can be. A very talented young chef, I have no doubt that she will keep this joint packed nightly and continue to impress the pants off of city folks like myself.
Of course, it would not be a trip to the UP without grabbing a pasty. Our host picked these up on our way to the beach for a picnic, so I am unsure of their provenance. That doesn't really matter though, because every pasty I've ever eaten in the UP tastes the same- bland- stuffed full of potatoes with indiscernible shreds of mystery meat. And now that I've got Pleasanthouse in my life a very high bar has been set for savory pastry.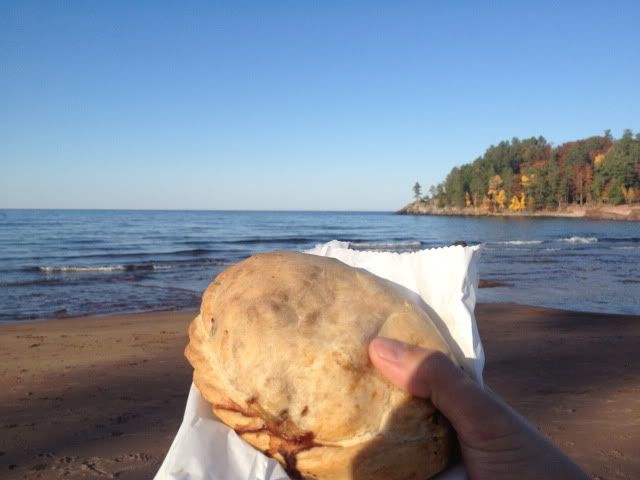 No matter though, with enough ketchup, on the stunning shoreline of Lake Superior, putting back some cold North Peak brews with great friends, the UP is one of my very favorite destinations.
Mickey-Lu Bar-B-Q
1710 Marinette Avenue
Marinette, WI 54143
(715) 735-7721
Coachlight
423 West Washington Street
Marquette, MI 49855
(906) 225-0522
Congress Pizza
106 Main Street
Ishpeming, MI 49849
(906) 486-4233
Lagniappe
145 Washington Street
Marquette, MI 49855
(906) 226-8200