Last weekend was a long weekend in Austin. With no car, we spent all our time in or near downtown, mostly walking (downtown is a good mix of office and residential space — great for walking).
It turned out to be a surprisingly good food town, especially if you stick to Barbeque and Tex-Mex.
While waiting for the sister and brother-in-law to arrive, we got drinks at the contemporary, rather loud, but thankfully cool Codependent Cocktails + Coffee — a combination bar and breakfast spot, in a modern building (one of many which dominate downtown Austin). Moetchandon had an Old Fashioned, my beer was Naked Nun from Austin's Adelbert's Brewery, a reasonably good spiced witbier.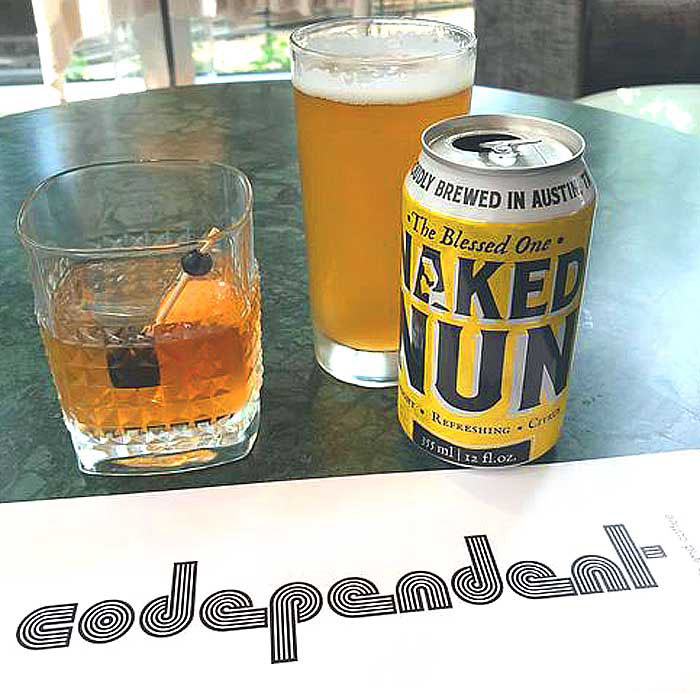 A short walk down the Shoal Creek Trail got us to the building that housed our 20th floor VRBO, which had a Torchy's Tacos (a local chain) on the ground floor. No pix, but the tacos were good (although not quite as good as others described below). The VRBO had a good view of the Congress Avenue bridge, which is known for its nightly flight of millions of Mexican free-tail bats — the largest urban bat colony in North America. Unfortunately, due to scheduling and weather, we missed their flights.
On an organized food tour, we started at Veracruz All Natural, a women-owned site in the Line Hotel (one of six locations). We got the El Tradicional Breakfast Taco — Egg, bacon, refried pinto beans, potato, cheese. Served on a flour tortilla. A decidedly good way to start the food crawl.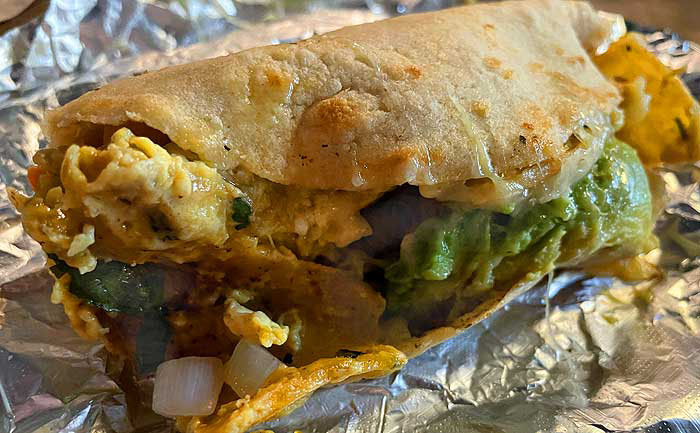 Next stop was Cooper's Old Time Pit Bar•B•Que, in a historic building (one of the few remaining) in downtown Austin. The tender, fatty brisket, along with the fixings (pickle, onion, white bread, a few charred bits), was some of the best brisket I've ever had.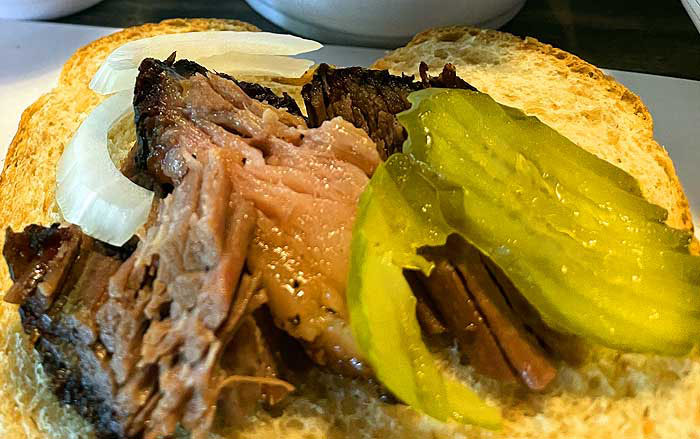 And now for something completely different (apologies to Monty Python) … another women-owned business, Yummi Joy — a candy and ice cream shop.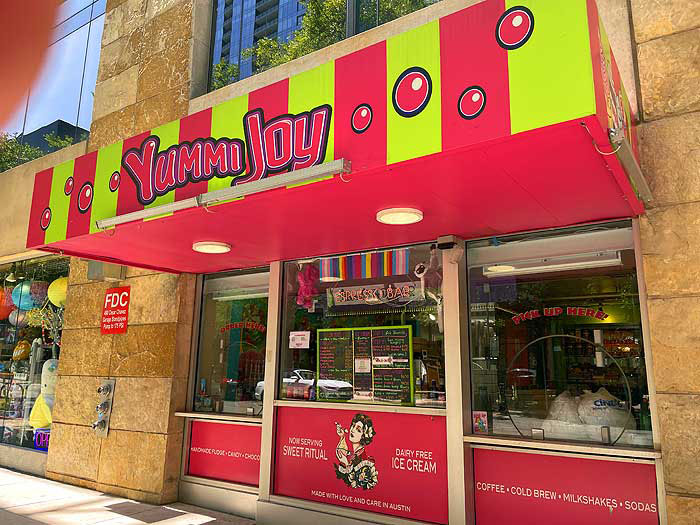 We went for the house-made ice cream, in my case Cookie Butter. Rich, smooth, with a touch of caramel, excellent in the nearly 100° heat.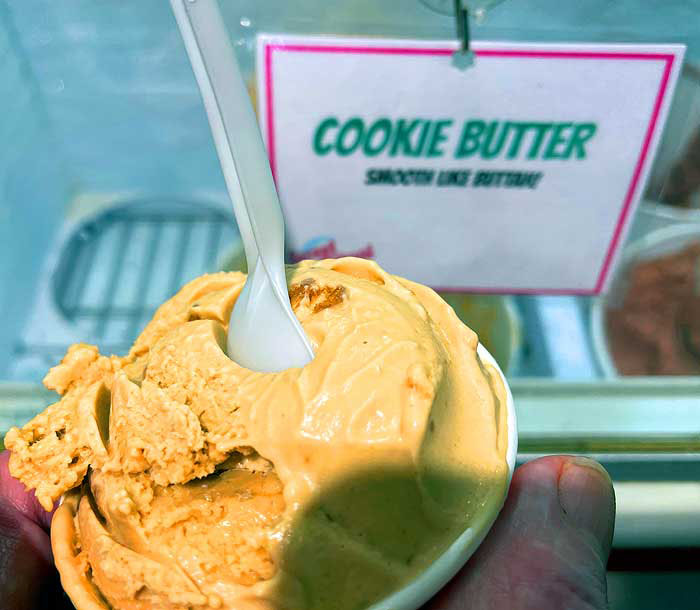 Then we went to a chain — Velvet Tacos. Apparently there are three of them in Chicago (none of which I've tried), but the one in downtown Austin is certainly a creditable taco spot in this taco-centric town.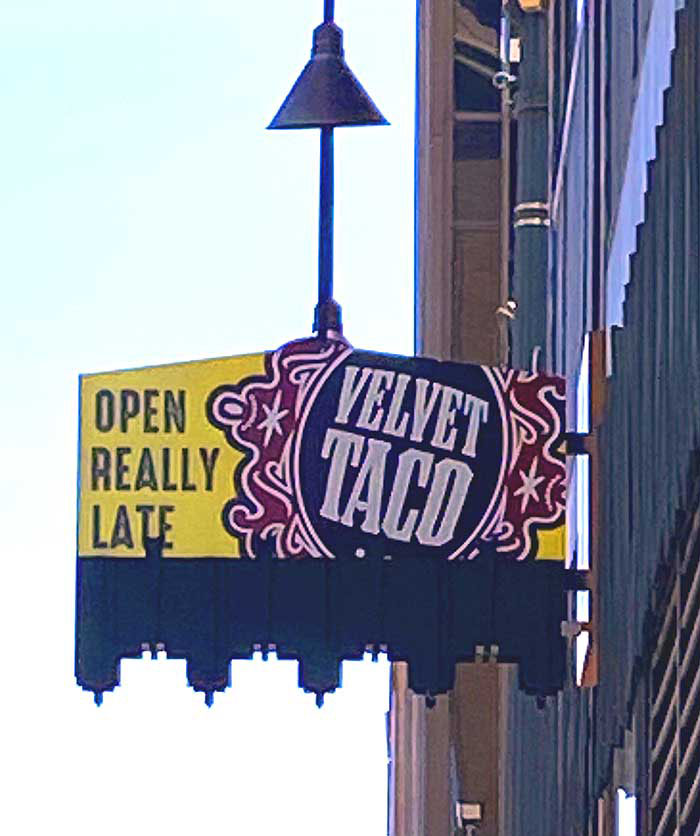 Our order included "Ranch Water," a bottle of Topo Chico with added tequila, salt and lime. The interesting taco, served in a lettuce leaf rather than a tortilla, (don't remember its name) included seared ahi tuna, egg, cucumber and olives — an unexpected combo that worked well.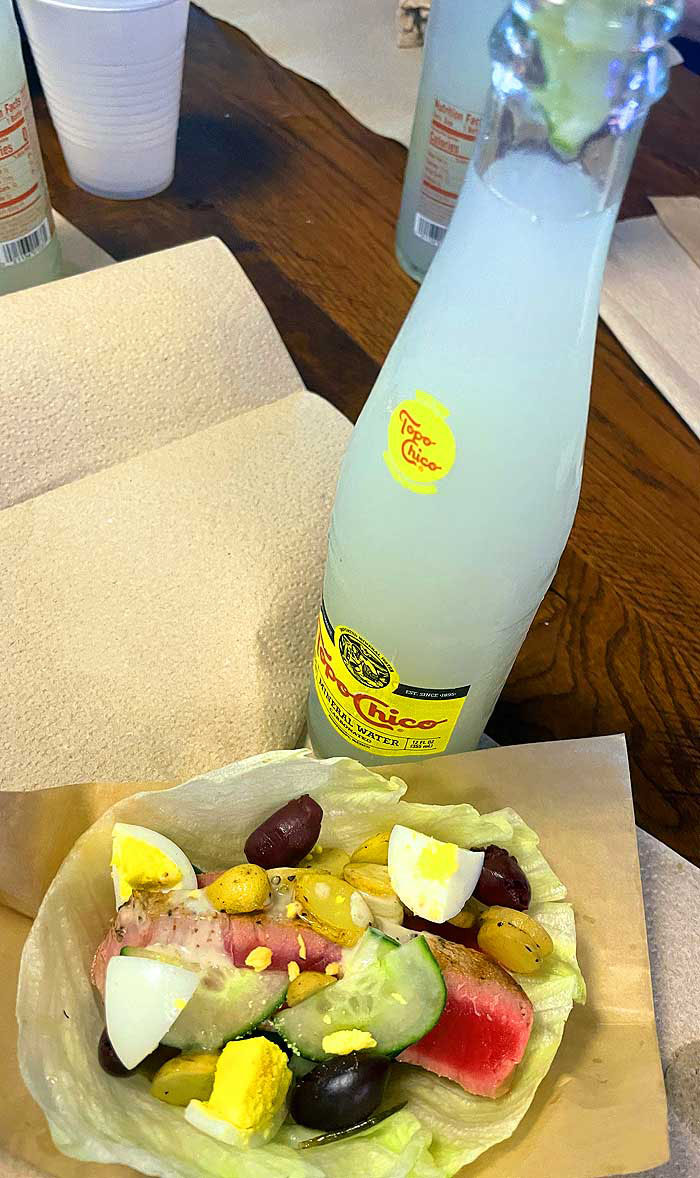 Last stop on the food crawl was the large food hall — Fareground. We got pork soup dumplings from Little Wu. They were fine, but couldn't ever compete with the soup dumplings at QXY in Chinatown. (Please forgive the blurry pic. I assume all LTHers know what soup dumplings look like.)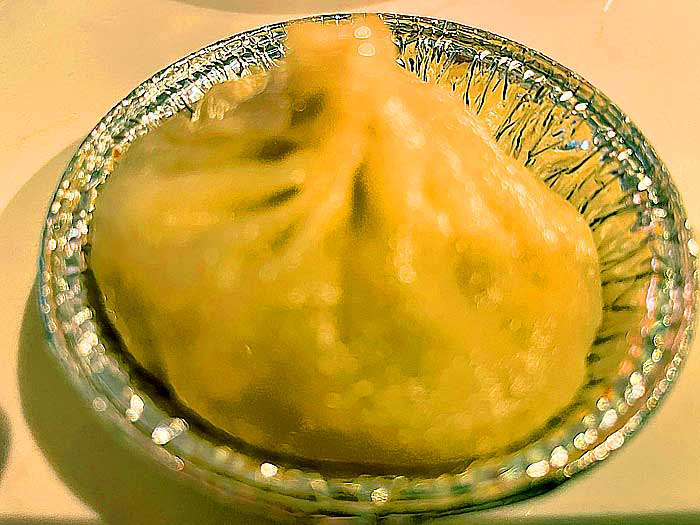 And the last eats we got on the food tour was also in Fareground, at Henbit. It was described simply as a "Monster Cookie" — full of pecans and chocolate chips. Being full, we took it back to the VRBO; it was a nice breakfast the next day.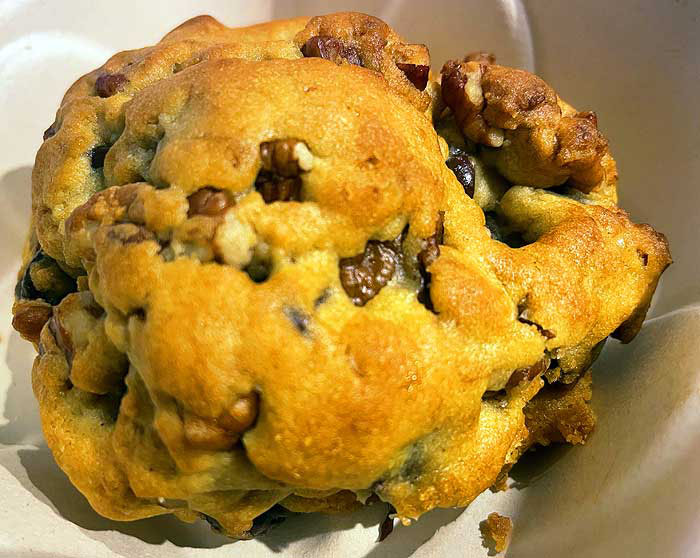 We also had beer — I didn't know Austin was such a good beer town. Being downtown, walking, we weren't able to get out to Jester King, Austin's most auspicious brewery, but relatively far from downtown.
Our first beer was an interesting presentation at Polvo downtown — they called it a beer-rita. The bit of salt actually added to the flavor, which was diluted by the crushed ice. (Not sure the brother-in-law looking on approved.)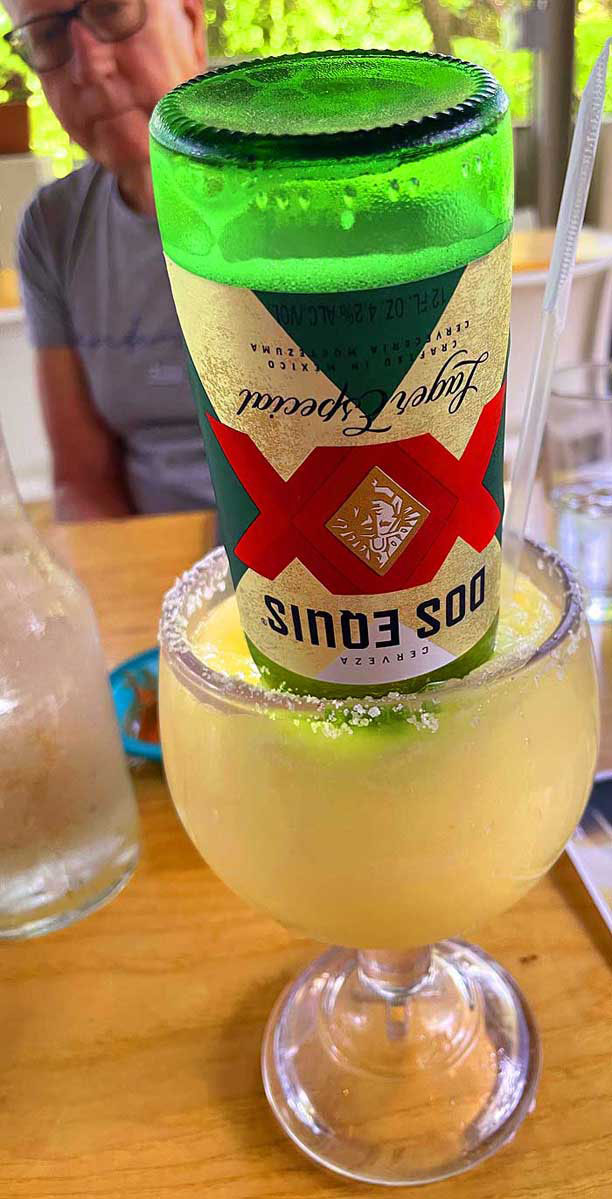 Three near-downtown breweries — the first was Lazarus. (L to R, International Harvester Farmhouse Ale with Brettanomyces, Thunder Pup Hazy IPA, Double Pedestrian Double IPA) The Brett was particularly good (it's easy to overdo the sourness sometimes associated with Brett; this was well balanced).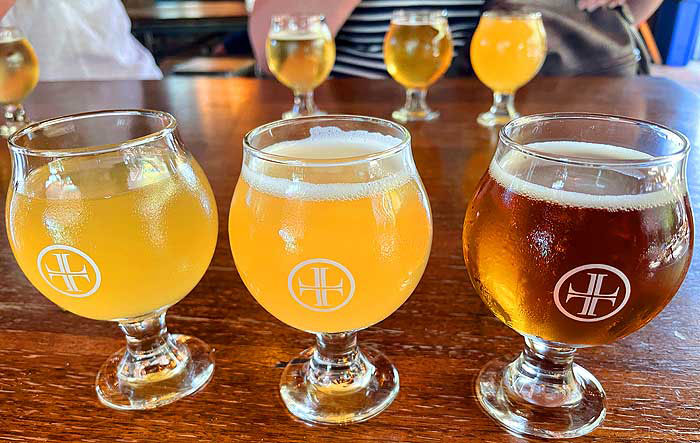 Lazarus offered an impressive variety of beer styles — moreso than the other breweries we visited. And the interior showed an impressive barrel-aging program.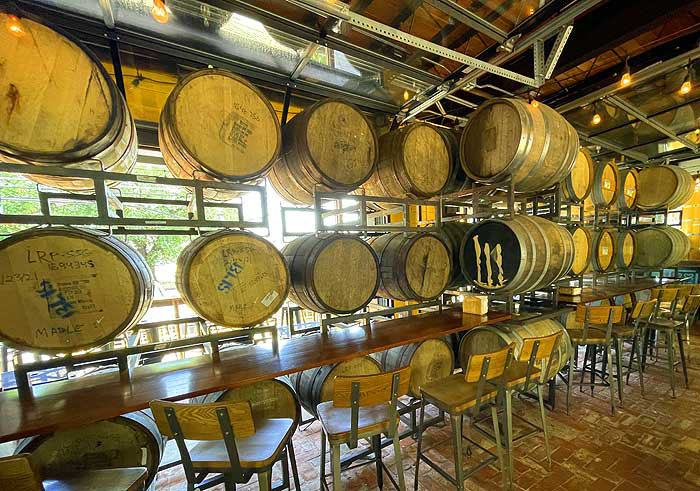 Zilker Brewing is named after Andrew Jackson Zilker, a political figure and philanthropist, who donated the popular Barton Springs area to the city of Austin. The place had a rustic, warehouse feeling to it. Overall, the beers were good, not great. Parks and Rec Pale Ale (L), and Fresh Find Wheat Ale (which had an especially generic flavor).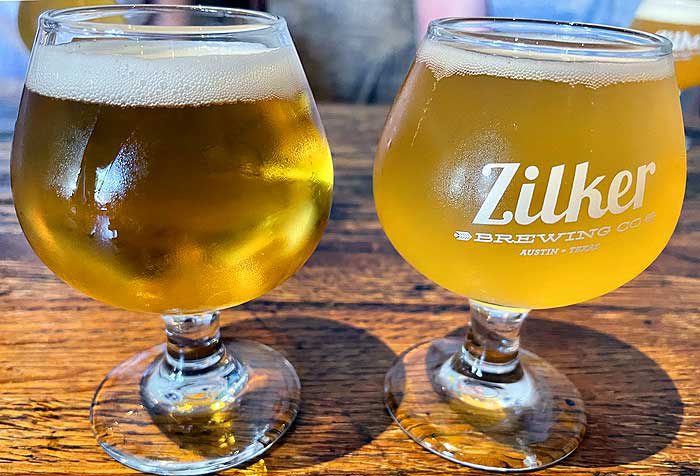 And Coffee Milk Stout (L) — probably the best of the beers at Zilker, with roasty, chocolate notes, and Long Game Hazy IPA, a bit light on te juicy hops expected in a hazy.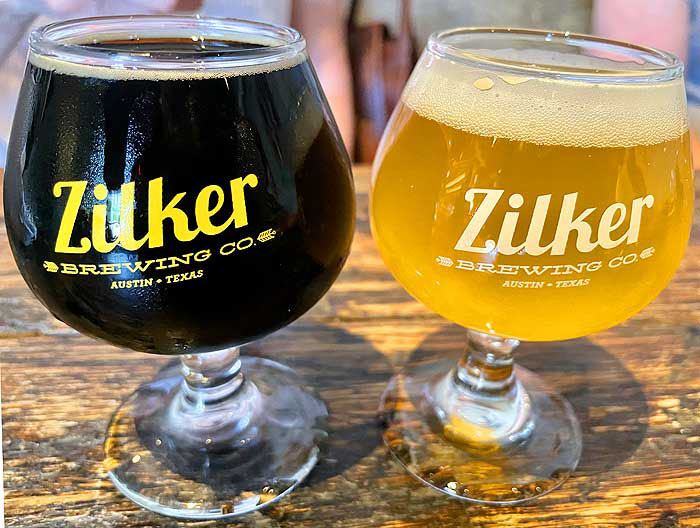 Central District was our last beer stop. A more modern taproom than the others, it was a large, comfortable space. The three beers (L to R): Right Said Fred Belgian Strong Ale, Hopelessly Nice Hazy Double IPA, Montego Bay West Coast Double IPA.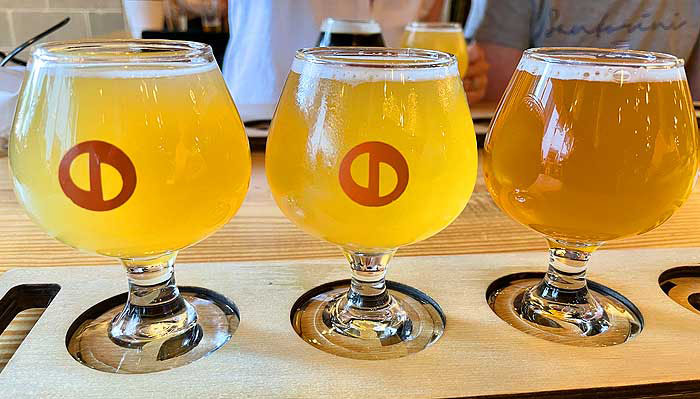 In general, it was a good trip. Foodwise, the barbeque and Tex-Mex at every place we visited was very good (including a few where I forgot to take photos, so didn't include them here). The few we went to that weren't in the tex-Mex/Barbeque realm were okay, but no reason to venture to Austin on their own.
Codependent Cocktails + Coffee
301 West Ave
Suite 110 
Austin, TX 78701
Veracruz All Natural
111 E Cesar Chavez
Austin, TX 78701
Cooper's Old Time Pit Bar•B•Que
217 Congress Ave
Austin, TX
Yummi Joy
409 W 2nd St
Austin, TX
Velvet Taco
522 Congress Ave.
Austin, TX
Fareground
111 Congress Ave
Austin, TX 78701
Lazarus Brewing
1902 E 6th St.
Austin, TX
Zilker Brewing Company
701 E. 6th Street
Austin, TX 78702
Central District Brewing
417 Red River St
Austin, TX. 78701