I went to California with my wife and kids for a long week and a half kind of bracketed around Thanksgiving. We were able to extend this trip to see her family mainly because the kids had some extra days off from school. Since this was going to be a lot of extended family time, I wanted to take a full day and just go full glutton on some tacos to start the trip. I strategically booked our Wednesday night hotel in Downey, in order to maximize coverage for the next day. I wanted to first thank ronnie_suburban for helping me out with uploading the pictures for my post. Most of my research on the places we went was on lataco.com, fantastic site and you can search by neighborhood which I found very helpful. Also wanted to give a nod to DaBeef and his blog post about his last trip to LA, his taco knowledge is second to none.
My goal was to try and hit five or six places in one day, and Thursday was my sweet spot. Circumstances dictated that we would be leaving LA that night, heading to Orange County and then later down to San Diego for the remainder of the trip so I knew what needed to be done. Woke up pretty early, drank too much coffee then got to work.
I thought that starting with some birria made sense, most open early and I zeroed in on Commerce Birrieria. Small place in an industrial area, right off the expressway with a weird parking lot that may or may not have contained a Starbucks drive thru. I ordered two birria quesotacos, two birria tacos dorados with queso, and a small consommé. So good, tender and flavorful birria, rich broth and good salsas. When dunked the cheesy tacos dorados were fantastic.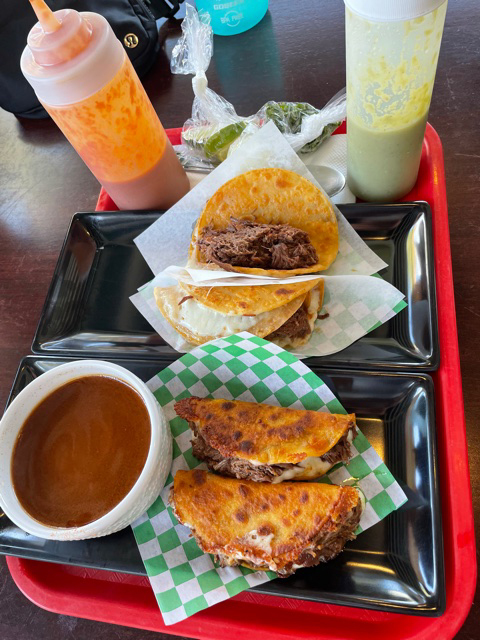 The plan was to hit two spots in the morning, go back to the hotel and work/regroup a little then set out for an aggressive lunch session. Stop number two was a bit of a mystery, but I read an article that said they made really good breakfast guisados, along with homemade flour tortillas. With that, we were off to Asadero Chikali. I drove past where the address was listed on the gps a couple times, then realized it was a truck parked and kind of hidden accross from a tire shop and a night mission. I ordered the guisado sampler, which included the following: 1) carne desebrada, 2) bistec con papa, 3) chicharron con salsa, 4) carne con chile, 5) papa con verdura, 6) papa con chorizo, winnies con verduras (?), 7) chorizo con huevo, and
huevo con jamon. The plate was served with a slather of beans and the aforementioned fresh flour tortillas. The truck also had an expansive salsa bar (somehow tucked inside the truck with window access for patrons) and some fresh limes and vegetables. I really enjoyed this plate, the guisados were all terrific and the fresh flour tortillas a treat. If I had to pick my favorite, it would probably be the desebrada or carne con chile. Cool and unique spot!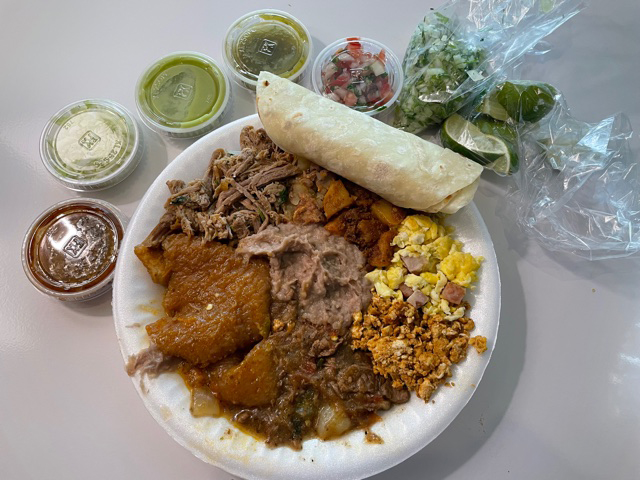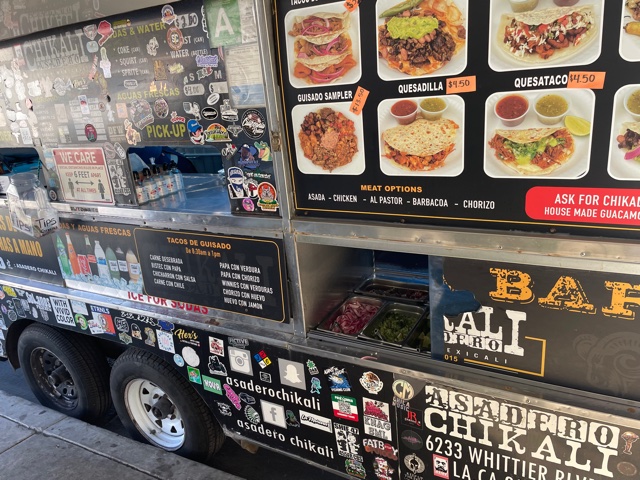 The first stop for lunch was Tacos Don Goyo, located back in Downey. I read that they were popular for their Tijuana-style adobada/pastor and asada tacos on homemade tortillas. Small place on a very busy street there was a pretty constant stream of walk-up business while we were here. There were a couple small tables to eat at outside, and you ordered at the window. Here I went with two carne asada quesotacos, and two pastor quesotacos. Dang, these were so tasty I just wish I could have eaten more. Nice fresh tortilla, ample filling, cilantro/onions and a swath of guac to crown this masterpiece (pineapple also on the pastor). I later regretted opting for quesotacos instead of regular, only because it weighed me down a bit later when I still wanted to eat more.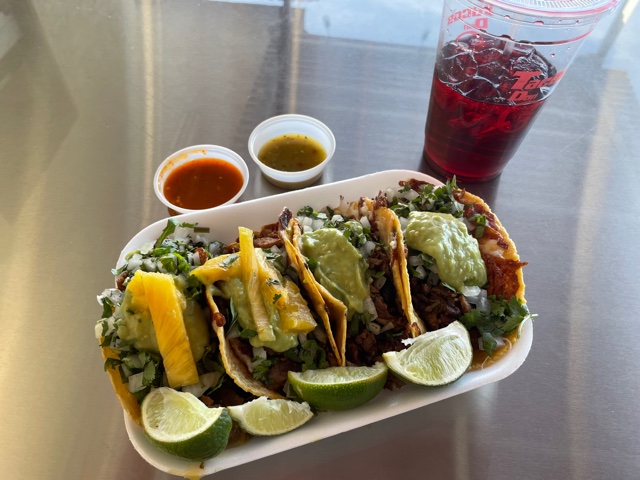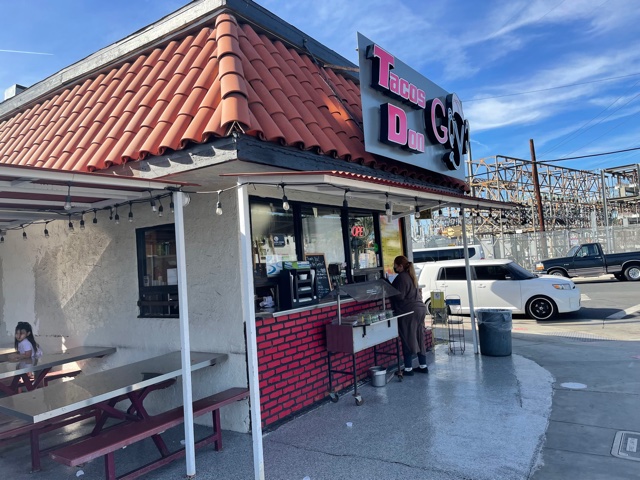 Took a short breather, went back to the hotel for a minute and then set out for a one-two punch in nearby Bellflower. I read a lot about the very popular TJ-style tacos in and around LA, and wanted more especially after trying Tacos Don Goyo. Next stop was Carlos' Tijuana Tacos. Another really great stop, along with a killer salsa bar and fresh-made tortillas. I ordered two adobada quesotacos (I know...) and a regular carne asada taco. Just amazing stuff, everything was fresh and bursting with flavor. I would eat here twice a week if I lived within an hour drive. Thet also had an impressive array of aguas frescas, so we tried a cucumber and watermelon both of which were delicious.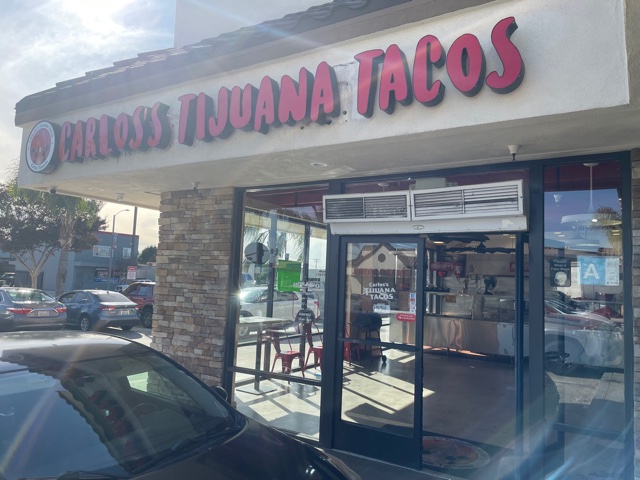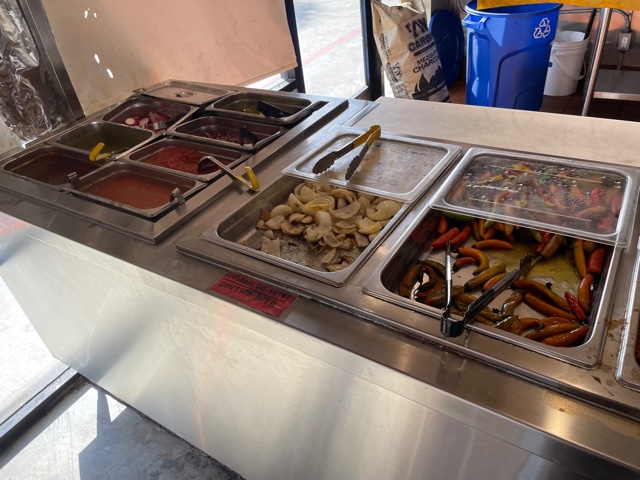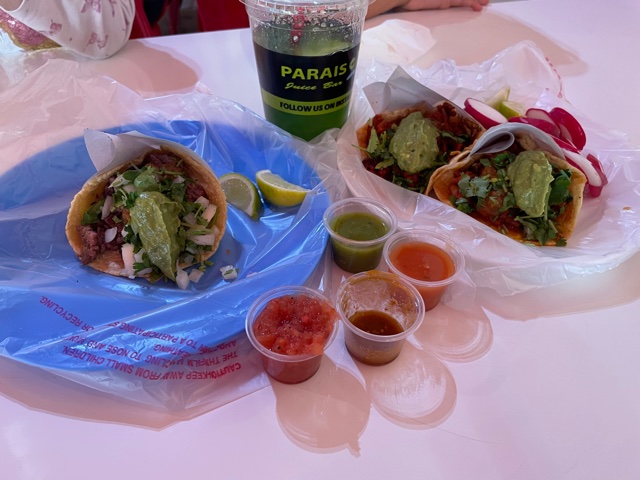 At this point I was hurting, but really wanted to try a fish taco spot right nearby. On to Taco Nazo also located in Bellflower and a short drive from Carlos' TJ Tacos. This local mini-chain is known for their ensenada-style battered fish tacos. I ordered two fried fish and one fried shrimp. No salsa bar here as you were given a container with your order. Despite my taco sweats, these were perfect. Not too heavily breaded, crispy, fresh fish and shrimp and crunchy cool toppings. You can kind of see the fish/shrimp in my pic, but rest assured these were packed. That concluded my Taco Thursday, and it was glorious.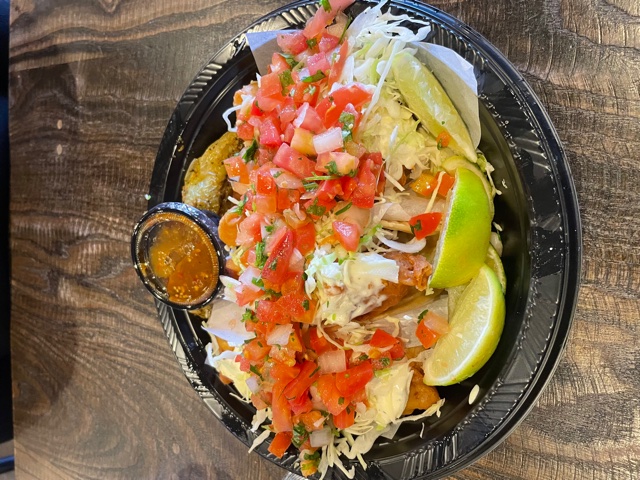 I had so much fun checking some places off my LA/Cali taco list. We go to CA once a year or so, but family and time constraints usually prevent me from really spreading my wings. There was unfortunately not enough time for me to check out a few other spots that I wanted to try, but I felt good about the mini tour. LA/Cali is kind of in its own league with just the sheer variety and number of taquerias. Almost every place has a good salsa bar as well, which is huge. It also seemed like many spots are local mini chains, with locations around the area so you don't have to drive so damn far everywhere out there. I also wanted to note that all of these places featured incredibly friendly and professional service.
Next time I will be looking for whole fish zarandeado-style for tacos, late-night pastor trucks (Ricos Tacos Naomi in Inglewood looks amazing), and mesquite-grilled carne asada tacos. Thanks for reading, I hope you all enjoy the pics as much as I enjoyed trying these new to me places. Now go eat some tacos!
BONUS HIT
Sunday, staying with wife's cousin...Bears/ATL game not televised (thank you California, sincerely) Let's get some tacos! I felt pretty good after a couple days off the tortillas, so we set our sights on nearby Escondido and Frida's Tacos. Another huge hit, TJ-style, homemade tortillas, salsa bar and so many flavors of agua fresca. I ordered three adobada, three asada and an adobada mulita (fresh tortillas griddled with cheese and then stuffed with meat, onions and cilantro. Noticed lots of places have mulitas, vampiros, etc. that add melted cheese to the party. The ordering process was cool here. You place your order, then go to the back tent and hand your receipt to the taquero. 'Con todo' includes cilantro, onions, a swipe of finely chopped pico and a dollop of guac. This guy was a true artist. Again, just so fresh and full of flavor. Another spot I would eat at on the reg if I lived out there.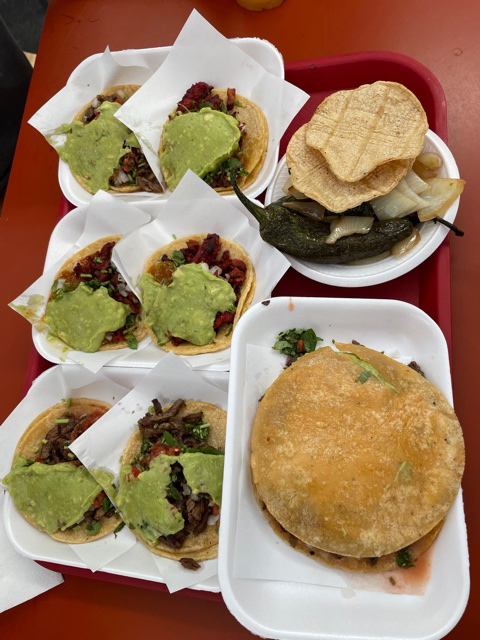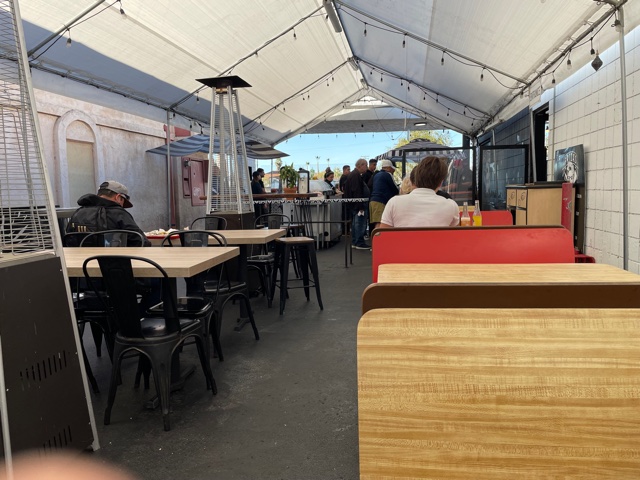 FYI also ate some barbacoa tacos at moonlight beach in Encinitas and some rolled fried potato tacos topped with pastor somewhere else, but no pics and not worth more than a mention. Looking forward to going back next year (prob April).
Commerce Birrieria
7720 Telegraph Road
Commerce, CA 90040
https://www.instagram.com/commercebirrieria/
Asadero Chikali
1321 South Atlantic Blvd.
Los Angeles, CA 90022
https://asadero-chikali.com/
Tacos Don Goyo
8502 Telegraph Road
Downey, CA 90240
https://www.instagram.com/tacosdongoyo/
Carlos' Tijuana Tacos
9741 Alondra Blvd.
Bellflower, CA 90706
https://www.carlostijuanatacosla.com/
Taco Nazo
10326 Alondra Blvd.
Bellflower, CA 90706
https://www.taconazo.com/
Frida's Tacos
675 East Valley Parkway
Escondido, CA 92025
https://www.facebook.com/fridastacos