Returned earlier this week from an incredibly relaxing, sun filled jaunt to the City of Angels. I heard the weather here wasn't too shabby either, but with temps in the low 80s every day of my trip, I can see why 75% of my friends have moved there in the past few years. The weather kept us outdoors most of the time, hiking at Malibu Creek SP, Elysian Park, and Griffith Park. Needless to say, it was not a culturally focused trip and in our sun dazed state, we went with the flow food-wise and did not follow much of an itinerary. No burgers, no pastrami, no French dip,
no ramen
. We re-visited a couple old faves and ate a lot of impromptu street food in our travels.
All said, I did cover more ground than in my previous visits and we made two special trips for some pretty epic dining, more on that later.
Day one was Malibu, so we hit the ever classic
Neptune's Net
.
How could you not love this spot, just right across from the beach:
If you scroll upthread you will notice I did not stray too far from my
classic order
: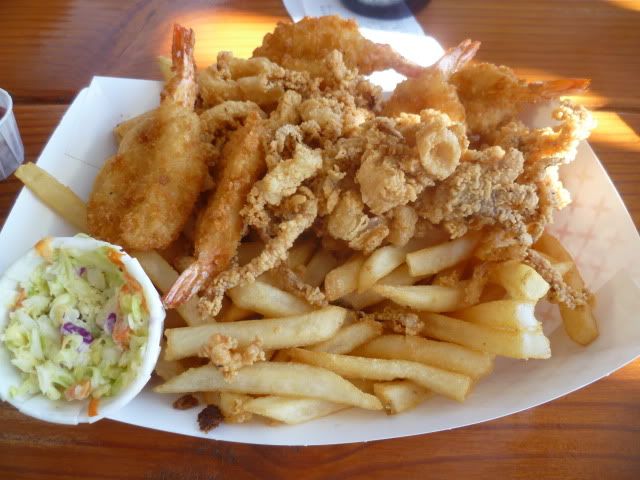 Fried combo, calamari and shrimp this time.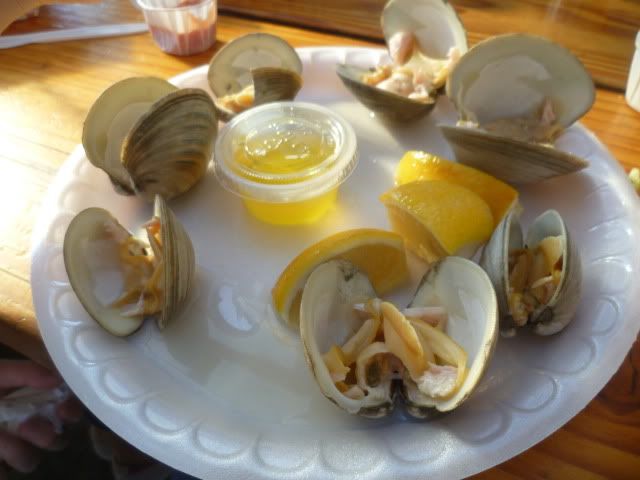 Steamed clams.
So, the food was fine. The fried stuff a bit on the greasy side, fries for sure food service, shrimp suspiciously uniform in classic butterfly fashion. The clams pretty damn great. But who cares, this spot is about location and vibe- a breezy open patio, 22 oz. Anchor Steams, bikers, a freakin parrot greeting customers at the front. This place truly helps one slip fully into vacation mode.
For dinner we assembled the entire posse and schlepped down to Torrance for PIGMON recommended
Torihei
for izakaya.
A bustling, convivial, and cheerful spot, it was perfect for a reunion of eight old friends. I had never ate real izakaya before and this place was the real deal- though there were some fusion-y twists on the menu- balsamic reductions and several fresh mozzarella dishes. We sampled a pickle and mozzarella dish that was a bit odd- the sweet vinegary tang of the pickles (were those beets? turnips?) was somewhat at odds with the creamy cheese. We also had a dish of asparagus wrapped in bacon, which did not strike me as typically Japanese, but was quite tasty nonetheless.
My friend's wife is Japanese, so she was elected to do the bulk of the ordering. There was a never ending flurry of plates and many refills of Asahi pitchers landing on our table, so its a bit of a strain for me to remember everything we ate. I was also too wrapped up in catching up with my crew to thoroughly photo document the meal.
One thing I'll never forget is a dish that
kicked my ass
and humbled this "guy who eats everything". It was a squid dish that I believe is called Shiokara. What arrived at the table was a small bowl of clearly raw sliced squid in a viscous pink sauce. Traumatic memories of after-a-good-rain bloated earthworms on the playground washed over me. This is the chink in my guts-and-tentacles-loving palette, anything resembling good old fashioned night crawlers. I bucked up and sampled a few chopstick-fulls of the stuff, slimy, an odd interior crunch, a funky old garbage-like flavor, yup just what I imagine those dead worms to taste like. My friend's wife explained that the sauce was made from fermented squid guts, which explained a lot. I feel like less of a man now.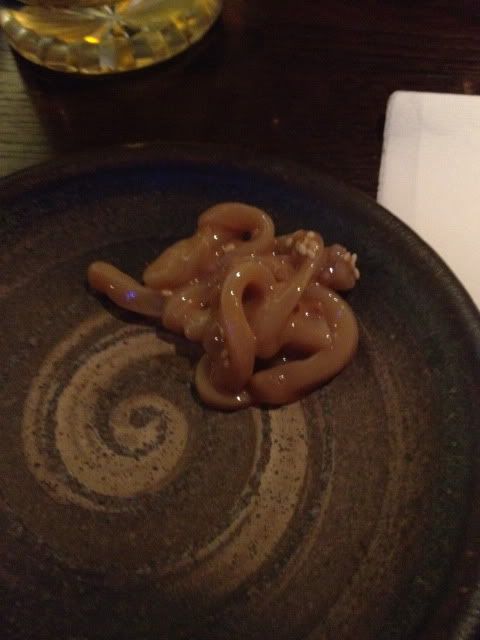 This is about all I got down.
We ate some unusual-to-me vegetable preps including braised daikon in oden broth with bonito. It was very comforting and homey. A similarly prepped burdock was a little stranger to me- inherently stringy but also prepared in that Japanese/Korean style of soaking deep-fried things in broth that seems counter-intuitive to me.
Highlights included this simple cold dish of sliced octopus with salmon roe and seaweed: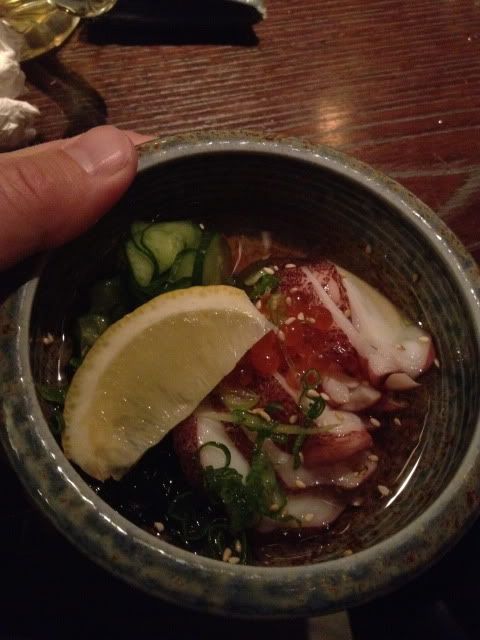 The best bites were the yakitori, which seems to be their specialty. Perfectly grilled chicken thigh with scallion in a sake infused sweet soy glaze is one of my favorite chicken preps period. That same glaze anointed luscious, rich chicken livers and meatballs (which skewed in a Swedish direction). Chicken skin skewers obviously were foolproof ambrosia.
A new-to-me taste sensation that I found very pleasant was roasted gingko nuts. Slip them out of their pre-cracked eggshell-like exterior and dip in sea salt. A slightly vegetal flavor with a hint of bitter. The texture was where it was at- almost like a firm gummy candy, I found them to be quite addicting.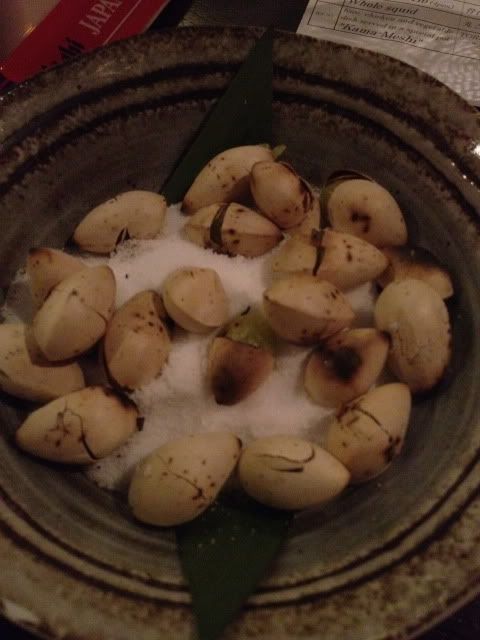 An interplay of comfort food and discomfort food- an absolutely memorable experience. Above all, a fantastic spot to hang out, drink, and catch up with good pals. Thanks for the tip PIGMON!
Day two we trekked up to the San Gabriel Valley for some TonyC recs.
I had all the delicious-looking pics of beef rolls of this thread on my mind, so we had to hit up
Mama's
.
We loved these, splitting two orders among five of us (this was stop one afterall), we all agreed we would have gladly ate a whole plate each. Rich with fatty beef and fried egg, wrapped in a flaky pancake, this is hangover brunch food at its finest. My only quibble was that there wasn't any hot sauce options beyond sriracha, I think I wanted chile oil.
Fried dumplings were clearly hand made and had a bright and flavorful filling of pork and scallion.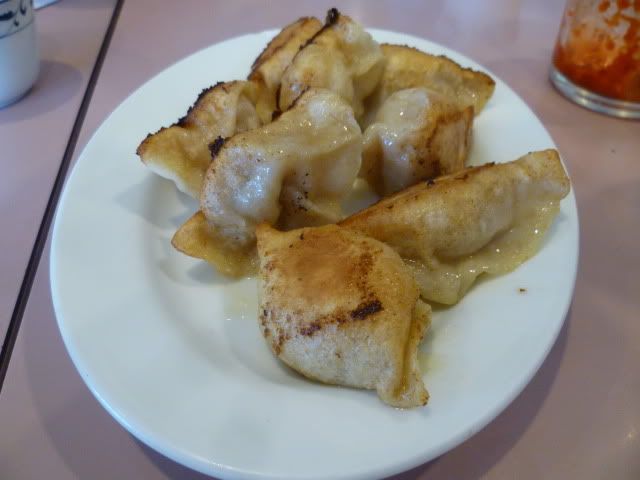 Stop 2 came highly recommended:
TonyC wrote: For the most authentic Chinese experience known to me(n), try Shen Yang Restaurant in San Gabriel. I believe they have pitchers of beer for $10 to go with that fried racks of cumin chicken (!!!) You won't find anyone else talking about that restaurant (save for myself) on Google, but I swear by it, and I send everyone there for a bit of Chinese shock n awe. Some day, you'll see JGold's write-up. Maybe.

This was the real deal. We started with a couple of plates of roughage. These just-cooked cold shredded potatoes dressed in chile oil and vinegar were almost identical to a favorite order at Ed's
A cold spinach "salad" had sweet peanuts and a pronounced smoky flavor that combined with a vinegar sourness had a flavor profile not unlike southern greens. A delightful dish:
The main event though was
Fried Chicken Bone with Cumin
. Now, there is often fractured grammar on Chinese menus and I've seen various ways in which menu items containing meat on the bone are specified as such. I was expecting bone-in fried chicken. The waitress was surprised that we asked for two orders. We understood when this arrived to our table:
This was not just chicken on the bone. This was scraps of chicken on lots and lots of bones. And it was killer. My dad taught me how to properly eat chicken off the bone, so my gnawing skills are pretty honed at this point. Sweet and salty with a generous sprinkling of cumin seeds, this paired ideally with the $10 pitchers of Kirin. This dish was worth the work, not unlike eating blue crabs or crawfish, an elbows on the table, lots of napkins type of affair. The daunting piles of bones were dispatched of in no time. Even the completely white bread, vanilla ass diet of my buddy jived with the experience. "Even though I feel like I'm eating the remains of someone else's dinner tossed in the deep fryer- of all the weird shit you make me eat, this I can get down with".
The owner came out to ask us how we liked the chicken and how we had heard of her establishment. A good sign that we were in a for real spot.
Thanks TonyC!
That night we rode around to various social obligations and hit up the most spartan street food operations we could find. We ate fatty rich tamales out of a single clip lamp illuminated cooler manned by a chupacabra-like old lady on a dark street.
A few blocks up from Figueroa on Ave. 50 in between Mt. Washington and Highland Park we spotted two homies with a griddle and pastor trompo set up al fresco in a mechanic's parking lot.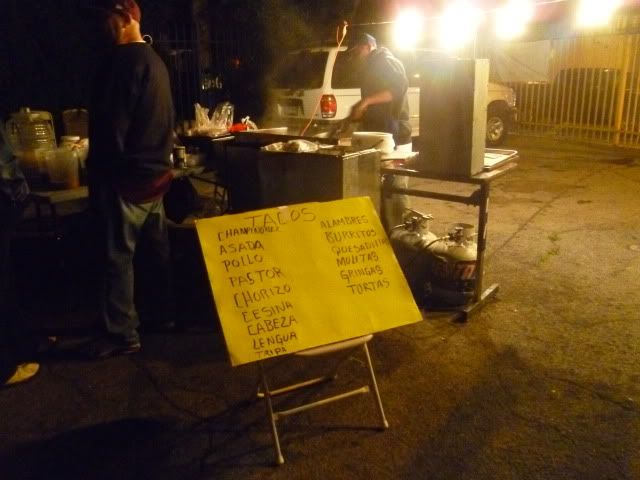 Best al pastor since the DF. El trompador was a master of his art, with a flick of the wrist sending a pineapple chunk flying from the top of the cone, catching it with the taco. Charred, not too greasy, distinct layers of succulent meat, it was so good we went back at the end of the night for seconds.
I actually had a completely satisfying and necessary late night quesadilla with suadero at the hipster-favorite and
not-to-my-liking
on my previous trip, Taco Zone. Melted Chihuahua makes most things delicious though.
Worth noting is that most of these street spots seem to serve exemplary salsa- fiery arboles and tangy fresh verdes. I do dig a good condiment bar.
Continuing the trend, the next morning we swung by my buddy's underpass chicken spot for a revisit of my favorite bite from my last trip.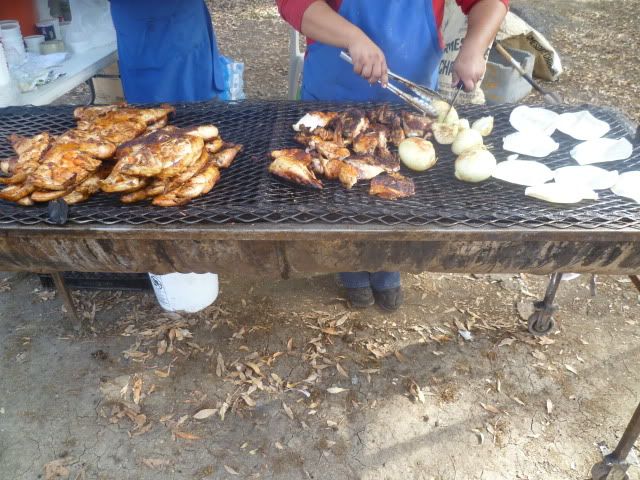 Unfortunately the magic wasn't quite there this time. The chicken itself was super smoky, but the white meat was pretty dried out. The thigh was fantastic. The sides were not good- soapy tasting beans and cold, lifeless rice. Cooked-to-death tortillas and watery salsa. For a sunny lunchtime picnic in the park though, I wasn't complaining.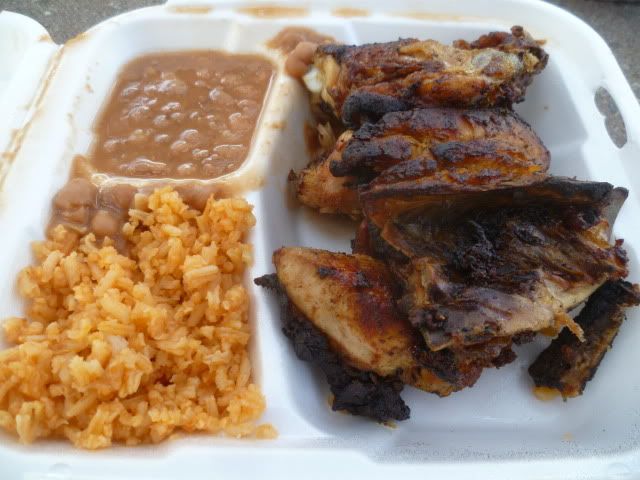 Dinner that night was a real unexpected treat. My friends took me to their favorite sushi spot,
Hama
in Little Tokyo. I knew the place was legit immediately- three tables off to the side, but most of the clientele seated around the central sushi bar. Old Japanese dudes hand forming the rice. This was perhaps the best sushi I've ever had. This dish of monkfish liver was the best bite of this trip:
Coins of impossibly rich liver, the jewel of all guts, it was served in dashi with light soy and topped with grated ginger, scallion, and tobiko. I greedily ate half of it.
Softshell crab and amaebi were platonic ideals.
The fish though was where it was at- hamachi was pristine and the saba was impossibly melt-in-your-mouth rich.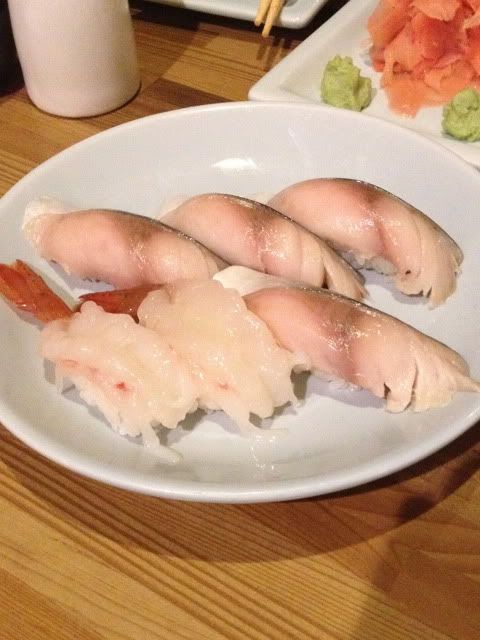 The biggest treat and surprising piece of nigiri was a seared piece of snapper- just the lightest blast of caramelization on one side giving just enough textural contrast to the lusciousness of the uncooked rest of the piece.
For some reason, the shabbiness of the restroom confirmed that this place was a no-thrills, fish forward best kind of sushi joint. Oh and did I mention cheap too- under $40 pp for about twelve pieces each and two apps.
For a last minute breakfast before the airport, my buddy led me just right across the street from his place for a novelty act- the frozen in amber 70's diner at the
LA Police Academy
.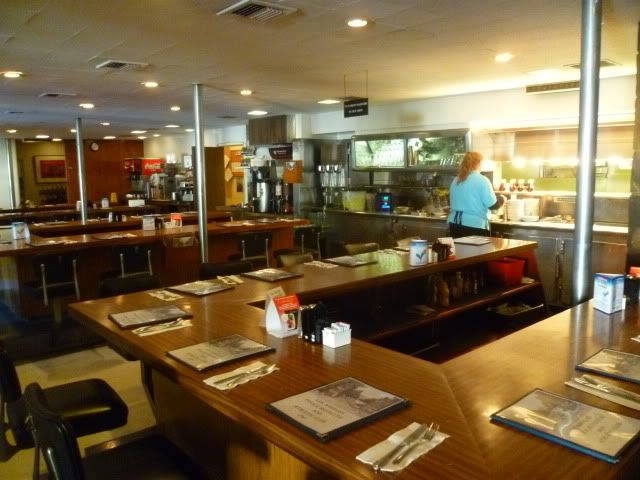 How was the food? Pretty much industrial grade, hashbrowns right from the box. The veggie and cheese omelet was not pretty, but not too bad. Fresh mushrooms were a perk. American cheese would have been a bit more apropo, but at least cheddar made it seem like they were trying. Worth the experience for sure.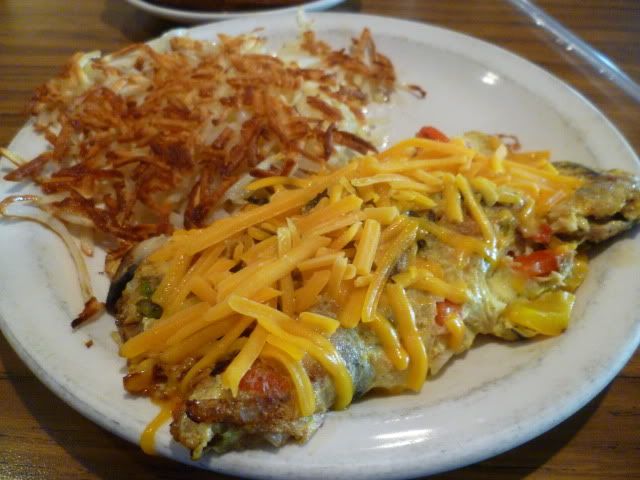 Neptune's Net
42505 Pacific Coast Highway
Malibu, CA 90265
(310) 457-3095
Torihei
1757 W Carson St. Ste A
Torrance, CA 90501
(310) 781-9407
MaMa's Kitchen
1718 S New Av
San Gabriel CA
626-289-8984
Shen Yang
137 S San Gabriel Blvd. Ste A
San Gabriel, CA 91776
(626) 292-5758
Hama Sushi
347 E 2nd St
Los Angeles, CA 90012
(213) 680-3454
Los Angeles Police Revolver & Athletic Club Cafe
1880 Academy Dr
Los Angeles, CA 90012
(323) 221-5222