We just returned from a week in Iceland. It's a beautiful, but rainy country with plenty to see and do for people that love the outdoors. Of course you can't spend a week hiking and swimming in geothermally heated swimming pools (every small town seems to have one) without getting a bite to eat.
The Icelandic diet is heavy on dairy. They're proud of their butter (smjor) and with good reason. Nearly every meal featured a bowl of butter to go along with dense rye bread. The butter is rich and creamy and surprisingly easy to spread, remarkable considering I only saw one brand of butter while I was there.
Skyr
is a common breakfast food that's similar to thick yogurt in texture with a unique sour dairy flavor and a hint of sweetness. It's made with skim milk so it's a good lean source of protein. But more importantly, it's delicious. We ate it for breakfast nearly every day of the trip. It comes in a bunch of different flavors, but I enjoyed the plain with a small spoonful of sugar the best. They also have a strange thick milk they call AB milk which has a consistency similar to go-gurt. It's good with cereal, but be careful when you're buying milk at the market, it was quite a surprise to us.
Hot dogs are the street food of choice in Iceland. Their dogs have a richer, almost gamey flavor since they are made with a mixture of lamb and beef. The most famous hot dog stand in the country is called Bæjarins Beztu Pylsur, which has been visited by many famous people including Bill Clinton (there is a picture of him eating a hot dog up on the wall). It's located right in downtown Reykjavik and draws a crowd late at night after the bars close. It's a solid rendition and pretty cheap too, but I wouldn't rank it amongst the best I had on the trip.
Bæjarins Beztu Pylsur
Tryggvagotu 10
Reykjavik
The best dogs I ate were at the gas stations along the Ring Road. The Ring Road is the highway that goes along the coast and it's pretty much the only way to get anywhere outside of Reykjavik. Nearly every town (in Iceland a town of 1000 people is noteworthy) has a gas station, a super market, and a swimming pool (and that's about it). The gas stations have a grill/restaurant attached that is always packed with tourists and locals alike. They ask you if you want your hot dog with grilled or fried onions, fried being the traditional Icelandic-style. Next to the counter are the typical condiments for an Icelandic hot dog (pylsur): sweet mustard and remouladi which is essentially mayonnaise with relish. The dog is boiled and has a thick casing which makes it pretty snappy. The contrast between the snappy dog and the crunchy fried onions makes for pretty great road food. The gas stations usually offer burgers and fries too, but neither were ever particularly good. They also serve a strange kind of soft serve that tastes wholly artificial, yet somehow creamy and compelling at the same time.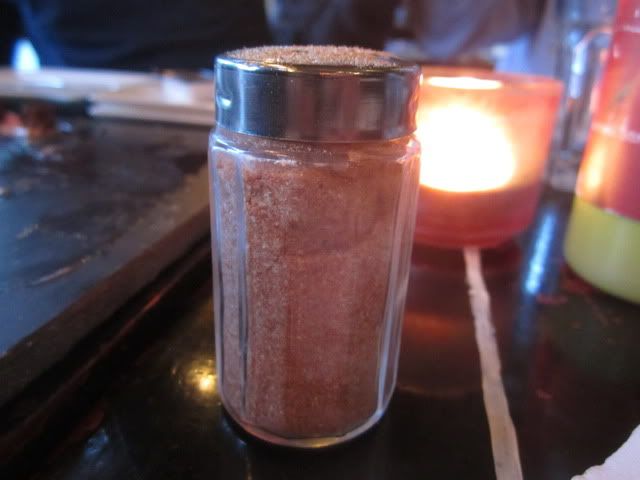 While most of the fries we ate in Iceland were typical food service fries, Icelanders have a spice mixture that they reserve particularly for fries. In fact, it's called kartoflukrydd which translates to french fries spice. It's a interesting mixture that's sweet and a little spicy. At the gas stations they have large shakers full of the stuff, which I recommend sprinkling liberally on the otherwise bland fries.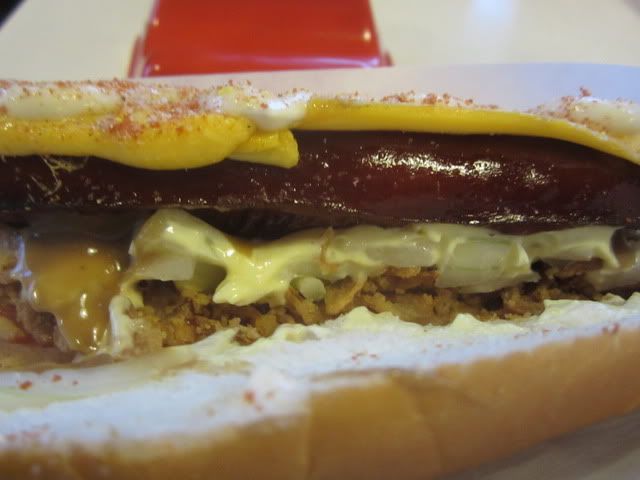 The city of Hofn is best known as the lobster capitol of Iceland and it hosts a lobster festival every July. So we were excited to try some fresh lobster when we got to town. Sadly, the handful of restaurants in town were selling lobster for more than it costs to get it in Chicago. We asked around for where locals get good, cheap lobster, but none was to be found. Instead we decided to eat with the locals at the small sandwich-shack by the harbor called Hafnarbúðin. They sell a decent but not great lobster roll and some pretty good sandwiches, but naturally, they specialize in hot dogs. I particularly enjoyed the deep fried hot dog (pictured above), that was juicy with a crunchy exterior.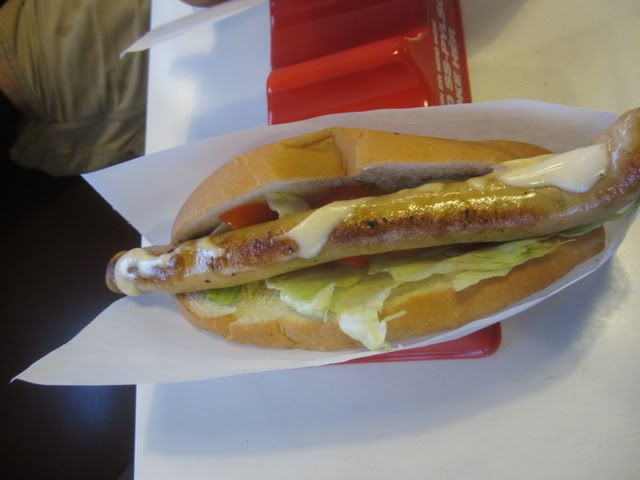 They also offer an interesting local specialty, the lobster hot dog. Honestly, it didn't have much lobster flavor, but it did taste pretty good. Next to the counter is a large shelf of different candies (mostly candy bars) and they offer an impressive array of toppings for the standard (yet oddly delicious) soft serve served all over the country. This was an excellent find considering how over-priced the restaurants in Hofn were.
Hafnarbúðin
next to the harbor
Hofn
Speaking of lobster, while we didn't find great lobster in Hofn, there is a seafood shack near the harbor in Reykjavik called Saegreifinn that specializes in lobster soup. The soup features a full flavored (butter figures prominently) broth with fluffy and generous hunks of lobster. It's excellent soul food for a cold, rainy summer's day. They also have grilled whale, but we didn't try it.
Saegreifinn
Geirsgata 8
Reykjavik
http://www.saegreifinn.is/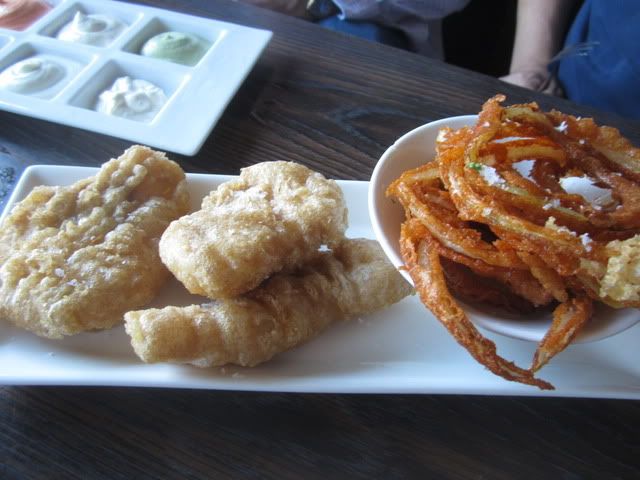 Across from Saegreifinn is an aptly named restaurant that specializes in fish and chips. It's named Icelandic Fish and Chips. From the name it sounds like a fish and chips shack, but really it's a modern, organically focused restaurant capitalizing on the nearby harbor to deliver fresh fish that is dipped in a spelt and barley batter and served with roasted potatoes. On our visit we sampled the cod, plaice, and wolf fish. The batter is thick and crunchy, yet surprisingly light with an almost nutty flavor. They serve the fish with an array of dipping sauces made with skyr that they call skyrrones (I'm guessing it's a play on skyr and mayonnaise). The sauces were decent, nice tang but not particularly flavorful, but the fish was fresh and well fried.
Icelandic Fish and Chips
Tryggvagötu 8
Reykjavik
http://www.fishandchips.is/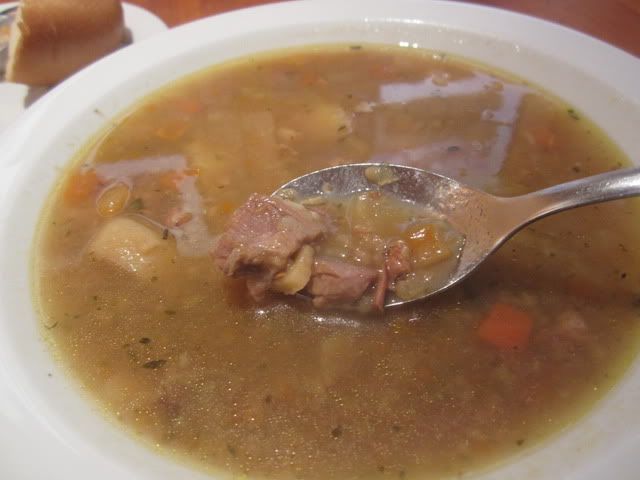 Another common food in Iceland is lamb soup. It's a simple soup of lamb stewed in a light lamb broth with carrots, onions, and turnips. It showed up on a number of menus and once again provided a nice warm base for their brisk summers. I imagine it really hits the spot when the temperature drops below freezing.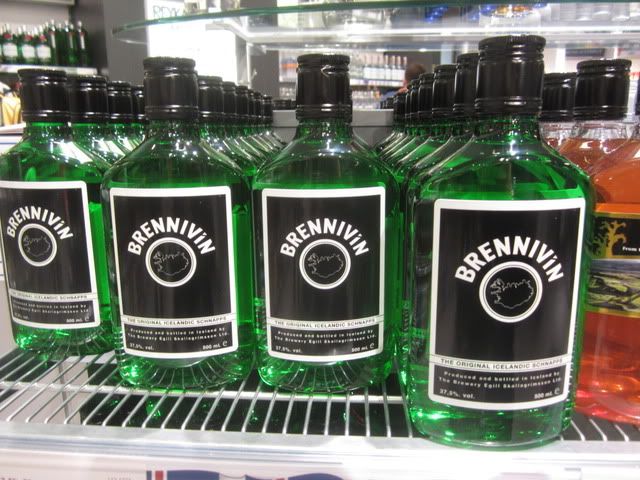 And of course, no trip to Iceland is complete without sampling their most famous local delicacy,
hakarl
. Hakarl is fermented shark and is the very definition of "acquired taste." Icelanders laughed when we told them we had tried it. It's typically eaten during the holidays and it didn't seem like very many people like it all that much. And I can understand why. When we opened the bag, the strong smell of ammonia immediately filled the room. I was the brave soul who took the first bite, and honestly, it wasn't as bad as I thought it was going to be. The texture is chewy, like low quality sushi, and the smell is stronger than the taste. Still, as the taste of ammonia rises up your nose like wasabi, you can't help but wonder who actually likes this stuff. They recommend taking a shot of
brennivin
along with it, and I'm really not sure which is worse. The brennivin tastes like a cheap vodka, with all the burn and harshness such a comparison brings with it. Apparently it's flavored with caraway, but I couldn't taste it. I think brennivin is just a way to drown out the ammonia flavor of the shark. Glad I tried it, though it was memorably bad more than anything else. If you are interested in trying hakarl while you're in Iceland, I highly recommend buying it from a grocery store rather than ordering it at a restaurant since the price difference is substantial.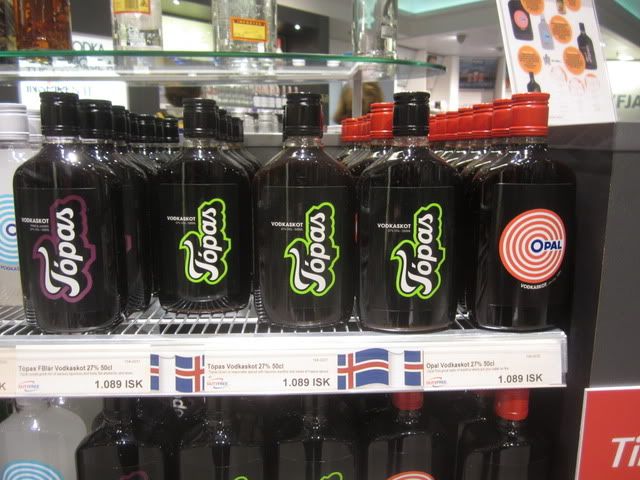 While we're on the subject of Icelandic liquor, Topas is another local liquor. I'm not sure what the different flavors are, but the one I tried tasted like Jägermeister mixed with cough syrup and menthol. They seem to have a lot of specialties that are effective at warming you up on a cool day. It was more interesting than good, but it WAS pretty interesting.
Finally on to the restaurant scene in Reykjavik. I was surprised and impressed by the variety of restaurants in downtown Reykjavik. I had read that the national cuisine was only recently making a comeback. This made a lot more sense as I was walking around Reykjavik seeing all the Indian, Thai, Italian, and vegetarian restaurants. Really, if you wanted Icelandic food that wasn't visibly catering to tourists on the hunt for exotic fare, it's pretty tough to find. Luckily I came armed with a couple good recommendations, and one not so good recommendation.
3 Frakkar
Pictured: whale steak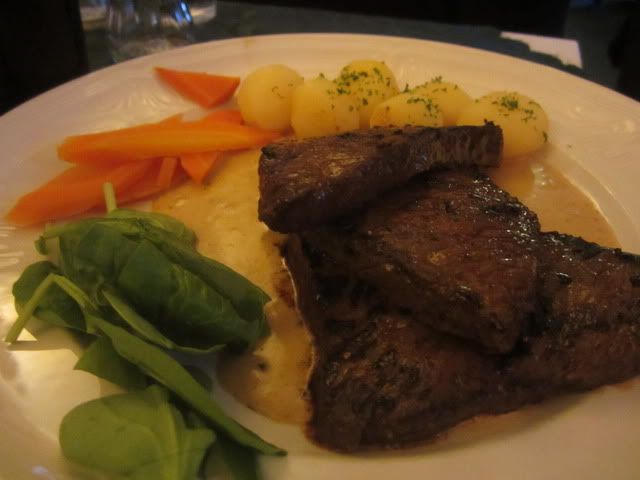 I had read a lot about 3 Frakkar before getting to Reykjavik. It was featured on No Reservations, recommended by all the tour books, and had a reputation for being the restaurant credited with reviving traditional Iceland cuisine in Reykjavik (funny since it opened in 1989). Not sure what it was like when it opened, but today it is clearly a tourist trap charging an arm and a leg for weird foods but not preparing them particularly well.
We started off the meal with an order of the whale sashimi and smoked puffin. The whale was tough and stringy and served with soy sauce, wasabi, and ginger, obviously not a traditional Icelandic preparation. We had many smoked foods on the trip and they all shared a unique, campfire-like smokey flavor that is pretty different than what I'm used to. The puffin was tender, but lacked any character other than that smokey flavor that tasted good enough with mustard and rye bread. For entrees the table split an order of the cod chins, horse steak, and whale steak. The whale tasted like a poorly cooked tuna steak and was pretty tough on the outside and chewy on the inside. The horse tasted like a poorly prepared, tough steak. The cod chins were drowned in butter, making them the star of a pretty poor meal. I'm not sure what I read that convinced me this would be an authentic experience, but needless to say we didn't leave the restaurant feeling that way. I've never had puffin, whale, or horse before, so it was exciting to try them, but I suspect there are better renditions out there.
3 Frakkar
Baldursgata 14
Reykjavik
http://3frakkar.com/index.php
Cafe Loki
Pictured: pickled herring on rye bread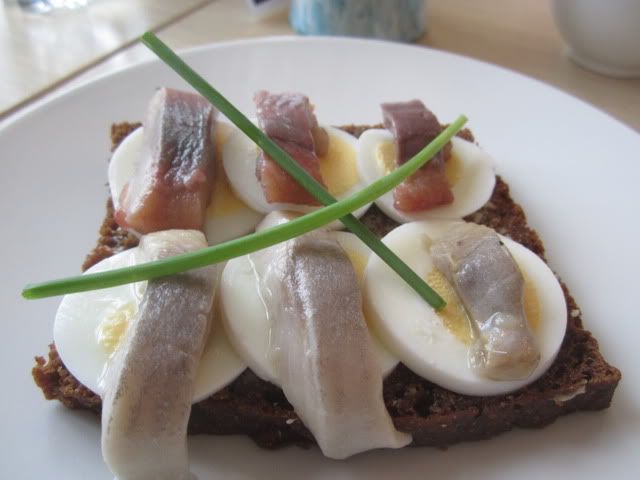 On the other end of the spectrum is the surprisingly low key and fun Cafe Loki. It's right next to Reykjavik's main attraction, the Hallgrímskirkja church with a statue of Leif Eriksson in front, and from the second floor windows you have a great view of it. They specialize in traditional Icelandic snacks served on rye bread and flat bread that are made in house. We ate a lot of rye bread and flat bread on the trip, and the versions served by Cafe Loki stood out as the best. The rye was moist with a little sweetness to round out the earthy flavor. The flatbread was dense and featured that same campfire-smokey flavor as the smoked puffin at 3 Frakkar that really worked to counter balance the grainy-sweet flavor. All the toppings were rich and flavorful without being heavy. I particularly enjoyed the seafood preparations. The pickled herring was sweet but still fishy (which I like!), the smoked trout was mellow and soft, and the cod mashed with potatoes (plokkfiskur) was fluffy and creamy. Also they serve something they call sheep-head jelly which I think was head cheese and the classic breakfast combination of smoked lamb with flat bread. For dessert they serve rye bread ice cream (really vanilla ice cream mixed up with crumbled rye bread) which was a big hit with my group. It's a nice casual atmosphere that was full of Icelandic families on a Saturday afternoon.
Cafe Loki
Lokastíg 28
Reykjavik
http://www.textil.is/
Íslenski Barinn
pictured: herring three ways with red currant mayo
Our last night in Iceland we had probably the best meal of the trip. Located right in the heart of downtown is a restaurant simply named Icelandic Bar. The menu posted on the wall looks a little hokey, but it was a convenient option both because it's located in the middle of the bar district and because the kitchen is open late. We showed up about 8PM on a Thursday and there were no seats available, so they took our name down and we waited at a nearby bar for a table to open up. This was the only time on the entire trip that we had any trouble finding space at a restaurant, so clearly they're doing something right (the population of Iceland is 320,000, Reykjavik 120,000, so they're not really used to crowds). The menu features new takes on Icelandic classics and everything was really well prepared. I'm sad we didn't order the horse, whale, and puffin here instead of at Three Frakkar, but my group really wasn't interested in eating that stuff again. Instead we ordered a variety of dishes ranging from pickled herring, salt cod dip in a jar, leg of lamb, grilled salmon, and the table's favorite, reindeer burger. It's definitely modern cooking with interesting dipping sauces and gourmet ingredients, but it really worked. Less impressive were the craft Icelandic beers that lacked body and balance. One interesting beer was smoked using lava, more gimmick than anything else, but worth trying once I guess.
Íslenski Barinn
Pósthússtræti 9
Reykjavík
http://www.icelandicbar.is/
Last edited by
turkob
on August 12th, 2011, 12:33 pm, edited 1 time in total.