1st trip to Vegas completed. Many more to come. We got in late, 11pm local time, whipped up a turkey and mustard on wheat with a side of pringles at the parents house, and straight to bed. Well, after a few Valentines Day Hershey fun sizes - I mean, damn, they left them out for the taking.
When I woke up, the sun was out, sky was blue, still desert am cold, but the thought of 65 in the afternoon had me smilin.' Walked out to the couch, saw the local "what's happening in town" mag, opened it up, and saw a full page ad for dispensaries in the area. I had no idea recreational was legalized in Vegas. BEST. TRIP. EVER!!! And I hadn't even left the house.
Food.
1st up:
Brunch at "Feast" at Red Rocks Casino.
Parents live just a few minutes away. They have stacks of coupons for this place. Was it fabulous? No. Was it good? Borderline. Sushi was decent - (the rice was vinegared!!,) oddly the pork in coconut curry was awesome. I got my fill of really good melon, decent sushi, and curry. With coupons, it came to about 8 dollars per person. Easily worth it. It served it's purpose. I'd go back all the time for 8 bux - and the parents have been going pretty often for that price. I stood in line for a fancy carved to order slice of the top sirloin roast at the bbq station. I asked for the rarer side, and got a perfect medium rare slice. I kid you fkn not, I got a toothache after my third bite of that really nice looking pink slab. It was garbage. I bet if I looked closer, "
I could have seen the marks where the jockey was whipping it
" (or however the saying goes.) But really, I'm not kidding when I say I got a toothache.
Evening meal was... I honestly cannot remember, but I'm sure we went somewhere. Wow, that's sad. Must not have been anything decent or noteworthy, good or bad. I know we were in bed early
Day 2: Early Breakfast at home - family making blueberry pancakes and snausage, then a late brunch at Hash House A Go Go. Massive plates of fair to middlin' food. I will say that they should probably serve most of their fried menu items with that chipotle cream sauce. If I ever go back, I'll remember to get a side of that stuff to make anything more memorable. Nothing was really bad, nothing was really good. Just massive plates of ok food. Not knockin it. It was just ok. I DID get the "signature" sage fried chicken after the server talked me into it. Rest of the table had a burger, the biscuits and gravy, fried shrimp app, and a few fried apps (5 dollar happy hour specials - fried pork strips, and fried chicken strips.) Nothing really noteworthy, just big. The bbq cream sauce served with the fried pork strips was pretty gross - didn't work for me. Sweet, creamy, that just doesn't work too often for me. No need to go back.
Blueberry Hill for breakfast. This is my parents' breakfast "place." Obvious regulars, they were greeted by name by several of the staff, and were seated in their favorite server's section automatically. This was standard breakfast diner fare, giant platters, (which I gathered is a theme in Vegas,) competently prepared. I guarantee you that I'll be going there once per visit in the future. This is their kinda place, and I'm ok with it. I got the California omelet - bacon, tomato and avocado (course, right?) The star was the salsa. It was bad ass - homemade. Not some crappy 3 gallon jug of foodservice Pace copout. The salsa saved my meal.
Ok, so here's where the gushing commences.
Lola's Cajun / Creole.
I don't even know where to start. This shit was for real, people.
http://www.lolaslasvegas.com/
Can I just say that I've never had any "cajun" food that remotely resembled the goodness I experienced at Lola's? I honestly thought cajun food was pretty lame from what I've tried in the past. My mom makes gumbo a few times per year, and I dig it, but I can't really remember ever going to a cajun place, and saying, "wow, that was good," ever. I've had most of the standards, gumbo, etoufee, jambalaya, NO bbq shrimp with all the butter (ok, yum there.) Muffaletta, debris - all kinda yawn. Lola's basically taught me that I'm a douchebag for calling cajun food boring. Go here. Please. It's even a lil gritty. Loved it. Sat next to a cop and his wife on one side, and a couple on a date on the other side, we all eyed each others plates, and I swear if anyone would have been bold enough to ask, I bet we would have all passed our plates around so we could try everyone else's. The table behind us made mention of our moaning over the desserts. The desserts were INSANE. I'm bout to use that word several more times, apologies in advance.
Starters:
Gumbo, char grilled oysters, and garlic bread. you get to see an oyster or two. Jr ate the shit out of the gumbo, QUICK.
Butter, garlic, lemon, and GASP! Parmesan cheese. I'm one of the "no cheese with fish" ppl. These were good as hell. The parmesan added an acidic sharpness, and it worked. I begrudgingly loved these. And you know how some restaurants take butter, lemon, and garlic for granted? Lola's did NOT. There was much garlic bread sacrificed for sopping up garlicky, lemony oyster liquor remains. I'm sure many an eye was turned watching us mop juice out of an oyster shell with a piece of bread. They obviously have never ordered them. And yes, a few oyster shells had the juice sucked out of them. We can get ghetto, ya'll. Believe that.
So, tablemates ordered red beans and rice entree - came with andouille. I only had a taste, and it was very good:
The mixed platter with a soft shell add on. few shrimp, few oysters, a slab of fried catfish, and big crab cake, few sides:
(The tartar sauce was too sweet for me, and I was not a huge fan of the greens' flavor.)
I don't know what the shit this was - etoufee, maybe? Methinks it was an entree portion of the Gumbo tho. I didn't try it, sorry, but dad loved it: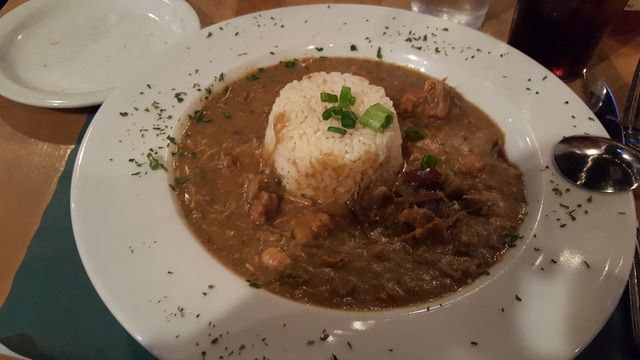 And now, the first multiple "HOLY SHITS" of the night. I couldn't decide what to order, so I went stewy, to offset the wife's fried platter, and went with gouda grits, simply because nobody else ordered them. Behold, "BRONZED catfish, with gouda grits, and andouille sausage:"
People, please listen to me, when I say you need this in your life. I have no idea what "bronzed" means. I thought it was a gimmicky way of saying "blackened," but they ALSO have blackened dishes on their menu. THIS WAS NO GIMMICK. This shit was for real. The best way I can describe this is cajun mole. Holy shit. 3 tablemates tried it, and said, "holy shit." It was like if Sol De Mexico figured out how to serve grilled catfish with andouille sausage, and made it SPICY, spicy. The grits were decent enough, but they could have been flavored with Elmer's glue, and nobody would notice. I can't even describe how delicious this sauce and fish and sausage was. I literally can only tell you that it was like cajun mole in the best sense of the term. Holy shit.
Ok, so dad LOVES figs. I don't give a balls about figs, and I would probably never order anything with a fig in it, just to have figs. Since this was all about trying this place for the first time, I ordered their fig dessert for dad, and also... Listen to this: Bananas Foster...Bread Pudding. Yeah, you heard that right, and right was an apt way to describe it. Again, several holy shits were uttered inbetween putting this in our faces. Warm, ultra moist cake foundations, homemade butter pecan and vanilla bean ice creams, and the sauce was about a 3 on a sweetness scale up to 5. ABSOLUTE PERFECTION.
Fig Cake: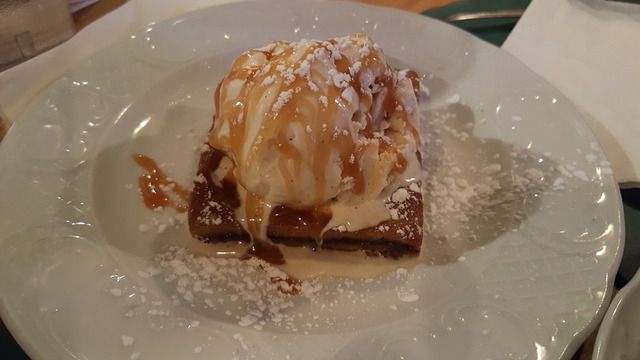 Impossibly moist, and just buttery A.F.
Bananas Foster Bread Pudding: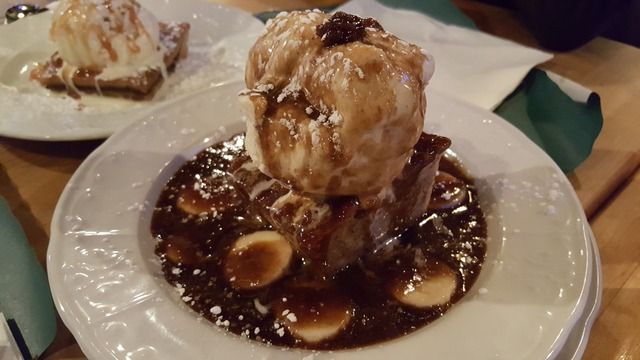 All of that sauce was NOT sickeningly sweet. Bothe desserts were just insanity on a plate.
This place has insanity on a plate several different ways. Holy Shit!!
Please go to this place. We went to the one on Charleston, there is another one in Summerlin (which is actually closer to the parents' house - it goes immediately into their rotation.) Our server said the food is the same at both, but the Summmerlin location is "nicer."
This place is a gem and a half. I will dream of that bronzed catfish until we go back for a visit. There is not a chance we won't go there next time we're in town.
Ok, back to reality - we stayed at the Flamingo for a few nights, and the breakfast buffet was pretty decent. Eggs Benedict had a decent hollandaise, but could someone tell them to toast the GOTT DAMN English muffin? Sheesh. Again, parents had coupons for the buffet, it was easily worth the 15 bucks per head. Decent fruit made to order omelets/eggs, and the sausage wasn't salty greasy garbage.
I'll probably be updating this thread a few times per year from here on out.
GO TO LOLA'S!
HOLY SHIT!
ETA - no idea why I called the Tropicana the "Flamingo." Whatever. Quit judgin me. Probably some short term memory loss going on.
Last edited by
seebee
on February 25th, 2018, 8:41 am, edited 1 time in total.
We cannot be friends if you do not know the difference between Mayo and Miracle Whip.