On my continuing quest to find great xiao long bao, I checked out
1900 Asian Cuisine
. It's located in one of the countless strip malls on Spring Mountain Road.
Interior of 1900 Asian Cuisine
We visited late Sunday morning and mostly confined our order to the limited dim sum-type options. The scallion pancake proved to be a respectable version, slightly crisp, flaky and plenty of scallions.
Scallion pancake
Our favorite item was undoubtedly the beef roll pie. Similar in texture to the scallion pancake, it was rolled and filled with beef, cilantro and hoisin. It reminded me very much of what I had enjoyed at Nan Xiang in Queens, and was excellent though perhaps just a smidgen heavy on the hoisin for my tastes.
Beef roll pie
Our least favorite item was the potstickers. They were really greasy all over, slightly undercooked exteriors and had a really bland filling.
Pot stickers
Then came the main item, xiao long bao. We had an order of just pork and an order of pork and crab. The dumplings themselves were beautiful - probably as thin wrappers as I've ever experienced. And they were loaded with soup. But that was the end my joy. I found the soup and filling to be rather bland, and with almost no fat to tickle the tongue. And you really couldn't distinguish between the pork and the pork and crab when it came to flavor.
Xiao long bao
1900 Asian Cuisine also offers Shanghai-style pan fried buns. At the very least, these proved to be very interesting and we enjoyed them a little more than the XLB. They were essentially XLB, but in buns, pan fried, and topped with sesame seeds and green onions. They were a little too greasy, but also slightly more flavorful than the XLB. I loved the idea, but the fact that the filling wasn't all that flavorful held them back some, just as with the XLB.
My quest for great xiao long bao in Las Vegas will continue. And though 1900 Asian Cuisine was decent overall, I wouldn't say we experienced anything there that I would highly recommend. Perhaps if there was more flavor packed in the fried XLB, I would recommend a detour.
While waiting for a table at Ramen Sora, I walked over to the nearby Ronald's Donuts, which Steve Z mentions earlier in this thread. There were a number of intriguing offerings, including an apple burrito of all things, but I ultimately settled upon the apple fritter. I don't know where this fits of the scale of great apple fritters, but I thought this was an excellent version - crisp, moist, not too sweet, and packed with apples. If you're curious about checking out Ronald's, it's on Spring Mountain Road, and very convenient to any of the many Asian restaurants in the area.
Apple fritter at Ronald's Donuts
As I noted in my prior post, we also enjoyed some very good food on the Strip. At Aria, Shawn McClain is behind five50 Pizza Bar located just off to the side of the casino and next to the sports book. The name five50 reflects the temperature at which the pizzas are baked. One nice thing about five50 is that you can order whole pies or slices, which came in handy for me after several cocktails and the need for a late-night bite. The pizza is somewhat similar to New York style in that slices are mostly foldable. But it was the delicious crust and well applied toppings that really impressed me. The guy at the counter was actually pretty knowledgeable (for a casino pizza spot) and told me they allow the dough to ferment for a couple of days. It really showed as the crust had nice flavor which was really improved by the bursts of charred flavor. I also really enjoyed my margherita slice which featured a delicious tomato sauce and just the perfect amounts of cheese and basil. I preferred five50 to the supposedly secret pizza place at Cosmopolitan.
Less successful at Aria was Jean Philippe Patisserie, which also has a location at the Bellagio. You certainly can't help but be wowed by the display case:
Display case of pastries from Jean Philippe Patisserie, Aria
Before diving in to any of the composed desserts, I decided to start with a minimal investment, a plain croissant. That proved to be enough for me. It was a little flaky and layered, but not enough. And though there was plenty of butter flavor, it was also obvious that the exterior had been brushed very lightly with a fruit glaze that ruined the croissant for me. Egg wash glaze I expect, but a fruit glaze is a deal breaker for me.
We also tried a couple of the buffets for breakfast/lunch. The first time I visited
Wicked Spoon at the Cosmopolitan
, I was very impressed. The second time I visited it was good, but not as good as when it had opened. This time it was somewhat shy of mediocre - lukewarm and overcooked food, smaller selection, chicken that seemed to have been fried in old oil and just nothing as good as it once had been. Dessert fared much better, particularly the Thai iced tea gelato, notwithstanding a few ice crystals.
Much better was the
Bacchanal buffet at Caesar's
. The Bacchanal is the Vegas buffet of all Vegas buffets. A tram from one end to the other would help. Perhaps I'm exaggerating, but this buffet is easily twice the size of any other Vegas buffet I've encountered. And I'd say it's also very good as far as buffets go. No, not everything is good (mediocre crab legs, oversmoked ribs), but there was some very good fried chicken, a very good meatball, a station where you can try pho, ramen or udon (I didn't try) and just countless options. I realize buffets are polarizing and many won't get near them, but if you decide to venture near one, Bacchanal is the one I would recommend.
I've always wanted to try the steaks at
Carnevino
and compare them to the best of what I've tried in Chicago. The room itself is perhaps best described as uninteresting. It looks like they were perhaps going for clubby steakhouse meets Italian countryside, but ultimately the feature that stuck out the most was the high ceiling. At the very least, it's conversation friendly, and the food made up for anything lacking in style. We started with a couple of very well made pastas. I couldn't find anyone to share the ribeye for two, and instead ended up with the New York strip. No disappointment here - a perfect medium rare, a little funk from dry aging and a faint aroma of rosemary. If you're searching for a great steak, suffice to say Carnevino offers better odds than most of Vegas.
Even better than Carnevino was
Bartolotta di Mare
. The instant you enter Bartolotta, the gorgeous restaurant let's you know that you're in for a luxurious evening, even more luxurious if you accept the invitation to dine outside. As beautiful as the Bartolotta dining room was, the food was even better.
Though the highlight of Bartolotta is the expertly sourced Italian seafood, the evening started with several outstanding housemade breads. My appetizer of spaghettini, baked in a pouch, with langoustine, shrimp, lobster, clams, mussels, scallops, squid and tomatoes, was fantastic. The spaghettini and seafood were beautifully cooked, and the langoustine in particular was delicious. Bartolotta offers a number of whole fish, all flown in from Italy, for main courses and a few of us shared the whole grilled snapper. The snapper was filleted tableside, and you can choose from a number of sauces to accompany the fish. The sauce of olive oil, garlic, parsley, fresh oregano and lemon was my favorite as it allowed the flavor of the snapper to come through loud and clear.
As if the meal could not get better, I chose the gelato for dessert - 6 flavors for $14. The gelato was as good if not better than any I've ever tasted, dense yet incredibly creamy, and with very intense flavors. It was a magnificent finish to an outstanding meal. A nice touch was Paul Bartolotta stopping by our table to say hello. Finding Paul in house was not at all surprising after enjoying the meal - the whole evening reminded me of the very best days of Spiaggia. And one nice little tidbit from Chef Paul: he misses Chicago, wants to spend a little more time here, and said he plans on opening a restaurant in Chicago in the near future. I'll be excited to hear more.
Deciding whether Bartolotta or Kabuto was my favorite meal of the trip is probably unnecessary. Both were phenomenal. But I may have slightly preferred Kabuto, if only because finding world class nigiri in Chicago is flat out impossible. But Kabuto offers sushi of the kind I've rarely encountered, every bit as good than the Michelin one-starred dinner I recently enjoyed at Sushi Kanesaka in Tokyo, and considerably better than my even more recent dinner at Sushi Yasuda in New York.
Kabuto
offers three omakase menus, and we chose the middle option, yoroi, which includes a sake apertif, an appetizer, 4 types of sashimi, 3 grilled items, 8 pieces of nigiri, a hand roll, miso soup and dessert.
At the helm of Kabuto is Gen Mizoguchi, head sushi chef and owner.
This man is very intense about every aspect of Kabuto - the fish, the rice, the nori, the various soy sauces, the fresh wasabi and overseeing the work of his sushi chefs. He also seems to enjoy engaging with customers at the sushi bar, as if teaching a class on sushi. And here are a few of Gen's students, fellow sushi chefs at Kabuto:
Dinner began with a refreshing aperitif of a very light and refreshing iced apple sake.
Iced apple sake aperitif
The first course was an appetizer of firefly squid salad, very similar in preparation to what I had enjoyed a couple nights earlier at Raku. It was outstanding.
Firefly squid salad
We then moved on to our sashimi course. Every one of the seven pieces of sashimi was outstanding, though my favorite was the oyster from Seattle, as fantastic an oyster as I have ever tasted, and with every drop of the sea seemingly preserved. And yes, that is real wasabi you see pictured. Forgive me for diving in and having a piece of the jack mackerel before I could photograph it.
Sashimi platter at Kabuto, featuring clockwise from far left: tuna (akami), jack mackerel, oyster from Seattle and live sweet shrimp
The platter of grilled foods included grilled snapper, rare Kobe beef with daikon, and bonnet with sesame and crab which was eaten shell and all. All were terrific though the bonnet with crab was probably my favorite item.
Grilled items at Kabuto, featuring from left to right: snapper, rare Kobe beef with daikon and bonnet with sesame and crab
Then came the parade of nigiri:
Baby Japanese seabass (fukko)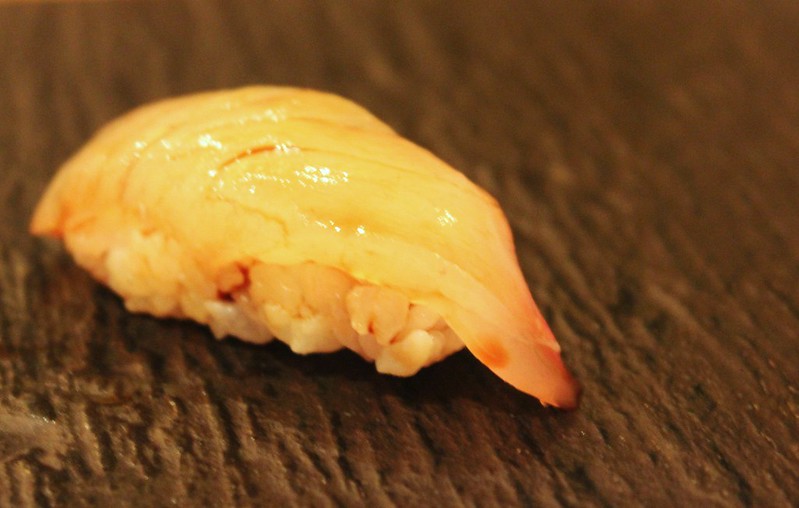 Chinu snapper
Akami (tuna)
Chu-toro (medium fatty tuna)
Even fattier tuna - o-toro and kamashita (tuna collar)
Alaskan salmon roe (ikura)
Anago (sea eel)
Gyoku (tamago/egg omelet)
Please keep this tamago image in your head on your next sushi dinner in Chicago because you won't find anything close.
We could have stopped here, but at the beginning of the evening, Kabuto presents you with a menu listing all their fish and their are some very intriguing possibilities. The most expensive was the Hokkaido uni at $9. I absolutely love uni and had to try it. I've had some fantastic uni, including the usually sublime uni from off the coast of Santa Barbara, but this uni was the best I've ever tasted.
Hokkaido uni
There was another fish on the menu I had never heard of: wakaremi (triangle). Chef Gen explained that this is the dorsal fin of the bluefin tuna (Spanish tuna in this case) and that only a few restaurants in the United States are able to source this cut. He explained that it's the most fatty and flavorful piece, and indeed it was fantastic.
Wakaremi (triangle), dorsal fin of the tuna
One last piece of nigiri I ordered a la carte was black scraper (umazurahagi), which Chef Gen highly recommended and explained is the non-poisonous sibling to blowfish.
Black scraper (umazurahagi)
Finally, the tuna hand roll. Chef Gen explained that he spent considerable time testing Japanese nori to find one that was extremely brittle and very crunchy. Though apparently more difficult to work with, the lack of such crunch signifies a lesser quality hand roll. Enlightening to say the least, certainly delicious in this case.
Tuna hand roll
A wonderful shrimp head miso soup finished the savory part of the meal.
Shrimp head miso soup
Then a terrific cup of green tea:
Green tea
And finally dessert, an excellent roasted green tea ice cream:
Roasted green tea ice cream
Although the menu we chose costs $80 per person, this dinner came in just under $175 per person after adding a $60 bottle of sake, the three additional nigiri, and a generous tip. But you don't have to break the bank here. There's also a $48 omakase menu that gets you the sake aperitif sake, appetizer, 10 pieces of nigiri, a hand roll, miso soup and dessert. Service was graceful, polite and well timed throughout the meal. Unlike most sushi restaurants in Chicago, nigiri at Kabuto is served one piece at a time.
But there's a lot more to the excellence at Kabuto. There's real wasabi, the nori I mentioned earlier, the expertly cut fish - not a stringy piece to be found. There's also the rice, sourced from Japan and by no means an afterthought, and the gari, the house pickled ginger, which in Chicago usually comes out of a jar. And then there are several different types of soy sauce, of various ages and qualities. In fact, you are asked not to season any of the nigiri since the sushi chef has already seasoned each piece. So why in Chicago are we forced to season each piece? And even then, we are given two types of soy sauce, regular crap and low sodium crap. Could you imagine food at non-Japanese restaurants being brought out unseasoned, and the diner being told season it how you like with table salt and pepper? Yes, the state of sushi in Chicago is disgraceful (but we pay for it, so maybe we're to blame).
Kabuto is unlike anything we have in Chicago, and really just a spectacular restaurant operating at a very high level. It's almost enough to justify a visit to Las Vegas. So do not miss it if you go to Vegas, but book early as it's a very small restaurant and request the sushi counter. I booked a month out for a Saturday night and not every time was available.