Having just returned from a weekend in Montréal, and re-reading this thread, I was concerned that there doesn't seem to be much discussion of Montréal's lively brewpub scene. Frankly, and as as much as I like to tout Chicago, Montréal has it all over Chicago in terms of brewpubs - despite being half the size, population-wise. Perhaps the annual city-wide beer festival has something to do with it.
We probably missed as many brewpubs as we hit. So consider the following a personal, random report, and not at all all-inclusive. An interesting point was that by law, all brewpubs must state their beers' ABV% (alcohol percentage) ... and beers over 5% are frequently a little more expensive.
We started at
Brutopia
- on Rue Crescent - the Rush Street of Montréal.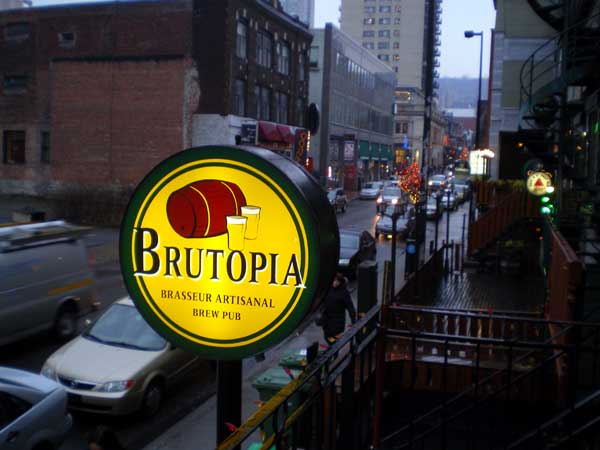 The IPA was reasonably good, although as a hop-head I might have liked a little more in the flavoring/aroma department. The Nut Brown Ale was well-rounded, with a nice toastiness to it. Servers were very helpful, and offered small samples of any beer prior to committing to a pint.
Next stop was Brasserie Artisinale and
Bistro Le Reservoir
.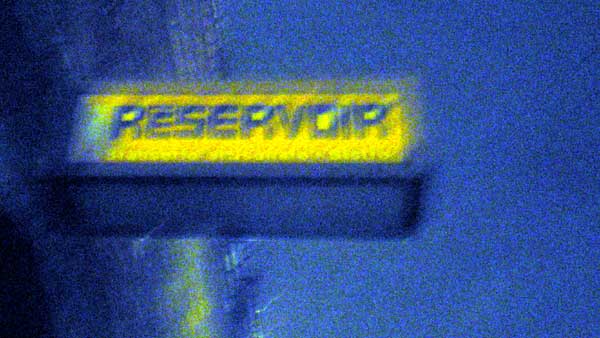 A slightly more crowded room in a bit more out-of-the-way location, Reservoir offered a very good IPA, with more hop aroma than at Brutopia. We also sampled the Oktoberfest, which had a coarse, grainy character. Ultimately, it was probably our least-favorite brewpub of the trip - although, in many other cities, it could easily be considered a top-tier place. The ambiance wasn't helped by the waitress, who, after we paid for our beers, stood impatiently at our table. We figured out she was waiting for her tip. Had she allowed us to leave the tip on the table, as we'd intended, she would have earned more.
It took us a while to find our next stop -
Le Sergent Recruteur
.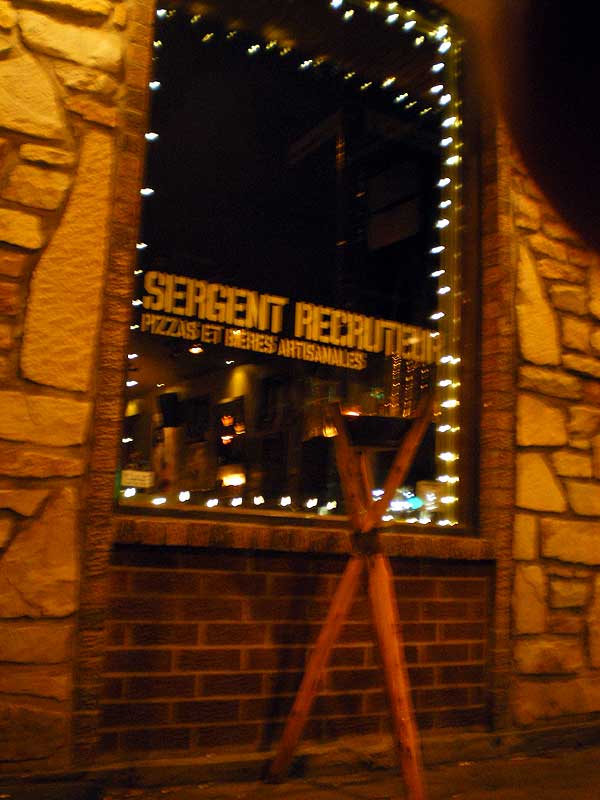 It moved north about a block and across the street from its original location. They said they were a restaurant - not a brewpub - so we had to order food with our beer. We opted for a terrine platter.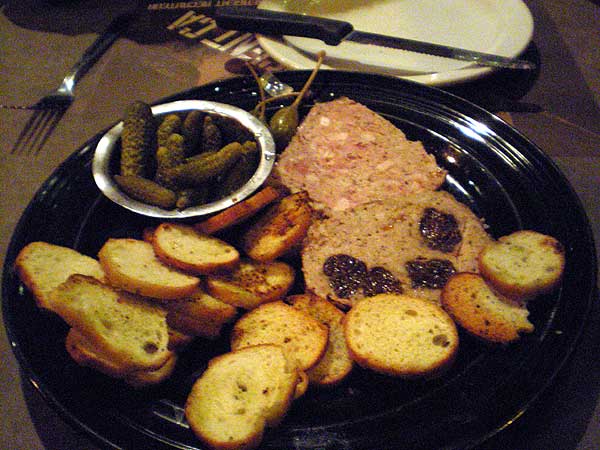 The two terrines were average at best, although the dates suffused one with a nice sweetness. Still, terrines from a certain Ronnie S would blow these way any day. The cornichons and caperberries were a nice touch, though.
The beers were mostly Belgian in style. Their witbier was solid, but the coriander/orange peel flavor only whispered (as compared to Le Saint Bock, where those flavors didn't shout, but spoke out in determinedly authoritative tones.) The Abbey Dubbel had a rich maltiness, balanced by just a hint of hops.
Next day, our destination was Mile End, and possibly the most creative brewpub I've ever visited -
Diel du Ciel!
.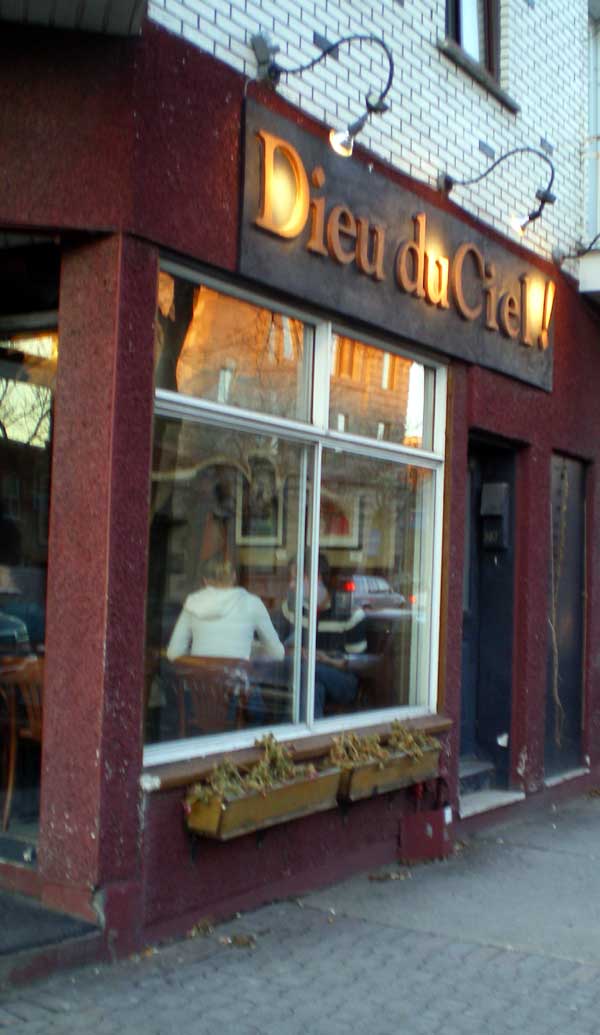 This small, cozy pub had an amazing array of 16 house-brewed beers. Probably the most interesting was the Absinthe Ale, although the strong licorice taste might not be to everyone's liking. But if you like stouts, and hops, their Black IPA might be for you. The hand-pulled, cask-conditioned brune made my tastebuds think they were back in London.
Les 3 Brasseurs
was our Sunday brunch stop, in Vieux Montreal (the old city).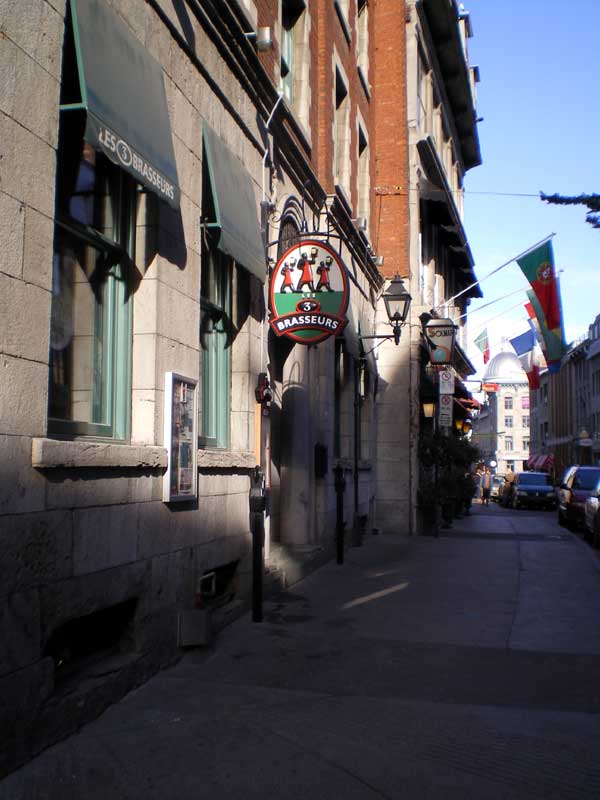 I was anxious to visit this place, since I had been to one of their original locations in Lille, France several years ago. There, they proudly feature their signature dish - flammenküche - something like a pizza on a crepe-like base. In Montréal, they call it Flamm ... and it's more like a minimalist cracker-crust pizza. When I visited their pub in Lille, there was only one other location in France; now there are five in the Montréal area alone. The beer list was relatively small - but despite what some of the other folks at other brewpubs said, their beer really weren't that bad. They weren't exciting, but they weren't bad.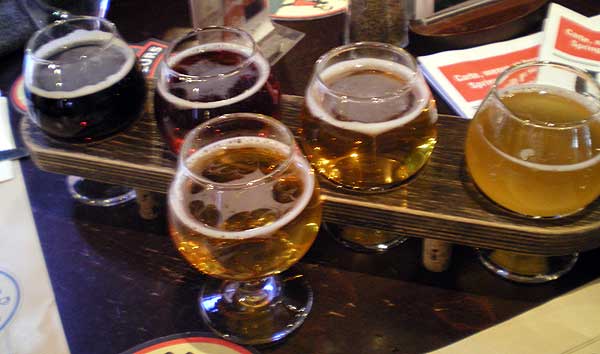 From left, the brune, ambre, blond, and blanche (witbier). The special, in front, was described as a seven-grain beer – a bit maltier than the others, but again, competent, not exciting.
Later in the day, we headed out to the Latin Quarter. There's another Les 3 Brasseurs there, but we skipped it. Instead, we hit two of the best brewpubs of the trip, within a couple of blocks of each other – Le Saint Bock and L'Amere a Boire.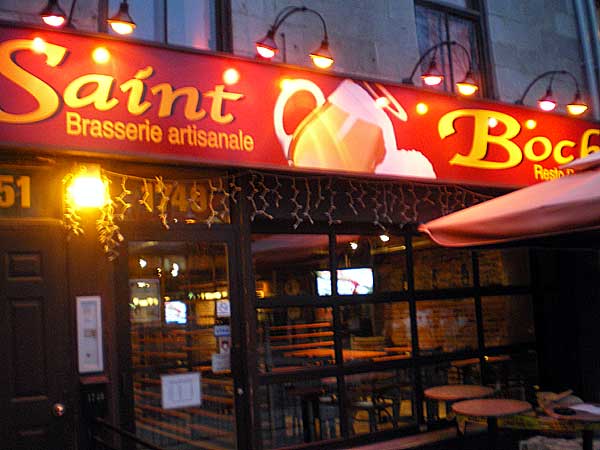 Le Saint Bock
was a little strange – it has twenty or so different beers on tap, but you have to read the fine print to find which ones were made on site. But the fine print was well worth reading.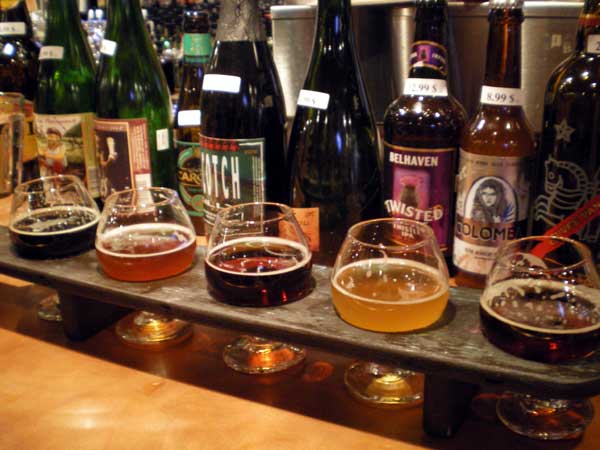 Left to right: A very malty porter, a Belgian-style sour Saison (very refreshing), Gruit Ale (using herbs other than hops - had a bright flavor that didn't even leave a hop-head like me longing for hops), A witbier with pronounced - but balanced spicing, and a very smooth red ale.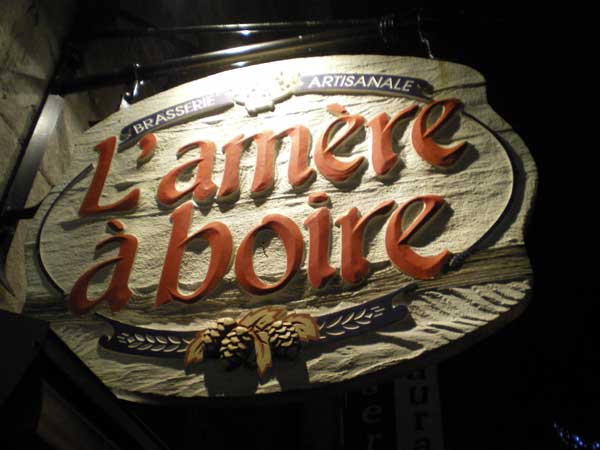 At
L'Amere a Boire
, we simply asked for a sample of whatever they'd made there they might have lying around. We got: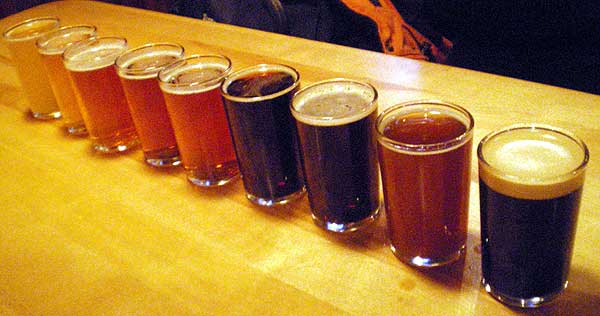 All were excellent. Their beers merely stretched traditional beer style guidelines, unlike Diel du Ciel, which occasionally trampled all over them (in a good way). Standouts were the clove-y Hefeweizen, the smooth, malty red Vollbier, and the not-excessively alcoholic Imperial stout. Impressively, their beer menu lists the specific malts and hops used for each brew. At other places, when asked about what hops were used, I'd be lucky if I could get a response like "German" or "English;" here, I could read whether it was Fuggles or Hallertau, for example (all hops and malts were apropriate for their styles - unlike another brewpub, which claimed Cascade hops were their choice for their "authentic" IPA).
Last stop was: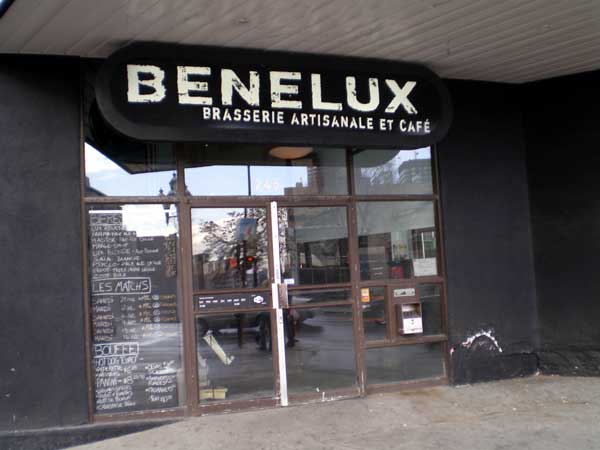 At
Benelux
, we got into a very interesting, rambling discussion of Canadian and American politics with a student from nearby McGill University, who was having a few beers and a couple of snifters of brandy before going to class. We all enjoyed the big Triple Saison, and the witbier was also very good. Although they seemed to favor Belgian styles (as the name would suggest), there was a reasonable representation of British and American styles, too.
After getting back, and just as a point of comparison, we visited Goose Island. Based on their sampler, they'd be ranked among the top four or so of the Montreal brewpubs, but definitely not at the top.
Montréal isn't Belgium, but it's pretty close to a beery paradise.
Brutopia
1219 Rue Crescent
Montreal, QC
Brasserie Artisinal eand Bistro Le Reservoir
9 Duluth East
Montreal, QC
Le Sergent Recruteur
4801 Boullevard Saint Laurent
Montreal, QC
Les 3 Brasseurs
105 East St. Paul St.
Montreal QC
Dieu du Ciel!
29 West Laurier Ave.
Montreal, QC
Le Saint Bock
1749 Rue Saint Denis
Montreal, QC
L'Amere a Boire
2049 Rue Saint Denis
Montreal, QC
Benelux Brasserie Artisanale et Café
245 Sherbrook Ouest
Montreal, QC