LTH,
So I'm hanging out with my dad in sunny Boca Raton, wife and mom have gone shopping, and he says, "let's go to lunch," which in Boca Raton terms means one of 8,000 deli's, their current favorites, subject to change, are Bagel City South and Bagel Works. My parents are healthy eaters, not crazed about it, but enough so that I was more than a little surprised when my father suggested we have fried chicken for lunch.
I'm half expecting lightly coated oven-roasted boneless, skinless chicken breast with a side of tomato when we pull up to a little oasis of deep fried heaven,
Fran's Chicken Haven
.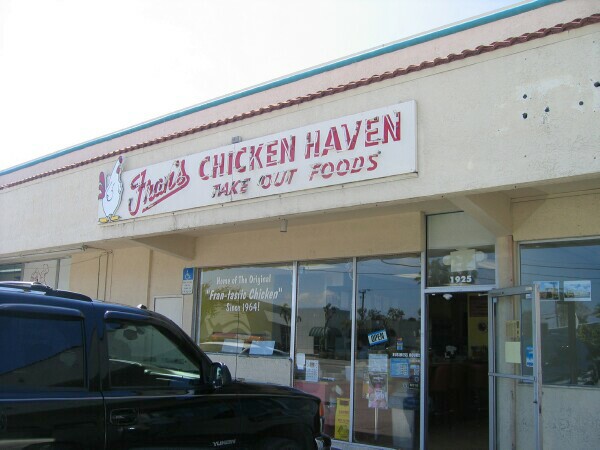 Two high energy chicken haven mavens were performing all duties, frying chicken, serving, all the while being friendly and utterly charming. My father said they reminded him of Alice and Flo from
Mel's Diner
.
'Alice' manning the deep-fryer, 'Flo' did not feel up-to picture taking, even though she was cute as a button, with red hair and big smile.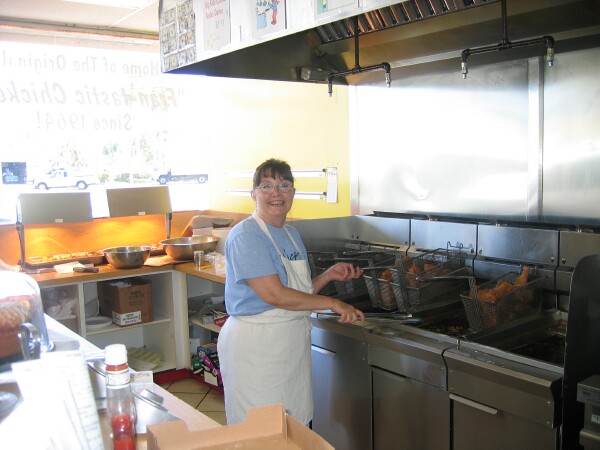 Fran's fried chicken is simply terrific, tender, juicy, chicken flesh, crisp greaseless skin, everything one could want in fried chicken.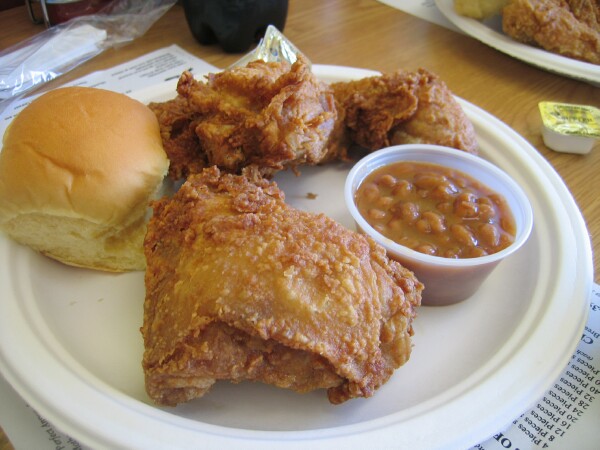 We also had a basket of livers which were tasty, but slightly overdone to my taste, though not to the point of dry.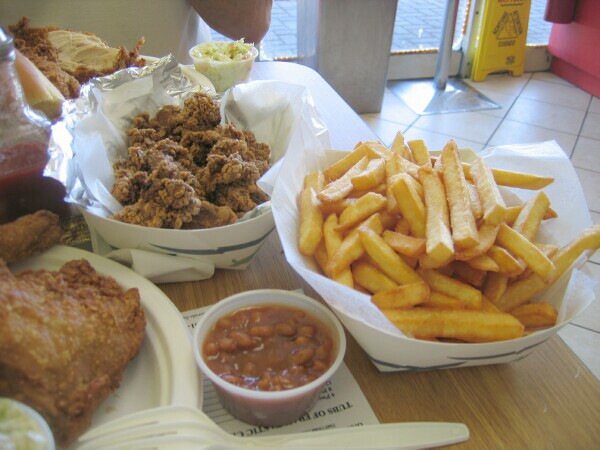 Beans were ok, my dad and I disagreed on the slaw, he liked it, I thought it just ok, fries were ok as well, but the real winner, next to the fried chicken, was the gravy we were given to taste. Actually, more like a really concentrated chicken soup, slightly gelatinous from long slow simmer, packed full of flavor. 'Alice' and 'Flo' disagreed on the best use, Flo liked it on everything, especially for french fry dunking, Alice on mashed potatoes.
Fran's Gravy. (notice the second table pulled up, we ordered so much we needed a second table. Though, in our defense, they were small tables.
)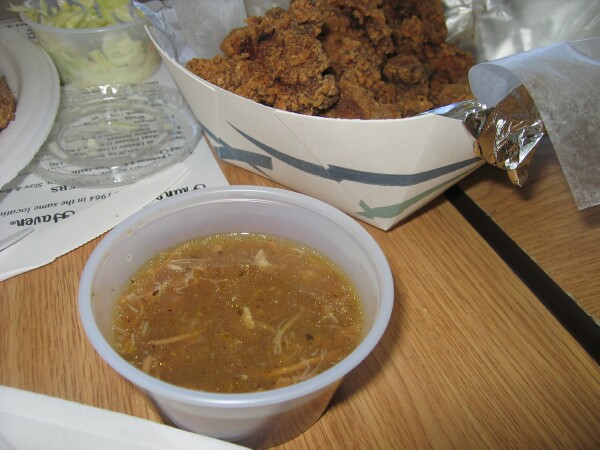 Jack's Old Fashion Hamburger
serves up a good old school burger. Family run, been around 30-years, only two locations and has a great burger stand vibe.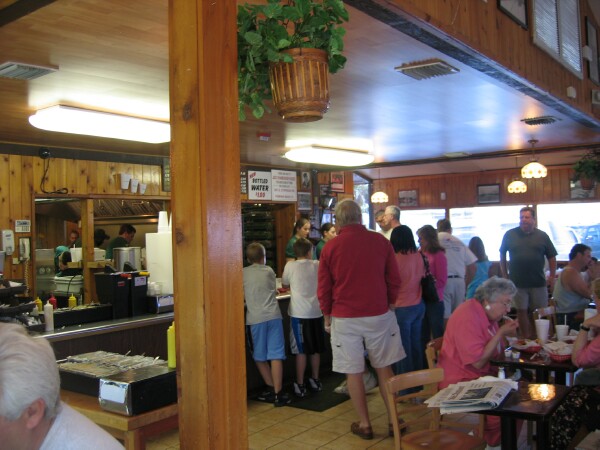 Burgers come without lettuce, tomato, onion, peppers, you choose, though for a small charge.
Jack's Old Fashion Hamburger Menu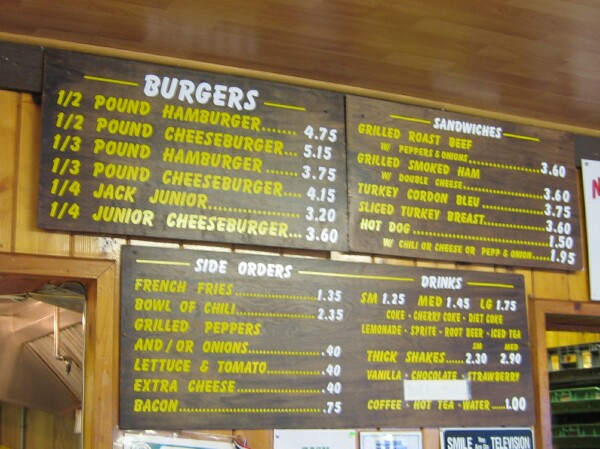 A large assortment of condiments, including mayo, horseradish, pickles, ketchup, and
Great Tasting Mustard
are available for no charge.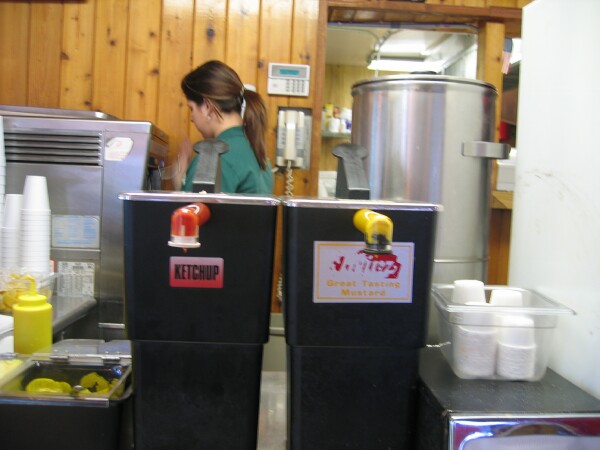 I went with a med-rare 1/2-lb burger with grilled onion/peppers and lettuce/tomato. Burger was very good, fresh ground, not too tightly packed, med-rare as I asked.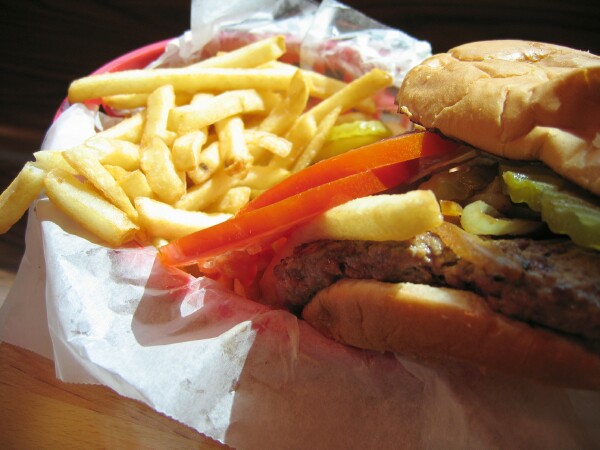 In summary, Fran's fried chicken is a must-go for lovers of fried chicken, and well worth a detour for anyone in the general area. Jack's serves a very good burger in a family friendly, non cookie-cutter environment and is a great place for a burger fix in the Boca Raton, Fort Lauderdale area.
Enjoy,
Gary
Fran's Chicken Haven
1925 N Federal Hwy.
Boca Raton, FL 33432
561-395-3689
The Original Since 1964
Same location for 42 year
Jack's Old Fashion Hamburger
4201 N Federal Hwy
Oakland Park, FL 33308
954-565-9960
Jacks Old Fashion Hamburger
591 S Cypress Road
Pompano Beach, FL
Bagel City South
6006 SW 18th St # B2,
Boca Raton, FL
561-393-5383
Bagel Works
8177 Glades Rd,
Boca Raton, FL
561-852-8992