We just spent the weekend in B'ton and a group of 7 of us had dinner at Tallent.
I'll admit to being the ringleader and wanting to eat here.
Unfortunately, while this may be 4 star for B'ton, it's probably more like 2 1/2-3 for Chicago...
I don't have pix of everything, and I didn't get to taste everything, so I can comment on what I did taste...
For starters several folks had a tower of Heirloom tomato, watermelon, and feta: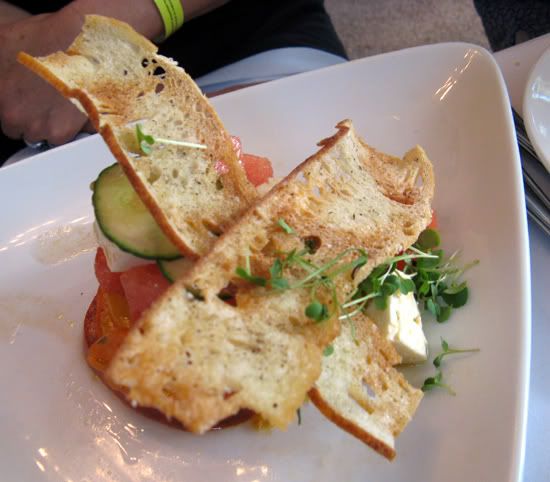 They seemed to enjoy it very much, and with it being tomato season, it's hard do that badly...
Hubs and I had their riff on Cobb salad with Farm egg, tempura avocado (different but nice), pork belly (not as crisp or hot as it should it have been) and smoked chicken (unfortunately dry and tough)
Dressing was very good, as were the greens.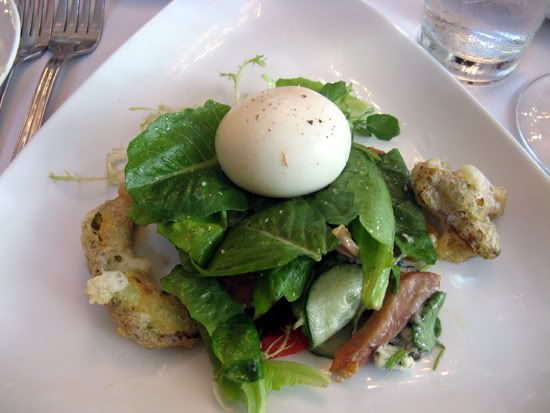 Not pictured was mussels with a lemon garlic sauce and frites- these were pretty tasty.
Someone else had a soup that they liked. I forget what kind.
For entree, at least two friends had a roasted chicken dish that they seemed to enjoy- one person said it was a little overdone.
Hubs and one other person had this ?creole meatloaf that was their daily soul food special.
It was a hearty portion, and it was OK, but Hubs said it was "nothing spectacular"
I tasted it, and thought it was OK, but not a wow.
One other friend and I had this Walleye on a lobster risotto.
The walleye was sort of a smallish portion and but worse sadly overcooked- the risotto was absolutely fabulous, with the lobster sweet and perfectly cooked. I could have had a whole plate of just that- it was great.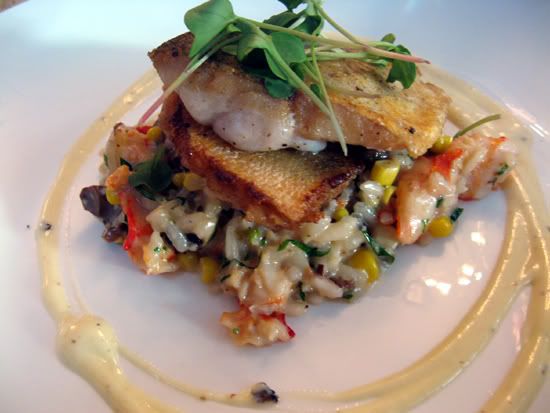 One other friend had a pasta with a pork ragu- he seemed to really enjoy it.
We drank a delicious Riesling and a nice Pinot-
The wine list was very good- a nice variety of prices and types.
Didn't try any dessert because we were all full and ready to go party....
Don't know if I'd go back for what it cost-(it was very $)
I heard a lot of good buzz about Lennie's and Uplands
I think I'd try them next.
(but i'd sure have that Risotto again....)
Restaurant Tallent
208 N Walnut St, Bloomington, IN 47404-4950
(812) 330-9801
www.restauranttallent.com
"If you reject the food, ignore the customs, fear the religion and avoid the people, you might better stay home."
~James Michener