Drove out to Denver with the family for the Thanksgiving holiday - didnt feel like cooking, just wanted out of town. Left Weds afternoon - got back Sunday. Quick, hard
hitting
trip
BIODTL (Beat it on Down the Line) "well this job I got is just a little too hard, running out of money lord I need more pay. Gonna wake up in the morning lord, gonna pack my bags, I'm gonna beat it on down the line.":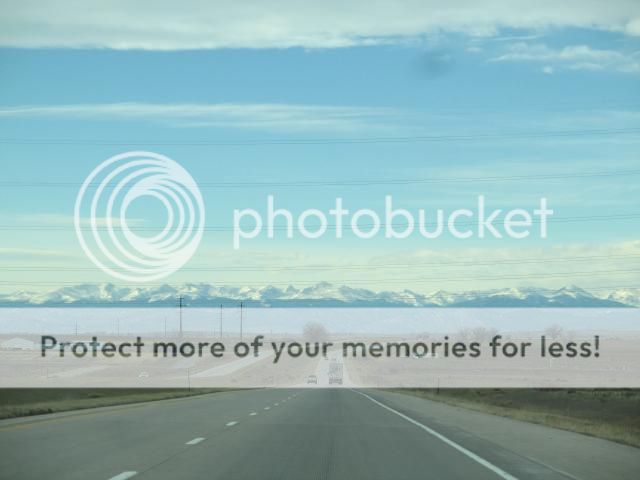 Broke up the drive on the way there with a night in Lincoln, NE. but did the
dead~head
back from Denver to home.. 17 hours... mercy... Had a little less than 2.5 days in Denver for business and
fun
, food was not the top priority of this trip, family and fun was. Did have a few good bites.
Couple spots we ate that I thought were good - foodwise just scratched the surface, way more out there, just didnt have time/stomach space to explore more:
Voodoo Doughnuts, I guess they have some locations in Portland besides this one in Denver, checked out their website and thought they were doing some fun stuff so we headed in.
grabbed up a box to go - kool box.:
sweet... bacon/maple donut, raspberry jelly, & an apple fritter:
really nice apple fritter:
the reason I came - thought this one looked fun. Basically a chocolate long john with raspberry filling... dug it..:
supposed to be a voodoo doll. with a pretzle stick as the the stake -
VooDoo Doughnuts
1520 E. Colfax
Denver, CO.
http://voodoodoughnut.com/
Had heard good things about Cherry Cricket and their burgers - place has been a restaurant since the 1950's, focusing on burgers since the 1990's. Choice of many toppings is there thing.
went with a green chili, cream cheese and fried egg burger - not the best I have had but a solid burger.
Cherry Cricket
2641 E. 2nd Ave
Denver
http://cherrycricket.com/
I had Mexico City Lounge on my short list - reason - deep fried tacos -
cool, cheap, hole in the wall spot. Cold beer and a couple deep fried steak tacos hit the spot. Too dark for pics, but these were pretty good and fed the crave.
Mexico City Lounge
2115 Larimer
Denver
http://www.mexicocitydenver.com/
I dig crabs, not apologetic at all. Dont care that they come from Alaska, etc. and I am in the middle of the country.. im gonna crack em'.
Ive had good luck at Vietnamese owned crab spots in Orlando and elsewhere so when I saw Denver had a couple I knew they were going to be hit. They do a style where the crab is bathed in a spicy garlic butter sauce, messy, but good eating.
First stop was Asian Cajun
family owned spot, nice kid working the table. They do crabs here plus some Vietnamese items(Pho, spring rolls, etc) as well as gumbo. Might seem weird but quite a few Vietnamese folks relocated to the Louisiana /Mississippi area back in the day to run shrimp boats and the folks learned how to make gumbo.
Top notch bowl - chicken, pork, sausage, and okra:
knew we had a 2nd stop in us so we went light - a pound of crab, some potatoes , sausage and corn.
Asian Cajun
2400 W. Alameda
Denver
http://theasiancajun.com/
2nd stop was the Yabby Hut - maybe 20 mins from Asian Cajun.
they had crawfish on hand, they were frozen, but we had to try some. Also grabbed up some dungeness clusters and snow crab clusters as well.
Served in a bag(asian cajuns was as well);
feast:
well done grasshopper:
I think I prefered Asian Cajun, but Yabby hut had more crab and shellfish options avail. That said Id be happy if we had either in Chicago
Yabby Hut
3355 S. Yarrow
Lakewood, Co.
http://www.yabbyhut.com/
Other spots we hit - mixed results:
Super Star Asian Cuisine
(cited upthread) - had zero interest in Chinese food when in Denver, - but not many options on Thanksgiving. Hated their fried rice - any place that puts peas in fried rice should be shut down
.. Steamed BBQ pork bun passed Vangies taste test, Beef Chow Fun with spicy black bean sauce did the trick as did the pork shui mai and the pan fried leek dumpling. Shrimp crepes were just decent. Half Peking duck worked. Just wasnt overly impressed with this spot
Guard and Grace
- splurge meal for Friday night - steak joint with Grass Fed, Angus and Prime beef. Enjoyed some marrow bones as the appetizer. Shaylens Prime filet was well prepared, My 8 oz was good but not a revelation. Vangies gulf snapper was probably my favorite bite of the night.
Guard and Grace
1801 California
Denver
http://www.guardandgrace.com/
Denver Aquarium Restaurant
- part of a chain that has locations in a few other cities - Shays choice for lunch. It is what it is, She enjoyed the mermaids and the fun, so I enjoyed the visit. Go for lunch so you dont get totally screwed foodwise. Plan on eating before or after.
Another Gratuitous Shay shot - I love this kid:
Denver Aquarium Restaurant
700 Water St.
Denver
http://www.aquariumrestaurants.com/down ... efault.asp
Historians Ale House
- it was 70 degrees and sunny on Sat. found a bar with a rooftop and enjoyed some rays and friendly service.
Historians Ale House
24 Broadway # 102
Denver
http://historiansalehouse.com/
My Brothers Bar
- been around since the 1870's - folks know I am all about the old spots. Place had the same footprint as Kumas. Bar then grill right in the main room. Cold drafts - no Bud or Millers, and cheap shots. Didnt eat here, but was tempted
My Brothers Bar
2376 15th Street
Denver
Denver was a revelation. Some of the nicest folks I have met in my travels. Really different than the midwest and Chicago in particular.
Oh, I did hit quite a few MJ dispensaries in Denver, - feel free to PM me, ill answer any questions.... Ill just say Denver is the promised land. -
Screw it,, ill add a couple pics I took at CAM dispensary
- all legal - all good. mods can remove if they want- or if pressured.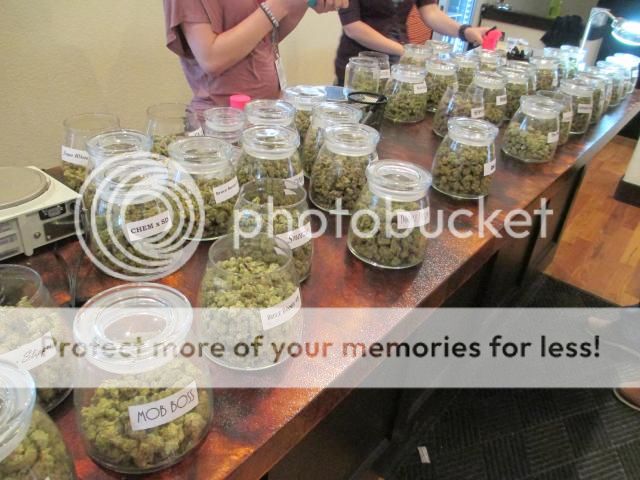 If you are thinking about going...
do it
. I started plotting my pilgrimage Jan 1st 2104. - So glad I got there this year to show support for the great thing they have done. Hoping to get back asap.
Last edited by
jimswside
on December 29th, 2014, 1:58 pm, edited 7 times in total.