When winter comes, my thoughts and taste buds often turn toward the belly-warming and soul satisfying dishes of Central Europe. I taught myself to cook while living in Budapest, and chicken paprikash is among the first dishes I learned. Like many dishes with peasant roots, it is a simple dish with minimal ingredients. Its entire success depends on quality ingredients and technique.
Here are most of the ingredients you'll need:
(Edited on 2/4/13: It's mentioned way downthread, but I wanted to add up here that this dish can be made lacto-vegetarian by substituting mushrooms for the chicken. The proportions remain pretty much the same, although the cooking time will be much shorter. The more varied the mushrooms, the more interesting the final
gombapaprikás
[mushroom paprikash]. It is a common, inexpensive dish served in Hungary.
Also, veal can be substituted for chicken to make
borjúpaprikás
. The three--chicken, veal, and mushroom--are the most common versions of paprikash. Some culinary taxonomies insist that paprikash is made with white meat or fish--veal being considered a "white meat" in this case--but I would say the defining characteristic of paprikash is the presence of cream, usually soured.)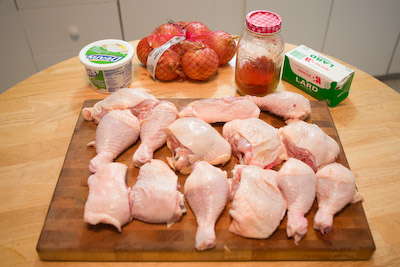 Sour cream (my preference is for the Mexican brands, but Dean's will do. ETA 11/11/14: Over the last few years, I've grown quite partial to Daisy brand sour cream. It seems to be pretty much the only sour cream at my grocery that is made only from cream, and nothing else.), onions, paprika, lard, and chicken pieces, skin on.
Many Hungarian dishes, including paprikash, begin by sweating the onions in lard (or sunflower oil), then adding paprika after lowering the heat. I use about one large onion and two or so heaped teaspoons of paprika for every two pounds of chicken. The quality of paprika is paramount in a dish like this. See how red it is? That's pretty much how red it is in real life. From my experience, the ubiquitous Pride of Szeged brand sweet paprika will do fine. McCormick's will not. You may mix sweet and hot paprika, but I have a strong preference to using only sweet paprika in this dish. (I am using sweet paprika from a farmer from Kalocsa, Hungary. Kalocsa and Szeged are the two main paprika-producing areas in Hungary).
(Another quick note about paprika. Penzey's and The Spice House's Sweet Hungarian paprikas are excellent, as well. Plus, I've been quite impressed by the California paprika at Penzey's. It is very important to start with good paprika. It should smell like the essence of sweet red peppers.)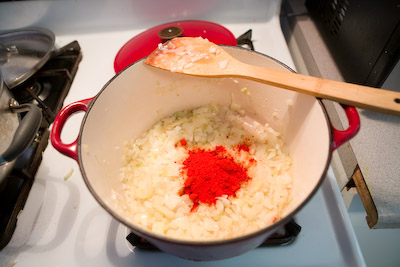 It is extremely important to keep the paprika from burning, as it will become bitter and ruin your dish. Some cooks will advise to completely take the pan off the heat. Paprika's flavor compounds are fat soluble, so incorporate the paprika well with your lard or oil: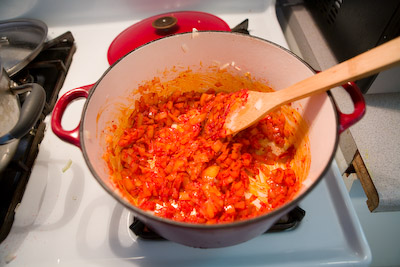 Add chicken: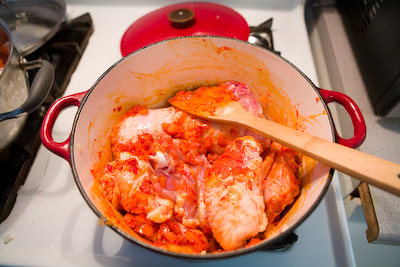 Now, I generally just cook the chicken over medium heat, stirring often, for about ten minutes at this point, to avoid burning the paprika. (And this is also how I was taught). I don't generally brown my chicken for this dish. Some people do. Those who do either brown the chicken first, then add the browned chicken in during this step, or they brown the chicken in the onions and then add the paprika when the chicken is done. Feel free to do it any of these ways.
After ten minutes, reduce the heat to the lowest setting and season liberally with salt. Cover. Add as little water as possible (if any). This dish should stew in its own juices, and nothing else. Just add water if you're afraid of it burning. Stir it from time to time. After a while (hour, hour and a half), the chicken should have let go of all its juices, and you'll be greeted to this: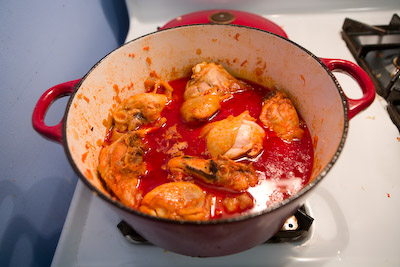 Now, you can stop here and have something called
csirkepörkölt
, roughly, chicken goulash. What makes this dish
paprikás
is the addition of sour cream. Take about a cup or so of sour cream for every two pounds of chicken, beat in two tablespoons of flour, then incorporate it into the beautiful paprika-red chicken juice (I removed the chicken to better incorporate the ingredients, but many don't bother)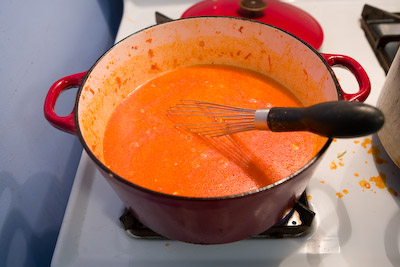 Cook until the flour is cooked out, check for seasonings, and serve: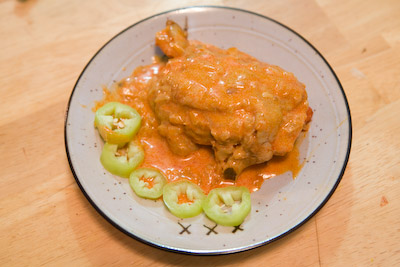 Unfortunately, I was making this dish for a party, so I had no time to sex up the final photo, and I didn't get a chance to include a key component, which was made at another site:
galuska
, or spaetzle. Paprikash is normally served with these little egg dumplings. In fact, I could probably subsist the entire winter on just galuska and paprikash gravy. I could always post a recipe and pictures if anyone wishes.
Variations: some folks add a tomato and/or a pepper midway through the cooking time. I personally do not like tomato in my paprikash, and most of the paprikash I've had in Hungary has been tomatoless. If you add a pepper, sweet banana peppers are the closest I've found to the type of peppers generally used in Hungary. Bell peppers taste all wrong to me in this cuisine. You can also replace half the sour cream with regular cream, or even use creme fraiche, if you desire.
Last edited by
Binko
on November 11th, 2014, 10:43 am, edited 4 times in total.