This was dinner a couple of nights ago, but I made two batches of pierogi, so the freezer would be well stocked. I learned a few things along the way.
Starting with the dough. I wanted to go with a semi-hot water pastry crust — not flaky, but sturdy enough to hold everything together. I started by melting butter in water, to just below the boil.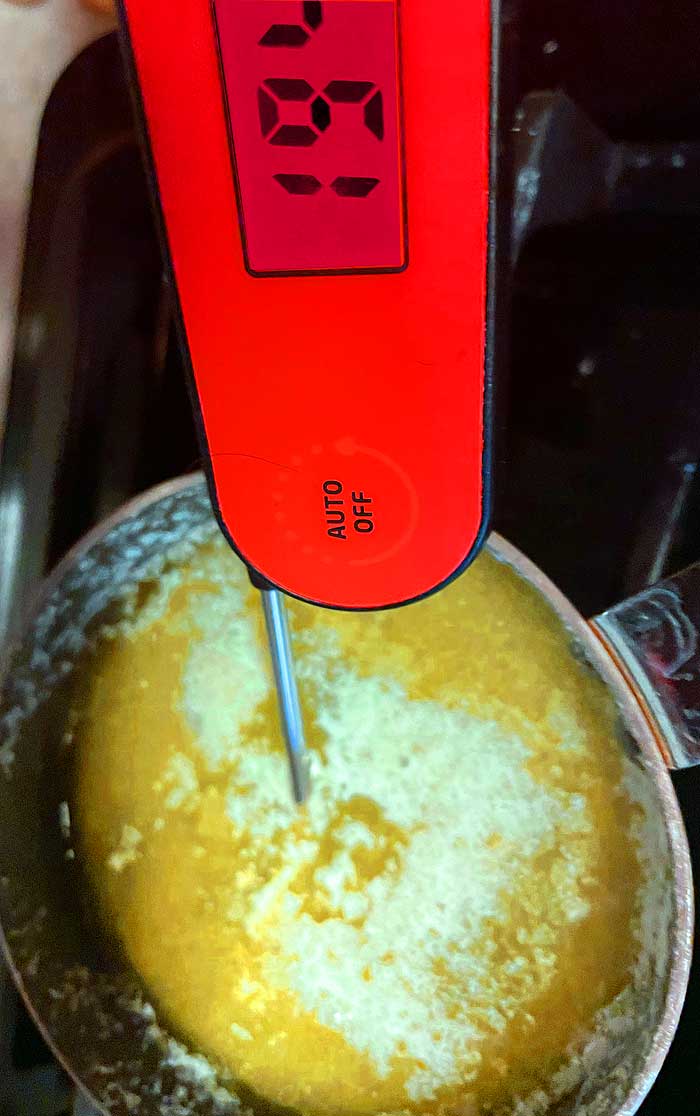 194° seemed about right. The butter-water mixture was poured into AP flour, and a little salt, then mixed. On the second batch, I also added a bit of sour cream, which made for a much more cooperative dough.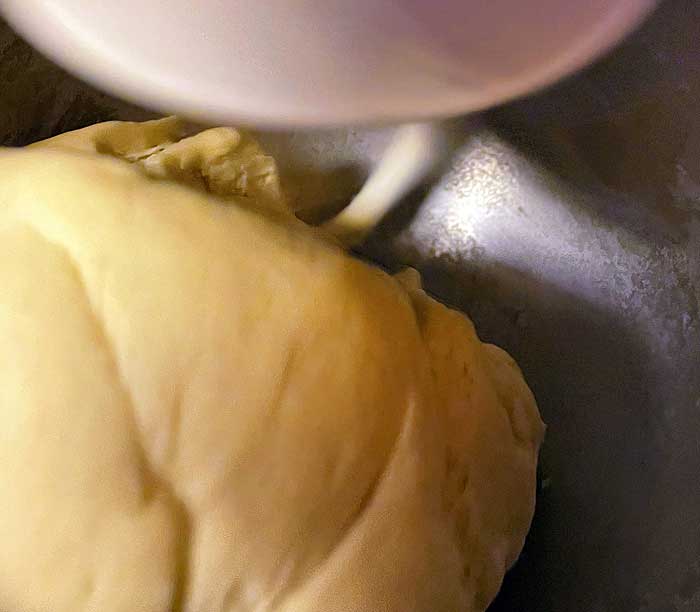 Being relatively lazy, I relied on my old KitchenAid mixer (older than most of my nieces and nephews) for mixing and kneading. Despite its age, it did a nice job of producing a silky, non-sticky dough.
For batch #1, I rolled out the dough by hand, guessing on the correct thickness. Since I'd divided the dough into quarters, some of the rolled out pieces worked better than others. Batch #2 went much better when I pulled out the pasta machine, rolled to #4.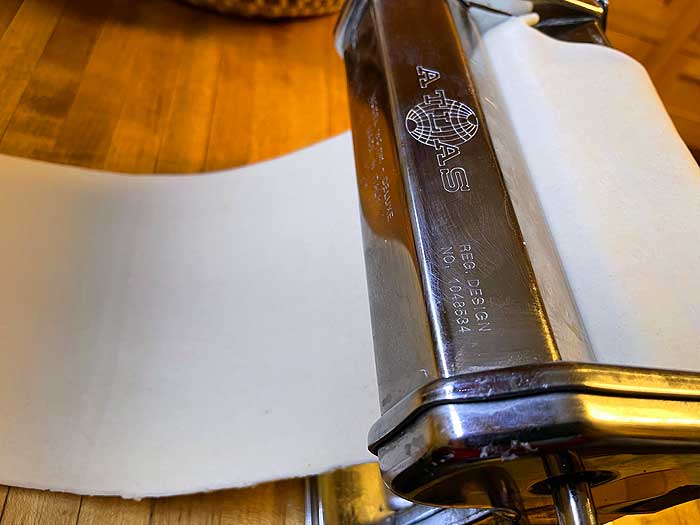 Before rolling, I prepared a variety of fillings.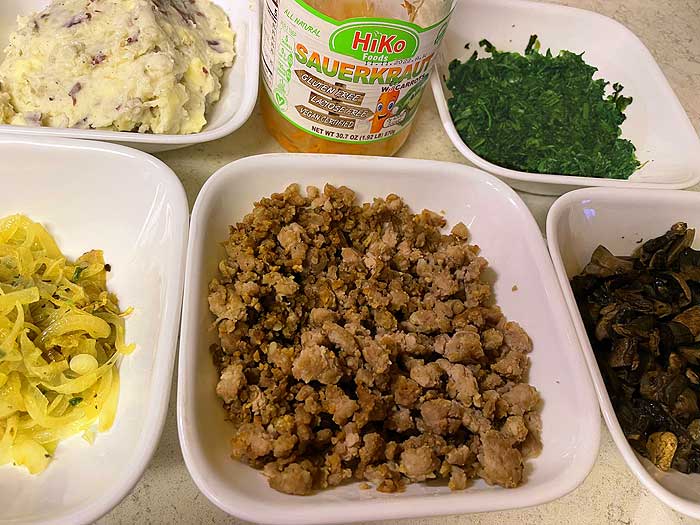 Left to right, top row — mashed potatoes with cheese, sauerkraut, and spinach. Left to right, bottom row — sautéed onion, ground pork, sautéed mushrooms (in the leftover pork fat).
I was using a dumpling press that makes ridiculously large pierogi — two pierogi makes an adequate serving. Not traditional, I know, but easier than making them by hand. And the dumpling press also cuts the dough to the right size.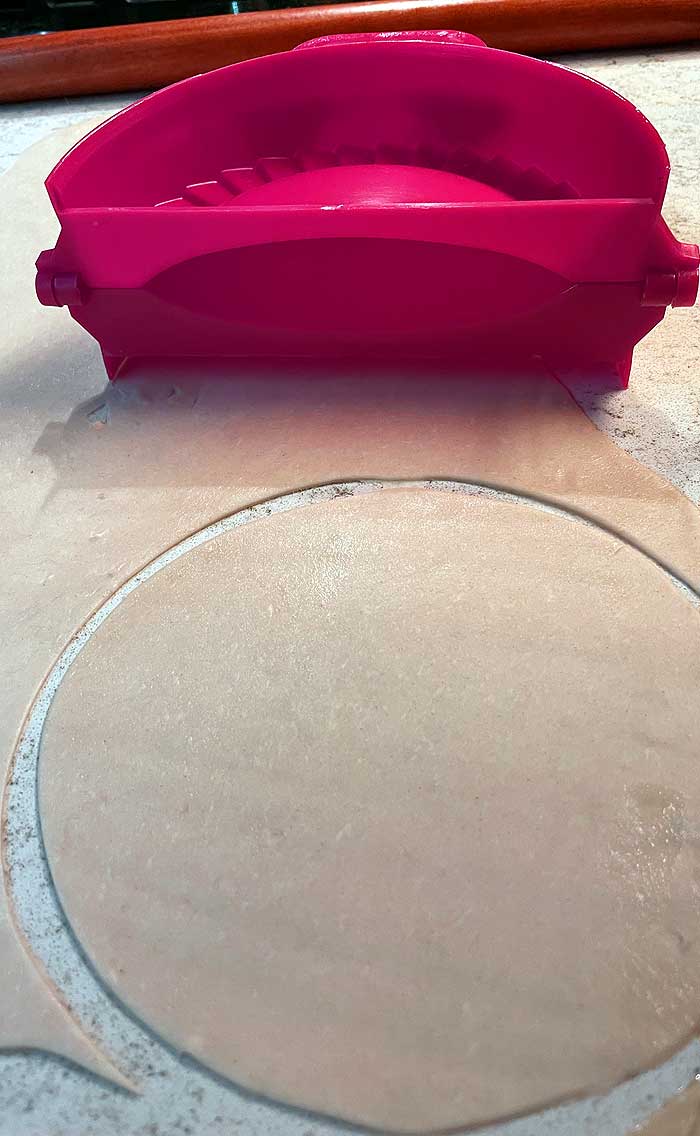 I mixed and matched fillings to stuff each one, typically three ingredients. The most common combo was sauerkraut, mushrooms and pork. The only single-ingredient pieróg were the potato-stuffed ones.
Once they were sealed in the dumpling press, they went into boiling water.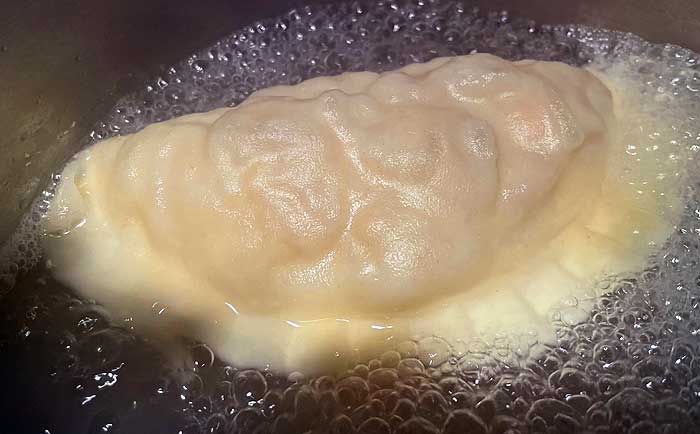 Seal one, throw it in the water, seal a second, throw it in the water, seal a third, and by this time the first has been floating a while, and ready to come out. (Each one gets flipped at least once so the dough on both the top and bottom gets cooked through.) And so on.
Before serving, each pieróg got fried in butter.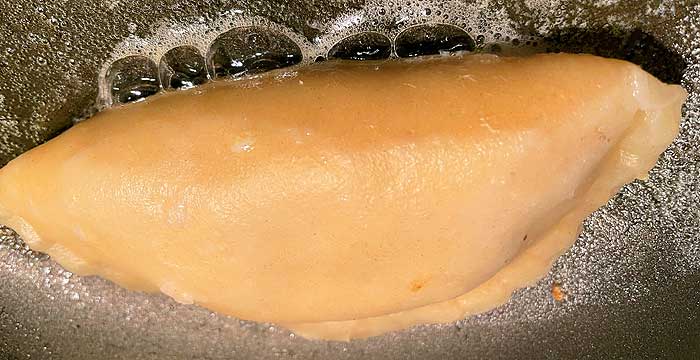 After frying, and ready to serve with a dollop of sour cream.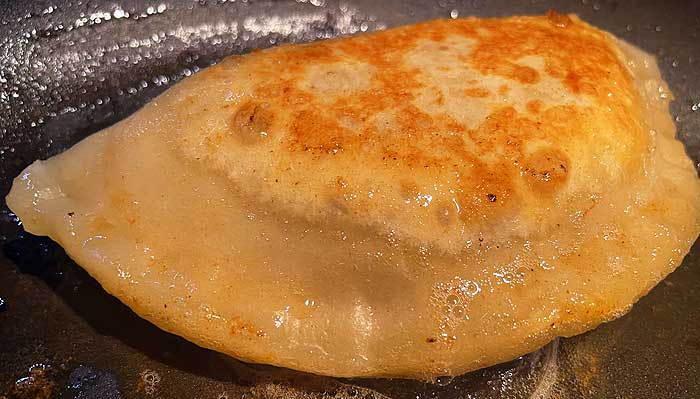 Of course, since large batches were made, most went into the FoodSaver and then the freezer. Thawing them and then frying makes for a quick dinner on a busy night.