Żurek, also known as
biały barszcz
(white borsht), is a traditional Polish soup whose signature tang comes from a base made from rye flour and water that's been left to ferment in a warm place over several days. This base is called
zakwas
in Polish, and basically is just a very watery sourdough starter.
Growing up, this had always been one of my favorite Polish soups, and the changing of the seasons has inspired me to make żur from scratch. Many Polish delis will sell either ready-made zakwas in bottles (sometimes labeled as "biały barszcz") or powdered biały barszcz/żurek, which you can use as a base instead of going through the 3-6 days required to make homemade zakwas. You'll still get a good product, but you won't experience the same sense of satisfaction. Fermenting is fun!
There is some controversy over what exactly the difference, if any, between żurek and biały barszcz is. I, and many others, use the terms interchangeably, although my family more commonly used the term żur or żurek (diminutive of " żur.") My father claims that żurek is always made on rye flour, while biały barszcz is made on whole wheat flour. The Polish Wikipedia page on the soup agrees that a segment of the Polish population uses this naming convention, but others say that żurek is a soured Lenten/Easter soup that's served with potatoes and eggs, while biały barszcz is sour soup that's cooked with bacon and sausage. For all practical purposes, these two names are interchangeable, and there are countless variations on the soured rye base. Also, for those linguists in the house, it appears that the name żur comes from the same root as the German word
sauer
.
To make the zakwas, we need the following: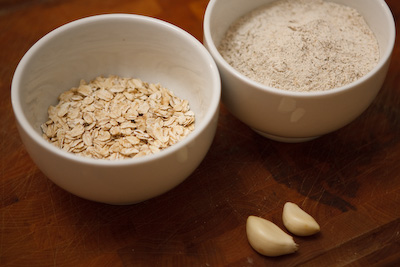 1/2 cup oat flakes
1 cup rye flour
2 garlic cloves, sliced thinly
Rye flour by itself is perhaps more commonly used, but I like the combination of rye and oats. You can also use whole wheat flour, and rye or wheat bran, according to Polish sources I've consulted.
Mix all of the above ingredients into a jar or stoneware crock with about 3 or 4 cups water that has been boiled and cooled (to evaporate the chlorine) to room temperature or slightly warmer. At this point, the crust of two slices of rye bread is customarily added to help the fermentation along. I added a tablespoon of sourdough starter, instead. Both ways will work, and the former is the way my mother and Polish mothers everywhere used to make it. Place your jar in a warm, draft-free location. You're looking for a temp of 70-80F ideally.
In about 24-36 hours, you should notice some bubbling in your starter, as well as a sweet-sour smell. If you know the scent of lactic bacteria (as in naturally fermented sauerkraut or pickles) that's what you're looking for. For this reason, it may be worthwhile to ferment this in the basement, near the furnace, so the smell is isolated. Personally, I love the smell so I just leave it in the kitchen. The zakwas should be ready to use in 3-6 days, depending on what level of sourness you desire. I used mine after 4 and felt it could have gone another day or two. My girlfriend, however, thought it was more than sour enough at this point. Use your discretion, and taste it from day to day. If you're using the crust of rye bread, remove after two or three days to prevent mold formation.
This is what your jar will look like after four days: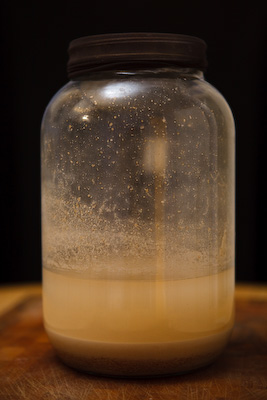 A little closer: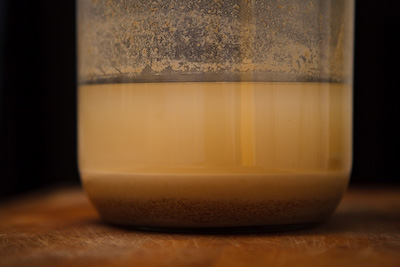 Now that we have the zakwas ready, we can continue with the żurek: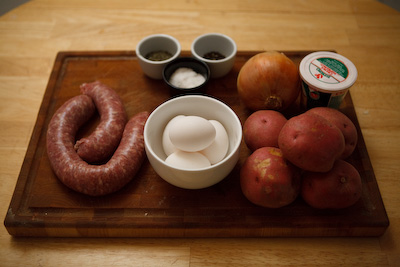 There are a lot of ways to make this soup, and I'm going the variation known as
żurek na białej kiełbasie
(Polish sour soup with white sausage.)
We need:
1 pound white Polish sausage (my favorite is from Dunajec, on Archer just a door or two down from Gilmart. If you're in the neighborhood and have never stopped into Dunajec, you owe it to yourself. Other than having my family's preferred Polish sausages, it has my favorite, most-ridiculous store sign in the city:
an anthropomorphic pig gleefully observing his viscera leave his body as sausages.
)
hard-boiled eggs
potatoes
onion
sour cream
marjoram
salt
pepper
Fry one onion in fat of your choice (you can definitely use bacon here, if you want). I used a Polish prepared lard that was seasoned with onions and allspice berries: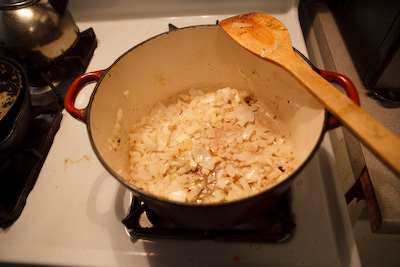 Prick the white sausage all over with a knife or fork. When the onions are translucent, add sausage and water to cover (about 3 cups):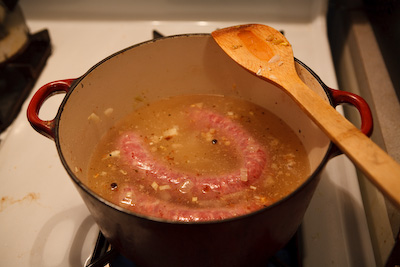 Bring to boil, reduce to simmer, and cook for 30-40 minutes over low heat. In another pot, hard boil your eggs, and boil up some peeled potatoes that have been cut into quarters or diced into cubes.
Remove the sausage, cut into 1/2 - 1 inch slices. Return to pot. Add the zakwas into the pot, pouring it through a strainer. If you don't use oats, then you don't have to bother straining it. You want the rye flour in the soup to help thicken it a little. Add about one teaspoon marjoram, and salt and pepper to taste. Cook for about 5-10 minutes, then add 1/2 cup sour cream into which 1 tablespoon of flour has been beaten in. You should now have something that looks like this: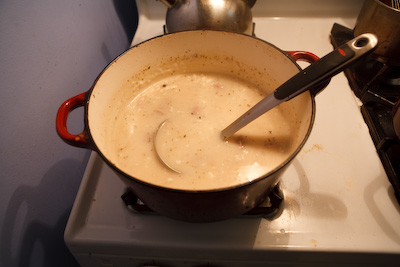 Bring to boil and cook until the raw flour flavor has cooked out, about 5-10 minutes. To serve, arrange boiled potatoes and hard-boiled egg halves in a bowl. Ladle the żurek over, making sure you get some sausage pieces in the bowl.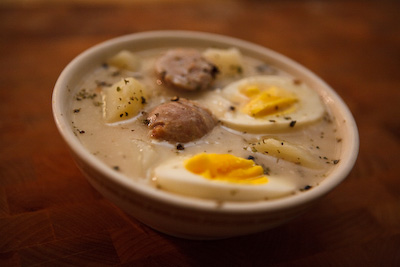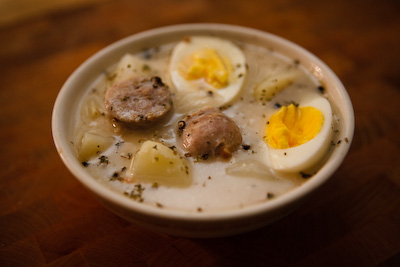 Variations:
Oh boy, where to start? My mother normally made this as above, but without eggs and without sour cream. Instead of white Polish sausage, you can make this on a base of smoked meat. Smoked Polish sausage will work as will the smoked ribs you often find at Polish delis (my mother, once again, made it with the latter). I used water as my liquid, but some people use vegetable stock (heavy in root vegetables like carrots, parsnips, and celery root), while others use a light beef stock, and still others use a ham stock. Some people don't add onions to the broth. Some add dill. Others use soured milk instead of sour cream. Some also add shredded carrots to the broth. Dried mushrooms (porcini) are also a very common addition, as is a bay leaf. Two or three allspice berries into the broth is fairly typical as well. Also, a teaspoon or two of horseradish (żurek made for Easter typically has horseradish.)
For me, threr's basically two main divisions: those made with smoked meats, and those made without. If you prefer to make the recipe on smoked meats, follow the same recipe as above, substituting either Polish deli smoked ribs or smoked Polish sausage for the white sausage, and I encourage you using bacon as your base fat if you're going this route.
Last edited by
Binko
on October 12th, 2008, 4:09 pm, edited 2 times in total.