Want a Pasty? Perhaps singular is pasty. It may be pastie. Either way, want one? You don't know what a pasty is? Get in your car. Drive north. Just follow any sign on a highway that says north. Drive till you are tired. When you are tired, get a cup of coffee, and a sandwich. Keep driving for a few more hours. Just follow the signs that say NORTH. After you pass the fifth deer standing in the middle of the highway, stop at the next gas station. Get another cup of coffee, and a stale donut or two. Drive on. When you've gotten through the last song on your last playlist, or you've played every cd and you are back to the first one, and your ass feels like a migraine attached to your lower back, you're probably an hour away. Keep driving...NORTH. Turn on the radio. If there are only four stations comin in - three with country, and the other one one playing music from a Rocky movie training montage, you've arrived. If you see a cluster of lights anywhere, slow down, you're gonna pass a pasty shop soon.
The ones I get hail from 49866. Map it. Yeah. Up there. It's still the U.S. up there (tho possibly by border only.) These pasties are made and sold through a church. They are "Cornish" pasties - not to be confused with any other pasty origin. The lovely lady who oversees the church pasty sales is the church organist, and church choir director. From what I gather, 5 or 6 times per year, she gathers the pasty makers, and pumps out 500 to 600 or more of these things (depending on the pre-order demand) and once they are made, they sell out. ALWAYS. And yes, they do make plenty of extras for random "walk up" orders. I was lucky enough to be in the right place at the right time to get a home viewing of the process of this particular type of "Cornish Pasty."
My description of a pasty is this:
Meat, taters, onions, rutabaga, in a folded over pie crust. Seasoning is minimal, but they are eaten with sauce. Pasty sauce? Ketchup. Some go with brown gravy. Others choose butter. I opt for salsa, and am usually considered a heretic when doing so. Straying from the norm is generally frowned upon as frequently observed by this city slicker. I recently asked if perhaps a touch of garlic might perk up the flavor of the pasty recipe. No. Not gonna happen. I caught a few eye rolls as well. The pasty is a veritable hand held meal in itself, and freezes exceptionally well. 40 minutes in an oven from the freezer, and you've got protein, starch, and fat ready to go in a folded over pastry shell. Think edible hot pocket, or north - midwestern calzone. I'll bet if anyone cares to do a smidgen of reasearch, the pasty will have some form of connection to the mining industry in the Upper Peninsula. I'll not be doing any research. Watching tv is much more to my liking.
========================
The dough recipe:
flour
suet
crisco
handful of salt (teaspoon plus a speck)
knead it crumbly and add water to sight/ feel
wrap and chill in a loaf like format.
I missed out on much of the dough prep, but I think it went to a soft crumble stage before being pressed together to make the loaf. Note: these pasties have a more crispy/crunchy crust than others sold at the pasty shops I've tried in this area. I much prefer these. I think it's the suet.
==============
The filling
Meat. Ground beef here. As I was taking pictures, a discussion broke out about other types of meat. Some noted meat blends, there was discussion of sliced steak being used. I'm pretty sure there was a mention of "Those Californians have even used CHICKEN!" Up here, you can simply walk into the grocery store, and ask for pasty meat. Don't believe me?
Diced onion - one to one ratio with the meat.
Once the meat and onion is mixed, then the ages old spice blend is formulated. The pasty lady first pokes holes into the mixture to get the seasonings deep before mixing everything together more.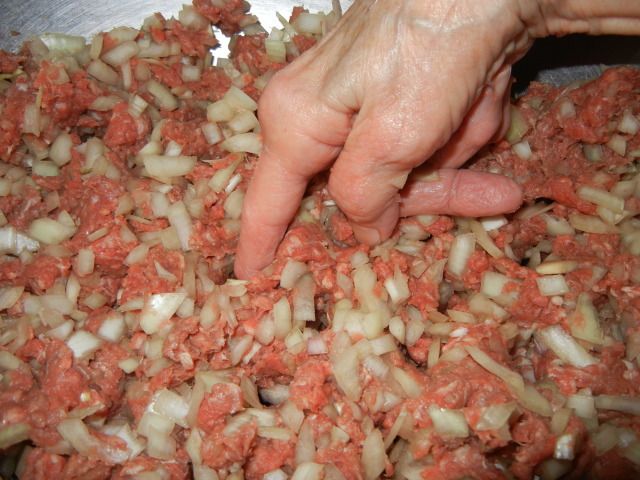 The seasoning blend is a secret. It has been guarded closely by one family for hundreds of years. I asked for the specifics, and was told that I could not be trusted. I eventually sweet-talked my way into not being blindfolded, and sent to the other room while the seasoning blend was mixed together. I was able to actually watch the process, and the measurements. I was not allowed to write anything down for the specifics of the measurements, so I cannot be sure of the exact measurements of everything. It was a blur of containers being opened and closed, but from what I could tell, here is the list of spices along with a guestimate of proportions:
Salt: one handfull and a few pinches
Pepper: One half handfull and a few pinches.
The other ingredients for the filling are potatoes and rutabaga. The potato cut will spark controversy. Chipped, or diced. It seems that chipped is the general preference here.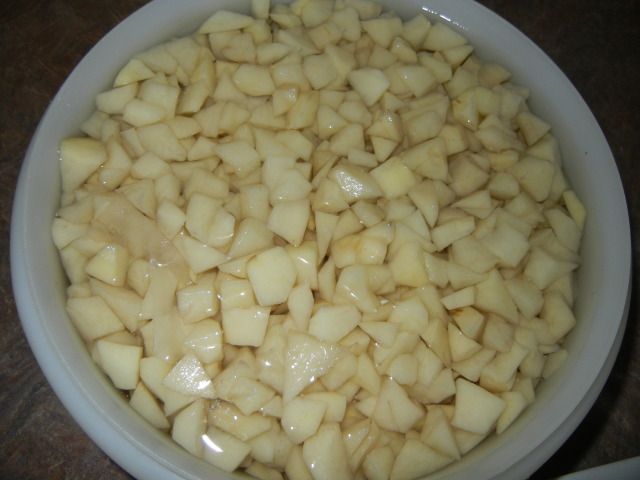 Chipped, to me, just looks like a non-uniform dice, but I'm sure I'd get some eyerolls if I said that in their company. (I mean, come on, GARLIC with meat, potatoes, and onion? Just who the HELL do I think I am???) Rutabaga gets a fine dice. I have a few coworkers from the Upper Peninsula, and both adamantly agree. A pasty just isn't right without rutabaga.
==
The assembly starts.
The dough is sliced: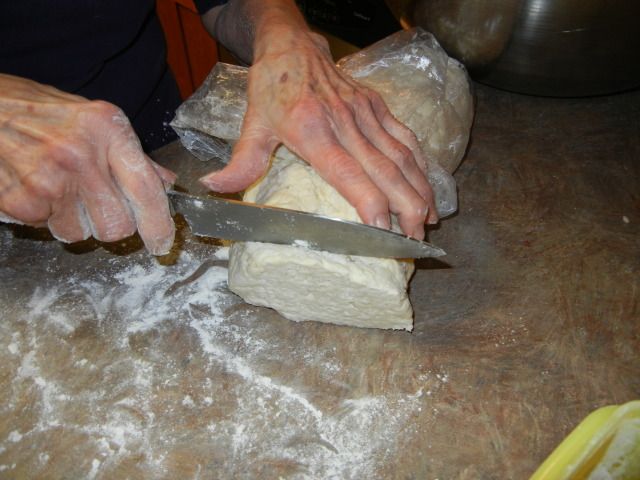 Each portion being about the size of a pillsbury grands buscuit: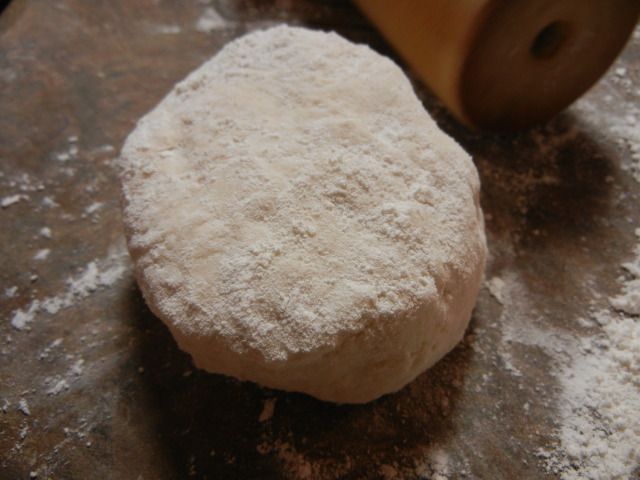 It is rolled out in a circle(ish) pattern to about 1/8 in:
The filling is layered - meat/onion, potato, and a light sprinkling of rutabaga, and then again, same order on top of the first layer. Meat/onion/potato rutabaga. The rutabaga sprinklings are light. The second layer of everything is much lighter than the first.
The dough is then folded over to create a crescent shape.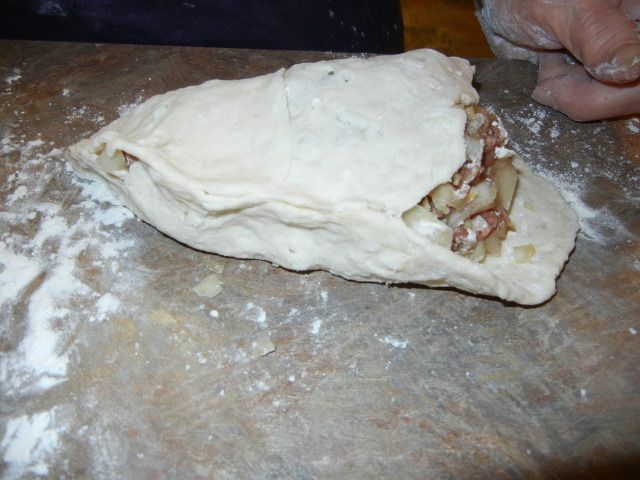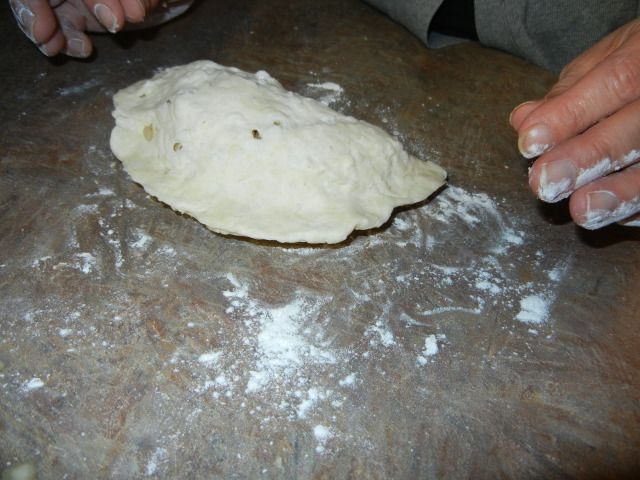 If the dough splits - no worries. Extra dough will be used to cover any major holes.
Now, the crimp. No, they don't dance in spastic motions, this is dough crimping (which would still be an awesome name for a dance.)
Pinch and turn from right to left with the crimped edge away from you. Pinch with left hand turn with right. Pinch and fold, pinch and fold, pinch and fold.
Seriously, this lady cut, rolled out, and crimped these by hand in like 1 minute each: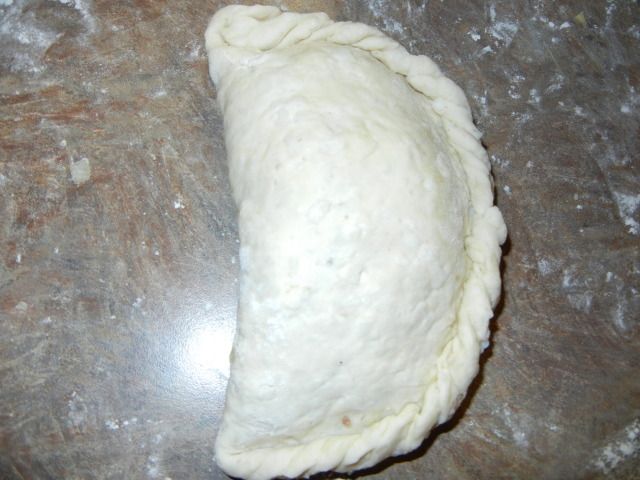 By contrast, here's my ONE, which took me about ten minutes: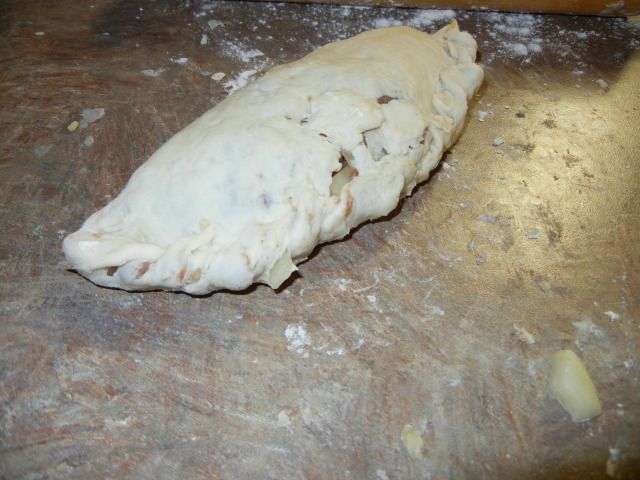 Oven at 400 for about an hour, and...
Their preferred method of cooling is to split open paper grocery bags, and rest them upside-down on the split bags uncovered so the pastry stays crispy.
These little crunchy browned sections are my favorite crust bits:
And, of course, after all that work of watching them be prepared, I had to do my duty of quality control:
When in rome...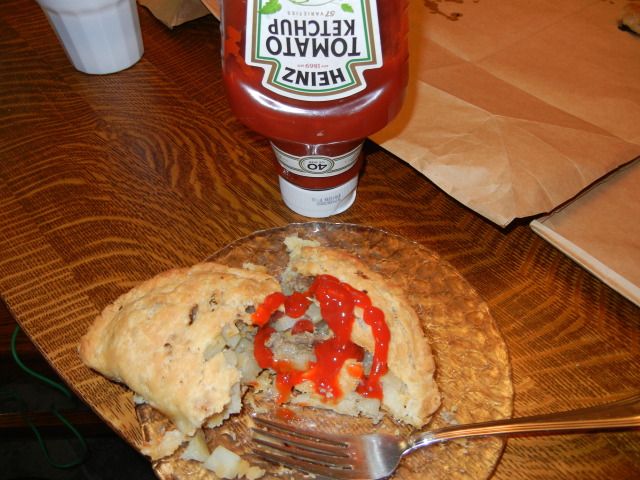 We cannot be friends if you do not know the difference between Mayo and Miracle Whip.