Jamieson22 wrote:Still not too bad of a deal for someone needing a grill, though if you have been doing without one over $30 you need help
Jamie,
Yes, the 30 bucks, that was it, the 30 bucks.
Actually, I tossed my 22.5 kettle a couple of years ago, after 15-years of service. I have 2-WSMs, soon to be 3, and have found they quite effectively double as grills. I make the fire on the lower cooking grate and use the top grate for grilling. That way no bending over, as you would using the Weber suggested method.
I sometimes make a fire with the charcoal ring placed on the top grate, put a grate on top of that, and grill. This gives me about 4-inches from fire to meat and is hell on wheels for steaks and chops.
Heck, sometimes I even use the chimney to cook, if I only have one steak or just a few chops.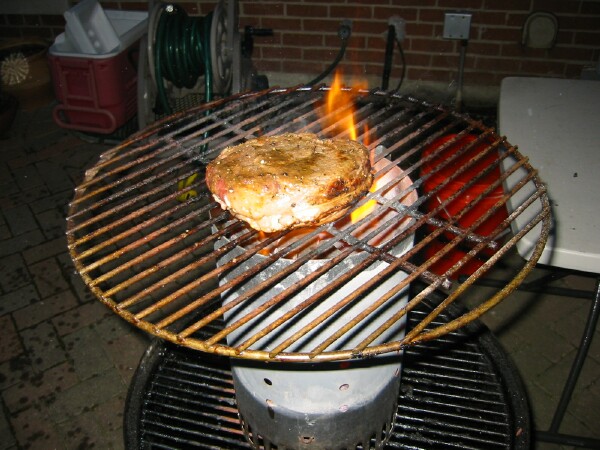 I did buy a 18.5 Weber Kettle a few months ago. We were having a big party and I needed something to cook marinated Portobello for the vegetarians in the group. They only had the standard 18.5 kettle or the 22.5 One Touch Gold, which you mentioned. I bought the 18.5 standard kettle as I, possibly mistakenly, think the enclosed ash catcher on the One Touch Gold restricts air flow. To me a good fire is all about air flow.
Jamieson22 wrote:GWiv, why don't you order the Ranch Kettle
As for the Ranch Kettle, I'd love one, but there aren't all that many occasions where I'm grilling for 80. Anyway, I'm up to 4-smokers, 3-WSM's and a New Braunfels Bandera, 18.5 kettle, turkey fryer setup and one or two other miscellaneous items.
I don't think my wife would like to see any more equipment, but I do have my eye on a
Klose
.
Enjoy,
Gary